McCray Sawyers to continue education at Virginia Tech
Our Emory & Henry seniors are preparing to graduate and change the world.
McCray Sawyers of Stuart, Va. will receive a bachelor's degree in environmental science.
McCray will graduate with the class of 2023. In addition to his studies in environmental science Sawyers is a member of the baseball team. "I have benefited from the Emory & Henry education. It has prepared me for my future academic career path and the workforce. I gained a lot of new relationships that I will have forever. The classes here at Emory & Henry prepare you for public speaking because just about every class has at least one presentation," Sawyers said.
"I will be attending Virginia Tech for graduate school. I will be acquiring a master's degree of forestry. After the master's, my plan is to pursue a career in the forestry field working for a state agency," Sawyers said.
Open gallery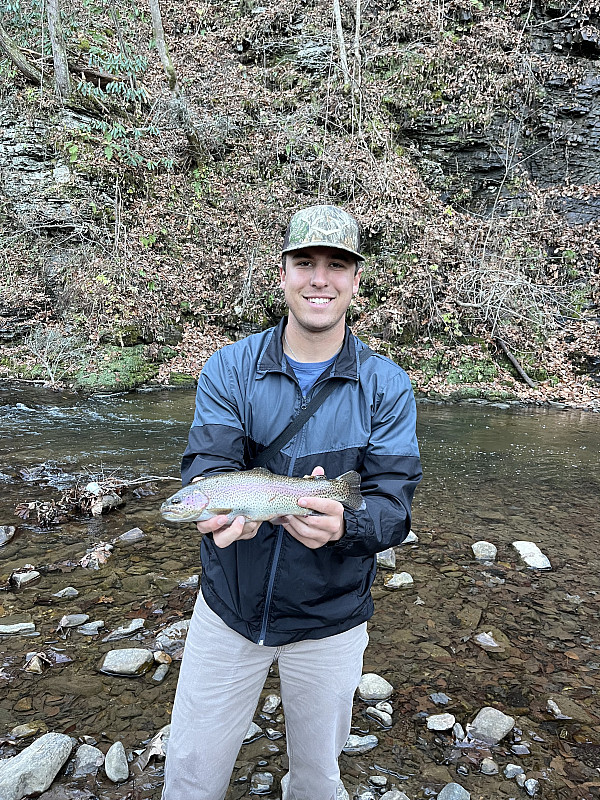 McCray Sawyers
Don't blink, and soak it all in.
More News
<div class="lw_news_image"><span class="lw_item_thumb"><a href="/live/news/2902-posthumous-degree-to-be-conferred-to-squire-miller"><picture class="lw_image"> <source type="image/webp" srcset="/live/image/gid/83/width/345/height/225/crop/1/src_region/0,28,557,585/13918_squire_1.rev.1684504401.png 1x"/> <source type="image/webp" srcset="/live/image/gid/83/width/345/height/225/crop/1/src_region/0,28,557,585/13918_squire_1.rev.1684504401.png 1x"/> <source type="image/png" srcset="/live/image/gid/83/width/345/height/225/crop/1/src_region/0,28,557,585/13918_squire_1.rev.1684504401.png 1x"/> <img src="/live/image/gid/83/width/345/height/225/crop/1/src_region/0,28,557,585/13918_squire_1.rev.1684504401.png" alt="Squire Miller Henry is to be awarded a Posthumous Doctorate of Divinity degree at Emory & Henry College's 2023 Commencement." width="345" height="225" data-max-w="557" data-max-h="557" loading="lazy"/> </picture> </a></span></div><div class="lw_widget_text"><h4 class="lw_news_headline"><a href="/live/news/2902-posthumous-degree-to-be-conferred-to-squire-miller">Posthumous Degree to be Conferred to Squire Miller Henry at 175th Commencement</a></h4><div class="lw_news_summary"><p><span style="font-weight: 400;">Emory & Henry College is pleased to announce the conferral of a posthumous honorary Doctorate of Divinity degree to Squire Miller Henry at the 2023 commencement on May 6, 2023.</span></p><a href="/live/news/2902-posthumous-degree-to-be-conferred-to-squire-miller" class="link-with-arrow gold">Keep reading</a></div></div>
<div class="lw_news_image"><span class="lw_item_thumb"><a href="/live/news/2926-more-than-230-students-receive-diploma-at-175th"><picture class="lw_image"> <source type="image/webp" srcset="/live/image/gid/83/width/345/height/225/crop/1/src_region/0,0,3200,2133/13939_EH-Commencement-5-6-23_WEN0407_0141_2.rev.1684504401.webp 1x, /live/image/scale/2x/gid/83/width/345/height/225/crop/1/src_region/0,0,3200,2133/13939_EH-Commencement-5-6-23_WEN0407_0141_2.rev.1684504401.webp 2x, /live/image/scale/3x/gid/83/width/345/height/225/crop/1/src_region/0,0,3200,2133/13939_EH-Commencement-5-6-23_WEN0407_0141_2.rev.1684504401.webp 3x"/> <source type="image/jpeg" srcset="/live/image/gid/83/width/345/height/225/crop/1/src_region/0,0,3200,2133/13939_EH-Commencement-5-6-23_WEN0407_0141_2.rev.1684504401.jpg 1x, /live/image/scale/2x/gid/83/width/345/height/225/crop/1/src_region/0,0,3200,2133/13939_EH-Commencement-5-6-23_WEN0407_0141_2.rev.1684504401.jpg 2x, /live/image/scale/3x/gid/83/width/345/height/225/crop/1/src_region/0,0,3200,2133/13939_EH-Commencement-5-6-23_WEN0407_0141_2.rev.1684504401.jpg 3x"/> <img src="/live/image/gid/83/width/345/height/225/crop/1/src_region/0,0,3200,2133/13939_EH-Commencement-5-6-23_WEN0407_0141_2.rev.1684504401.jpg" alt="Emory & Henry Commencement: Saturday, May 6, 2023. " width="345" height="225" srcset="/live/image/scale/2x/gid/83/width/345/height/225/crop/1/src_region/0,0,3200,2133/13939_EH-Commencement-5-6-23_WEN0407_0141_2.rev.1684504401.jpg 2x, /live/image/scale/3x/gid/83/width/345/height/225/crop/1/src_region/0,0,3200,2133/13939_EH-Commencement-5-6-23_WEN0407_0141_2.rev.1684504401.jpg 3x" data-max-w="3200" data-max-h="2133" loading="lazy"/> </picture> </a></span></div><div class="lw_widget_text"><h4 class="lw_news_headline"><a href="/live/news/2926-more-than-230-students-receive-diploma-at-175th">More Than 230 Students Receive Diploma at 175th Emory & Henry Commencement Ceremony</a></h4><div class="lw_news_summary"><p> The 175th commencement ceremony for the Emory & Henry College graduating class of 2023 was held at Fred Selfe Stadium on the Emory campus, Saturday, May 6 at 10 a.m. More than 230 graduates walked across the stage and received their diplomas with supportive family, friends and faculty cheering them on.</p><a href="/live/news/2926-more-than-230-students-receive-diploma-at-175th" class="link-with-arrow gold">Keep reading</a></div></div>
<div class="lw_news_image"><span class="lw_item_thumb"><a href="/live/news/2855-ballad-health-chairman-and-ceo-alan-levine-to"><picture class="lw_image"> <source type="image/webp" srcset="/live/image/gid/83/width/345/height/225/crop/1/src_region/0,454,2133,2585/13848_20171212_Levine_Alan_CEO_1.rev.1684504400.webp 1x, /live/image/scale/2x/gid/83/width/345/height/225/crop/1/src_region/0,454,2133,2585/13848_20171212_Levine_Alan_CEO_1.rev.1684504400.webp 2x, /live/image/scale/3x/gid/83/width/345/height/225/crop/1/src_region/0,454,2133,2585/13848_20171212_Levine_Alan_CEO_1.rev.1684504400.webp 3x"/> <source type="image/jpeg" srcset="/live/image/gid/83/width/345/height/225/crop/1/src_region/0,454,2133,2585/13848_20171212_Levine_Alan_CEO_1.rev.1684504400.jpg 1x, /live/image/scale/2x/gid/83/width/345/height/225/crop/1/src_region/0,454,2133,2585/13848_20171212_Levine_Alan_CEO_1.rev.1684504400.jpg 2x, /live/image/scale/3x/gid/83/width/345/height/225/crop/1/src_region/0,454,2133,2585/13848_20171212_Levine_Alan_CEO_1.rev.1684504400.jpg 3x"/> <img src="/live/image/gid/83/width/345/height/225/crop/1/src_region/0,454,2133,2585/13848_20171212_Levine_Alan_CEO_1.rev.1684504400.jpg" alt="Alan Levine, chairman and chief executive officer of Ballad Health, named as 2023 Emory & Henry College commencement speaker" width="345" height="225" srcset="/live/image/scale/2x/gid/83/width/345/height/225/crop/1/src_region/0,454,2133,2585/13848_20171212_Levine_Alan_CEO_1.rev.1684504400.jpg 2x, /live/image/scale/3x/gid/83/width/345/height/225/crop/1/src_region/0,454,2133,2585/13848_20171212_Levine_Alan_CEO_1.rev.1684504400.jpg 3x" data-max-w="2133" data-max-h="2131" loading="lazy"/> </picture> </a></span></div><div class="lw_widget_text"><h4 class="lw_news_headline"><a href="/live/news/2855-ballad-health-chairman-and-ceo-alan-levine-to">Ballad Health Chairman and CEO, Alan Levine, to Speak at 2023 Emory & Henry Commencement</a></h4><div class="lw_news_summary"><p> Alan Levine, chairman and chief executive officer of Ballad Health, has been named as the 2023 Emory & Henry College commencement speaker. The ceremony will be held on Saturday, May 6 at 10 a.m. at Fred Selfe Stadium on the Emory, Va. campus. </p><a href="/live/news/2855-ballad-health-chairman-and-ceo-alan-levine-to" class="link-with-arrow gold">Keep reading</a></div></div>