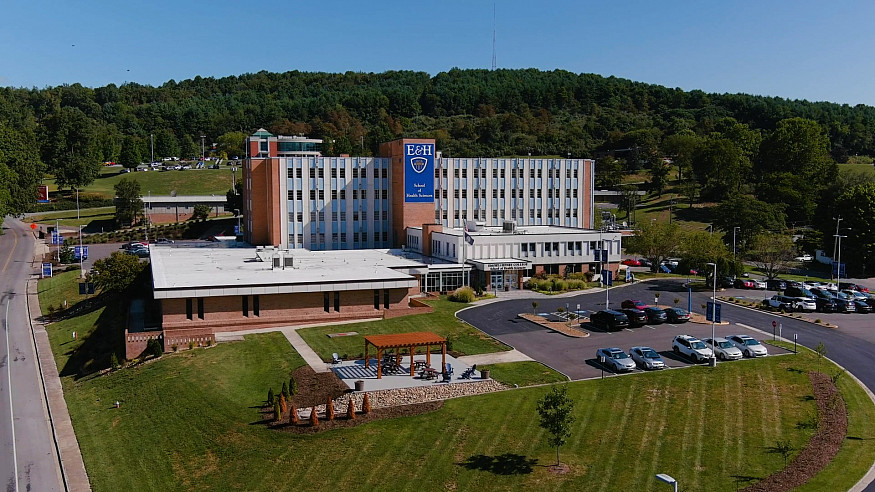 Health Sciences Campus
Healthcare professionals begin with a quality education. Explore the programs Emory & Henry offers in health sciences and nursing on our Marion campus.
Since 2014, Emory & Henry College has offered programs in the health sciences on their 15-acre campus in Marion, Va. including nursing (pre-licensure, RN to BSN and MSN), clinical mental health counseling, addiction counseling, occupational therapy, physical therapy, and physician assistant studies. On the former site for Smyth County Community Hospital (listed on the National Register of Historic Places), the Health Sciences Campus is recently renovated with state-of-the-art learning facilities including the Clinical Simulation Lab and Falls Prevention Center.
Our Health Sciences Campus is located in the scenic, mountainous woodlands of middle Appalachia. We are a short drive away from Hungry Mother State Park, and near our campus is Historic Downtown Marion, a destination of local shops, restaurants, and the historic Lincoln Theatre where the Schools of Health Science and Nursing have their commencement ceremonies.
A Mini Mercantile where E&H apparel and gifts are sold can be found inside the Health Sciences Campus. (See the Emory Mercantile website for information on where to shop for your favorite E&H gear.)
---
Health Sciences Programs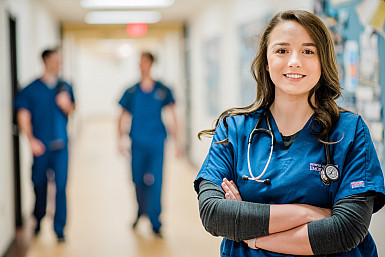 E&H students enrolled in Health Sciences or Nursing programs take courses on the Health Sciences Campus. The Health Sciences Campus is the primary location for the School of Health Sciences graduate programs and the School of Nursing.
School of Health Sciences
Graduate programs of the School of Health Sciences are offered on the Marion campus. Students access world-class faculty & resources to ensure they are prepared for the expanding, patient-centered healthcare profession.
Graduate Programs:
School of Health Sciences website
School of Nursing
With an emphasis on combined liberal arts and healthcare-centered education, our nursing degrees can be achieved on both the Emory and Marion campuses or through a hybrid online learning module depending on the degree program.
Programs:
---
Campus Facilities
Clinical Simulation Lab
In the Clinical Simulation Lab, health sciences and nursing students use the latest technology to practice patient encounters and profession-specific skills. Our 4,356 sq. ft. lab is similar to a real-life medical facility, and student performance is monitored using monitors and communication devices. The lab offers standardized and high-fidelity patient simulation.
Learn more about the Clinical Simulation Lab.
Falls Prevention Center
The Falls Prevention Center on the Health Sciences Campus provides fall risk and mobility management services to the local community at no charge. Under the guidance of licensed healthcare practitioners, Emory & Henry students assist with these community services as part of their health sciences curriculum.
Call 276-781-7200 (Smyth County, Va.) or 276-944-6167 (outside Smyth County) to make an appointment with the Falls Prevention center.
Learn more about the Falls Prevention Center.
Mel Leaman Free Clinic
Located on the Health Sciences campus, the Mel Leaman Clinic partners with Emory & Henry College to provide free healthcare services to underserved patients in Marion and surrounding communities. The Clinic's services are provided by trained staff and volunteers with assistance from E&H faculty and students.
Learn more about the Mel Leaman Free Clinic.
Visit the Mel Leaman Free Clinic website.
Other Facilities
The Health Sciences campus has classrooms and laboratories suitable for skills learning and research in various healthcare disciplines.
Classrooms & Skills Labs
W.L. Lemmon Lecture Hall
Activities of Daily Living (ADL) Skills Laboratory
Pediatrics Laboratory
Neuromuscular and Patient Care Skills Laboratory
Physician Assistant Skills Laboratory
Gross Anatomy Laboratory
Research Labs
Pediatric Research Lab
Animal Research Lab
Functional Assessment Lab (BTE PrimusRS)
Applied Physiology Lab
Learn more about all Health Sciences Campus facilities.
---