Grace Ruble to pursue a career in sport management
Our Emory & Henry seniors are preparing to graduate and change the world.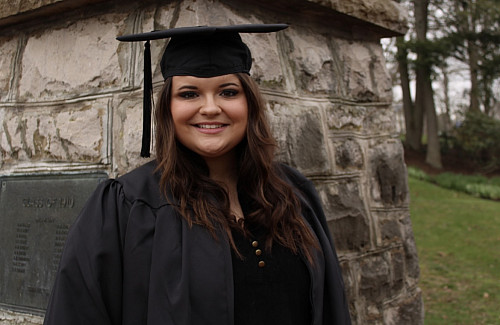 Grace Ruble of Bluefield, Va. will receive bachelor's degrees in sport management and accounting.
Grace will graduate with the class of 2023. In addition to her studies, Ruble is also a member of Blue & Gold Society. "I have learned from Emory & Henry how to communicate effectively with both fellow students and professors and build both professional and personal relationships with people," Ruble said.
Ruble's plans after graduation include working on getting her provisional teaching license and working for USSSA SVA travel basketball. She is a first-generation college graduate.
Open gallery
Grace Ruble
Allow your professors to be there for you and have conversations with them even when it's tough.
More News
<div class="lw_news_image"><span class="lw_item_thumb"><a href="/live/news/2902-posthumous-degree-to-be-conferred-to-squire-miller"><picture class="lw_image"> <source type="image/webp" srcset="/live/image/gid/83/width/345/height/225/crop/1/src_region/0,28,557,585/13918_squire_1.rev.1684504401.png 1x"/> <source type="image/webp" srcset="/live/image/gid/83/width/345/height/225/crop/1/src_region/0,28,557,585/13918_squire_1.rev.1684504401.png 1x"/> <source type="image/png" srcset="/live/image/gid/83/width/345/height/225/crop/1/src_region/0,28,557,585/13918_squire_1.rev.1684504401.png 1x"/> <img src="/live/image/gid/83/width/345/height/225/crop/1/src_region/0,28,557,585/13918_squire_1.rev.1684504401.png" alt="Squire Miller Henry is to be awarded a Posthumous Doctorate of Divinity degree at Emory & Henry College's 2023 Commencement." width="345" height="225" data-max-w="557" data-max-h="557" loading="lazy"/> </picture> </a></span></div><div class="lw_widget_text"><h4 class="lw_news_headline"><a href="/live/news/2902-posthumous-degree-to-be-conferred-to-squire-miller">Posthumous Degree to be Conferred to Squire Miller Henry at 175th Commencement</a></h4><div class="lw_news_summary"><p><span style="font-weight: 400;">Emory & Henry College is pleased to announce the conferral of a posthumous honorary Doctorate of Divinity degree to Squire Miller Henry at the 2023 commencement on May 6, 2023.</span></p><a href="/live/news/2902-posthumous-degree-to-be-conferred-to-squire-miller" class="link-with-arrow gold">Keep reading</a></div></div>
<div class="lw_news_image"><span class="lw_item_thumb"><a href="/live/news/2926-more-than-230-students-receive-diploma-at-175th"><picture class="lw_image"> <source type="image/webp" srcset="/live/image/gid/83/width/345/height/225/crop/1/src_region/0,0,3200,2133/13939_EH-Commencement-5-6-23_WEN0407_0141_2.rev.1684504401.webp 1x, /live/image/scale/2x/gid/83/width/345/height/225/crop/1/src_region/0,0,3200,2133/13939_EH-Commencement-5-6-23_WEN0407_0141_2.rev.1684504401.webp 2x, /live/image/scale/3x/gid/83/width/345/height/225/crop/1/src_region/0,0,3200,2133/13939_EH-Commencement-5-6-23_WEN0407_0141_2.rev.1684504401.webp 3x"/> <source type="image/jpeg" srcset="/live/image/gid/83/width/345/height/225/crop/1/src_region/0,0,3200,2133/13939_EH-Commencement-5-6-23_WEN0407_0141_2.rev.1684504401.jpg 1x, /live/image/scale/2x/gid/83/width/345/height/225/crop/1/src_region/0,0,3200,2133/13939_EH-Commencement-5-6-23_WEN0407_0141_2.rev.1684504401.jpg 2x, /live/image/scale/3x/gid/83/width/345/height/225/crop/1/src_region/0,0,3200,2133/13939_EH-Commencement-5-6-23_WEN0407_0141_2.rev.1684504401.jpg 3x"/> <img src="/live/image/gid/83/width/345/height/225/crop/1/src_region/0,0,3200,2133/13939_EH-Commencement-5-6-23_WEN0407_0141_2.rev.1684504401.jpg" alt="Emory & Henry Commencement: Saturday, May 6, 2023. " width="345" height="225" srcset="/live/image/scale/2x/gid/83/width/345/height/225/crop/1/src_region/0,0,3200,2133/13939_EH-Commencement-5-6-23_WEN0407_0141_2.rev.1684504401.jpg 2x, /live/image/scale/3x/gid/83/width/345/height/225/crop/1/src_region/0,0,3200,2133/13939_EH-Commencement-5-6-23_WEN0407_0141_2.rev.1684504401.jpg 3x" data-max-w="3200" data-max-h="2133" loading="lazy"/> </picture> </a></span></div><div class="lw_widget_text"><h4 class="lw_news_headline"><a href="/live/news/2926-more-than-230-students-receive-diploma-at-175th">More Than 230 Students Receive Diploma at 175th Emory & Henry Commencement Ceremony</a></h4><div class="lw_news_summary"><p> The 175th commencement ceremony for the Emory & Henry College graduating class of 2023 was held at Fred Selfe Stadium on the Emory campus, Saturday, May 6 at 10 a.m. More than 230 graduates walked across the stage and received their diplomas with supportive family, friends and faculty cheering them on.</p><a href="/live/news/2926-more-than-230-students-receive-diploma-at-175th" class="link-with-arrow gold">Keep reading</a></div></div>
<div class="lw_news_image"><span class="lw_item_thumb"><a href="/live/news/2855-ballad-health-chairman-and-ceo-alan-levine-to"><picture class="lw_image"> <source type="image/webp" srcset="/live/image/gid/83/width/345/height/225/crop/1/src_region/0,454,2133,2585/13848_20171212_Levine_Alan_CEO_1.rev.1684504400.webp 1x, /live/image/scale/2x/gid/83/width/345/height/225/crop/1/src_region/0,454,2133,2585/13848_20171212_Levine_Alan_CEO_1.rev.1684504400.webp 2x, /live/image/scale/3x/gid/83/width/345/height/225/crop/1/src_region/0,454,2133,2585/13848_20171212_Levine_Alan_CEO_1.rev.1684504400.webp 3x"/> <source type="image/jpeg" srcset="/live/image/gid/83/width/345/height/225/crop/1/src_region/0,454,2133,2585/13848_20171212_Levine_Alan_CEO_1.rev.1684504400.jpg 1x, /live/image/scale/2x/gid/83/width/345/height/225/crop/1/src_region/0,454,2133,2585/13848_20171212_Levine_Alan_CEO_1.rev.1684504400.jpg 2x, /live/image/scale/3x/gid/83/width/345/height/225/crop/1/src_region/0,454,2133,2585/13848_20171212_Levine_Alan_CEO_1.rev.1684504400.jpg 3x"/> <img src="/live/image/gid/83/width/345/height/225/crop/1/src_region/0,454,2133,2585/13848_20171212_Levine_Alan_CEO_1.rev.1684504400.jpg" alt="Alan Levine, chairman and chief executive officer of Ballad Health, named as 2023 Emory & Henry College commencement speaker" width="345" height="225" srcset="/live/image/scale/2x/gid/83/width/345/height/225/crop/1/src_region/0,454,2133,2585/13848_20171212_Levine_Alan_CEO_1.rev.1684504400.jpg 2x, /live/image/scale/3x/gid/83/width/345/height/225/crop/1/src_region/0,454,2133,2585/13848_20171212_Levine_Alan_CEO_1.rev.1684504400.jpg 3x" data-max-w="2133" data-max-h="2131" loading="lazy"/> </picture> </a></span></div><div class="lw_widget_text"><h4 class="lw_news_headline"><a href="/live/news/2855-ballad-health-chairman-and-ceo-alan-levine-to">Ballad Health Chairman and CEO, Alan Levine, to Speak at 2023 Emory & Henry Commencement</a></h4><div class="lw_news_summary"><p> Alan Levine, chairman and chief executive officer of Ballad Health, has been named as the 2023 Emory & Henry College commencement speaker. The ceremony will be held on Saturday, May 6 at 10 a.m. at Fred Selfe Stadium on the Emory, Va. campus. </p><a href="/live/news/2855-ballad-health-chairman-and-ceo-alan-levine-to" class="link-with-arrow gold">Keep reading</a></div></div>