The DPT Class of 2024 Earn Their White Coats
The Emory & Henry Doctor of Physical Therapy (DPT) program housed at the Health Sciences campus in Marion held a traditional White Coat Ceremony on Friday, June 23, 2023, at the Lincoln Theatre in Marion.
The White Coat Ceremony signifies the beginning of the year-long clinical rotation component of the program as a physical therapy student and comes following two years focused on the didactic portion of students' training.
"It was an honor to stand beside my classmates and receive our white coats that we have worked diligently for over the past 2 years. Nothing is more rewarding than knowing we are one step closer to improving the quality of life for the communities we get the opportunity to serve." - Kayleigh Johnson
"To finally reach this acme and don our white coats was a surreal experience. It is so easy to become discouraged when a thousand curve balls are being thrown at you simultaneously. But this white coat is a reminder to us all what resilience and commitment can get you. It is the ultimate privilege to step out into the clinic and continue to learn through our patients." - Mia Young
The ceremony is a rite of passage that serves as a symbol of the responsibility, obligations, honor, excellence, accountability, compassion, and inclusiveness required of their chosen profession.
Speakers at the ceremony included Dr. Eric Coley, Dr. A. Louise Fincher, Dr. William Bodfish, and Dr. Chase Edwards.
Dr. Bodfish encouraged the students to remain seekers of knowledge, as they enter into the clinical setting.
"High-quality experience is found outside of our comfort zones and now is the best time to try new things and learn from the results," said Dr. Bodfish.
After receiving their personalized white coats, students recited the Oath of Professionalism during the ceremony led by student Tori Powers.
The DPT program is a three-year, 118-credit-hour graduate program that reflects Emory & Henry's core values of addressing issues of public concern through professions that contribute to the public good and educating professionals who are critical thinkers prepared to meet the challenges of a changing healthcare environment.
This group of 28 students is the seventh class of DPT students to earn their white coats.
The Physical Therapy Program at Emory & Henry College is accredited by the Commission on Accreditation of Physical Therapy Education (CAPTE), 1111 North Fairfax Street, Alexandria, VA 22314; telephone: 703-706-3245; email: accreditation@apta.org.
For more information on the DPT program at the Emory & Henry College School of Health Sciences, please visit www.ehc.edu/dpt.
Open gallery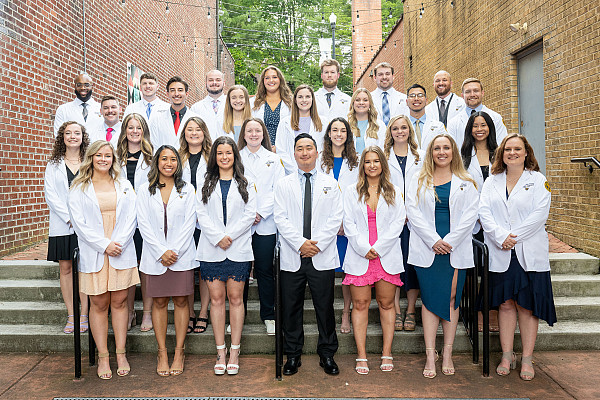 "It was an honor to stand beside my classmates and receive our white coats that we have worked diligently for over the past 2 years. Nothing is more rewarding than knowing we are one step closer to improving the quality of life for the communities we get the opportunity to serve." - Kayleigh Johnson
Location:
Emory & Henry College Health Sciences Campus
More News
<div class="lw_news_image"><span class="lw_item_thumb"><a href="/live/news/1046-go-baby-go-gives-another-set-of-wheels"><picture class="lw_image"> <source type="image/webp" srcset="/live/image/gid/83/width/345/height/225/crop/1/src_region/245,0,1613,1367/7121_GoBabyGo-Mustang-web.rev.1572294147.webp 1x, /live/image/scale/2x/gid/83/width/345/height/225/crop/1/src_region/245,0,1613,1367/7121_GoBabyGo-Mustang-web.rev.1572294147.webp 2x, /live/image/scale/3x/gid/83/width/345/height/225/crop/1/src_region/245,0,1613,1367/7121_GoBabyGo-Mustang-web.rev.1572294147.webp 3x"/> <source type="image/jpeg" srcset="/live/image/gid/83/width/345/height/225/crop/1/src_region/245,0,1613,1367/7121_GoBabyGo-Mustang-web.rev.1572294147.jpg 1x, /live/image/scale/2x/gid/83/width/345/height/225/crop/1/src_region/245,0,1613,1367/7121_GoBabyGo-Mustang-web.rev.1572294147.jpg 2x, /live/image/scale/3x/gid/83/width/345/height/225/crop/1/src_region/245,0,1613,1367/7121_GoBabyGo-Mustang-web.rev.1572294147.jpg 3x"/> <img src="/live/image/gid/83/width/345/height/225/crop/1/src_region/245,0,1613,1367/7121_GoBabyGo-Mustang-web.rev.1572294147.jpg" alt="School of Health Sciences students help Elise drive her modified car." width="345" height="225" srcset="/live/image/scale/2x/gid/83/width/345/height/225/crop/1/src_region/245,0,1613,1367/7121_GoBabyGo-Mustang-web.rev.1572294147.jpg 2x, /live/image/scale/3x/gid/83/width/345/height/225/crop/1/src_region/245,0,1613,1367/7121_GoBabyGo-Mustang-web.rev.1572294147.jpg 3x" data-max-w="1368" data-max-h="1367" loading="lazy"/> </picture> </a></span></div><div class="lw_widget_text"><h4 class="lw_news_headline"><a href="/live/news/1046-go-baby-go-gives-another-set-of-wheels">Go Baby Go Gives Another Set of Wheels</a></h4><div class="lw_news_summary"> The School of Health Sciences and Go Baby Go teamed up again to give a car to toddler Elise Mullins of Marion, Va. <a href="/live/news/1046-go-baby-go-gives-another-set-of-wheels" class="link-with-arrow gold">Keep reading</a></div></div>
<div class="lw_news_image"><span class="lw_item_thumb"><a href="/live/news/552-doctor-of-physical-therapy-early-assurance-program"><picture class="lw_image"> <source type="image/webp" srcset="/live/image/gid/83/width/345/height/225/crop/1/src_region/729,0,2528,1796/4891_School-Health-Sciences_146.rev.1539962172.webp 1x, /live/image/scale/2x/gid/83/width/345/height/225/crop/1/src_region/729,0,2528,1796/4891_School-Health-Sciences_146.rev.1539962172.webp 2x, /live/image/scale/3x/gid/83/width/345/height/225/crop/1/src_region/729,0,2528,1796/4891_School-Health-Sciences_146.rev.1539962172.webp 3x"/> <source type="image/jpeg" srcset="/live/image/gid/83/width/345/height/225/crop/1/src_region/729,0,2528,1796/4891_School-Health-Sciences_146.rev.1539962172.jpg 1x, /live/image/scale/2x/gid/83/width/345/height/225/crop/1/src_region/729,0,2528,1796/4891_School-Health-Sciences_146.rev.1539962172.jpg 2x, /live/image/scale/3x/gid/83/width/345/height/225/crop/1/src_region/729,0,2528,1796/4891_School-Health-Sciences_146.rev.1539962172.jpg 3x"/> <img src="/live/image/gid/83/width/345/height/225/crop/1/src_region/729,0,2528,1796/4891_School-Health-Sciences_146.rev.1539962172.jpg" alt="Students in the Doctor of Physical Therapy program taking assessments." width="345" height="225" srcset="/live/image/scale/2x/gid/83/width/345/height/225/crop/1/src_region/729,0,2528,1796/4891_School-Health-Sciences_146.rev.1539962172.jpg 2x, /live/image/scale/3x/gid/83/width/345/height/225/crop/1/src_region/729,0,2528,1796/4891_School-Health-Sciences_146.rev.1539962172.jpg 3x" data-max-w="1799" data-max-h="1796" loading="lazy"/> </picture> </a></span></div><div class="lw_widget_text"><h4 class="lw_news_headline"><a href="/live/news/552-doctor-of-physical-therapy-early-assurance-program">Doctor of Physical Therapy Early Assurance Program Announced</a></h4><div class="lw_news_summary"> The DPT-EAP program offers a select number of talented high school seniors a position in the Emory & Henry College Doctor of Physical Therapy program beginning with their undergraduate studies. <a href="/live/news/552-doctor-of-physical-therapy-early-assurance-program" class="link-with-arrow gold">Keep reading</a></div></div>
<div class="lw_news_image"><span class="lw_item_thumb"><a href="/live/news/972-eamph-helps-another-child-hit-the-road"><picture class="lw_image"> <source type="image/webp" srcset="/live/image/gid/83/width/345/height/225/crop/1/src_region/139,0,1507,1367/6906_SHS-Go_Baby_Go-group.rev.1568733054.webp 1x, /live/image/scale/2x/gid/83/width/345/height/225/crop/1/src_region/139,0,1507,1367/6906_SHS-Go_Baby_Go-group.rev.1568733054.webp 2x, /live/image/scale/3x/gid/83/width/345/height/225/crop/1/src_region/139,0,1507,1367/6906_SHS-Go_Baby_Go-group.rev.1568733054.webp 3x"/> <source type="image/jpeg" srcset="/live/image/gid/83/width/345/height/225/crop/1/src_region/139,0,1507,1367/6906_SHS-Go_Baby_Go-group.rev.1568733054.jpg 1x, /live/image/scale/2x/gid/83/width/345/height/225/crop/1/src_region/139,0,1507,1367/6906_SHS-Go_Baby_Go-group.rev.1568733054.jpg 2x, /live/image/scale/3x/gid/83/width/345/height/225/crop/1/src_region/139,0,1507,1367/6906_SHS-Go_Baby_Go-group.rev.1568733054.jpg 3x"/> <img src="/live/image/gid/83/width/345/height/225/crop/1/src_region/139,0,1507,1367/6906_SHS-Go_Baby_Go-group.rev.1568733054.jpg" alt="Students and faculty with Zavier House and his mother Katie Bolling with the tractor that was modified." width="345" height="225" srcset="/live/image/scale/2x/gid/83/width/345/height/225/crop/1/src_region/139,0,1507,1367/6906_SHS-Go_Baby_Go-group.rev.1568733054.jpg 2x, /live/image/scale/3x/gid/83/width/345/height/225/crop/1/src_region/139,0,1507,1367/6906_SHS-Go_Baby_Go-group.rev.1568733054.jpg 3x" data-max-w="1368" data-max-h="1367" loading="lazy"/> </picture> </a></span></div><div class="lw_widget_text"><h4 class="lw_news_headline"><a href="/live/news/972-eamph-helps-another-child-hit-the-road">E&H Helps Another Child Hit the Road!</a></h4><div class="lw_news_summary"> Emory & Henry School of Health Sciences Physical Therapy (PT) and Occupational Therapy (OT) students partnered with Children's Assistive Technology Service (CATS) to provide another Go Baby Go modified off-the-shelf ride on car for a local little boy, Zavier House. <a href="/live/news/972-eamph-helps-another-child-hit-the-road" class="link-with-arrow gold">Keep reading</a></div></div>
<div class="lw_news_image"><span class="lw_item_thumb"><a href="/live/news/401-reedy-challenges-inaugural-class-of-dpt-students"><picture class="lw_image"> <source type="image/webp" srcset="/live/image/gid/83/width/345/height/225/crop/1/src_region/0,0,3200,2136/4134_DPTCeremony.rev.1525558161.webp 1x, /live/image/scale/2x/gid/83/width/345/height/225/crop/1/src_region/0,0,3200,2136/4134_DPTCeremony.rev.1525558161.webp 2x, /live/image/scale/3x/gid/83/width/345/height/225/crop/1/src_region/0,0,3200,2136/4134_DPTCeremony.rev.1525558161.webp 3x"/> <source type="image/jpeg" srcset="/live/image/gid/83/width/345/height/225/crop/1/src_region/0,0,3200,2136/4134_DPTCeremony.rev.1525558161.jpg 1x, /live/image/scale/2x/gid/83/width/345/height/225/crop/1/src_region/0,0,3200,2136/4134_DPTCeremony.rev.1525558161.jpg 2x, /live/image/scale/3x/gid/83/width/345/height/225/crop/1/src_region/0,0,3200,2136/4134_DPTCeremony.rev.1525558161.jpg 3x"/> <img src="/live/image/gid/83/width/345/height/225/crop/1/src_region/0,0,3200,2136/4134_DPTCeremony.rev.1525558161.jpg" alt="The inaugural class of the School of Health Sciences Doctor of Physical Therapy." width="345" height="225" srcset="/live/image/scale/2x/gid/83/width/345/height/225/crop/1/src_region/0,0,3200,2136/4134_DPTCeremony.rev.1525558161.jpg 2x, /live/image/scale/3x/gid/83/width/345/height/225/crop/1/src_region/0,0,3200,2136/4134_DPTCeremony.rev.1525558161.jpg 3x" data-max-w="3200" data-max-h="2136" loading="lazy"/> </picture> </a></span></div><div class="lw_widget_text"><h4 class="lw_news_headline"><a href="/live/news/401-reedy-challenges-inaugural-class-of-dpt-students">Reedy Challenges Inaugural Class of DPT Students to Find Their Why</a></h4><div class="lw_news_summary"> Emory & Henry College awarded its first-ever doctoral-level degrees on May 5, 2018. The 28 students graduated with a doctor of physical therapy degree from the Emory & Henry College School of Health Sciences. This is the first doctoral-level academic degrees presented in the College's 182-year history. <a href="/live/news/401-reedy-challenges-inaugural-class-of-dpt-students" class="link-with-arrow gold">Keep reading</a></div></div>
<div class="lw_news_image"><span class="lw_item_thumb"><a href="/live/news/887-sensory-hallway-provides-chilhowie-students-with"><picture class="lw_image"> <source type="image/webp" srcset="/live/image/gid/83/width/345/height/225/crop/1/src_region/0,0,3200,2133/6542_SHS_Sensory.rev.1562940766.webp 1x, /live/image/scale/2x/gid/83/width/345/height/225/crop/1/src_region/0,0,3200,2133/6542_SHS_Sensory.rev.1562940766.webp 2x, /live/image/scale/3x/gid/83/width/345/height/225/crop/1/src_region/0,0,3200,2133/6542_SHS_Sensory.rev.1562940766.webp 3x"/> <source type="image/jpeg" srcset="/live/image/gid/83/width/345/height/225/crop/1/src_region/0,0,3200,2133/6542_SHS_Sensory.rev.1562940766.jpg 1x, /live/image/scale/2x/gid/83/width/345/height/225/crop/1/src_region/0,0,3200,2133/6542_SHS_Sensory.rev.1562940766.jpg 2x, /live/image/scale/3x/gid/83/width/345/height/225/crop/1/src_region/0,0,3200,2133/6542_SHS_Sensory.rev.1562940766.jpg 3x"/> <img src="/live/image/gid/83/width/345/height/225/crop/1/src_region/0,0,3200,2133/6542_SHS_Sensory.rev.1562940766.jpg" alt="SHS Students placing a lily pad jumping course" width="345" height="225" srcset="/live/image/scale/2x/gid/83/width/345/height/225/crop/1/src_region/0,0,3200,2133/6542_SHS_Sensory.rev.1562940766.jpg 2x, /live/image/scale/3x/gid/83/width/345/height/225/crop/1/src_region/0,0,3200,2133/6542_SHS_Sensory.rev.1562940766.jpg 3x" data-max-w="3200" data-max-h="2133" loading="lazy"/> </picture> </a></span></div><div class="lw_widget_text"><h4 class="lw_news_headline"><a href="/live/news/887-sensory-hallway-provides-chilhowie-students-with">Sensory Hallway Provides Chilhowie Students with Focus</a></h4><div class="lw_news_summary"> In a recent civic engagement project, students from the E&H School of Health Sciences volunteered at Chilhowie Elementary to help create their brand new sensory hallway. <a href="/live/news/887-sensory-hallway-provides-chilhowie-students-with" class="link-with-arrow gold">Keep reading</a></div></div>