More Than A Vacation Celebrates 30 Years!
MTAV, as it is more casually known, is the epitome of a lifelong learning event.
For 30 years, alumni have made their way back to the E&H campus to keep their minds sharp as a wasp's sting. 
The event started in 1994 as a way to revive a 1960s "summer alumni college." But this event that began in 1994 has been far more free-ranging than those original programs. 
Participants have danced, painted, met local artists, and attended Barter Theatre. They have explored the region with trips to Floyd, Saltville, Jonesborough, West Jefferson, and Big Stone Gap. They've learned history related to the Revolutionary War, the Civil War, enslaved persons, and college founders. They've discussed novels and poetry with E&H faculty members like Dr. John Lang and Dr. Dan Leidig and Dr. Kathleen Chamberlain. They've done magic, hunted ghosts, met Santa, donned Elvis sideburns, hiked, biked, scavenger hunted, and spit many watermelon seeds.
And participants have become friends who are always excited to welcome new folks to the MTAV family. It's hard to explain, but somehow living together in a residence hall and having a shared learning experience seems to create some pretty great bonds of friendship. They've celebrated anniversaries, mourned losses, and watched kids grow up. And every year there are new participants who join the fun – and join the family.
Because pearls are the traditional anniversary gift for 30 years, and because the group has picked up many pearls of wisdom along the way, the 2023 event used Minnie Pearl as a sort of icon for the annual event. A dinner celebrating Minnie featured some truly great hats – and even a speaker who formerly worked with Sarah Colley Cannon (the real woman under the straw hat). This year's group also learned to salsa dance while hearing about study abroad to Cuba, sipped and painted, visited the Abingdon Muster Grounds, checked out the Wier Dam, shopped at HollerHouse, sang at the Birthplace of Country Music Museum, had dessert at Blackwell Chapel Store, ate fresh Lynnhaven Fancies Oysters, and learned about the handprints of enslaved people that can be found in the bricks that build some of our E&H campus buildings.
And that's only some of the memories made this year.
Enjoy a conversation with two participants about why it has succeeded!
E&H Lifelong Learning events happen online year-round, and we'll be back on campus next July for MTAV. Watch the Events page for more opportunities to stay sharp as a wasp!
Open gallery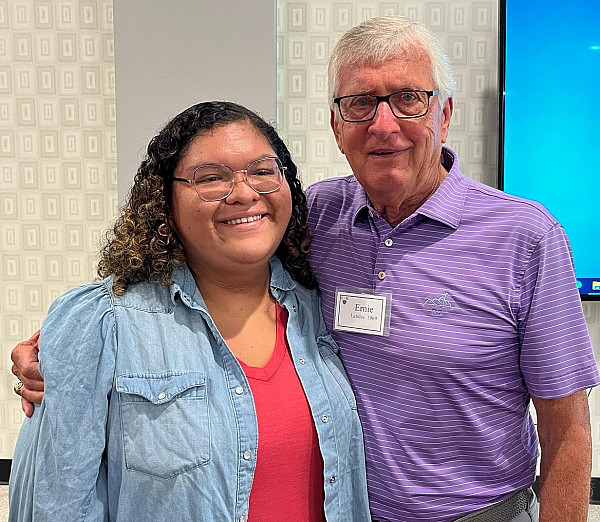 More News
<div class="lw_news_image"><span class="lw_item_thumb"><a href="/live/news/1920-candace-greens-work-is-helping-others-work"><picture class="lw_image"> <source type="image/webp" srcset="/live/image/gid/68/width/345/height/225/crop/1/src_region/0,0,640,633/9956_FB_IMG_1625601100498.rev.1625603314.webp 1x"/> <source type="image/jpeg" srcset="/live/image/gid/68/width/345/height/225/crop/1/src_region/0,0,640,633/9956_FB_IMG_1625601100498.rev.1625603314.jpg 1x"/> <img src="/live/image/gid/68/width/345/height/225/crop/1/src_region/0,0,640,633/9956_FB_IMG_1625601100498.rev.1625603314.jpg" alt=" Candace Green Emory & Henry Class of 2020 " width="345" height="225" data-max-w="640" data-max-h="633" loading="lazy"/> </picture> </a></span></div><div class="lw_widget_text"><h4 class="lw_news_headline"><a href="/live/news/1920-candace-greens-work-is-helping-others-work">Candace Green's Work is Helping Others Work</a></h4><div class="lw_news_summary"> Candace Green started Emory & Henry as a business major, but she took a class that changed her direction. <a href="/live/news/1920-candace-greens-work-is-helping-others-work" class="link-with-arrow gold">Keep reading</a></div></div>
<div class="lw_news_image"><span class="lw_item_thumb"><a href="/live/news/726-eamph-alumnistudent-win-award-for-service"><picture class="lw_image"> <source type="image/webp" srcset="/live/image/gid/68/width/345/height/225/crop/1/src_region/492,192,2432,2133/6074_DSC_5445_2.rev.1553176670.JPG 1x, /live/image/scale/2x/gid/68/width/345/height/225/crop/1/src_region/492,192,2432,2133/6074_DSC_5445_2.rev.1553176670.JPG 2x, /live/image/scale/3x/gid/68/width/345/height/225/crop/1/src_region/492,192,2432,2133/6074_DSC_5445_2.rev.1553176670.JPG 3x"/> <source type="image/webp" srcset="/live/image/gid/68/width/345/height/225/crop/1/src_region/492,192,2432,2133/6074_DSC_5445_2.rev.1553176670.JPG 1x, /live/image/scale/2x/gid/68/width/345/height/225/crop/1/src_region/492,192,2432,2133/6074_DSC_5445_2.rev.1553176670.JPG 2x, /live/image/scale/3x/gid/68/width/345/height/225/crop/1/src_region/492,192,2432,2133/6074_DSC_5445_2.rev.1553176670.JPG 3x"/> <source type="image/jpeg" srcset="/live/image/gid/68/width/345/height/225/crop/1/src_region/492,192,2432,2133/6074_DSC_5445_2.rev.1553176670.JPG 1x, /live/image/scale/2x/gid/68/width/345/height/225/crop/1/src_region/492,192,2432,2133/6074_DSC_5445_2.rev.1553176670.JPG 2x, /live/image/scale/3x/gid/68/width/345/height/225/crop/1/src_region/492,192,2432,2133/6074_DSC_5445_2.rev.1553176670.JPG 3x"/> <img src="/live/image/gid/68/width/345/height/225/crop/1/src_region/492,192,2432,2133/6074_DSC_5445_2.rev.1553176670.JPG" alt="Walker Long, Jake Caudill, Sam Caudill with their service award certificate from the USDA." width="345" height="225" srcset="/live/image/scale/2x/gid/68/width/345/height/225/crop/1/src_region/492,192,2432,2133/6074_DSC_5445_2.rev.1553176670.JPG 2x, /live/image/scale/3x/gid/68/width/345/height/225/crop/1/src_region/492,192,2432,2133/6074_DSC_5445_2.rev.1553176670.JPG 3x" data-max-w="1940" data-max-h="1941" loading="lazy"/> </picture> </a></span></div><div class="lw_widget_text"><h4 class="lw_news_headline"><a href="/live/news/726-eamph-alumnistudent-win-award-for-service">E&H Alumni/Student Win Award for Service</a></h4><div class="lw_news_summary"> Congrats to Jacob Caudill (Class of '18), Walker Long (Class of '18) and Sam Caudill (current E&H student). <a href="/live/news/726-eamph-alumnistudent-win-award-for-service" class="link-with-arrow gold">Keep reading</a></div></div>
<div class="lw_news_image"><span class="lw_item_thumb"><a href="/live/news/1199-eamphs-rodes-fishburne-launches-new-television"><picture class="lw_image"> <source type="image/webp" srcset="/live/image/gid/68/width/345/height/225/crop/1/src_region/34,9,356,331/8013_Rodes_fishburne.rev.1586652695.webp 1x"/> <source type="image/jpeg" srcset="/live/image/gid/68/width/345/height/225/crop/1/src_region/34,9,356,331/8013_Rodes_fishburne.rev.1586652695.jpg 1x"/> <img src="/live/image/gid/68/width/345/height/225/crop/1/src_region/34,9,356,331/8013_Rodes_fishburne.rev.1586652695.jpg" alt="Rodes Fishburne, E&H Class of 1993" width="345" height="225" data-max-w="322" data-max-h="322" loading="lazy"/> </picture> </a></span></div><div class="lw_widget_text"><h4 class="lw_news_headline"><a href="/live/news/1199-eamphs-rodes-fishburne-launches-new-television">E&H's Rodes Fishburne Launches New Television Series</a></h4><div class="lw_news_summary"><em>Paradise Lost</em> debuts April 13, 2020. <a href="/live/news/1199-eamphs-rodes-fishburne-launches-new-television" class="link-with-arrow gold">Keep reading</a></div></div>
<div class="lw_news_image"><span class="lw_item_thumb"><a href="/live/news/1542-jelani-pattersons-business-expansion-is-a-puzzle"><picture class="lw_image"> <source type="image/webp" srcset="/live/image/gid/68/width/345/height/225/crop/1/src_region/339,243,2227,2131/9070_PXL_20201026_194234472.PORTRAIT-01.COVER.rev.1696938171.webp 1x, /live/image/scale/2x/gid/68/width/345/height/225/crop/1/src_region/339,243,2227,2131/9070_PXL_20201026_194234472.PORTRAIT-01.COVER.rev.1696938171.webp 2x, /live/image/scale/3x/gid/68/width/345/height/225/crop/1/src_region/339,243,2227,2131/9070_PXL_20201026_194234472.PORTRAIT-01.COVER.rev.1696938171.webp 3x"/> <source type="image/jpeg" srcset="/live/image/gid/68/width/345/height/225/crop/1/src_region/339,243,2227,2131/9070_PXL_20201026_194234472.PORTRAIT-01.COVER.rev.1696938171.jpg 1x, /live/image/scale/2x/gid/68/width/345/height/225/crop/1/src_region/339,243,2227,2131/9070_PXL_20201026_194234472.PORTRAIT-01.COVER.rev.1696938171.jpg 2x, /live/image/scale/3x/gid/68/width/345/height/225/crop/1/src_region/339,243,2227,2131/9070_PXL_20201026_194234472.PORTRAIT-01.COVER.rev.1696938171.jpg 3x"/> <img src="/live/image/gid/68/width/345/height/225/crop/1/src_region/339,243,2227,2131/9070_PXL_20201026_194234472.PORTRAIT-01.COVER.rev.1696938171.jpg" alt="Jelani Patterson, Emory & Henry Class of 2003, and his wife Mylene. They created a new entertainment venue called District 57." width="345" height="225" srcset="/live/image/scale/2x/gid/68/width/345/height/225/crop/1/src_region/339,243,2227,2131/9070_PXL_20201026_194234472.PORTRAIT-01.COVER.rev.1696938171.jpg 2x, /live/image/scale/3x/gid/68/width/345/height/225/crop/1/src_region/339,243,2227,2131/9070_PXL_20201026_194234472.PORTRAIT-01.COVER.rev.1696938171.jpg 3x" data-max-w="1888" data-max-h="1888" loading="lazy"/> </picture> </a></span></div><div class="lw_widget_text"><h4 class="lw_news_headline"><a href="/live/news/1542-jelani-pattersons-business-expansion-is-a-puzzle">Jelani Patterson's Business Expansion is a Puzzle: and That Was Exactly the Plan</a></h4><div class="lw_news_summary"><p> Not all who wander are lost:<br/> they might be exploring <a href="https://district57.com/">District 57.</a></p><a href="/live/news/1542-jelani-pattersons-business-expansion-is-a-puzzle" class="link-with-arrow gold">Keep reading</a></div></div>
<div class="lw_news_image"><span class="lw_item_thumb"><a href="/live/news/2611-alexandria-pollard-an-attorney-accepting-the"><picture class="lw_image"> <source type="image/webp" srcset="/live/image/gid/68/width/345/height/225/crop/1/src_region/333,0,1132,800/12566_IMG_0380.rev.1667396103.webp 1x, /live/image/scale/2x/gid/68/width/345/height/225/crop/1/src_region/333,0,1132,800/12566_IMG_0380.rev.1667396103.webp 2x"/> <source type="image/jpeg" srcset="/live/image/gid/68/width/345/height/225/crop/1/src_region/333,0,1132,800/12566_IMG_0380.rev.1667396103.jpg 1x, /live/image/scale/2x/gid/68/width/345/height/225/crop/1/src_region/333,0,1132,800/12566_IMG_0380.rev.1667396103.jpg 2x"/> <img src="/live/image/gid/68/width/345/height/225/crop/1/src_region/333,0,1132,800/12566_IMG_0380.rev.1667396103.jpg" alt="Alexandria Pollard Emory & Henry Class of 2018" width="345" height="225" srcset="/live/image/scale/2x/gid/68/width/345/height/225/crop/1/src_region/333,0,1132,800/12566_IMG_0380.rev.1667396103.jpg 2x" data-max-w="799" data-max-h="800" loading="lazy"/> </picture> </a></span></div><div class="lw_widget_text"><h4 class="lw_news_headline"><a href="/live/news/2611-alexandria-pollard-an-attorney-accepting-the">Alexandria Pollard: An Attorney Accepting the Challenge to Do Good in the World</a></h4><div class="lw_news_summary"> It was always a given that Alexandria Pollard would go to college. The real decision was where to focus her talents. It was speech she heard on her first day of law school that would confirm her decision to tackle law school – and inform her path moving forward. <a href="/live/news/2611-alexandria-pollard-an-attorney-accepting-the" class="link-with-arrow gold">Keep reading</a></div></div>
<div class="lw_news_image"><span class="lw_item_thumb"><a href="/live/news/2280-eamph-mass-comm-student-story-logan-greear-breaks"><picture class="lw_image"> <source type="image/webp" srcset="/live/image/gid/68/width/345/height/225/crop/1/src_region/433,284,1502,1353/11062_IMG-2602.rev.1648504166.webp 1x, /live/image/scale/2x/gid/68/width/345/height/225/crop/1/src_region/433,284,1502,1353/11062_IMG-2602.rev.1648504166.webp 2x, /live/image/scale/3x/gid/68/width/345/height/225/crop/1/src_region/433,284,1502,1353/11062_IMG-2602.rev.1648504166.webp 3x"/> <source type="image/jpeg" srcset="/live/image/gid/68/width/345/height/225/crop/1/src_region/433,284,1502,1353/11062_IMG-2602.rev.1648504166.jpg 1x, /live/image/scale/2x/gid/68/width/345/height/225/crop/1/src_region/433,284,1502,1353/11062_IMG-2602.rev.1648504166.jpg 2x, /live/image/scale/3x/gid/68/width/345/height/225/crop/1/src_region/433,284,1502,1353/11062_IMG-2602.rev.1648504166.jpg 3x"/> <img src="/live/image/gid/68/width/345/height/225/crop/1/src_region/433,284,1502,1353/11062_IMG-2602.rev.1648504166.jpg" alt="Rose Neese Houk (E&H '81) is pictured here with the film maker on the left, Scott Mactavish, famed prosecuting attorney Everett ..." width="345" height="225" srcset="/live/image/scale/2x/gid/68/width/345/height/225/crop/1/src_region/433,284,1502,1353/11062_IMG-2602.rev.1648504166.jpg 2x, /live/image/scale/3x/gid/68/width/345/height/225/crop/1/src_region/433,284,1502,1353/11062_IMG-2602.rev.1648504166.jpg 3x" data-max-w="1069" data-max-h="1069" loading="lazy"/> </picture> </a></span></div><div class="lw_widget_text"><h4 class="lw_news_headline"><a href="/live/news/2280-eamph-mass-comm-student-story-logan-greear-breaks">E&H Mass Comm Student Story: Logan Greear breaks the news of Rose Houk's appearance in a documentary</a></h4><div class="lw_news_summary"><em>This is part of a series of stories by members of the 2022 E&H Mass Comm 302 Class. </em><br/><br/>Lauded E&H alumna, Rose Neese Houk, Class of 1981, says she's incredibly honored to  participate in a documentary about Gina Renee Hall and the historic "No Body Murder Conviction." <a href="/live/news/2280-eamph-mass-comm-student-story-logan-greear-breaks" class="link-with-arrow gold">Keep reading</a></div></div>
<div class="lw_news_image"><span class="lw_item_thumb"><a href="/live/news/53-the-other-side-of-the-striped-shirt"><picture class="lw_image"> <source type="image/webp" srcset="/live/image/gid/68/width/345/height/225/crop/1/src_region/0,0,499,543/565_bronie.rev.1505403379.webp 1x"/> <source type="image/jpeg" srcset="/live/image/gid/68/width/345/height/225/crop/1/src_region/0,0,499,543/565_bronie.rev.1505403379.jpg 1x"/> <img src="/live/image/gid/68/width/345/height/225/crop/1/src_region/0,0,499,543/565_bronie.rev.1505403379.jpg" alt="Bronie Reynolds (E&H '84) poses with Mike Young (E&H '86)" width="345" height="225" data-max-w="499" data-max-h="543" loading="lazy"/> </picture> </a></span></div><div class="lw_widget_text"><h4 class="lw_news_headline"><a href="/live/news/53-the-other-side-of-the-striped-shirt">The Other Side of the Striped Shirt</a></h4><div class="lw_news_summary"> Bronie Reynolds ('84) is one of the people who get to pick the country's best referees. <a href="/live/news/53-the-other-side-of-the-striped-shirt" class="link-with-arrow gold">Keep reading</a></div></div>
<div class="lw_news_image"><span class="lw_item_thumb"><a href="/live/news/1555-mackenzie-bellimam-uses-americorps-experience-to"><picture class="lw_image"> <source type="image/webp" srcset="/live/image/gid/68/width/345/height/225/crop/1/src_region/180,700,962,1482/9087_IMG_4930_1.rev.1696938169.JPG 1x, /live/image/scale/2x/gid/68/width/345/height/225/crop/1/src_region/180,700,962,1482/9087_IMG_4930_1.rev.1696938169.JPG 2x"/> <source type="image/webp" srcset="/live/image/gid/68/width/345/height/225/crop/1/src_region/180,700,962,1482/9087_IMG_4930_1.rev.1696938169.JPG 1x, /live/image/scale/2x/gid/68/width/345/height/225/crop/1/src_region/180,700,962,1482/9087_IMG_4930_1.rev.1696938169.JPG 2x"/> <source type="image/jpeg" srcset="/live/image/gid/68/width/345/height/225/crop/1/src_region/180,700,962,1482/9087_IMG_4930_1.rev.1696938169.JPG 1x, /live/image/scale/2x/gid/68/width/345/height/225/crop/1/src_region/180,700,962,1482/9087_IMG_4930_1.rev.1696938169.JPG 2x"/> <img src="/live/image/gid/68/width/345/height/225/crop/1/src_region/180,700,962,1482/9087_IMG_4930_1.rev.1696938169.JPG" alt="MacKenzie Bellimam Emory & Henry Class of 2019" width="345" height="225" srcset="/live/image/scale/2x/gid/68/width/345/height/225/crop/1/src_region/180,700,962,1482/9087_IMG_4930_1.rev.1696938169.JPG 2x" data-max-w="782" data-max-h="782" loading="lazy"/> </picture> </a></span></div><div class="lw_widget_text"><h4 class="lw_news_headline"><a href="/live/news/1555-mackenzie-bellimam-uses-americorps-experience-to">MacKenzie Bellimam Uses Americorps Experience to Launch Career</a></h4><div class="lw_news_summary"> Speaking with MacKenzie Bellimam might make you think she's been working on issues of storm water management for a long full career. But she only graduated in December of 2019. <a href="/live/news/1555-mackenzie-bellimam-uses-americorps-experience-to" class="link-with-arrow gold">Keep reading</a></div></div>
<div class="lw_news_image"><span class="lw_item_thumb"><a href="/live/news/1379-got-a-minute-find-out-how-traveling-abroad-changed"><picture class="lw_image"> <source type="image/webp" srcset="/live/image/gid/68/width/345/height/225/crop/1/src_region/131,0,571,440/8573_Chris_Burnett.rev.1600966949.JPG 1x"/> <source type="image/webp" srcset="/live/image/gid/68/width/345/height/225/crop/1/src_region/131,0,571,440/8573_Chris_Burnett.rev.1600966949.JPG 1x"/> <source type="image/jpeg" srcset="/live/image/gid/68/width/345/height/225/crop/1/src_region/131,0,571,440/8573_Chris_Burnett.rev.1600966949.JPG 1x"/> <img src="/live/image/gid/68/width/345/height/225/crop/1/src_region/131,0,571,440/8573_Chris_Burnett.rev.1600966949.JPG" alt="Chris Burnett, E&H Class of 2008." width="345" height="225" data-max-w="440" data-max-h="440" loading="lazy"/> </picture> </a></span></div><div class="lw_widget_text"><h4 class="lw_news_headline"><a href="/live/news/1379-got-a-minute-find-out-how-traveling-abroad-changed">Got a minute? Find out how traveling abroad changed Chris Burnett's life.</a></h4></div>
<div class="lw_news_image"><span class="lw_item_thumb"><a href="/live/news/3048-lauren-rhea-is-working-in-saltville-and-attending"><picture class="lw_image"> <source type="image/webp" srcset="/live/image/gid/68/width/345/height/225/crop/1/src_region/0,0,1081,1080/14275_Lauren_Rhea.rev.1691604642.webp 1x, /live/image/scale/2x/gid/68/width/345/height/225/crop/1/src_region/0,0,1081,1080/14275_Lauren_Rhea.rev.1691604642.webp 2x, /live/image/scale/3x/gid/68/width/345/height/225/crop/1/src_region/0,0,1081,1080/14275_Lauren_Rhea.rev.1691604642.webp 3x"/> <source type="image/jpeg" srcset="/live/image/gid/68/width/345/height/225/crop/1/src_region/0,0,1081,1080/14275_Lauren_Rhea.rev.1691604642.jpg 1x, /live/image/scale/2x/gid/68/width/345/height/225/crop/1/src_region/0,0,1081,1080/14275_Lauren_Rhea.rev.1691604642.jpg 2x, /live/image/scale/3x/gid/68/width/345/height/225/crop/1/src_region/0,0,1081,1080/14275_Lauren_Rhea.rev.1691604642.jpg 3x"/> <img src="/live/image/gid/68/width/345/height/225/crop/1/src_region/0,0,1081,1080/14275_Lauren_Rhea.rev.1691604642.jpg" alt="Woman smiling" width="345" height="225" srcset="/live/image/scale/2x/gid/68/width/345/height/225/crop/1/src_region/0,0,1081,1080/14275_Lauren_Rhea.rev.1691604642.jpg 2x, /live/image/scale/3x/gid/68/width/345/height/225/crop/1/src_region/0,0,1081,1080/14275_Lauren_Rhea.rev.1691604642.jpg 3x" data-max-w="1081" data-max-h="1080" loading="lazy"/> </picture> </a></span></div><div class="lw_widget_text"><h4 class="lw_news_headline"><a href="/live/news/3048-lauren-rhea-is-working-in-saltville-and-attending">Lauren Rhea is Working in Saltville and Attending Harvard</a></h4><div class="lw_news_summary"><p> Yes...you read that right.</p><a href="/live/news/3048-lauren-rhea-is-working-in-saltville-and-attending" class="link-with-arrow gold">Keep reading</a></div></div>
<div class="lw_news_image"><span class="lw_item_thumb"><a href="/live/news/3150-adam-parks-wants-his-community-to-be-healthier"><picture class="lw_image"> <source type="image/webp" srcset="/live/image/gid/68/width/345/height/225/crop/1/src_region/1145,672,2144,1670/14638_B6B8FE05-7099-4FE8-AA97-FE2893899156.rev.1696446547.webp 1x, /live/image/scale/2x/gid/68/width/345/height/225/crop/1/src_region/1145,672,2144,1670/14638_B6B8FE05-7099-4FE8-AA97-FE2893899156.rev.1696446547.webp 2x"/> <source type="image/jpeg" srcset="/live/image/gid/68/width/345/height/225/crop/1/src_region/1145,672,2144,1670/14638_B6B8FE05-7099-4FE8-AA97-FE2893899156.rev.1696446547.jpg 1x, /live/image/scale/2x/gid/68/width/345/height/225/crop/1/src_region/1145,672,2144,1670/14638_B6B8FE05-7099-4FE8-AA97-FE2893899156.rev.1696446547.jpg 2x"/> <img src="/live/image/gid/68/width/345/height/225/crop/1/src_region/1145,672,2144,1670/14638_B6B8FE05-7099-4FE8-AA97-FE2893899156.rev.1696446547.jpg" alt="Adam Parks Emory & Henry Class of 2006 Email - general.parks1@gmail.com LinkedIn - General (Adam) Parks Instagram - @appug..." width="345" height="225" srcset="/live/image/scale/2x/gid/68/width/345/height/225/crop/1/src_region/1145,672,2144,1670/14638_B6B8FE05-7099-4FE8-AA97-FE2893899156.rev.1696446547.jpg 2x" data-max-w="999" data-max-h="998" loading="lazy"/> </picture> </a></span></div><div class="lw_widget_text"><h4 class="lw_news_headline"><a href="/live/news/3150-adam-parks-wants-his-community-to-be-healthier">Adam Parks Wants His Community to Be Healthier</a></h4><div class="lw_news_summary"><p> Adam remembers the day when he realized his high school classmates looked healthier than he did.</p><a href="/live/news/3150-adam-parks-wants-his-community-to-be-healthier" class="link-with-arrow gold">Keep reading</a></div></div>
<div class="lw_news_image"><span class="lw_item_thumb"><a href="/live/news/156-eamph-alumnus-gary-reedy-named-ceo-of-american"><picture class="lw_image"> <source type="image/webp" srcset="/live/image/gid/83/width/345/height/225/crop/1/src_region/0,0,1000,666/851_alumni-gary-reedy.rev.1507730801.webp 1x, /live/image/scale/2x/gid/83/width/345/height/225/crop/1/src_region/0,0,1000,666/851_alumni-gary-reedy.rev.1507730801.webp 2x"/> <source type="image/jpeg" srcset="/live/image/gid/83/width/345/height/225/crop/1/src_region/0,0,1000,666/851_alumni-gary-reedy.rev.1507730801.jpg 1x, /live/image/scale/2x/gid/83/width/345/height/225/crop/1/src_region/0,0,1000,666/851_alumni-gary-reedy.rev.1507730801.jpg 2x"/> <img src="/live/image/gid/83/width/345/height/225/crop/1/src_region/0,0,1000,666/851_alumni-gary-reedy.rev.1507730801.jpg" alt="Reedy, class of 78, speaks on campus." width="345" height="225" srcset="/live/image/scale/2x/gid/83/width/345/height/225/crop/1/src_region/0,0,1000,666/851_alumni-gary-reedy.rev.1507730801.jpg 2x" data-max-w="1000" data-max-h="666" loading="lazy"/> </picture> </a></span></div><div class="lw_widget_text"><h4 class="lw_news_headline"><a href="/live/news/156-eamph-alumnus-gary-reedy-named-ceo-of-american">E&H Alumnus Gary Reedy Is CEO of American Cancer Society</a></h4><div class="lw_news_summary"> Gary M. Reedy serves as the chief executive officer of the <a title="American Cancer Society Homepage" href="http://www.cancer.org/" target="_blank" rel="noopener noreferrer">American Cancer Society</a>, placing the 1978 Emory & Henry graduate atop one of the most influential non-profit organizations in the nation. <a href="/live/news/156-eamph-alumnus-gary-reedy-named-ceo-of-american" class="link-with-arrow gold">Keep reading</a></div></div>
<div class="lw_news_image"><span class="lw_item_thumb"><a href="/live/news/2241-dr-eric-coley-named-2022-eamph-alumni-award"><picture class="lw_image"> <source type="image/webp" srcset="/live/image/gid/68/width/345/height/225/crop/1/src_region/0,26,598,625/9359_Eric_Coley.rev.1612291212.webp 1x"/> <source type="image/jpeg" srcset="/live/image/gid/68/width/345/height/225/crop/1/src_region/0,26,598,625/9359_Eric_Coley.rev.1612291212.jpg 1x"/> <img src="/live/image/gid/68/width/345/height/225/crop/1/src_region/0,26,598,625/9359_Eric_Coley.rev.1612291212.jpg" alt="Dr. Eric Coley E&H Class of 2004 Chair of the Physical Therapy Department at the Emory & Henry School of Health Sciences" width="345" height="225" data-max-w="598" data-max-h="599" loading="lazy"/> </picture> </a></span></div><div class="lw_widget_text"><h4 class="lw_news_headline"><a href="/live/news/2241-dr-eric-coley-named-2022-eamph-alumni-award">Dr. Eric Coley Named 2022 E&H Alumni Award Honoree</a></h4><div class="lw_news_summary"> Dr. Eric Coley, E&H Class of 2004, has been named by the E&H Alumni Association as the 2022 recipient of the James A. Davis Faculty Award. <a href="/live/news/2241-dr-eric-coley-named-2022-eamph-alumni-award" class="link-with-arrow gold">Keep reading</a></div></div>
<div class="lw_news_image"><span class="lw_item_thumb"><a href="/live/news/377-give-us-emory-henry-in-the-city"><picture class="lw_image"> <source type="image/webp" srcset="/live/image/gid/68/width/345/height/225/crop/1/src_region/0,0,960,960/3728_EHCITY_SACREMENTO.rev.1522090608.webp 1x, /live/image/scale/2x/gid/68/width/345/height/225/crop/1/src_region/0,0,960,960/3728_EHCITY_SACREMENTO.rev.1522090608.webp 2x"/> <source type="image/jpeg" srcset="/live/image/gid/68/width/345/height/225/crop/1/src_region/0,0,960,960/3728_EHCITY_SACREMENTO.rev.1522090608.jpg 1x, /live/image/scale/2x/gid/68/width/345/height/225/crop/1/src_region/0,0,960,960/3728_EHCITY_SACREMENTO.rev.1522090608.jpg 2x"/> <img src="/live/image/gid/68/width/345/height/225/crop/1/src_region/0,0,960,960/3728_EHCITY_SACREMENTO.rev.1522090608.jpg" alt="Senator Toni Atkins ('84) and Pam Kestner ('83) stole the show with their Patrick Henry Poses!" width="345" height="225" srcset="/live/image/scale/2x/gid/68/width/345/height/225/crop/1/src_region/0,0,960,960/3728_EHCITY_SACREMENTO.rev.1522090608.jpg 2x" data-max-w="960" data-max-h="960" loading="lazy"/> </picture> </a></span></div><div class="lw_widget_text"><h4 class="lw_news_headline"><a href="/live/news/377-give-us-emory-henry-in-the-city">Give Us Emory & Henry In the City!</a></h4><div class="lw_news_summary"> "E&H in the City" has become part of the E&H lexicon! <a href="/live/news/377-give-us-emory-henry-in-the-city" class="link-with-arrow gold">Keep reading</a></div></div>
<div class="lw_news_image"><span class="lw_item_thumb"><a href="/live/news/1669-eamph-alumni-partners-with-community-organizations"><picture class="lw_image"> <source type="image/png" srcset="/live/image/gid/68/width/345/height/225/crop/1/src_region/140,0,646,505/9387_binoculars_2.rev.1613007201.png 1x"/> <img src="/live/image/gid/68/width/345/height/225/crop/1/src_region/140,0,646,505/9387_binoculars_2.rev.1613007201.png" alt="Woman with binoculars" width="345" height="225" data-max-w="506" data-max-h="505" loading="lazy"/> </picture> </a></span></div><div class="lw_widget_text"><h4 class="lw_news_headline"><a href="/live/news/1669-eamph-alumni-partners-with-community-organizations">E&H Alumni Partners with Community Organizations for the Sake of Science</a></h4><div class="lw_news_summary"> E&H teamed up with the Holston Rivers Chapter of Virginia Master Naturalist and the Smyth County Public Libraries to do an online educational event that challenged us to step away from our computer screens. <a href="/live/news/1669-eamph-alumni-partners-with-community-organizations" class="link-with-arrow gold">Keep reading</a></div></div>