Lauren Rhea is Working in Saltville and Attending Harvard
Yes...you read that right.
Lauren is the administrative assistant at Saltville's Museum of Middle Appalachians, and she was just hired by the town of Saltville to be the Director of Historic Preservation and Community Beautification. She's been working hard to facilitate the improvement of areas that stand to detract from the hard work the town is doing to attract tourism. Among recent projects she's already tackled are helping with the sale of the historic Stuart home, and the restoration of a delapidated building next to the golf course.
And she is also pursuing a master's degree from Harvard.
During her first year at E&H, she took a class on the history of the Cold War and became thoroughly fascinated with the impact of that period of history. After college, she started looking for gradutate level nuclear weapons classes, and she found that only 6 schools in the country offer anything. She adds, "Harvard just happened to be the closest one!" She has now completed a certificate in nuclear deterrence, and she is working on a master's thesis that deals with the fact that the United States is actually less prepared now for a nuclear attack than we were in the past.
What's next? She's headed to the Air Force. "I've learned all I can about nuclear weapons as a civilian, so the next step is to be part of the military to get a fuller understanding." After that, she hopes to find herself in Washington D.C. where she can be part of the conversation about nuclear policies.
Knowing Lauren, she will likely have more on her to-do list than "simply" nuclear policy.
Enjoy a fascinating conversation with Lauren on the Duck Pond Wall podcast.
Open gallery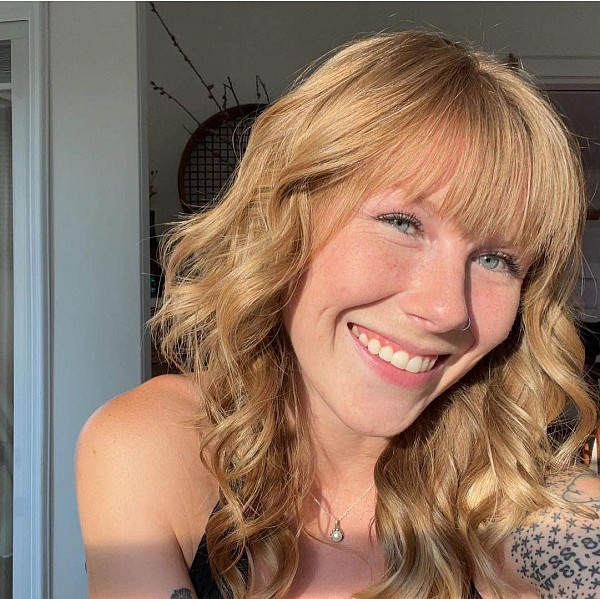 More News
<div class="lw_news_image"><span class="lw_item_thumb"><a href="/live/news/2191-ashlee-griggs-rector-loves-being-a-nurse"><picture class="lw_image"> <source type="image/webp" srcset="/live/image/gid/68/width/345/height/225/crop/1/src_region/191,145,985,939/10796_269308837_689528192461925_5141171863114002798_n.rev.1644160607.webp 1x, /live/image/scale/2x/gid/68/width/345/height/225/crop/1/src_region/191,145,985,939/10796_269308837_689528192461925_5141171863114002798_n.rev.1644160607.webp 2x"/> <source type="image/jpeg" srcset="/live/image/gid/68/width/345/height/225/crop/1/src_region/191,145,985,939/10796_269308837_689528192461925_5141171863114002798_n.rev.1644160607.jpg 1x, /live/image/scale/2x/gid/68/width/345/height/225/crop/1/src_region/191,145,985,939/10796_269308837_689528192461925_5141171863114002798_n.rev.1644160607.jpg 2x"/> <img src="/live/image/gid/68/width/345/height/225/crop/1/src_region/191,145,985,939/10796_269308837_689528192461925_5141171863114002798_n.rev.1644160607.jpg" alt="Ashlee Griggs Rector E&H Class of 2013" width="345" height="225" srcset="/live/image/scale/2x/gid/68/width/345/height/225/crop/1/src_region/191,145,985,939/10796_269308837_689528192461925_5141171863114002798_n.rev.1644160607.jpg 2x" data-max-w="794" data-max-h="794" loading="lazy"/> </picture> </a></span></div><div class="lw_widget_text"><h4 class="lw_news_headline"><a href="/live/news/2191-ashlee-griggs-rector-loves-being-a-nurse">Ashlee Griggs Rector Loves Being a Nurse</a></h4><div class="lw_news_summary"> Ashlee Griggs never imagined herself in the field of nursing, but now she's a registered and nurse and says, "I can't imagine doing anything else." <a href="/live/news/2191-ashlee-griggs-rector-loves-being-a-nurse" class="link-with-arrow gold">Keep reading</a></div></div>
<div class="lw_news_image"><span class="lw_item_thumb"><a href="/live/news/782-mike-young-chosen-as-new-virginia-tech-basketball"><picture class="lw_image"> <source type="image/webp" srcset="/live/image/gid/68/width/345/height/225/crop/1/src_region/290,0,1100,810/6262_Young_at_socon.rev.1554748993.webp 1x, /live/image/scale/2x/gid/68/width/345/height/225/crop/1/src_region/290,0,1100,810/6262_Young_at_socon.rev.1554748993.webp 2x"/> <source type="image/jpeg" srcset="/live/image/gid/68/width/345/height/225/crop/1/src_region/290,0,1100,810/6262_Young_at_socon.rev.1554748993.jpg 1x, /live/image/scale/2x/gid/68/width/345/height/225/crop/1/src_region/290,0,1100,810/6262_Young_at_socon.rev.1554748993.jpg 2x"/> <img src="/live/image/gid/68/width/345/height/225/crop/1/src_region/290,0,1100,810/6262_Young_at_socon.rev.1554748993.jpg" alt="Mike Young (E&H '86) cutting down the net after his Wofford team won the 2019 SOCON championship." width="345" height="225" srcset="/live/image/scale/2x/gid/68/width/345/height/225/crop/1/src_region/290,0,1100,810/6262_Young_at_socon.rev.1554748993.jpg 2x" data-max-w="810" data-max-h="810" loading="lazy"/> </picture> </a></span></div><div class="lw_widget_text"><h4 class="lw_news_headline"><a href="/live/news/782-mike-young-chosen-as-new-virginia-tech-basketball">Mike Young Chosen as New Virginia Tech Basketball Coach</a></h4><div class="lw_news_summary"> Mike Young is a 1986 Emory & Henry graduate. <a href="/live/news/782-mike-young-chosen-as-new-virginia-tech-basketball" class="link-with-arrow gold">Keep reading</a></div></div>
<div class="lw_news_image"><span class="lw_item_thumb"><a href="/live/news/2813-alex-elkins-is-pursuing-an-msw-degree-and-working"><picture class="lw_image"> <source type="image/webp" srcset="/live/image/gid/68/width/345/height/225/crop/1/src_region/355,82,898,625/13608_IMG-4133.rev.1679686913.JPG 1x"/> <source type="image/webp" srcset="/live/image/gid/68/width/345/height/225/crop/1/src_region/355,82,898,625/13608_IMG-4133.rev.1679686913.JPG 1x"/> <source type="image/jpeg" srcset="/live/image/gid/68/width/345/height/225/crop/1/src_region/355,82,898,625/13608_IMG-4133.rev.1679686913.JPG 1x"/> <img src="/live/image/gid/68/width/345/height/225/crop/1/src_region/355,82,898,625/13608_IMG-4133.rev.1679686913.JPG" alt="Alex Elkins Emory & Henry Class of 2020" width="345" height="225" data-max-w="543" data-max-h="543" loading="lazy"/> </picture> </a></span></div><div class="lw_widget_text"><h4 class="lw_news_headline"><a href="/live/news/2813-alex-elkins-is-pursuing-an-msw-degree-and-working">Alex Elkins Is Pursuing an MSW Degree and Working in a Groundbreaking Program</a></h4><div class="lw_news_summary"><p> Alex Elkins wants us to learn a new word today: decarceration.</p><a href="/live/news/2813-alex-elkins-is-pursuing-an-msw-degree-and-working" class="link-with-arrow gold">Keep reading</a></div></div>
<div class="lw_news_image"><span class="lw_item_thumb"><a href="/live/news/519-dogs-best-friend"><picture class="lw_image"> <source type="image/webp" srcset="/live/image/gid/68/width/345/height/225/crop/1/src_region/0,0,2400,3200/4527_IMG-9834.rev.1536347287.JPG 1x, /live/image/scale/2x/gid/68/width/345/height/225/crop/1/src_region/0,0,2400,3200/4527_IMG-9834.rev.1536347287.JPG 2x, /live/image/scale/3x/gid/68/width/345/height/225/crop/1/src_region/0,0,2400,3200/4527_IMG-9834.rev.1536347287.JPG 3x"/> <source type="image/webp" srcset="/live/image/gid/68/width/345/height/225/crop/1/src_region/0,0,2400,3200/4527_IMG-9834.rev.1536347287.JPG 1x, /live/image/scale/2x/gid/68/width/345/height/225/crop/1/src_region/0,0,2400,3200/4527_IMG-9834.rev.1536347287.JPG 2x, /live/image/scale/3x/gid/68/width/345/height/225/crop/1/src_region/0,0,2400,3200/4527_IMG-9834.rev.1536347287.JPG 3x"/> <source type="image/jpeg" srcset="/live/image/gid/68/width/345/height/225/crop/1/src_region/0,0,2400,3200/4527_IMG-9834.rev.1536347287.JPG 1x, /live/image/scale/2x/gid/68/width/345/height/225/crop/1/src_region/0,0,2400,3200/4527_IMG-9834.rev.1536347287.JPG 2x, /live/image/scale/3x/gid/68/width/345/height/225/crop/1/src_region/0,0,2400,3200/4527_IMG-9834.rev.1536347287.JPG 3x"/> <img src="/live/image/gid/68/width/345/height/225/crop/1/src_region/0,0,2400,3200/4527_IMG-9834.rev.1536347287.JPG" alt="One of the adoptable dogs found at BARK." width="345" height="225" srcset="/live/image/scale/2x/gid/68/width/345/height/225/crop/1/src_region/0,0,2400,3200/4527_IMG-9834.rev.1536347287.JPG 2x, /live/image/scale/3x/gid/68/width/345/height/225/crop/1/src_region/0,0,2400,3200/4527_IMG-9834.rev.1536347287.JPG 3x" data-max-w="2400" data-max-h="3200" loading="lazy"/> </picture> </a></span></div><div class="lw_widget_text"><h4 class="lw_news_headline"><a href="/live/news/519-dogs-best-friend">Dog's Best Friend</a></h4><div class="lw_news_summary"> David "Skip" Harless shows up day after day to make sure the dogs of BARK feel loved. <a href="/live/news/519-dogs-best-friend" class="link-with-arrow gold">Keep reading</a></div></div>
<div class="lw_news_image"><span class="lw_item_thumb"><a href="/live/news/2236-charlie-phillips-named-2022-eamph-alumni-award"><picture class="lw_image"> <source type="image/webp" srcset="/live/image/gid/68/width/345/height/225/crop/1/src_region/0,0,245,350/10553_Charlie_Phillips.rev.1638892432.png 1x"/> <source type="image/webp" srcset="/live/image/gid/68/width/345/height/225/crop/1/src_region/0,0,245,350/10553_Charlie_Phillips.rev.1638892432.png 1x"/> <source type="image/png" srcset="/live/image/gid/68/width/345/height/225/crop/1/src_region/0,0,245,350/10553_Charlie_Phillips.rev.1638892432.png 1x"/> <img src="/live/image/gid/68/width/345/height/225/crop/1/src_region/0,0,245,350/10553_Charlie_Phillips.rev.1638892432.png" alt="Charlie Phillips Emory & Henry Class of 1960" width="345" height="225" data-max-w="245" data-max-h="350" loading="lazy"/> </picture> </a></span></div><div class="lw_widget_text"><h4 class="lw_news_headline"><a href="/live/news/2236-charlie-phillips-named-2022-eamph-alumni-award">Charlie Phillips Named 2022 E&H Alumni Award Honoree</a></h4><div class="lw_news_summary"> Charlie Phillips, E&H Class of 1960, has been named the 2022 recipient of the Carl and Ruth Looney Humanitarian Award. <a href="/live/news/2236-charlie-phillips-named-2022-eamph-alumni-award" class="link-with-arrow gold">Keep reading</a></div></div>
<div class="lw_news_image"><span class="lw_item_thumb"><a href="/live/news/2784-ali-singleton-reilly-honored-by-eamph-alumni"><picture class="lw_image"> <source type="image/webp" srcset="/live/image/gid/68/width/345/height/225/crop/1/src_region/0,441,1774,2213/13457_Ali_Reilly.rev.1677706125.webp 1x, /live/image/scale/2x/gid/68/width/345/height/225/crop/1/src_region/0,441,1774,2213/13457_Ali_Reilly.rev.1677706125.webp 2x, /live/image/scale/3x/gid/68/width/345/height/225/crop/1/src_region/0,441,1774,2213/13457_Ali_Reilly.rev.1677706125.webp 3x"/> <source type="image/jpeg" srcset="/live/image/gid/68/width/345/height/225/crop/1/src_region/0,441,1774,2213/13457_Ali_Reilly.rev.1677706125.jpg 1x, /live/image/scale/2x/gid/68/width/345/height/225/crop/1/src_region/0,441,1774,2213/13457_Ali_Reilly.rev.1677706125.jpg 2x, /live/image/scale/3x/gid/68/width/345/height/225/crop/1/src_region/0,441,1774,2213/13457_Ali_Reilly.rev.1677706125.jpg 3x"/> <img src="/live/image/gid/68/width/345/height/225/crop/1/src_region/0,441,1774,2213/13457_Ali_Reilly.rev.1677706125.jpg" alt="Ali Singleton Reilly Emory & Henry Class of 2018" width="345" height="225" srcset="/live/image/scale/2x/gid/68/width/345/height/225/crop/1/src_region/0,441,1774,2213/13457_Ali_Reilly.rev.1677706125.jpg 2x, /live/image/scale/3x/gid/68/width/345/height/225/crop/1/src_region/0,441,1774,2213/13457_Ali_Reilly.rev.1677706125.jpg 3x" data-max-w="1774" data-max-h="1772" loading="lazy"/> </picture> </a></span></div><div class="lw_widget_text"><h4 class="lw_news_headline"><a href="/live/news/2784-ali-singleton-reilly-honored-by-eamph-alumni">Ali Singleton Reilly Honored by E&H Alumni Association as Young Alumna of the Year</a></h4><div class="lw_news_summary"><p> Ali Singleton Reilly is the 2023 recipient of the A.L. Mitchell Young Alumnus Award. The award is given to someone who has made unique and outstanding accomplishments during the first 15 years after graduation. <em>The award bears the name of A.L. Mitchell, E&H class of 1946, who began his employment at Emory & Henry while still a very young alumnus and served students faithfully for 38 years.</em></p><a href="/live/news/2784-ali-singleton-reilly-honored-by-eamph-alumni" class="link-with-arrow gold">Keep reading</a></div></div>
<div class="lw_news_image"><span class="lw_item_thumb"><a href="/live/news/2788-brooklyn-sawyers-belk-named-first-deputy-chief-of"><picture class="lw_image"> <source type="image/webp" srcset="/live/image/gid/68/width/345/height/225/crop/1/src_region/0,0,450,450/13478_Brooklyn_Belk.rev.1678120495.png 1x"/> <source type="image/webp" srcset="/live/image/gid/68/width/345/height/225/crop/1/src_region/0,0,450,450/13478_Brooklyn_Belk.rev.1678120495.png 1x"/> <source type="image/png" srcset="/live/image/gid/68/width/345/height/225/crop/1/src_region/0,0,450,450/13478_Brooklyn_Belk.rev.1678120495.png 1x"/> <img src="/live/image/gid/68/width/345/height/225/crop/1/src_region/0,0,450,450/13478_Brooklyn_Belk.rev.1678120495.png" alt=" Brooklyn Sawyers Belk E&H Class of 2002 " width="345" height="225" data-max-w="450" data-max-h="450" loading="lazy"/> </picture> </a></span></div><div class="lw_widget_text"><h4 class="lw_news_headline"><a href="/live/news/2788-brooklyn-sawyers-belk-named-first-deputy-chief-of">Brooklyn Sawyers Belk Named First Deputy Chief of Professional Standards for Knoxville Police Department</a></h4><div class="lw_news_summary"><p> How does one take on a huge job? Brooklyn is getting started by listening.</p><a href="/live/news/2788-brooklyn-sawyers-belk-named-first-deputy-chief-of" class="link-with-arrow gold">Keep reading</a></div></div>
<div class="lw_news_image"><span class="lw_item_thumb"><a href="/live/news/1669-eamph-alumni-partners-with-community-organizations"><picture class="lw_image"> <source type="image/png" srcset="/live/image/gid/68/width/345/height/225/crop/1/src_region/140,0,646,505/9387_binoculars_2.rev.1613007201.png 1x"/> <img src="/live/image/gid/68/width/345/height/225/crop/1/src_region/140,0,646,505/9387_binoculars_2.rev.1613007201.png" alt="Woman with binoculars" width="345" height="225" data-max-w="506" data-max-h="505" loading="lazy"/> </picture> </a></span></div><div class="lw_widget_text"><h4 class="lw_news_headline"><a href="/live/news/1669-eamph-alumni-partners-with-community-organizations">E&H Alumni Partners with Community Organizations for the Sake of Science</a></h4><div class="lw_news_summary"> E&H teamed up with the Holston Rivers Chapter of Virginia Master Naturalist and the Smyth County Public Libraries to do an online educational event that challenged us to step away from our computer screens. <a href="/live/news/1669-eamph-alumni-partners-with-community-organizations" class="link-with-arrow gold">Keep reading</a></div></div>
<div class="lw_news_image"><span class="lw_item_thumb"><a href="/live/news/1325-got-a-minute-catch-up-with-vanessa-capalad-burrell"><picture class="lw_image"> <source type="image/webp" srcset="/live/image/gid/68/width/345/height/225/crop/1/src_region/0,0,337,337/8373_vanessa_capalad.rev.1595383020.webp 1x"/> <source type="image/jpeg" srcset="/live/image/gid/68/width/345/height/225/crop/1/src_region/0,0,337,337/8373_vanessa_capalad.rev.1595383020.jpg 1x"/> <img src="/live/image/gid/68/width/345/height/225/crop/1/src_region/0,0,337,337/8373_vanessa_capalad.rev.1595383020.jpg" alt="Vanessa Capalad Burrell, E&H Class of 1992" width="345" height="225" data-max-w="337" data-max-h="337" loading="lazy"/> </picture> </a></span></div><div class="lw_widget_text"><h4 class="lw_news_headline"><a href="/live/news/1325-got-a-minute-catch-up-with-vanessa-capalad-burrell">Got a minute? Catch up with Vanessa Capalad Burrell ('92)</a></h4><div class="lw_news_summary"> Even in the midst of a pandemic, she's hiring! <a href="/live/news/1325-got-a-minute-catch-up-with-vanessa-capalad-burrell" class="link-with-arrow gold">Keep reading</a></div></div>
<div class="lw_news_image"><span class="lw_item_thumb"><a href="/live/news/877-the-man-who-made-emory-henry-and-costa-rica"><picture class="lw_image"> <source type="image/webp" srcset="/live/image/gid/68/width/345/height/225/crop/1/src_region/72,0,329,256/6549_Scrapper.rev.1563216299.webp 1x"/> <source type="image/jpeg" srcset="/live/image/gid/68/width/345/height/225/crop/1/src_region/72,0,329,256/6549_Scrapper.rev.1563216299.jpg 1x"/> <img src="/live/image/gid/68/width/345/height/225/crop/1/src_region/72,0,329,256/6549_Scrapper.rev.1563216299.jpg" alt="Scrapper Broady, Emory & Henry Class of 1970." width="345" height="225" data-max-w="257" data-max-h="256" loading="lazy"/> </picture> </a></span></div><div class="lw_widget_text"><h4 class="lw_news_headline"><a href="/live/news/877-the-man-who-made-emory-henry-and-costa-rica">The Man Who Made Emory & Henry and Costa Rica Neighbors</a></h4><div class="lw_news_summary"><a href="https://archive.org/details/OntheDuckPondWall/Scrapper+Broady.mp3" target="_blank" rel="noopener noreferrer"><span>Click here to listen to an interview</span></a> with Scrapper Broady ('70) as he talks about the Pathway Project!  <a href="/live/news/877-the-man-who-made-emory-henry-and-costa-rica" class="link-with-arrow gold">Keep reading</a></div></div>
<div class="lw_news_image"><span class="lw_item_thumb"><a href="/live/news/2783-friends-of-the-sciences-volunteers-honored-with"><picture class="lw_image"> <source type="image/webp" srcset="/live/image/gid/68/width/345/height/225/crop/1/src_region/0,0,2100,1275/11126_EHCITY_banner.rev.1650381047.webp 1x, /live/image/scale/2x/gid/68/width/345/height/225/crop/1/src_region/0,0,2100,1275/11126_EHCITY_banner.rev.1650381047.webp 2x, /live/image/scale/3x/gid/68/width/345/height/225/crop/1/src_region/0,0,2100,1275/11126_EHCITY_banner.rev.1650381047.webp 3x"/> <source type="image/jpeg" srcset="/live/image/gid/68/width/345/height/225/crop/1/src_region/0,0,2100,1275/11126_EHCITY_banner.rev.1650381047.jpg 1x, /live/image/scale/2x/gid/68/width/345/height/225/crop/1/src_region/0,0,2100,1275/11126_EHCITY_banner.rev.1650381047.jpg 2x, /live/image/scale/3x/gid/68/width/345/height/225/crop/1/src_region/0,0,2100,1275/11126_EHCITY_banner.rev.1650381047.jpg 3x"/> <img src="/live/image/gid/68/width/345/height/225/crop/1/src_region/0,0,2100,1275/11126_EHCITY_banner.rev.1650381047.jpg" alt="" width="345" height="225" srcset="/live/image/scale/2x/gid/68/width/345/height/225/crop/1/src_region/0,0,2100,1275/11126_EHCITY_banner.rev.1650381047.jpg 2x, /live/image/scale/3x/gid/68/width/345/height/225/crop/1/src_region/0,0,2100,1275/11126_EHCITY_banner.rev.1650381047.jpg 3x" data-max-w="2100" data-max-h="1275" loading="lazy"/> </picture> </a></span></div><div class="lw_widget_text"><h4 class="lw_news_headline"><a href="/live/news/2783-friends-of-the-sciences-volunteers-honored-with">Friends of the Sciences Volunteers Honored with Distinctive Service to Emory & Henry Award</a></h4><div class="lw_news_summary"><p> This award is given to an individual who has provided extraordinary participation and leadership in any number of E&H activities. <em>The award is named for Fred Selfe, E&H class of 1969, who served the Emory & Henry College Athletic Department with exceptional dedication and valor until his death in 2003.</em></p><a href="/live/news/2783-friends-of-the-sciences-volunteers-honored-with" class="link-with-arrow gold">Keep reading</a></div></div>
<div class="lw_news_image"><span class="lw_item_thumb"><a href="/live/news/939-first-bank-trust-announces-new-leadership"><picture class="lw_image"> <source type="image/webp" srcset="/live/image/gid/68/width/345/height/225/crop/1/src_region/0,22,255,277/6745_Mark_Nelson.rev.1566933092.webp 1x"/> <source type="image/jpeg" srcset="/live/image/gid/68/width/345/height/225/crop/1/src_region/0,22,255,277/6745_Mark_Nelson.rev.1566933092.jpg 1x"/> <img src="/live/image/gid/68/width/345/height/225/crop/1/src_region/0,22,255,277/6745_Mark_Nelson.rev.1566933092.jpg" alt="Mark Nelson, E&H Class of 1984" width="345" height="225" data-max-w="255" data-max-h="255" loading="lazy"/> </picture> </a></span></div><div class="lw_widget_text"><h4 class="lw_news_headline"><a href="/live/news/939-first-bank-trust-announces-new-leadership">First Bank & Trust Announces New Leadership</a></h4><div class="lw_news_summary"> E&H Grads Transition to Top Positions at FB&T <a href="/live/news/939-first-bank-trust-announces-new-leadership" class="link-with-arrow gold">Keep reading</a></div></div>
<div class="lw_news_image"><span class="lw_item_thumb"><a href="/live/news/2693-blackwell-chapel-store-is-open-for-business"><picture class="lw_image"> <source type="image/webp" srcset="/live/image/gid/68/width/345/height/225/crop/1/src_region/524,98,1478,1052/13118_325031319_524790712974564_878312266014896007_n.rev.1673381188.webp 1x, /live/image/scale/2x/gid/68/width/345/height/225/crop/1/src_region/524,98,1478,1052/13118_325031319_524790712974564_878312266014896007_n.rev.1673381188.webp 2x"/> <source type="image/jpeg" srcset="/live/image/gid/68/width/345/height/225/crop/1/src_region/524,98,1478,1052/13118_325031319_524790712974564_878312266014896007_n.rev.1673381188.jpg 1x, /live/image/scale/2x/gid/68/width/345/height/225/crop/1/src_region/524,98,1478,1052/13118_325031319_524790712974564_878312266014896007_n.rev.1673381188.jpg 2x"/> <img src="/live/image/gid/68/width/345/height/225/crop/1/src_region/524,98,1478,1052/13118_325031319_524790712974564_878312266014896007_n.rev.1673381188.jpg" alt="Three people behind the counter of a country store." width="345" height="225" srcset="/live/image/scale/2x/gid/68/width/345/height/225/crop/1/src_region/524,98,1478,1052/13118_325031319_524790712974564_878312266014896007_n.rev.1673381188.jpg 2x" data-max-w="954" data-max-h="954" loading="lazy"/> </picture> </a></span></div><div class="lw_widget_text"><h4 class="lw_news_headline"><a href="/live/news/2693-blackwell-chapel-store-is-open-for-business">Blackwell Chapel Store is Open for Business!</a></h4><div class="lw_news_summary"><p> Mike Hoback (E&H '81) is bringing back the heart of the Blackwell Chapel community.</p><a href="/live/news/2693-blackwell-chapel-store-is-open-for-business" class="link-with-arrow gold">Keep reading</a></div></div>
<div class="lw_news_image"><span class="lw_item_thumb"><a href="/live/news/2972-making-sense-of-it-all-rev-sarah-moody-varnell"><picture class="lw_image"> <source type="image/webp" srcset="/live/image/gid/68/width/345/height/225/crop/1/src_region/170,61,675,567/14056_sarah_moody.rev.1687790675.webp 1x"/> <source type="image/jpeg" srcset="/live/image/gid/68/width/345/height/225/crop/1/src_region/170,61,675,567/14056_sarah_moody.rev.1687790675.jpg 1x"/> <img src="/live/image/gid/68/width/345/height/225/crop/1/src_region/170,61,675,567/14056_sarah_moody.rev.1687790675.jpg" alt="woman in a church wearing minister's robe" width="345" height="225" data-max-w="505" data-max-h="506" loading="lazy"/> </picture> </a></span></div><div class="lw_widget_text"><h4 class="lw_news_headline"><a href="/live/news/2972-making-sense-of-it-all-rev-sarah-moody-varnell">Making Sense of it All: Rev. Sarah Moody Varnell Talks About the United Methodist Church</a></h4><div class="lw_news_summary"><p> The United Methodist Church has been in the news recently.</p><a href="/live/news/2972-making-sense-of-it-all-rev-sarah-moody-varnell" class="link-with-arrow gold">Keep reading</a></div></div>
<div class="lw_news_image"><span class="lw_item_thumb"><a href="/live/news/2298-massimo-tager-on-life-in-madrid"><picture class="lw_image"> <source type="image/webp" srcset="/live/image/gid/68/width/345/height/225/crop/1/src_region/0,0,387,387/11091_Massimo.rev.1649337129.webp 1x"/> <source type="image/jpeg" srcset="/live/image/gid/68/width/345/height/225/crop/1/src_region/0,0,387,387/11091_Massimo.rev.1649337129.jpg 1x"/> <img src="/live/image/gid/68/width/345/height/225/crop/1/src_region/0,0,387,387/11091_Massimo.rev.1649337129.jpg" alt="Massimo Tager E&H Class of 2020" width="345" height="225" data-max-w="387" data-max-h="387" loading="lazy"/> </picture> </a></span></div><div class="lw_widget_text"><h4 class="lw_news_headline"><a href="/live/news/2298-massimo-tager-on-life-in-madrid">Massimo Tager on Life in Madrid</a></h4><div class="lw_news_summary"><p> Massimo Tager was the first person to go to Spain.</p><p> Well, he was the first E&H student to take advantage of a 6-month study abroad program in Spain.</p><a href="/live/news/2298-massimo-tager-on-life-in-madrid" class="link-with-arrow gold">Keep reading</a></div></div>