Bill Williams Completes Second Term as President of Virginia Society of Ornithology
There are a lot of things Bill would like us to know about the VSO. 
Once you say "Society" one's mind conjures notions of high tea and formality. But the Virginia Society of Ornithology (VSO-virginiabirds.org) is far from that.

The group was founded in 1929 to provide a foundation for those who are passionate about birds and birding and the pursuit of greater knowledge regarding all things avian. As the group approaches their 100th anniversary, it's fair to say that birds are still the unifying force, but the breadth of the organization's work has expanded exponentially. The organization allocates funds for conservation, awards grants for community birding projects, provides graduate and undergraduate scholarships to support avian research studies and they run a very successful American Kestrel nest box program. The VSO organizes field trips to every corner of Virginia with the support of its affiliate bird clubs. It presents awards to those who distinguish themselves in areas of ornithology, avian conservation, and service to the organization. Members receive a quarterly newsletter, a quarterly journal (Virginia Birds) and an annual research-based journal (The Raven). The VSO's Virginia Avian Records Committee maintains an official list of the state's bird species.

And that's not all!

Bill is particularly proud of one of the organization's most ambitious projects: the commonwealth's second breeding bird atlas (VBBA2). The presentation of this research is the culmination of field work by more than 1,000 birders who meticulously documented evidence of species that bred in Virginia from 2016 through 2020. Bill says this is important as more than a historic record. "Land use planners use this sort of information to determine the potential impact of development." The research is being compiled into an interactive website, instead of a hefty, printed volume, to allow for more universal access.

This was Bill's second time to serve as president of the organization, but the completion of his term is unlikely to see him ride off into the sunset – or a thicket of trees. After 31 years as a public school teacher and administrator, Bill joined the Center for Conservation Biology where he is a research associate. He says he got started as a birder during his student days at Emory & Henry when a friend on his hall (Dick Gage) shared his enthusiasm for birds. Later he was mentored by Dr. Turner Clinard and by Dr. Bob Jervis from the E&H Biology department who would load up a van at 6 am to take students birding around the fringes of campus.

Bill was bitten by the birding bug and still remembers seeing his first Yellow Warbler by the campus duck pond. And the rest, as they say, is history. Or, actually, ornithology.
Enjoy a conversation with Bill on the Duck Pond Wall podcast.
Open gallery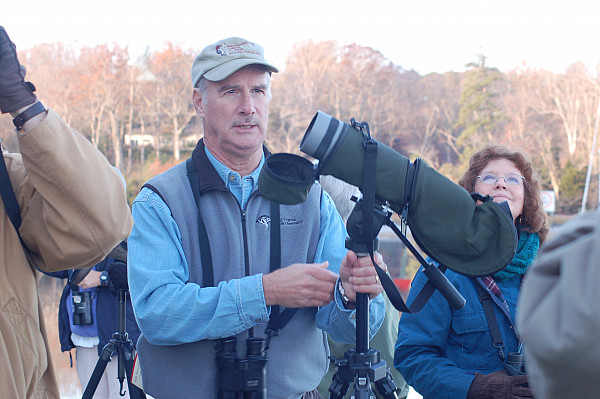 More News
<div class="lw_news_image"><span class="lw_item_thumb"><a href="/live/news/716-andy-rhudy-receives-second-medal-of-valor"><picture class="lw_image"> <source type="image/webp" srcset="/live/image/gid/68/width/345/height/225/crop/1/src_region/57,80,320,343/6038_Andy_Rhudy.rev.1551734272.webp 1x"/> <source type="image/jpeg" srcset="/live/image/gid/68/width/345/height/225/crop/1/src_region/57,80,320,343/6038_Andy_Rhudy.rev.1551734272.jpg 1x"/> <img src="/live/image/gid/68/width/345/height/225/crop/1/src_region/57,80,320,343/6038_Andy_Rhudy.rev.1551734272.jpg" alt="Andy Rhudy, E&H '95, with daughters Bonnie and Molly and wife Julie Pennington Rhudy ('92)." width="345" height="225" data-max-w="263" data-max-h="263" loading="lazy"/> </picture> </a></span></div><div class="lw_widget_text"><h4 class="lw_news_headline"><a href="/live/news/716-andy-rhudy-receives-second-medal-of-valor">Andy Rhudy Receives Second Medal of Valor</a></h4></div>
<div class="lw_news_image"><span class="lw_item_thumb"><a href="/live/news/1642-rob-goldsmith-honored-by-eamph-alumni-association"><picture class="lw_image"> <source type="image/webp" srcset="/live/image/gid/68/width/345/height/225/crop/1/src_region/0,0,300,375/8583_Rob_Goldsmith.rev.1601414046.webp 1x"/> <source type="image/jpeg" srcset="/live/image/gid/68/width/345/height/225/crop/1/src_region/0,0,300,375/8583_Rob_Goldsmith.rev.1601414046.jpg 1x"/> <img src="/live/image/gid/68/width/345/height/225/crop/1/src_region/0,0,300,375/8583_Rob_Goldsmith.rev.1601414046.jpg" alt="Rob Goldsmith, E&H '71, CEO of People Inc." width="345" height="225" data-max-w="300" data-max-h="375" loading="lazy"/> </picture> </a></span></div><div class="lw_widget_text"><h4 class="lw_news_headline"><a href="/live/news/1642-rob-goldsmith-honored-by-eamph-alumni-association">Rob Goldsmith Honored by E&H Alumni Association</a></h4><div class="lw_news_summary"> Rob Goldsmith, Emory & Henry Class of 1971, has been named the 2021 recipient of the Carl and Ruth Looney Humanitarian Award, awarded annually by the Emory & Henry Alumni Association. (<a href="/alumni/get-involved/alumni-awards/" target="_blank" rel="noopener">Read more about E&H Alumni Awards.</a>) <a href="/live/news/1642-rob-goldsmith-honored-by-eamph-alumni-association" class="link-with-arrow gold">Keep reading</a></div></div>
<div class="lw_news_image"><span class="lw_item_thumb"><a href="/live/news/76-from-cervesa-to-service"><picture class="lw_image"> <source type="image/webp" srcset="/live/image/gid/68/width/345/height/225/crop/1/src_region/0,0,2048,1152/655_EHCITY_Oregon_2017.rev.1506450342.webp 1x, /live/image/scale/2x/gid/68/width/345/height/225/crop/1/src_region/0,0,2048,1152/655_EHCITY_Oregon_2017.rev.1506450342.webp 2x, /live/image/scale/3x/gid/68/width/345/height/225/crop/1/src_region/0,0,2048,1152/655_EHCITY_Oregon_2017.rev.1506450342.webp 3x"/> <source type="image/jpeg" srcset="/live/image/gid/68/width/345/height/225/crop/1/src_region/0,0,2048,1152/655_EHCITY_Oregon_2017.rev.1506450342.jpg 1x, /live/image/scale/2x/gid/68/width/345/height/225/crop/1/src_region/0,0,2048,1152/655_EHCITY_Oregon_2017.rev.1506450342.jpg 2x, /live/image/scale/3x/gid/68/width/345/height/225/crop/1/src_region/0,0,2048,1152/655_EHCITY_Oregon_2017.rev.1506450342.jpg 3x"/> <img src="/live/image/gid/68/width/345/height/225/crop/1/src_region/0,0,2048,1152/655_EHCITY_Oregon_2017.rev.1506450342.jpg" alt="Sarah Gillman Whitney and Jo Ann English organized an E&H in the City event in Oregon." width="345" height="225" srcset="/live/image/scale/2x/gid/68/width/345/height/225/crop/1/src_region/0,0,2048,1152/655_EHCITY_Oregon_2017.rev.1506450342.jpg 2x, /live/image/scale/3x/gid/68/width/345/height/225/crop/1/src_region/0,0,2048,1152/655_EHCITY_Oregon_2017.rev.1506450342.jpg 3x" data-max-w="2048" data-max-h="1152" loading="lazy"/> </picture> </a></span></div><div class="lw_widget_text"><h4 class="lw_news_headline"><a href="/live/news/76-from-cervesa-to-service">From Cervesa to Service</a></h4><div class="lw_news_summary"> These two alumni found each other at an E&H in the City event in Oregon…and learned they had similar service passions! <a href="/live/news/76-from-cervesa-to-service" class="link-with-arrow gold">Keep reading</a></div></div>
<div class="lw_news_image"><span class="lw_item_thumb"><a href="/live/news/3051-friends-of-copey-celebrates-10th-anniversary"><picture class="lw_image"> <source type="image/webp" srcset="/live/image/gid/68/width/345/height/225/crop/1/src_region/409,1350,2259,3200/14301_IMG-6477.rev.1691697676.webp 1x, /live/image/scale/2x/gid/68/width/345/height/225/crop/1/src_region/409,1350,2259,3200/14301_IMG-6477.rev.1691697676.webp 2x, /live/image/scale/3x/gid/68/width/345/height/225/crop/1/src_region/409,1350,2259,3200/14301_IMG-6477.rev.1691697676.webp 3x"/> <source type="image/jpeg" srcset="/live/image/gid/68/width/345/height/225/crop/1/src_region/409,1350,2259,3200/14301_IMG-6477.rev.1691697676.jpg 1x, /live/image/scale/2x/gid/68/width/345/height/225/crop/1/src_region/409,1350,2259,3200/14301_IMG-6477.rev.1691697676.jpg 2x, /live/image/scale/3x/gid/68/width/345/height/225/crop/1/src_region/409,1350,2259,3200/14301_IMG-6477.rev.1691697676.jpg 3x"/> <img src="/live/image/gid/68/width/345/height/225/crop/1/src_region/409,1350,2259,3200/14301_IMG-6477.rev.1691697676.jpg" alt="People posing on the street smiling." width="345" height="225" srcset="/live/image/scale/2x/gid/68/width/345/height/225/crop/1/src_region/409,1350,2259,3200/14301_IMG-6477.rev.1691697676.jpg 2x, /live/image/scale/3x/gid/68/width/345/height/225/crop/1/src_region/409,1350,2259,3200/14301_IMG-6477.rev.1691697676.jpg 3x" data-max-w="1850" data-max-h="1850" loading="lazy"/> </picture> </a></span></div><div class="lw_widget_text"><h4 class="lw_news_headline"><a href="/live/news/3051-friends-of-copey-celebrates-10th-anniversary">Friends of Copey Celebrates 10th Anniversary</a></h4><div class="lw_news_summary"><p> Ten years of experiences, and 10 years of friendship.</p><a href="/live/news/3051-friends-of-copey-celebrates-10th-anniversary" class="link-with-arrow gold">Keep reading</a></div></div>
<div class="lw_news_image"><span class="lw_item_thumb"><a href="/live/news/2391-chanel-burke-santiago-advocates-for-military"><picture class="lw_image"> <source type="image/webp" srcset="/live/image/gid/68/width/345/height/225/crop/1/src_region/0,0,450,450/11580_chanel_santiago.rev.1657026563.webp 1x"/> <source type="image/jpeg" srcset="/live/image/gid/68/width/345/height/225/crop/1/src_region/0,0,450,450/11580_chanel_santiago.rev.1657026563.jpg 1x"/> <img src="/live/image/gid/68/width/345/height/225/crop/1/src_region/0,0,450,450/11580_chanel_santiago.rev.1657026563.jpg" alt="Chanel Burke Santiago Emory & Henry Class of 2004" width="345" height="225" data-max-w="450" data-max-h="450" loading="lazy"/> </picture> </a></span></div><div class="lw_widget_text"><h4 class="lw_news_headline"><a href="/live/news/2391-chanel-burke-santiago-advocates-for-military">Chanel Burke Santiago Advocates for Military Veterans Through a VA Vet Center</a></h4><div class="lw_news_summary"> Chanel Burke Santiago is doing impactful work for Veterans, and it is very personal for her. <a href="/live/news/2391-chanel-burke-santiago-advocates-for-military" class="link-with-arrow gold">Keep reading</a></div></div>
<div class="lw_news_image"><span class="lw_item_thumb"><a href="/live/news/1199-eamphs-rodes-fishburne-launches-new-television"><picture class="lw_image"> <source type="image/webp" srcset="/live/image/gid/68/width/345/height/225/crop/1/src_region/34,9,356,331/8013_Rodes_fishburne.rev.1586652695.webp 1x"/> <source type="image/jpeg" srcset="/live/image/gid/68/width/345/height/225/crop/1/src_region/34,9,356,331/8013_Rodes_fishburne.rev.1586652695.jpg 1x"/> <img src="/live/image/gid/68/width/345/height/225/crop/1/src_region/34,9,356,331/8013_Rodes_fishburne.rev.1586652695.jpg" alt="Rodes Fishburne, E&H Class of 1993" width="345" height="225" data-max-w="322" data-max-h="322" loading="lazy"/> </picture> </a></span></div><div class="lw_widget_text"><h4 class="lw_news_headline"><a href="/live/news/1199-eamphs-rodes-fishburne-launches-new-television">E&H's Rodes Fishburne Launches New Television Series</a></h4><div class="lw_news_summary"><em>Paradise Lost</em> debuts April 13, 2020. <a href="/live/news/1199-eamphs-rodes-fishburne-launches-new-television" class="link-with-arrow gold">Keep reading</a></div></div>
<div class="lw_news_image"><span class="lw_item_thumb"><a href="/live/news/1852-april-asbury-publishes-chapbook-of-poetry"><picture class="lw_image"> <source type="image/webp" srcset="/live/image/gid/68/width/345/height/225/crop/1/src_region/0,0,739,1168/9865_Head_Outdoors_Tree.rev.1621792272.webp 1x, /live/image/scale/2x/gid/68/width/345/height/225/crop/1/src_region/0,0,739,1168/9865_Head_Outdoors_Tree.rev.1621792272.webp 2x"/> <source type="image/jpeg" srcset="/live/image/gid/68/width/345/height/225/crop/1/src_region/0,0,739,1168/9865_Head_Outdoors_Tree.rev.1621792272.jpg 1x, /live/image/scale/2x/gid/68/width/345/height/225/crop/1/src_region/0,0,739,1168/9865_Head_Outdoors_Tree.rev.1621792272.jpg 2x"/> <img src="/live/image/gid/68/width/345/height/225/crop/1/src_region/0,0,739,1168/9865_Head_Outdoors_Tree.rev.1621792272.jpg" alt="April J. Asbury, Emory & Henry Class of 1996" width="345" height="225" srcset="/live/image/scale/2x/gid/68/width/345/height/225/crop/1/src_region/0,0,739,1168/9865_Head_Outdoors_Tree.rev.1621792272.jpg 2x" data-max-w="739" data-max-h="1168" loading="lazy"/> </picture> </a></span></div><div class="lw_widget_text"><h4 class="lw_news_headline"><a href="/live/news/1852-april-asbury-publishes-chapbook-of-poetry">April Asbury Publishes Chapbook of Poetry</a></h4><div class="lw_news_summary"><em>Woman with Crows</em> is a newly published chapbook of poetry by April J. Asbury, E&H Class of 1996. <a href="/live/news/1852-april-asbury-publishes-chapbook-of-poetry" class="link-with-arrow gold">Keep reading</a></div></div>
<div class="lw_news_image"><span class="lw_item_thumb"><a href="/live/news/520-super-heroes-and-princesses"><picture class="lw_image"> <source type="image/webp" srcset="/live/image/gid/68/width/345/height/225/crop/1/src_region/0,12,214,226/4535_41368297_705985249770551_4194188508329410560_n.rev.1536365207.webp 1x"/> <source type="image/jpeg" srcset="/live/image/gid/68/width/345/height/225/crop/1/src_region/0,12,214,226/4535_41368297_705985249770551_4194188508329410560_n.rev.1536365207.jpg 1x"/> <img src="/live/image/gid/68/width/345/height/225/crop/1/src_region/0,12,214,226/4535_41368297_705985249770551_4194188508329410560_n.rev.1536365207.jpg" alt="Cathy Bottrell, E&H '82" width="345" height="225" data-max-w="214" data-max-h="214" loading="lazy"/> </picture> </a></span></div><div class="lw_widget_text"><h4 class="lw_news_headline"><a href="/live/news/520-super-heroes-and-princesses">Super heroes and princesses?</a></h4><div class="lw_news_summary"> It's all in a day's work for Cathy Bottrell (E&H '82). <a href="/live/news/520-super-heroes-and-princesses" class="link-with-arrow gold">Keep reading</a></div></div>
<div class="lw_news_image"><span class="lw_item_thumb"><a href="/live/news/1624-remembering-dr-samir-saliba"><picture class="lw_image"> <source type="image/webp" srcset="/live/image/gid/68/width/345/height/225/crop/1/src_region/0,0,177,194/9360_samir_2.rev.1612295659.webp 1x"/> <source type="image/jpeg" srcset="/live/image/gid/68/width/345/height/225/crop/1/src_region/0,0,177,194/9360_samir_2.rev.1612295659.jpg 1x"/> <img src="/live/image/gid/68/width/345/height/225/crop/1/src_region/0,0,177,194/9360_samir_2.rev.1612295659.jpg" alt="Dr, Samir Saliba, Emory & Henry Faculty Emeritus" width="345" height="225" data-max-w="177" data-max-h="194" loading="lazy"/> </picture> </a></span></div><div class="lw_widget_text"><h4 class="lw_news_headline"><a href="/live/news/1624-remembering-dr-samir-saliba">Remembering Dr. Samir Saliba</a></h4><div class="lw_news_summary"><p><strong>Dr. Samir N. Saliba<br/></strong>February 18, 1934 - November 25, 2020</p><a href="/live/news/1624-remembering-dr-samir-saliba" class="link-with-arrow gold">Keep reading</a></div></div>
<div class="lw_news_image"><span class="lw_item_thumb"><a href="/live/news/2213-mary-mckinney-says-hello-yellow-with-a-new-studio"><picture class="lw_image"> <source type="image/webp" srcset="/live/image/gid/68/width/345/height/225/crop/1/src_region/52,86,446,481/10829_259071323_480655760303984_2496170016050687706_n.rev.1645042445.webp 1x"/> <source type="image/jpeg" srcset="/live/image/gid/68/width/345/height/225/crop/1/src_region/52,86,446,481/10829_259071323_480655760303984_2496170016050687706_n.rev.1645042445.jpg 1x"/> <img src="/live/image/gid/68/width/345/height/225/crop/1/src_region/52,86,446,481/10829_259071323_480655760303984_2496170016050687706_n.rev.1645042445.jpg" alt="Mary McKinney E&H Class of 2001 Art instructor and Owner Operator of Hello Yellow Art Studio" width="345" height="225" data-max-w="394" data-max-h="395" loading="lazy"/> </picture> </a></span></div><div class="lw_widget_text"><h4 class="lw_news_headline"><a href="/live/news/2213-mary-mckinney-says-hello-yellow-with-a-new-studio">Mary McKinney Says "Hello, Yellow!" with a New Studio Project</a></h4><div class="lw_news_summary"> Mary McKinney is diving into yellow….and she's tickled pink. <a href="/live/news/2213-mary-mckinney-says-hello-yellow-with-a-new-studio" class="link-with-arrow gold">Keep reading</a></div></div>
<div class="lw_news_image"><span class="lw_item_thumb"><a href="/live/news/2783-friends-of-the-sciences-volunteers-honored-with"><picture class="lw_image"> <source type="image/webp" srcset="/live/image/gid/68/width/345/height/225/crop/1/src_region/0,0,2100,1275/11126_EHCITY_banner.rev.1650381047.webp 1x, /live/image/scale/2x/gid/68/width/345/height/225/crop/1/src_region/0,0,2100,1275/11126_EHCITY_banner.rev.1650381047.webp 2x, /live/image/scale/3x/gid/68/width/345/height/225/crop/1/src_region/0,0,2100,1275/11126_EHCITY_banner.rev.1650381047.webp 3x"/> <source type="image/jpeg" srcset="/live/image/gid/68/width/345/height/225/crop/1/src_region/0,0,2100,1275/11126_EHCITY_banner.rev.1650381047.jpg 1x, /live/image/scale/2x/gid/68/width/345/height/225/crop/1/src_region/0,0,2100,1275/11126_EHCITY_banner.rev.1650381047.jpg 2x, /live/image/scale/3x/gid/68/width/345/height/225/crop/1/src_region/0,0,2100,1275/11126_EHCITY_banner.rev.1650381047.jpg 3x"/> <img src="/live/image/gid/68/width/345/height/225/crop/1/src_region/0,0,2100,1275/11126_EHCITY_banner.rev.1650381047.jpg" alt="" width="345" height="225" srcset="/live/image/scale/2x/gid/68/width/345/height/225/crop/1/src_region/0,0,2100,1275/11126_EHCITY_banner.rev.1650381047.jpg 2x, /live/image/scale/3x/gid/68/width/345/height/225/crop/1/src_region/0,0,2100,1275/11126_EHCITY_banner.rev.1650381047.jpg 3x" data-max-w="2100" data-max-h="1275" loading="lazy"/> </picture> </a></span></div><div class="lw_widget_text"><h4 class="lw_news_headline"><a href="/live/news/2783-friends-of-the-sciences-volunteers-honored-with">Friends of the Sciences Volunteers Honored with Distinctive Service to Emory & Henry Award</a></h4><div class="lw_news_summary"><p> This award is given to an individual who has provided extraordinary participation and leadership in any number of E&H activities. <em>The award is named for Fred Selfe, E&H class of 1969, who served the Emory & Henry College Athletic Department with exceptional dedication and valor until his death in 2003.</em></p><a href="/live/news/2783-friends-of-the-sciences-volunteers-honored-with" class="link-with-arrow gold">Keep reading</a></div></div>
<div class="lw_news_image"><span class="lw_item_thumb"><a href="/live/news/1349-got-a-minute-cassidy-york-sharp-04-has-a-new-title"><picture class="lw_image"> <source type="image/webp" srcset="/live/image/gid/68/width/345/height/225/crop/1/src_region/0,66,2400,2466/8478_Cassidy-11.rev.1598295415.webp 1x, /live/image/scale/2x/gid/68/width/345/height/225/crop/1/src_region/0,66,2400,2466/8478_Cassidy-11.rev.1598295415.webp 2x, /live/image/scale/3x/gid/68/width/345/height/225/crop/1/src_region/0,66,2400,2466/8478_Cassidy-11.rev.1598295415.webp 3x"/> <source type="image/jpeg" srcset="/live/image/gid/68/width/345/height/225/crop/1/src_region/0,66,2400,2466/8478_Cassidy-11.rev.1598295415.jpg 1x, /live/image/scale/2x/gid/68/width/345/height/225/crop/1/src_region/0,66,2400,2466/8478_Cassidy-11.rev.1598295415.jpg 2x, /live/image/scale/3x/gid/68/width/345/height/225/crop/1/src_region/0,66,2400,2466/8478_Cassidy-11.rev.1598295415.jpg 3x"/> <img src="/live/image/gid/68/width/345/height/225/crop/1/src_region/0,66,2400,2466/8478_Cassidy-11.rev.1598295415.jpg" alt="Cassidy York Sharp, US Modern Woman Novice Supreme" width="345" height="225" srcset="/live/image/scale/2x/gid/68/width/345/height/225/crop/1/src_region/0,66,2400,2466/8478_Cassidy-11.rev.1598295415.jpg 2x, /live/image/scale/3x/gid/68/width/345/height/225/crop/1/src_region/0,66,2400,2466/8478_Cassidy-11.rev.1598295415.jpg 3x" data-max-w="2400" data-max-h="2400" loading="lazy"/> </picture> </a></span></div><div class="lw_widget_text"><h4 class="lw_news_headline"><a href="/live/news/1349-got-a-minute-cassidy-york-sharp-04-has-a-new-title">Got a minute? Cassidy York Sharp ('04) Has a New Title</a></h4><div class="lw_news_summary"> She also has a crown and a sash – and a couple of adoring fans. <a href="/live/news/1349-got-a-minute-cassidy-york-sharp-04-has-a-new-title" class="link-with-arrow gold">Keep reading</a></div></div>
<div class="lw_news_image"><span class="lw_item_thumb"><a href="/live/news/2674-shew-property-holdings-is-more-than-just-a-realty"><picture class="lw_image"> <source type="image/webp" srcset="/live/image/gid/68/width/345/height/225/crop/1/src_region/0,0,750,750/13031_shew.rev.1672948323.webp 1x, /live/image/scale/2x/gid/68/width/345/height/225/crop/1/src_region/0,0,750,750/13031_shew.rev.1672948323.webp 2x"/> <source type="image/jpeg" srcset="/live/image/gid/68/width/345/height/225/crop/1/src_region/0,0,750,750/13031_shew.rev.1672948323.jpg 1x, /live/image/scale/2x/gid/68/width/345/height/225/crop/1/src_region/0,0,750,750/13031_shew.rev.1672948323.jpg 2x"/> <img src="/live/image/gid/68/width/345/height/225/crop/1/src_region/0,0,750,750/13031_shew.rev.1672948323.jpg" alt="Monica Halsey-Shew (E&H Class of 2007) with son Rory and husband Daniel Shew." width="345" height="225" srcset="/live/image/scale/2x/gid/68/width/345/height/225/crop/1/src_region/0,0,750,750/13031_shew.rev.1672948323.jpg 2x" data-max-w="750" data-max-h="750" loading="lazy"/> </picture> </a></span></div><div class="lw_widget_text"><h4 class="lw_news_headline"><a href="/live/news/2674-shew-property-holdings-is-more-than-just-a-realty">Shew Property Holdings is More Than Just a Realty Company</a></h4><div class="lw_news_summary"><p> It's a for-profit company with a non-profit vibe.</p><a href="/live/news/2674-shew-property-holdings-is-more-than-just-a-realty" class="link-with-arrow gold">Keep reading</a></div></div>
<div class="lw_news_image"><span class="lw_item_thumb"><a href="/live/news/579-an-opera-about-locusts"><picture class="lw_image"> <source type="image/webp" srcset="/live/image/gid/68/width/345/height/225/crop/1/src_region/731,0,1659,927/5662_Christin_Colvin.rev.1542301199.webp 1x, /live/image/scale/2x/gid/68/width/345/height/225/crop/1/src_region/731,0,1659,927/5662_Christin_Colvin.rev.1542301199.webp 2x"/> <source type="image/jpeg" srcset="/live/image/gid/68/width/345/height/225/crop/1/src_region/731,0,1659,927/5662_Christin_Colvin.rev.1542301199.jpg 1x, /live/image/scale/2x/gid/68/width/345/height/225/crop/1/src_region/731,0,1659,927/5662_Christin_Colvin.rev.1542301199.jpg 2x"/> <img src="/live/image/gid/68/width/345/height/225/crop/1/src_region/731,0,1659,927/5662_Christin_Colvin.rev.1542301199.jpg" alt="Cristin Colvin (E&H '09) performing in the opera Locust." width="345" height="225" srcset="/live/image/scale/2x/gid/68/width/345/height/225/crop/1/src_region/731,0,1659,927/5662_Christin_Colvin.rev.1542301199.jpg 2x" data-max-w="928" data-max-h="927" loading="lazy"/> </picture> </a></span></div><div class="lw_widget_text"><h4 class="lw_news_headline"><a href="/live/news/579-an-opera-about-locusts">An Opera about Locusts?</a></h4><div class="lw_news_summary"> Cristin Colvin can even make insects glamorous. <a href="/live/news/579-an-opera-about-locusts" class="link-with-arrow gold">Keep reading</a></div></div>
<div class="lw_news_image"><span class="lw_item_thumb"><a href="/live/news/2348-avery-smith-takes-a-big-step-in-his-opera-career"><picture class="lw_image"> <source type="image/webp" srcset="/live/image/gid/68/width/345/height/225/crop/1/src_region/0,441,1785,2227/11291_IMG-9004.rev.1652729153.webp 1x, /live/image/scale/2x/gid/68/width/345/height/225/crop/1/src_region/0,441,1785,2227/11291_IMG-9004.rev.1652729153.webp 2x, /live/image/scale/3x/gid/68/width/345/height/225/crop/1/src_region/0,441,1785,2227/11291_IMG-9004.rev.1652729153.webp 3x"/> <source type="image/jpeg" srcset="/live/image/gid/68/width/345/height/225/crop/1/src_region/0,441,1785,2227/11291_IMG-9004.rev.1652729153.jpg 1x, /live/image/scale/2x/gid/68/width/345/height/225/crop/1/src_region/0,441,1785,2227/11291_IMG-9004.rev.1652729153.jpg 2x, /live/image/scale/3x/gid/68/width/345/height/225/crop/1/src_region/0,441,1785,2227/11291_IMG-9004.rev.1652729153.jpg 3x"/> <img src="/live/image/gid/68/width/345/height/225/crop/1/src_region/0,441,1785,2227/11291_IMG-9004.rev.1652729153.jpg" alt="Avery Smith E&H Class of 2021" width="345" height="225" srcset="/live/image/scale/2x/gid/68/width/345/height/225/crop/1/src_region/0,441,1785,2227/11291_IMG-9004.rev.1652729153.jpg 2x, /live/image/scale/3x/gid/68/width/345/height/225/crop/1/src_region/0,441,1785,2227/11291_IMG-9004.rev.1652729153.jpg 3x" data-max-w="1785" data-max-h="1786" loading="lazy"/> </picture> </a></span></div><div class="lw_widget_text"><h4 class="lw_news_headline"><a href="/live/news/2348-avery-smith-takes-a-big-step-in-his-opera-career">Avery Smith Takes a Big Step in His Opera Career</a></h4><div class="lw_news_summary"> Avery Smith has been chosen for a world-class professional opera program that only accepted about 40 participants – from all over the world <a href="/live/news/2348-avery-smith-takes-a-big-step-in-his-opera-career" class="link-with-arrow gold">Keep reading</a></div></div>