Carolee Jackson Bondurant is Thriving After a Double Lung Transplant
As soon as she was out of the hospital after a double lung transplant, Carolee grabbled her rollator and found a hiking trail.
Anyone who has met Carolee Jackson Bondurant would describe her as full-of-life. But in 2016 she got a diagnosis that very much threatened her life: idiopathic pulmonary fibrosis. The short explanation of this disease is that the fibers of her lungs were becoming matted together and her lungs couldn't get the needed oxygen. 
The expectation of living with this is between 2-5 years. "But I kinda let that pass over my head. My agenda was just to stay strong and healthy and keep on moving."
Carolee is a biker, a hiker, and a yoga devotee. She eats a healthy diet, serves as a community volunteer, travels, makes art, and dotes on her family. She maintains a positive attitude despite this devastating news and the fact that she has also had a round with breast cancer.
She only found out about this health challenge because she noticed having to take a little extra effort to get a sip of air in her lungs. From there she ventured on a journey to learn more, find the right doctors, get on a list for a lung transplant, and hope for more than a little luck. Because she is very small in stature, they would have to find lungs that were small. She had to jump through an unending number of hoops to even qualify to have her name on the transplant list. Her body had to prove it could survive an ECMO (also difficult for a small person). And she had to make big decisions: for instance, would she accept only one lung if two couldn't be found? (That answer was yes.)
Her situation began to get dire. While she was in the hospital, her brother Sherry came into the room and told her she was a "warrior woman." Carolee says, "that's all it took." Her courage was bolstered and secured. 
She surprised the doctors by surviving the ECMO (she only recently really understood what a feat that was). Then, remarkably, it was only shortly after that procedure that the doctor came in to tell her the amazing news that two healthy lungs had come onto the transplant list; they were healthy, small, and a match.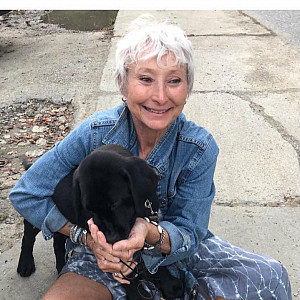 She has now put aside her rollator, and has returned to hiking and biking and travel and all the things she loves about life. When asked what her advice is to anyone facing a tough health situation, she says, "Listen to your doctors; don't ignore what they tell you. Stay active. Eat nutritional food. And keep your exercise up – even if you're tired, it's better to get up and move."
You can enjoy a wonderful, positive-energy discussion with Carolee on the Duck Pond Wall podcast.
Open gallery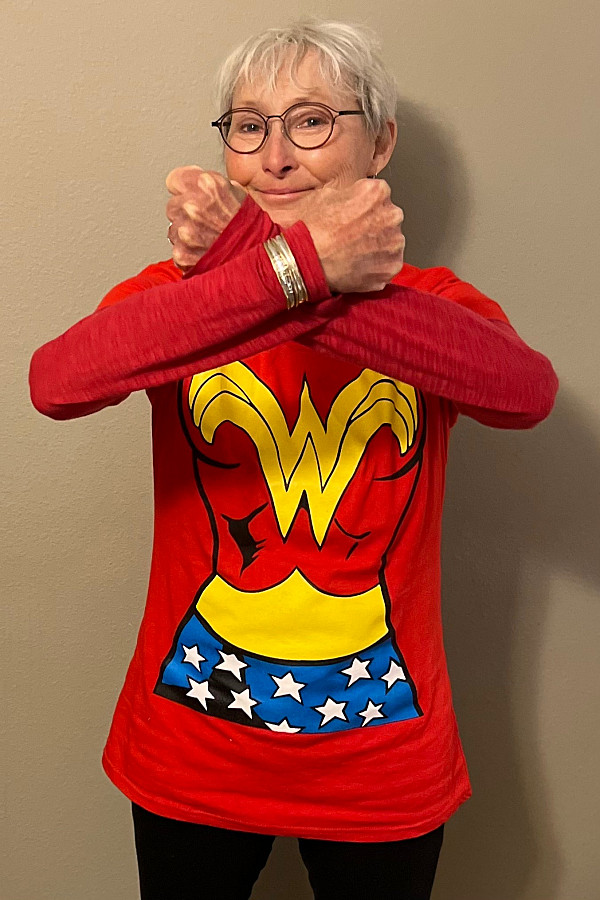 More News
<div class="lw_news_image"><span class="lw_item_thumb"><a href="/live/news/1739-richard-graves-says-art-makes-our-communities"><picture class="lw_image"> <source type="image/webp" srcset="/live/image/gid/68/width/345/height/225/crop/1/src_region/0,0,2573,2756/9671_Richard_Graves_bio_pic_biz.rev.1617831932.webp 1x, /live/image/scale/2x/gid/68/width/345/height/225/crop/1/src_region/0,0,2573,2756/9671_Richard_Graves_bio_pic_biz.rev.1617831932.webp 2x, /live/image/scale/3x/gid/68/width/345/height/225/crop/1/src_region/0,0,2573,2756/9671_Richard_Graves_bio_pic_biz.rev.1617831932.webp 3x"/> <source type="image/jpeg" srcset="/live/image/gid/68/width/345/height/225/crop/1/src_region/0,0,2573,2756/9671_Richard_Graves_bio_pic_biz.rev.1617831932.jpg 1x, /live/image/scale/2x/gid/68/width/345/height/225/crop/1/src_region/0,0,2573,2756/9671_Richard_Graves_bio_pic_biz.rev.1617831932.jpg 2x, /live/image/scale/3x/gid/68/width/345/height/225/crop/1/src_region/0,0,2573,2756/9671_Richard_Graves_bio_pic_biz.rev.1617831932.jpg 3x"/> <img src="/live/image/gid/68/width/345/height/225/crop/1/src_region/0,0,2573,2756/9671_Richard_Graves_bio_pic_biz.rev.1617831932.jpg" alt="Richard Graves Emory & Henry Class of 2008." width="345" height="225" srcset="/live/image/scale/2x/gid/68/width/345/height/225/crop/1/src_region/0,0,2573,2756/9671_Richard_Graves_bio_pic_biz.rev.1617831932.jpg 2x, /live/image/scale/3x/gid/68/width/345/height/225/crop/1/src_region/0,0,2573,2756/9671_Richard_Graves_bio_pic_biz.rev.1617831932.jpg 3x" data-max-w="2573" data-max-h="2756" loading="lazy"/> </picture> </a></span></div><div class="lw_widget_text"><h4 class="lw_news_headline"><a href="/live/news/1739-richard-graves-says-art-makes-our-communities">Richard Graves Says Art Makes Our Communities Stronger</a></h4><div class="lw_news_summary"> If you think Richard Graves is dreaming that his art will end up in a glitzy New York gallery, think again. <a href="/live/news/1739-richard-graves-says-art-makes-our-communities" class="link-with-arrow gold">Keep reading</a></div></div>
<div class="lw_news_image"><span class="lw_item_thumb"><a href="/live/news/1696-dr-miriam-macfarlan-herin-is-shy-no-more"><picture class="lw_image"> <source type="image/webp" srcset="/live/image/gid/68/width/345/height/225/crop/1/src_region/0,0,600,600/9592_miriam.rev.1616516796.webp 1x"/> <source type="image/jpeg" srcset="/live/image/gid/68/width/345/height/225/crop/1/src_region/0,0,600,600/9592_miriam.rev.1616516796.jpg 1x"/> <img src="/live/image/gid/68/width/345/height/225/crop/1/src_region/0,0,600,600/9592_miriam.rev.1616516796.jpg" alt="Dr. Miriam Macfarlan Herin, Emory & Henry Class of 1963" width="345" height="225" data-max-w="600" data-max-h="600" loading="lazy"/> </picture> </a></span></div><div class="lw_widget_text"><h4 class="lw_news_headline"><a href="/live/news/1696-dr-miriam-macfarlan-herin-is-shy-no-more">Dr. Miriam Macfarlan Herin is Shy No More</a></h4><div class="lw_news_summary"><span style="text-decoration: underline;"><strong><a href="https://miriamherin.com/meet-miriam-herin/">Dr. Miriam Macfarlan Herin</a></strong></span> gained more than a degree at Emory & Henry; and her life lessons paired magically with her education to make her a celebrated author. <a href="/live/news/1696-dr-miriam-macfarlan-herin-is-shy-no-more" class="link-with-arrow gold">Keep reading</a></div></div>
<div class="lw_news_image"><span class="lw_item_thumb"><a href="/live/news/1679-the-trap-of-nostalgia"><picture class="lw_image"> <source type="image/webp" srcset="/live/image/gid/68/width/345/height/225/crop/1/src_region/0,0,2094,2055/9554_The_Spine_Of_Night_Filmmaker_Morgan_Galen_King.rev.1615991868.webp 1x, /live/image/scale/2x/gid/68/width/345/height/225/crop/1/src_region/0,0,2094,2055/9554_The_Spine_Of_Night_Filmmaker_Morgan_Galen_King.rev.1615991868.webp 2x, /live/image/scale/3x/gid/68/width/345/height/225/crop/1/src_region/0,0,2094,2055/9554_The_Spine_Of_Night_Filmmaker_Morgan_Galen_King.rev.1615991868.webp 3x"/> <source type="image/jpeg" srcset="/live/image/gid/68/width/345/height/225/crop/1/src_region/0,0,2094,2055/9554_The_Spine_Of_Night_Filmmaker_Morgan_Galen_King.rev.1615991868.jpg 1x, /live/image/scale/2x/gid/68/width/345/height/225/crop/1/src_region/0,0,2094,2055/9554_The_Spine_Of_Night_Filmmaker_Morgan_Galen_King.rev.1615991868.jpg 2x, /live/image/scale/3x/gid/68/width/345/height/225/crop/1/src_region/0,0,2094,2055/9554_The_Spine_Of_Night_Filmmaker_Morgan_Galen_King.rev.1615991868.jpg 3x"/> <img src="/live/image/gid/68/width/345/height/225/crop/1/src_region/0,0,2094,2055/9554_The_Spine_Of_Night_Filmmaker_Morgan_Galen_King.rev.1615991868.jpg" alt="Morgan Galen King, E&H Class of 2001" width="345" height="225" srcset="/live/image/scale/2x/gid/68/width/345/height/225/crop/1/src_region/0,0,2094,2055/9554_The_Spine_Of_Night_Filmmaker_Morgan_Galen_King.rev.1615991868.jpg 2x, /live/image/scale/3x/gid/68/width/345/height/225/crop/1/src_region/0,0,2094,2055/9554_The_Spine_Of_Night_Filmmaker_Morgan_Galen_King.rev.1615991868.jpg 3x" data-max-w="2094" data-max-h="2055" loading="lazy"/> </picture> </a></span></div><div class="lw_widget_text"><h4 class="lw_news_headline"><a href="/live/news/1679-the-trap-of-nostalgia">"The Trap of Nostalgia"</a></h4><div class="lw_news_summary"> Morgan King's new full-length animated feature is a throw-back to a popular 1980's classic, but he was careful not to be limited by the past as he created something he wanted to stand up in the present. <a href="/live/news/1679-the-trap-of-nostalgia" class="link-with-arrow gold">Keep reading</a></div></div>
<div class="lw_news_image"><span class="lw_item_thumb"><a href="/live/news/1538-patrick-smith-is-howling-for-nc-state"><picture class="lw_image"> <source type="image/webp" srcset="/live/image/gid/68/width/345/height/225/crop/1/src_region/0,0,1092,1092/9056_FB_IMG_1583779682958.rev.1696938171.webp 1x, /live/image/scale/2x/gid/68/width/345/height/225/crop/1/src_region/0,0,1092,1092/9056_FB_IMG_1583779682958.rev.1696938171.webp 2x, /live/image/scale/3x/gid/68/width/345/height/225/crop/1/src_region/0,0,1092,1092/9056_FB_IMG_1583779682958.rev.1696938171.webp 3x"/> <source type="image/jpeg" srcset="/live/image/gid/68/width/345/height/225/crop/1/src_region/0,0,1092,1092/9056_FB_IMG_1583779682958.rev.1696938171.jpg 1x, /live/image/scale/2x/gid/68/width/345/height/225/crop/1/src_region/0,0,1092,1092/9056_FB_IMG_1583779682958.rev.1696938171.jpg 2x, /live/image/scale/3x/gid/68/width/345/height/225/crop/1/src_region/0,0,1092,1092/9056_FB_IMG_1583779682958.rev.1696938171.jpg 3x"/> <img src="/live/image/gid/68/width/345/height/225/crop/1/src_region/0,0,1092,1092/9056_FB_IMG_1583779682958.rev.1696938171.jpg" alt="Patrick Smith, Emory & Henry Class of 2012." width="345" height="225" srcset="/live/image/scale/2x/gid/68/width/345/height/225/crop/1/src_region/0,0,1092,1092/9056_FB_IMG_1583779682958.rev.1696938171.jpg 2x, /live/image/scale/3x/gid/68/width/345/height/225/crop/1/src_region/0,0,1092,1092/9056_FB_IMG_1583779682958.rev.1696938171.jpg 3x" data-max-w="1092" data-max-h="1092" loading="lazy"/> </picture> </a></span></div><div class="lw_widget_text"><h4 class="lw_news_headline"><a href="/live/news/1538-patrick-smith-is-howling-for-nc-state">Patrick Smith is Howling for NC State</a></h4><div class="lw_news_summary"> Patrick Smith came to Emory & Henry as a quiet, unassuming sort of guy: and now he's one of the public faces of NC State. <a href="/live/news/1538-patrick-smith-is-howling-for-nc-state" class="link-with-arrow gold">Keep reading</a></div></div>
<div class="lw_news_image"><span class="lw_item_thumb"><a href="/live/news/1772-orion-rummler-is-a-name-to-watch"><picture class="lw_image"> <source type="image/webp" srcset="/live/image/gid/68/width/345/height/225/crop/1/src_region/193,124,668,600/9762_Orion.rev.1619025843.webp 1x"/> <source type="image/jpeg" srcset="/live/image/gid/68/width/345/height/225/crop/1/src_region/193,124,668,600/9762_Orion.rev.1619025843.jpg 1x"/> <img src="/live/image/gid/68/width/345/height/225/crop/1/src_region/193,124,668,600/9762_Orion.rev.1619025843.jpg" alt="Orion Rummler, E&H Class of 2018." width="345" height="225" data-max-w="475" data-max-h="476" loading="lazy"/> </picture> </a></span></div><div class="lw_widget_text"><h4 class="lw_news_headline"><a href="/live/news/1772-orion-rummler-is-a-name-to-watch">Orion Rummler is a Name to Watch</a></h4><div class="lw_news_summary"> Orion Rummler changed his major after the 2016 election. <a href="/live/news/1772-orion-rummler-is-a-name-to-watch" class="link-with-arrow gold">Keep reading</a></div></div>
<div class="lw_news_image"><span class="lw_item_thumb"><a href="/live/news/2369-dave-charltons-favorite-food-project-is-far-from"><picture class="lw_image"> <source type="image/webp" srcset="/live/image/gid/68/width/345/height/225/crop/1/src_region/0,11,428,439/11381_123-1.rev.1654192375.webp 1x"/> <source type="image/jpeg" srcset="/live/image/gid/68/width/345/height/225/crop/1/src_region/0,11,428,439/11381_123-1.rev.1654192375.jpg 1x"/> <img src="/live/image/gid/68/width/345/height/225/crop/1/src_region/0,11,428,439/11381_123-1.rev.1654192375.jpg" alt="Dave Inner Peas Charlton E&H Class of 1979" width="345" height="225" data-max-w="428" data-max-h="428" loading="lazy"/> </picture> </a></span></div><div class="lw_widget_text"><h4 class="lw_news_headline"><a href="/live/news/2369-dave-charltons-favorite-food-project-is-far-from">Dave Charlton's Favorite Food Project is Far From Business as Usual</a></h4><div class="lw_news_summary"><p><span style="font-weight: 400;">Dave Charlton is proud to say he's been a dancing carrot. "I've been every one of those dancing vegetables."</span></p><p><span style="font-weight: 400;">Let us explain.</span></p><a href="/live/news/2369-dave-charltons-favorite-food-project-is-far-from" class="link-with-arrow gold">Keep reading</a></div></div>
<div class="lw_news_image"><span class="lw_item_thumb"><a href="/live/news/2783-friends-of-the-sciences-volunteers-honored-with"><picture class="lw_image"> <source type="image/webp" srcset="/live/image/gid/68/width/345/height/225/crop/1/src_region/0,0,2100,1275/11126_EHCITY_banner.rev.1650381047.webp 1x, /live/image/scale/2x/gid/68/width/345/height/225/crop/1/src_region/0,0,2100,1275/11126_EHCITY_banner.rev.1650381047.webp 2x, /live/image/scale/3x/gid/68/width/345/height/225/crop/1/src_region/0,0,2100,1275/11126_EHCITY_banner.rev.1650381047.webp 3x"/> <source type="image/jpeg" srcset="/live/image/gid/68/width/345/height/225/crop/1/src_region/0,0,2100,1275/11126_EHCITY_banner.rev.1650381047.jpg 1x, /live/image/scale/2x/gid/68/width/345/height/225/crop/1/src_region/0,0,2100,1275/11126_EHCITY_banner.rev.1650381047.jpg 2x, /live/image/scale/3x/gid/68/width/345/height/225/crop/1/src_region/0,0,2100,1275/11126_EHCITY_banner.rev.1650381047.jpg 3x"/> <img src="/live/image/gid/68/width/345/height/225/crop/1/src_region/0,0,2100,1275/11126_EHCITY_banner.rev.1650381047.jpg" alt="" width="345" height="225" srcset="/live/image/scale/2x/gid/68/width/345/height/225/crop/1/src_region/0,0,2100,1275/11126_EHCITY_banner.rev.1650381047.jpg 2x, /live/image/scale/3x/gid/68/width/345/height/225/crop/1/src_region/0,0,2100,1275/11126_EHCITY_banner.rev.1650381047.jpg 3x" data-max-w="2100" data-max-h="1275" loading="lazy"/> </picture> </a></span></div><div class="lw_widget_text"><h4 class="lw_news_headline"><a href="/live/news/2783-friends-of-the-sciences-volunteers-honored-with">Friends of the Sciences Volunteers Honored with Distinctive Service to Emory & Henry Award</a></h4><div class="lw_news_summary"><p> This award is given to an individual who has provided extraordinary participation and leadership in any number of E&H activities. <em>The award is named for Fred Selfe, E&H class of 1969, who served the Emory & Henry College Athletic Department with exceptional dedication and valor until his death in 2003.</em></p><a href="/live/news/2783-friends-of-the-sciences-volunteers-honored-with" class="link-with-arrow gold">Keep reading</a></div></div>
<div class="lw_news_image"><span class="lw_item_thumb"><a href="/live/news/1533-jonathan-turpin-is-never-too-busy-to-think-of"><img src="/live/image/gid/68/width/345/height/225/crop/1/src_region/0,0,800,800/9020_jonathan_Turpin.jfif" alt="Jonathan Turpin, Emory & Henry Class of 2017" class="lw_image" width="345" height="225"/></a></span></div><div class="lw_widget_text"><h4 class="lw_news_headline"><a href="/live/news/1533-jonathan-turpin-is-never-too-busy-to-think-of">Jonathan Turpin is Never Too Busy to Think of Others</a></h4><div class="lw_news_summary"><p> Think back to the sort of activities that occupied <em>your</em> senior year.</p><p> Now…consider the story of Jonathan Turpin's senior year.</p><a href="/live/news/1533-jonathan-turpin-is-never-too-busy-to-think-of" class="link-with-arrow gold">Keep reading</a></div></div>
<div class="lw_news_image"><span class="lw_item_thumb"><a href="/live/news/2788-brooklyn-sawyers-belk-named-first-deputy-chief-of"><picture class="lw_image"> <source type="image/webp" srcset="/live/image/gid/68/width/345/height/225/crop/1/src_region/0,0,450,450/13478_Brooklyn_Belk.rev.1678120495.png 1x"/> <source type="image/webp" srcset="/live/image/gid/68/width/345/height/225/crop/1/src_region/0,0,450,450/13478_Brooklyn_Belk.rev.1678120495.png 1x"/> <source type="image/png" srcset="/live/image/gid/68/width/345/height/225/crop/1/src_region/0,0,450,450/13478_Brooklyn_Belk.rev.1678120495.png 1x"/> <img src="/live/image/gid/68/width/345/height/225/crop/1/src_region/0,0,450,450/13478_Brooklyn_Belk.rev.1678120495.png" alt=" Brooklyn Sawyers Belk E&H Class of 2002 " width="345" height="225" data-max-w="450" data-max-h="450" loading="lazy"/> </picture> </a></span></div><div class="lw_widget_text"><h4 class="lw_news_headline"><a href="/live/news/2788-brooklyn-sawyers-belk-named-first-deputy-chief-of">Brooklyn Sawyers Belk Named First Deputy Chief of Professional Standards for Knoxville Police Department</a></h4><div class="lw_news_summary"><p> How does one take on a huge job? Brooklyn is getting started by listening.</p><a href="/live/news/2788-brooklyn-sawyers-belk-named-first-deputy-chief-of" class="link-with-arrow gold">Keep reading</a></div></div>
<div class="lw_news_image"><span class="lw_item_thumb"><a href="/live/news/2724-on-the-front-line-in-ukraine-former-eamph"><picture class="lw_image"> <source type="image/webp" srcset="/live/image/gid/68/width/345/height/225/crop/1/src_region/211,51,798,640/13186_eli_worth_jones_2017.rev.1674861623.webp 1x"/> <source type="image/jpeg" srcset="/live/image/gid/68/width/345/height/225/crop/1/src_region/211,51,798,640/13186_eli_worth_jones_2017.rev.1674861623.jpg 1x"/> <img src="/live/image/gid/68/width/345/height/225/crop/1/src_region/211,51,798,640/13186_eli_worth_jones_2017.rev.1674861623.jpg" alt="Eli Worth-Jones, E&H 2018, flanked by coaches Lisa Moosmueller-Terry and Heather Richardson" width="345" height="225" data-max-w="587" data-max-h="589" loading="lazy"/> </picture> </a></span></div><div class="lw_widget_text"><h4 class="lw_news_headline"><a href="/live/news/2724-on-the-front-line-in-ukraine-former-eamph">On the Front Line in Ukraine: Former E&H Equestrian Student is Striving to Help</a></h4><div class="lw_news_summary"><p> There's reason Eli Worth-Jones picked up the nickname "Superhero."</p><a href="/live/news/2724-on-the-front-line-in-ukraine-former-eamph" class="link-with-arrow gold">Keep reading</a></div></div>
<div class="lw_news_image"><span class="lw_item_thumb"><a href="/live/news/1349-got-a-minute-cassidy-york-sharp-04-has-a-new-title"><picture class="lw_image"> <source type="image/webp" srcset="/live/image/gid/68/width/345/height/225/crop/1/src_region/0,66,2400,2466/8478_Cassidy-11.rev.1598295415.webp 1x, /live/image/scale/2x/gid/68/width/345/height/225/crop/1/src_region/0,66,2400,2466/8478_Cassidy-11.rev.1598295415.webp 2x, /live/image/scale/3x/gid/68/width/345/height/225/crop/1/src_region/0,66,2400,2466/8478_Cassidy-11.rev.1598295415.webp 3x"/> <source type="image/jpeg" srcset="/live/image/gid/68/width/345/height/225/crop/1/src_region/0,66,2400,2466/8478_Cassidy-11.rev.1598295415.jpg 1x, /live/image/scale/2x/gid/68/width/345/height/225/crop/1/src_region/0,66,2400,2466/8478_Cassidy-11.rev.1598295415.jpg 2x, /live/image/scale/3x/gid/68/width/345/height/225/crop/1/src_region/0,66,2400,2466/8478_Cassidy-11.rev.1598295415.jpg 3x"/> <img src="/live/image/gid/68/width/345/height/225/crop/1/src_region/0,66,2400,2466/8478_Cassidy-11.rev.1598295415.jpg" alt="Cassidy York Sharp, US Modern Woman Novice Supreme" width="345" height="225" srcset="/live/image/scale/2x/gid/68/width/345/height/225/crop/1/src_region/0,66,2400,2466/8478_Cassidy-11.rev.1598295415.jpg 2x, /live/image/scale/3x/gid/68/width/345/height/225/crop/1/src_region/0,66,2400,2466/8478_Cassidy-11.rev.1598295415.jpg 3x" data-max-w="2400" data-max-h="2400" loading="lazy"/> </picture> </a></span></div><div class="lw_widget_text"><h4 class="lw_news_headline"><a href="/live/news/1349-got-a-minute-cassidy-york-sharp-04-has-a-new-title">Got a minute? Cassidy York Sharp ('04) Has a New Title</a></h4><div class="lw_news_summary"> She also has a crown and a sash – and a couple of adoring fans. <a href="/live/news/1349-got-a-minute-cassidy-york-sharp-04-has-a-new-title" class="link-with-arrow gold">Keep reading</a></div></div>
<div class="lw_news_image"><span class="lw_item_thumb"><a href="/live/news/295-perfect-harmony"><picture class="lw_image"> <source type="image/webp" srcset="/live/image/gid/68/width/345/height/225/crop/1/src_region/604,99,923,417/3305_Carolinas_Mixed_Quartet_Champions.rev.1518801465.webp 1x"/> <source type="image/jpeg" srcset="/live/image/gid/68/width/345/height/225/crop/1/src_region/604,99,923,417/3305_Carolinas_Mixed_Quartet_Champions.rev.1518801465.jpg 1x"/> <img src="/live/image/gid/68/width/345/height/225/crop/1/src_region/604,99,923,417/3305_Carolinas_Mixed_Quartet_Champions.rev.1518801465.jpg" alt="Carolinas Mixed Quartet Champions" width="345" height="225" data-max-w="319" data-max-h="318" loading="lazy"/> </picture> </a></span></div><div class="lw_widget_text"><h4 class="lw_news_headline"><a href="/live/news/295-perfect-harmony">Perfect Harmony!</a></h4><div class="lw_news_summary"> Warren Fuson's (E&H '73) quartet just won a big competition! Give a listen! <a href="/live/news/295-perfect-harmony" class="link-with-arrow gold">Keep reading</a></div></div>
<div class="lw_news_image"><span class="lw_item_thumb"><a href="/live/news/296-a-st-judes-hero"><picture class="lw_image"> <source type="image/webp" srcset="/live/image/gid/68/width/345/height/225/crop/1/src_region/0,48,764,812/3319_20180125_123141.rev.1519077228.webp 1x, /live/image/scale/2x/gid/68/width/345/height/225/crop/1/src_region/0,48,764,812/3319_20180125_123141.rev.1519077228.webp 2x"/> <source type="image/jpeg" srcset="/live/image/gid/68/width/345/height/225/crop/1/src_region/0,48,764,812/3319_20180125_123141.rev.1519077228.jpg 1x, /live/image/scale/2x/gid/68/width/345/height/225/crop/1/src_region/0,48,764,812/3319_20180125_123141.rev.1519077228.jpg 2x"/> <img src="/live/image/gid/68/width/345/height/225/crop/1/src_region/0,48,764,812/3319_20180125_123141.rev.1519077228.jpg" alt="Emily Tolley Boyles" width="345" height="225" srcset="/live/image/scale/2x/gid/68/width/345/height/225/crop/1/src_region/0,48,764,812/3319_20180125_123141.rev.1519077228.jpg 2x" data-max-w="764" data-max-h="764" loading="lazy"/> </picture> </a></span></div><div class="lw_widget_text"><h4 class="lw_news_headline"><a href="/live/news/296-a-st-judes-hero">A St. Jude's Hero</a></h4><div class="lw_news_summary"> Emily Tolley Boyles said she'd NEVER run a full marathon. But that was before she met Mighty Max. <a href="/live/news/296-a-st-judes-hero" class="link-with-arrow gold">Keep reading</a></div></div>
<div class="lw_news_image"><span class="lw_item_thumb"><a href="/live/news/1868-zoom-cocktails-eamph-style"><picture class="lw_image"> <source type="image/webp" srcset="/live/image/gid/68/width/345/height/225/crop/1/src_region/0,0,1920,1080/9901_Screenshot_104.rev.1623091873.png 1x, /live/image/scale/2x/gid/68/width/345/height/225/crop/1/src_region/0,0,1920,1080/9901_Screenshot_104.rev.1623091873.png 2x, /live/image/scale/3x/gid/68/width/345/height/225/crop/1/src_region/0,0,1920,1080/9901_Screenshot_104.rev.1623091873.png 3x"/> <source type="image/webp" srcset="/live/image/gid/68/width/345/height/225/crop/1/src_region/0,0,1920,1080/9901_Screenshot_104.rev.1623091873.png 1x, /live/image/scale/2x/gid/68/width/345/height/225/crop/1/src_region/0,0,1920,1080/9901_Screenshot_104.rev.1623091873.png 2x, /live/image/scale/3x/gid/68/width/345/height/225/crop/1/src_region/0,0,1920,1080/9901_Screenshot_104.rev.1623091873.png 3x"/> <source type="image/png" srcset="/live/image/gid/68/width/345/height/225/crop/1/src_region/0,0,1920,1080/9901_Screenshot_104.rev.1623091873.png 1x, /live/image/scale/2x/gid/68/width/345/height/225/crop/1/src_region/0,0,1920,1080/9901_Screenshot_104.rev.1623091873.png 2x, /live/image/scale/3x/gid/68/width/345/height/225/crop/1/src_region/0,0,1920,1080/9901_Screenshot_104.rev.1623091873.png 3x"/> <img src="/live/image/gid/68/width/345/height/225/crop/1/src_region/0,0,1920,1080/9901_Screenshot_104.rev.1623091873.png" alt="The ITK Zoom cocktail group has gathered monthly during the pandemic." width="345" height="225" srcset="/live/image/scale/2x/gid/68/width/345/height/225/crop/1/src_region/0,0,1920,1080/9901_Screenshot_104.rev.1623091873.png 2x, /live/image/scale/3x/gid/68/width/345/height/225/crop/1/src_region/0,0,1920,1080/9901_Screenshot_104.rev.1623091873.png 3x" data-max-w="1920" data-max-h="1080" loading="lazy"/> </picture> </a></span></div><div class="lw_widget_text"><h4 class="lw_news_headline"><a href="/live/news/1868-zoom-cocktails-eamph-style">Zoom Cocktails: E&H Style!</a></h4><div class="lw_news_summary"><p><span style="font-weight: 400;">When the pandemic hit in 2020, there were a lot of jokes about the technology learning curve. But in the midst of the stress of learning new tricks, many found out that there was joy to be found in all this new technology.<br/></span></p><a href="/live/news/1868-zoom-cocktails-eamph-style" class="link-with-arrow gold">Keep reading</a></div></div>
<div class="lw_news_image"><span class="lw_item_thumb"><a href="/live/news/1080-richard-graves-work-wins-reece-museum-award"><picture class="lw_image"> <source type="image/webp" srcset="/live/image/gid/68/width/345/height/225/crop/1/src_region/49,1,802,754/7176_richard_graves.rev.1574284324.webp 1x, /live/image/scale/2x/gid/68/width/345/height/225/crop/1/src_region/49,1,802,754/7176_richard_graves.rev.1574284324.webp 2x"/> <source type="image/jpeg" srcset="/live/image/gid/68/width/345/height/225/crop/1/src_region/49,1,802,754/7176_richard_graves.rev.1574284324.jpg 1x, /live/image/scale/2x/gid/68/width/345/height/225/crop/1/src_region/49,1,802,754/7176_richard_graves.rev.1574284324.jpg 2x"/> <img src="/live/image/gid/68/width/345/height/225/crop/1/src_region/49,1,802,754/7176_richard_graves.rev.1574284324.jpg" alt="Richard Graves, E&H Class of 2008." width="345" height="225" srcset="/live/image/scale/2x/gid/68/width/345/height/225/crop/1/src_region/49,1,802,754/7176_richard_graves.rev.1574284324.jpg 2x" data-max-w="753" data-max-h="753" loading="lazy"/> </picture> </a></span></div><div class="lw_widget_text"><h4 class="lw_news_headline"><a href="/live/news/1080-richard-graves-work-wins-reece-museum-award">Richard Graves' Work Wins Reece Museum Award</a></h4></div>