Friends of Copey Celebrates 10th Anniversary
Ten years of experiences, and 10 years of friendship.
By now, many have heard the story of how Scrapper Broady ('70) went fishing in Costa Rica and came home with a dream of helping Costa Rican students learn English and subsequently help create an opportunity for students to visit the United States.
That dream became a reality and in 2023, there was a celebration of the 10th anniversary of the Friends of Copey – a loosely organized group of friends who donate time and money to support the rural community of Copey, especially the The Copey Learning Center. The center was established to provide English education to its student population therefore providing better life options than those of previous generations.
Although scholarships and other funding support is provided to the Copey Learning Center, one unique project under the large umbrella of Friends of Copey is the Pathway Project. This project makes it possible for 2-3 students from the tiny and beautiful community of Copey to visit the U.S. each summer.
While Friends of Copey celebrated its ten-year anniversary in June, the Pathway Project also celebrated its seventh year by bringing two more students to the United States. They toured Washington DC, then spent a week at a health careers camp at Emory & Henry. Additionally, the Emory guests had a chance to go to Barter Theatre, Hungry Mother State Park, area nature areas, new dining hot spots in the region, a baseball game, and they even learned to play a little golf. They also got to visit with SWVA friends they've made who were English teachers and E&H student trip facilitators.
After 10 years, Copey and Emory share many friendships, so the summer event has become something of a reunion. George Whitley ('77) has an annual party for Friends of Copey Affiliates, and this year's party included guests from as far away as Mountain City, Asheville, and Canada.
Enjoy a conversation with Scrapper about the anniversary on the Duck Pond Wall podcast.
Open gallery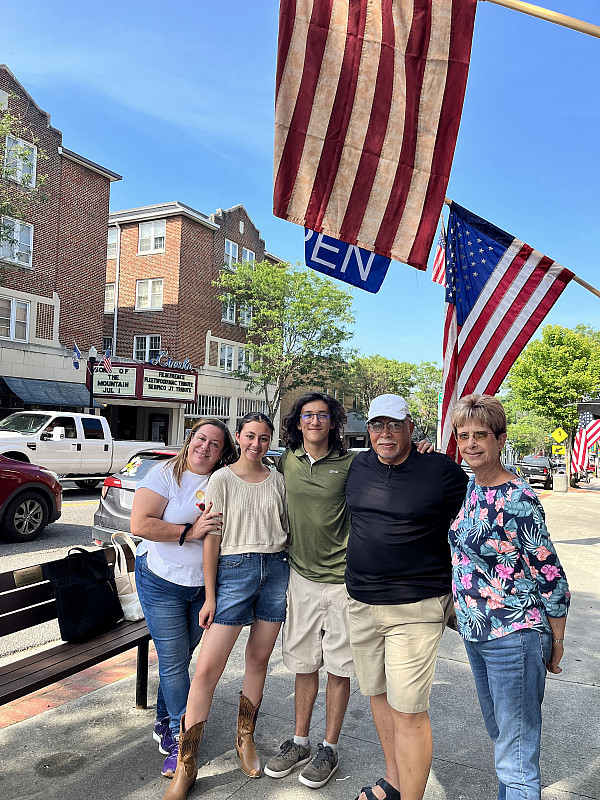 More News
<div class="lw_news_image"><span class="lw_item_thumb"><a href="/live/news/2783-friends-of-the-sciences-volunteers-honored-with"><picture class="lw_image"> <source type="image/webp" srcset="/live/image/gid/68/width/345/height/225/crop/1/src_region/0,0,2100,1275/11126_EHCITY_banner.rev.1650381047.webp 1x, /live/image/scale/2x/gid/68/width/345/height/225/crop/1/src_region/0,0,2100,1275/11126_EHCITY_banner.rev.1650381047.webp 2x, /live/image/scale/3x/gid/68/width/345/height/225/crop/1/src_region/0,0,2100,1275/11126_EHCITY_banner.rev.1650381047.webp 3x"/> <source type="image/jpeg" srcset="/live/image/gid/68/width/345/height/225/crop/1/src_region/0,0,2100,1275/11126_EHCITY_banner.rev.1650381047.jpg 1x, /live/image/scale/2x/gid/68/width/345/height/225/crop/1/src_region/0,0,2100,1275/11126_EHCITY_banner.rev.1650381047.jpg 2x, /live/image/scale/3x/gid/68/width/345/height/225/crop/1/src_region/0,0,2100,1275/11126_EHCITY_banner.rev.1650381047.jpg 3x"/> <img src="/live/image/gid/68/width/345/height/225/crop/1/src_region/0,0,2100,1275/11126_EHCITY_banner.rev.1650381047.jpg" alt="" width="345" height="225" srcset="/live/image/scale/2x/gid/68/width/345/height/225/crop/1/src_region/0,0,2100,1275/11126_EHCITY_banner.rev.1650381047.jpg 2x, /live/image/scale/3x/gid/68/width/345/height/225/crop/1/src_region/0,0,2100,1275/11126_EHCITY_banner.rev.1650381047.jpg 3x" data-max-w="2100" data-max-h="1275" loading="lazy"/> </picture> </a></span></div><div class="lw_widget_text"><h4 class="lw_news_headline"><a href="/live/news/2783-friends-of-the-sciences-volunteers-honored-with">Friends of the Sciences Volunteers Honored with Distinctive Service to Emory & Henry Award</a></h4><div class="lw_news_summary"><p> This award is given to an individual who has provided extraordinary participation and leadership in any number of E&H activities. <em>The award is named for Fred Selfe, E&H class of 1969, who served the Emory & Henry College Athletic Department with exceptional dedication and valor until his death in 2003.</em></p><a href="/live/news/2783-friends-of-the-sciences-volunteers-honored-with" class="link-with-arrow gold">Keep reading</a></div></div>
<div class="lw_news_image"><span class="lw_item_thumb"><a href="/live/news/2407-matt-long-is-a-partner-in-his-law-firm"><picture class="lw_image"> <source type="image/webp" srcset="/live/image/gid/68/width/345/height/225/crop/1/src_region/0,8,350,358/11659_Matt_Long.rev.1658355157.png 1x"/> <source type="image/webp" srcset="/live/image/gid/68/width/345/height/225/crop/1/src_region/0,8,350,358/11659_Matt_Long.rev.1658355157.png 1x"/> <source type="image/png" srcset="/live/image/gid/68/width/345/height/225/crop/1/src_region/0,8,350,358/11659_Matt_Long.rev.1658355157.png 1x"/> <img src="/live/image/gid/68/width/345/height/225/crop/1/src_region/0,8,350,358/11659_Matt_Long.rev.1658355157.png" alt="Matt Long Emory & Henry Class of 2003" width="345" height="225" data-max-w="350" data-max-h="350" loading="lazy"/> </picture> </a></span></div><div class="lw_widget_text"><h4 class="lw_news_headline"><a href="/live/news/2407-matt-long-is-a-partner-in-his-law-firm">Matt Long is a Partner in His Law Firm</a></h4><div class="lw_news_summary"><p> Are you looking for an attorney? Better call Matt.</p><a href="/live/news/2407-matt-long-is-a-partner-in-his-law-firm" class="link-with-arrow gold">Keep reading</a></div></div>
<div class="lw_news_image"><span class="lw_item_thumb"><a href="/live/news/1172-randy-colquitt-is-onboard"><picture class="lw_image"> <source type="image/webp" srcset="/live/image/gid/68/width/345/height/225/crop/1/src_region/0,36,481,518/7840_Randal_Colquitt_2.rev.1583849453.webp 1x"/> <source type="image/jpeg" srcset="/live/image/gid/68/width/345/height/225/crop/1/src_region/0,36,481,518/7840_Randal_Colquitt_2.rev.1583849453.jpg 1x"/> <img src="/live/image/gid/68/width/345/height/225/crop/1/src_region/0,36,481,518/7840_Randal_Colquitt_2.rev.1583849453.jpg" alt="Randy Colquitt, E&H Class of 2018." width="345" height="225" data-max-w="481" data-max-h="482" loading="lazy"/> </picture> </a></span></div><div class="lw_widget_text"><h4 class="lw_news_headline"><a href="/live/news/1172-randy-colquitt-is-onboard">Randy Colquitt is Onboard!</a></h4><div class="lw_news_summary"> And as a human resources professional, he's helping others do the same. <a href="/live/news/1172-randy-colquitt-is-onboard" class="link-with-arrow gold">Keep reading</a></div></div>
<div class="lw_news_image"><span class="lw_item_thumb"><a href="/live/news/604-dustin-skillmans-work-featured-at-major-event-in"><picture class="lw_image"> <source type="image/webp" srcset="/live/image/gid/68/width/345/height/225/crop/1/src_region/215,6,508,300/5711_dustin.rev.1544230189.webp 1x"/> <source type="image/jpeg" srcset="/live/image/gid/68/width/345/height/225/crop/1/src_region/215,6,508,300/5711_dustin.rev.1544230189.jpg 1x"/> <img src="/live/image/gid/68/width/345/height/225/crop/1/src_region/215,6,508,300/5711_dustin.rev.1544230189.jpg" alt="Dustin Skillman, E&H Class of 2015." width="345" height="225" data-max-w="293" data-max-h="294" loading="lazy"/> </picture> </a></span></div><div class="lw_widget_text"><h4 class="lw_news_headline"><a href="/live/news/604-dustin-skillmans-work-featured-at-major-event-in">Dustin Skillman's Work Featured at Major Event in Baltimore</a></h4></div>
<div class="lw_news_image"><span class="lw_item_thumb"><a href="/live/news/2440-gail-weaver-norwood-publishes-escape-from-grief"><picture class="lw_image"> <source type="image/webp" srcset="/live/image/gid/68/width/345/height/225/crop/1/src_region/0,13,1537,1548/11848_FBS_GailNorwood32.rev.1661365997.webp 1x, /live/image/scale/2x/gid/68/width/345/height/225/crop/1/src_region/0,13,1537,1548/11848_FBS_GailNorwood32.rev.1661365997.webp 2x, /live/image/scale/3x/gid/68/width/345/height/225/crop/1/src_region/0,13,1537,1548/11848_FBS_GailNorwood32.rev.1661365997.webp 3x"/> <source type="image/jpeg" srcset="/live/image/gid/68/width/345/height/225/crop/1/src_region/0,13,1537,1548/11848_FBS_GailNorwood32.rev.1661365997.jpg 1x, /live/image/scale/2x/gid/68/width/345/height/225/crop/1/src_region/0,13,1537,1548/11848_FBS_GailNorwood32.rev.1661365997.jpg 2x, /live/image/scale/3x/gid/68/width/345/height/225/crop/1/src_region/0,13,1537,1548/11848_FBS_GailNorwood32.rev.1661365997.jpg 3x"/> <img src="/live/image/gid/68/width/345/height/225/crop/1/src_region/0,13,1537,1548/11848_FBS_GailNorwood32.rev.1661365997.jpg" alt="Gail Weaver Norwood Emory & Henry Class of 1971" width="345" height="225" srcset="/live/image/scale/2x/gid/68/width/345/height/225/crop/1/src_region/0,13,1537,1548/11848_FBS_GailNorwood32.rev.1661365997.jpg 2x, /live/image/scale/3x/gid/68/width/345/height/225/crop/1/src_region/0,13,1537,1548/11848_FBS_GailNorwood32.rev.1661365997.jpg 3x" data-max-w="1537" data-max-h="1535" loading="lazy"/> </picture> </a></span></div><div class="lw_widget_text"><h4 class="lw_news_headline"><a href="/live/news/2440-gail-weaver-norwood-publishes-escape-from-grief">Gail Weaver Norwood Publishes "Escape from Grief Prison: A Story of Love, Loss, and Healing"</a></h4><div class="lw_news_summary"> The title of <span style="text-decoration: underline;"><a href="http://www.gailnorwood.com/">Gail Weaver Norwood's book</a></span> may mislead you. This book is about more than grief; it's about learning how to manage our emotional well-being in times of challenge.<br/><div></div><div></div><a href="/live/news/2440-gail-weaver-norwood-publishes-escape-from-grief" class="link-with-arrow gold">Keep reading</a></div></div>
<div class="lw_news_image"><span class="lw_item_thumb"><a href="/live/news/1007-eamph-homecoming-announces-new-event-a-book"><picture class="lw_image"> <source type="image/webp" srcset="/live/image/gid/68/width/345/height/225/crop/1/src_region/0,0,313,499/6987_selfe.rev.1570067073.webp 1x"/> <source type="image/jpeg" srcset="/live/image/gid/68/width/345/height/225/crop/1/src_region/0,0,313,499/6987_selfe.rev.1570067073.jpg 1x"/> <img src="/live/image/gid/68/width/345/height/225/crop/1/src_region/0,0,313,499/6987_selfe.rev.1570067073.jpg" alt="Cover of "Great Big Small Things" width="345" height="225" data-max-w="313" data-max-h="499" loading="lazy"/> </picture> </a></span></div><div class="lw_widget_text"><h4 class="lw_news_headline"><a href="/live/news/1007-eamph-homecoming-announces-new-event-a-book">E&H Homecoming Announces New Event: A Book Signing!</a></h4><div class="lw_news_summary"> E&H alumni and faculty members will be selling and signing their original work. <a href="/live/news/1007-eamph-homecoming-announces-new-event-a-book" class="link-with-arrow gold">Keep reading</a></div></div>
<div class="lw_news_image"><span class="lw_item_thumb"><a href="/live/news/2289-eamph-mass-comm-student-story-emily-bunn"><picture class="lw_image"> <source type="image/webp" srcset="/live/image/gid/68/width/345/height/225/crop/1/src_region/0,0,382,382/11077_Picture2.rev.1648651634.webp 1x"/> <source type="image/jpeg" srcset="/live/image/gid/68/width/345/height/225/crop/1/src_region/0,0,382,382/11077_Picture2.rev.1648651634.jpg 1x"/> <img src="/live/image/gid/68/width/345/height/225/crop/1/src_region/0,0,382,382/11077_Picture2.rev.1648651634.jpg" alt="Austin Bunn E&H Class of 2014" width="345" height="225" data-max-w="382" data-max-h="382" loading="lazy"/> </picture> </a></span></div><div class="lw_widget_text"><h4 class="lw_news_headline"><a href="/live/news/2289-eamph-mass-comm-student-story-emily-bunn">E&H Mass Comm Student Story: Emily Bunn spotlights Austin Bunn and their shared E&H legacy</a></h4><div class="lw_news_summary"><em>This is part of a series of stories by members of the 2022 E&H Mass Comm 302 Class.<br/><br/></em>Home is where your family is: and for Austin Bunn ('14) that place was his college. <strong><br/><br/></strong> <a href="/live/news/2289-eamph-mass-comm-student-story-emily-bunn" class="link-with-arrow gold">Keep reading</a></div></div>
<div class="lw_news_image"><span class="lw_item_thumb"><a href="/live/news/2043-betty-sexton-has-opened-a-barbecue-restaurant-in"><picture class="lw_image"> <source type="image/webp" srcset="/live/image/gid/68/width/345/height/225/crop/1/src_region/0,0,1369,1364/10356_betty_sexton.rev.1633520591.webp 1x, /live/image/scale/2x/gid/68/width/345/height/225/crop/1/src_region/0,0,1369,1364/10356_betty_sexton.rev.1633520591.webp 2x, /live/image/scale/3x/gid/68/width/345/height/225/crop/1/src_region/0,0,1369,1364/10356_betty_sexton.rev.1633520591.webp 3x"/> <source type="image/jpeg" srcset="/live/image/gid/68/width/345/height/225/crop/1/src_region/0,0,1369,1364/10356_betty_sexton.rev.1633520591.jpg 1x, /live/image/scale/2x/gid/68/width/345/height/225/crop/1/src_region/0,0,1369,1364/10356_betty_sexton.rev.1633520591.jpg 2x, /live/image/scale/3x/gid/68/width/345/height/225/crop/1/src_region/0,0,1369,1364/10356_betty_sexton.rev.1633520591.jpg 3x"/> <img src="/live/image/gid/68/width/345/height/225/crop/1/src_region/0,0,1369,1364/10356_betty_sexton.rev.1633520591.jpg" alt=" Betty Sexton Emory & Henry Class of 1987 " width="345" height="225" srcset="/live/image/scale/2x/gid/68/width/345/height/225/crop/1/src_region/0,0,1369,1364/10356_betty_sexton.rev.1633520591.jpg 2x, /live/image/scale/3x/gid/68/width/345/height/225/crop/1/src_region/0,0,1369,1364/10356_betty_sexton.rev.1633520591.jpg 3x" data-max-w="1369" data-max-h="1364" loading="lazy"/> </picture> </a></span></div><div class="lw_widget_text"><h4 class="lw_news_headline"><a href="/live/news/2043-betty-sexton-has-opened-a-barbecue-restaurant-in">Betty Sexton Has Opened a Barbecue Restaurant in Richmond</a></h4><div class="lw_news_summary"><span style="font-weight: 400;">Betty Sexton is ready to Smohk the competition.</span> <a href="/live/news/2043-betty-sexton-has-opened-a-barbecue-restaurant-in" class="link-with-arrow gold">Keep reading</a></div></div>
<div class="lw_news_image"><span class="lw_item_thumb"><a href="/live/news/2417-katie-beth-bordwine-pastor-at-law"><picture class="lw_image"> <source type="image/webp" srcset="/live/image/gid/68/width/345/height/225/crop/1/src_region/0,49,2316,2365/11728_294151058_578583833733131_3226987127817745888_n.rev.1659541467.webp 1x, /live/image/scale/2x/gid/68/width/345/height/225/crop/1/src_region/0,49,2316,2365/11728_294151058_578583833733131_3226987127817745888_n.rev.1659541467.webp 2x, /live/image/scale/3x/gid/68/width/345/height/225/crop/1/src_region/0,49,2316,2365/11728_294151058_578583833733131_3226987127817745888_n.rev.1659541467.webp 3x"/> <source type="image/jpeg" srcset="/live/image/gid/68/width/345/height/225/crop/1/src_region/0,49,2316,2365/11728_294151058_578583833733131_3226987127817745888_n.rev.1659541467.jpg 1x, /live/image/scale/2x/gid/68/width/345/height/225/crop/1/src_region/0,49,2316,2365/11728_294151058_578583833733131_3226987127817745888_n.rev.1659541467.jpg 2x, /live/image/scale/3x/gid/68/width/345/height/225/crop/1/src_region/0,49,2316,2365/11728_294151058_578583833733131_3226987127817745888_n.rev.1659541467.jpg 3x"/> <img src="/live/image/gid/68/width/345/height/225/crop/1/src_region/0,49,2316,2365/11728_294151058_578583833733131_3226987127817745888_n.rev.1659541467.jpg" alt="Katie Beth Bordwine Emory & Henry Class of 2016" width="345" height="225" srcset="/live/image/scale/2x/gid/68/width/345/height/225/crop/1/src_region/0,49,2316,2365/11728_294151058_578583833733131_3226987127817745888_n.rev.1659541467.jpg 2x, /live/image/scale/3x/gid/68/width/345/height/225/crop/1/src_region/0,49,2316,2365/11728_294151058_578583833733131_3226987127817745888_n.rev.1659541467.jpg 3x" data-max-w="2316" data-max-h="2316" loading="lazy"/> </picture> </a></span></div><div class="lw_widget_text"><h4 class="lw_news_headline"><a href="/live/news/2417-katie-beth-bordwine-pastor-at-law">Katie Beth Bordwine: Pastor at Law</a></h4><div class="lw_news_summary"> Even though Katie Beth is an attorney with Legal Aid of North Carolina in Boone, she is spending a fair amount of time in a church pulpit these days. <a href="/live/news/2417-katie-beth-bordwine-pastor-at-law" class="link-with-arrow gold">Keep reading</a></div></div>
<div class="lw_news_image"><span class="lw_item_thumb"><a href="/live/news/2791-adam-bolt-writes-songs-that-mean-something"><picture class="lw_image"> <source type="image/webp" srcset="/live/image/gid/68/width/345/height/225/crop/1/src_region/0,0,639,640/13505_adam_bolt_pic.rev.1678377707.webp 1x"/> <source type="image/jpeg" srcset="/live/image/gid/68/width/345/height/225/crop/1/src_region/0,0,639,640/13505_adam_bolt_pic.rev.1678377707.jpg 1x"/> <img src="/live/image/gid/68/width/345/height/225/crop/1/src_region/0,0,639,640/13505_adam_bolt_pic.rev.1678377707.jpg" alt=" Adam Bolt Emory & Henry Class of 2012 " width="345" height="225" data-max-w="639" data-max-h="640" loading="lazy"/> </picture> </a></span></div><div class="lw_widget_text"><h4 class="lw_news_headline"><a href="/live/news/2791-adam-bolt-writes-songs-that-mean-something">Adam Bolt Writes Songs That Mean Something</a></h4><div class="lw_news_summary"><p> His first stage was the lunchroom.</p><a href="/live/news/2791-adam-bolt-writes-songs-that-mean-something" class="link-with-arrow gold">Keep reading</a></div></div>
<div class="lw_news_image"><span class="lw_item_thumb"><a href="/live/news/903-headed-to-the-virginia-highlands-festival-this"><picture class="lw_image"> <source type="image/webp" srcset="/live/image/gid/68/width/345/height/225/crop/1/src_region/383,118,1175,910/6560_67371737_644792832707714_971696063926763520_n.rev.1563759429.webp 1x, /live/image/scale/2x/gid/68/width/345/height/225/crop/1/src_region/383,118,1175,910/6560_67371737_644792832707714_971696063926763520_n.rev.1563759429.webp 2x"/> <source type="image/jpeg" srcset="/live/image/gid/68/width/345/height/225/crop/1/src_region/383,118,1175,910/6560_67371737_644792832707714_971696063926763520_n.rev.1563759429.jpg 1x, /live/image/scale/2x/gid/68/width/345/height/225/crop/1/src_region/383,118,1175,910/6560_67371737_644792832707714_971696063926763520_n.rev.1563759429.jpg 2x"/> <img src="/live/image/gid/68/width/345/height/225/crop/1/src_region/383,118,1175,910/6560_67371737_644792832707714_971696063926763520_n.rev.1563759429.jpg" alt="Liv Jennings, E&H Class of 2019." width="345" height="225" srcset="/live/image/scale/2x/gid/68/width/345/height/225/crop/1/src_region/383,118,1175,910/6560_67371737_644792832707714_971696063926763520_n.rev.1563759429.jpg 2x" data-max-w="792" data-max-h="792" loading="lazy"/> </picture> </a></span></div><div class="lw_widget_text"><h4 class="lw_news_headline"><a href="/live/news/903-headed-to-the-virginia-highlands-festival-this">Headed to the Virginia Highlands Festival This Week?</a></h4><div class="lw_news_summary"> Look for a 2019 E&H grad (Liv Jennings) who's making the event thrive! <a href="/live/news/903-headed-to-the-virginia-highlands-festival-this" class="link-with-arrow gold">Keep reading</a></div></div>
<div class="lw_news_image"><span class="lw_item_thumb"><a href="/live/news/156-eamph-alumnus-gary-reedy-named-ceo-of-american"><picture class="lw_image"> <source type="image/webp" srcset="/live/image/gid/83/width/345/height/225/crop/1/src_region/0,0,1000,666/851_alumni-gary-reedy.rev.1507730801.webp 1x, /live/image/scale/2x/gid/83/width/345/height/225/crop/1/src_region/0,0,1000,666/851_alumni-gary-reedy.rev.1507730801.webp 2x"/> <source type="image/jpeg" srcset="/live/image/gid/83/width/345/height/225/crop/1/src_region/0,0,1000,666/851_alumni-gary-reedy.rev.1507730801.jpg 1x, /live/image/scale/2x/gid/83/width/345/height/225/crop/1/src_region/0,0,1000,666/851_alumni-gary-reedy.rev.1507730801.jpg 2x"/> <img src="/live/image/gid/83/width/345/height/225/crop/1/src_region/0,0,1000,666/851_alumni-gary-reedy.rev.1507730801.jpg" alt="Reedy, class of 78, speaks on campus." width="345" height="225" srcset="/live/image/scale/2x/gid/83/width/345/height/225/crop/1/src_region/0,0,1000,666/851_alumni-gary-reedy.rev.1507730801.jpg 2x" data-max-w="1000" data-max-h="666" loading="lazy"/> </picture> </a></span></div><div class="lw_widget_text"><h4 class="lw_news_headline"><a href="/live/news/156-eamph-alumnus-gary-reedy-named-ceo-of-american">E&H Alumnus Gary Reedy Is CEO of American Cancer Society</a></h4><div class="lw_news_summary"> Gary M. Reedy serves as the chief executive officer of the <a title="American Cancer Society Homepage" href="http://www.cancer.org/" target="_blank" rel="noopener noreferrer">American Cancer Society</a>, placing the 1978 Emory & Henry graduate atop one of the most influential non-profit organizations in the nation. <a href="/live/news/156-eamph-alumnus-gary-reedy-named-ceo-of-american" class="link-with-arrow gold">Keep reading</a></div></div>
<div class="lw_news_image"><span class="lw_item_thumb"><a href="/live/news/2279-megan-bost-is-with-the-us-department-of-justice"><picture class="lw_image"> <source type="image/webp" srcset="/live/image/gid/68/width/345/height/225/crop/1/src_region/0,32,750,781/11008_32B5185A-6A5A-4073-B88D-BA1421130FEA_1_201_a.rev.1648088698.webp 1x, /live/image/scale/2x/gid/68/width/345/height/225/crop/1/src_region/0,32,750,781/11008_32B5185A-6A5A-4073-B88D-BA1421130FEA_1_201_a.rev.1648088698.webp 2x"/> <source type="image/jpeg" srcset="/live/image/gid/68/width/345/height/225/crop/1/src_region/0,32,750,781/11008_32B5185A-6A5A-4073-B88D-BA1421130FEA_1_201_a.rev.1648088698.jpg 1x, /live/image/scale/2x/gid/68/width/345/height/225/crop/1/src_region/0,32,750,781/11008_32B5185A-6A5A-4073-B88D-BA1421130FEA_1_201_a.rev.1648088698.jpg 2x"/> <img src="/live/image/gid/68/width/345/height/225/crop/1/src_region/0,32,750,781/11008_32B5185A-6A5A-4073-B88D-BA1421130FEA_1_201_a.rev.1648088698.jpg" alt="Megan Bost Emory & Henry Class of 2016 Attorney, U.S. Department of Justice" width="345" height="225" srcset="/live/image/scale/2x/gid/68/width/345/height/225/crop/1/src_region/0,32,750,781/11008_32B5185A-6A5A-4073-B88D-BA1421130FEA_1_201_a.rev.1648088698.jpg 2x" data-max-w="750" data-max-h="749" loading="lazy"/> </picture> </a></span></div><div class="lw_widget_text"><h4 class="lw_news_headline"><a href="/live/news/2279-megan-bost-is-with-the-us-department-of-justice">Megan Bost is with the U.S. Department of Justice</a></h4><div class="lw_news_summary"> Megan Bost is working for the U.S. Department of Justice, and she got there on a horse. Sort of. <a href="/live/news/2279-megan-bost-is-with-the-us-department-of-justice" class="link-with-arrow gold">Keep reading</a></div></div>
<div class="lw_news_image"><span class="lw_item_thumb"><a href="/live/news/1679-the-trap-of-nostalgia"><picture class="lw_image"> <source type="image/webp" srcset="/live/image/gid/68/width/345/height/225/crop/1/src_region/0,0,2094,2055/9554_The_Spine_Of_Night_Filmmaker_Morgan_Galen_King.rev.1615991868.webp 1x, /live/image/scale/2x/gid/68/width/345/height/225/crop/1/src_region/0,0,2094,2055/9554_The_Spine_Of_Night_Filmmaker_Morgan_Galen_King.rev.1615991868.webp 2x, /live/image/scale/3x/gid/68/width/345/height/225/crop/1/src_region/0,0,2094,2055/9554_The_Spine_Of_Night_Filmmaker_Morgan_Galen_King.rev.1615991868.webp 3x"/> <source type="image/jpeg" srcset="/live/image/gid/68/width/345/height/225/crop/1/src_region/0,0,2094,2055/9554_The_Spine_Of_Night_Filmmaker_Morgan_Galen_King.rev.1615991868.jpg 1x, /live/image/scale/2x/gid/68/width/345/height/225/crop/1/src_region/0,0,2094,2055/9554_The_Spine_Of_Night_Filmmaker_Morgan_Galen_King.rev.1615991868.jpg 2x, /live/image/scale/3x/gid/68/width/345/height/225/crop/1/src_region/0,0,2094,2055/9554_The_Spine_Of_Night_Filmmaker_Morgan_Galen_King.rev.1615991868.jpg 3x"/> <img src="/live/image/gid/68/width/345/height/225/crop/1/src_region/0,0,2094,2055/9554_The_Spine_Of_Night_Filmmaker_Morgan_Galen_King.rev.1615991868.jpg" alt="Morgan Galen King, E&H Class of 2001" width="345" height="225" srcset="/live/image/scale/2x/gid/68/width/345/height/225/crop/1/src_region/0,0,2094,2055/9554_The_Spine_Of_Night_Filmmaker_Morgan_Galen_King.rev.1615991868.jpg 2x, /live/image/scale/3x/gid/68/width/345/height/225/crop/1/src_region/0,0,2094,2055/9554_The_Spine_Of_Night_Filmmaker_Morgan_Galen_King.rev.1615991868.jpg 3x" data-max-w="2094" data-max-h="2055" loading="lazy"/> </picture> </a></span></div><div class="lw_widget_text"><h4 class="lw_news_headline"><a href="/live/news/1679-the-trap-of-nostalgia">"The Trap of Nostalgia"</a></h4><div class="lw_news_summary"> Morgan King's new full-length animated feature is a throw-back to a popular 1980's classic, but he was careful not to be limited by the past as he created something he wanted to stand up in the present. <a href="/live/news/1679-the-trap-of-nostalgia" class="link-with-arrow gold">Keep reading</a></div></div>
<div class="lw_news_image"><span class="lw_item_thumb"><a href="/live/news/3049-bill-williams-completes-second-term-as-president-of-vir"><picture class="lw_image"> <source type="image/webp" srcset="/live/image/gid/68/width/345/height/225/crop/1/src_region/583,36,2382,1837/14302_bill_williams.rev.1691700787.webp 1x, /live/image/scale/2x/gid/68/width/345/height/225/crop/1/src_region/583,36,2382,1837/14302_bill_williams.rev.1691700787.webp 2x, /live/image/scale/3x/gid/68/width/345/height/225/crop/1/src_region/583,36,2382,1837/14302_bill_williams.rev.1691700787.webp 3x"/> <source type="image/jpeg" srcset="/live/image/gid/68/width/345/height/225/crop/1/src_region/583,36,2382,1837/14302_bill_williams.rev.1691700787.jpg 1x, /live/image/scale/2x/gid/68/width/345/height/225/crop/1/src_region/583,36,2382,1837/14302_bill_williams.rev.1691700787.jpg 2x, /live/image/scale/3x/gid/68/width/345/height/225/crop/1/src_region/583,36,2382,1837/14302_bill_williams.rev.1691700787.jpg 3x"/> <img src="/live/image/gid/68/width/345/height/225/crop/1/src_region/583,36,2382,1837/14302_bill_williams.rev.1691700787.jpg" alt="Man with spotting scope for birding." width="345" height="225" srcset="/live/image/scale/2x/gid/68/width/345/height/225/crop/1/src_region/583,36,2382,1837/14302_bill_williams.rev.1691700787.jpg 2x, /live/image/scale/3x/gid/68/width/345/height/225/crop/1/src_region/583,36,2382,1837/14302_bill_williams.rev.1691700787.jpg 3x" data-max-w="1799" data-max-h="1801" loading="lazy"/> </picture> </a></span></div><div class="lw_widget_text"><h4 class="lw_news_headline"><a href="/live/news/3049-bill-williams-completes-second-term-as-president-of-vir">Bill Williams Completes Second Term as President of Virginia Society of Ornithology</a></h4><div class="lw_news_summary"><p> There are a lot of things Bill would like us to know about the VSO. </p><a href="/live/news/3049-bill-williams-completes-second-term-as-president-of-vir" class="link-with-arrow gold">Keep reading</a></div></div>