Cornelius Barber Serving as Alumni Office Intern
Cornelius thought an internship in the E&H Alumni Office would be a great way to get experience and meet alumni. He was right.
In the fall of 2023, Cornelius "Corn" Barber thought an internship might be the right way to cap off his degree in media and communications. The Fort Mill, South Carolina, native has been putting his communication skills to work in the alumni office by assisting with mailings, preparing social media posts, and serving as a sounding board about issues related to younger alumni.
He has also been trying to get to the heart of a matter that has had him curious: why DO E&H alumni invest so much time, money, and affection in their alma mater? He has been interviewing current members of the E&H Alumni Board to ask for their insights. He's still gathering data, and in the meantime he's quickly making a lot of friends – which may actually get to the heart of why people hold such E&H affection in their hearts.
And on Sept. 8, he'll begin to get serious about crowd networking as he assists with the annual E&H Rhythm & Roots event in downtown Bristol. On Sept. 17 he'll be in Kodak, Tennessee, for the Tennessee Smokies game where Josh Mancuso (E&H '03, communcations major, and ) will be our special guest. And you'll also see him helping at upcoming football tailgates and Homecoming. Be sure to tell him why you love E&H!
Get to know Corn in a conversation recently recorded for WEHC.
Open gallery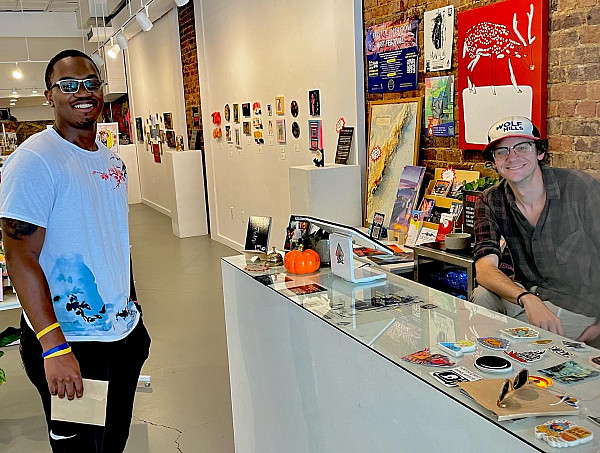 More News
<div class="lw_news_image"><span class="lw_item_thumb"><a href="/live/news/310-eamph-dog-brings-home-westminster-honors"><picture class="lw_image"> <source type="image/webp" srcset="/live/image/gid/68/width/345/height/225/crop/1/src_region/33,0,519,486/3378_unnamed.rev.1519749000.webp 1x"/> <source type="image/jpeg" srcset="/live/image/gid/68/width/345/height/225/crop/1/src_region/33,0,519,486/3378_unnamed.rev.1519749000.jpg 1x"/> <img src="/live/image/gid/68/width/345/height/225/crop/1/src_region/33,0,519,486/3378_unnamed.rev.1519749000.jpg" alt="Dog Show Winner: Bob (E&H '69) and Sharon Moreland's dog Louie, a 2-year-old Wirehaired Pointing Griffon, won the Best of O..." width="345" height="225" data-max-w="486" data-max-h="486" loading="lazy"/> </picture> </a></span></div><div class="lw_widget_text"><h4 class="lw_news_headline"><a href="/live/news/310-eamph-dog-brings-home-westminster-honors">E&H Dog Brings Home Westminster Honors!</a></h4><div class="lw_news_summary"> Bob Moreland, E&H '69, has a dog who just placed in the Westminster Dog Show! <a href="/live/news/310-eamph-dog-brings-home-westminster-honors" class="link-with-arrow gold">Keep reading</a></div></div>
<div class="lw_news_image"><span class="lw_item_thumb"><a href="/live/news/579-an-opera-about-locusts"><picture class="lw_image"> <source type="image/webp" srcset="/live/image/gid/68/width/345/height/225/crop/1/src_region/731,0,1659,927/5662_Christin_Colvin.rev.1542301199.webp 1x, /live/image/scale/2x/gid/68/width/345/height/225/crop/1/src_region/731,0,1659,927/5662_Christin_Colvin.rev.1542301199.webp 2x"/> <source type="image/jpeg" srcset="/live/image/gid/68/width/345/height/225/crop/1/src_region/731,0,1659,927/5662_Christin_Colvin.rev.1542301199.jpg 1x, /live/image/scale/2x/gid/68/width/345/height/225/crop/1/src_region/731,0,1659,927/5662_Christin_Colvin.rev.1542301199.jpg 2x"/> <img src="/live/image/gid/68/width/345/height/225/crop/1/src_region/731,0,1659,927/5662_Christin_Colvin.rev.1542301199.jpg" alt="Cristin Colvin (E&H '09) performing in the opera Locust." width="345" height="225" srcset="/live/image/scale/2x/gid/68/width/345/height/225/crop/1/src_region/731,0,1659,927/5662_Christin_Colvin.rev.1542301199.jpg 2x" data-max-w="928" data-max-h="927" loading="lazy"/> </picture> </a></span></div><div class="lw_widget_text"><h4 class="lw_news_headline"><a href="/live/news/579-an-opera-about-locusts">An Opera about Locusts?</a></h4><div class="lw_news_summary"> Cristin Colvin can even make insects glamorous. <a href="/live/news/579-an-opera-about-locusts" class="link-with-arrow gold">Keep reading</a></div></div>
<div class="lw_news_image"><span class="lw_item_thumb"><a href="/live/news/1855-gabbie-rhodes-is-teaching-in-a-forest-pre-school"><picture class="lw_image"> <source type="image/webp" srcset="/live/image/gid/68/width/345/height/225/crop/1/src_region/0,0,2400,3200/9869_PXL_20210525_205306955.PORTRAIT.rev.1622135015.webp 1x, /live/image/scale/2x/gid/68/width/345/height/225/crop/1/src_region/0,0,2400,3200/9869_PXL_20210525_205306955.PORTRAIT.rev.1622135015.webp 2x, /live/image/scale/3x/gid/68/width/345/height/225/crop/1/src_region/0,0,2400,3200/9869_PXL_20210525_205306955.PORTRAIT.rev.1622135015.webp 3x"/> <source type="image/jpeg" srcset="/live/image/gid/68/width/345/height/225/crop/1/src_region/0,0,2400,3200/9869_PXL_20210525_205306955.PORTRAIT.rev.1622135015.jpg 1x, /live/image/scale/2x/gid/68/width/345/height/225/crop/1/src_region/0,0,2400,3200/9869_PXL_20210525_205306955.PORTRAIT.rev.1622135015.jpg 2x, /live/image/scale/3x/gid/68/width/345/height/225/crop/1/src_region/0,0,2400,3200/9869_PXL_20210525_205306955.PORTRAIT.rev.1622135015.jpg 3x"/> <img src="/live/image/gid/68/width/345/height/225/crop/1/src_region/0,0,2400,3200/9869_PXL_20210525_205306955.PORTRAIT.rev.1622135015.jpg" alt="Gabbie Rhodes, Emory & Henry Class of 2016" width="345" height="225" srcset="/live/image/scale/2x/gid/68/width/345/height/225/crop/1/src_region/0,0,2400,3200/9869_PXL_20210525_205306955.PORTRAIT.rev.1622135015.jpg 2x, /live/image/scale/3x/gid/68/width/345/height/225/crop/1/src_region/0,0,2400,3200/9869_PXL_20210525_205306955.PORTRAIT.rev.1622135015.jpg 3x" data-max-w="2400" data-max-h="3200" loading="lazy"/> </picture> </a></span></div><div class="lw_widget_text"><h4 class="lw_news_headline"><a href="/live/news/1855-gabbie-rhodes-is-teaching-in-a-forest-pre-school">Gabbie Rhodes Is Teaching in a Forest Pre-School</a></h4><div class="lw_news_summary"> Parents of a certain vintage are famous for the line, "Go outside and play." But these days a lot of parents are saying, "Go outside and LEARN." <a href="/live/news/1855-gabbie-rhodes-is-teaching-in-a-forest-pre-school" class="link-with-arrow gold">Keep reading</a></div></div>
<div class="lw_news_image"><span class="lw_item_thumb"><a href="/live/news/2460-brian-serway-providing-space-for-neo-appalachian"><picture class="lw_image"> <source type="image/webp" srcset="/live/image/gid/68/width/345/height/225/crop/1/src_region/876,512,2496,2134/12153_image0_1.rev.1663786627.webp 1x, /live/image/scale/2x/gid/68/width/345/height/225/crop/1/src_region/876,512,2496,2134/12153_image0_1.rev.1663786627.webp 2x, /live/image/scale/3x/gid/68/width/345/height/225/crop/1/src_region/876,512,2496,2134/12153_image0_1.rev.1663786627.webp 3x"/> <source type="image/jpeg" srcset="/live/image/gid/68/width/345/height/225/crop/1/src_region/876,512,2496,2134/12153_image0_1.rev.1663786627.jpg 1x, /live/image/scale/2x/gid/68/width/345/height/225/crop/1/src_region/876,512,2496,2134/12153_image0_1.rev.1663786627.jpg 2x, /live/image/scale/3x/gid/68/width/345/height/225/crop/1/src_region/876,512,2496,2134/12153_image0_1.rev.1663786627.jpg 3x"/> <img src="/live/image/gid/68/width/345/height/225/crop/1/src_region/876,512,2496,2134/12153_image0_1.rev.1663786627.jpg" alt="" width="345" height="225" srcset="/live/image/scale/2x/gid/68/width/345/height/225/crop/1/src_region/876,512,2496,2134/12153_image0_1.rev.1663786627.jpg 2x, /live/image/scale/3x/gid/68/width/345/height/225/crop/1/src_region/876,512,2496,2134/12153_image0_1.rev.1663786627.jpg 3x" data-max-w="1620" data-max-h="1622" loading="lazy"/> </picture> </a></span></div><div class="lw_widget_text"><h4 class="lw_news_headline"><a href="/live/news/2460-brian-serway-providing-space-for-neo-appalachian">Brian Serway: Providing Space for Neo-Appalachian Art</a></h4><div class="lw_news_summary"> All the art in Brian Serway's new store is Appalachian. But If you're looking for quilts or dried apple dolls or a squirrel carved from a peach pit, you're in for an exciting surprise. <a href="/live/news/2460-brian-serway-providing-space-for-neo-appalachian" class="link-with-arrow gold">Keep reading</a></div></div>
<div class="lw_news_image"><span class="lw_item_thumb"><a href="/live/news/1551-dave-mcglothlin-says-theres-always-something-new"><picture class="lw_image"> <source type="image/webp" srcset="/live/image/gid/68/width/345/height/225/crop/1/src_region/0,0,640,640/9083_IMG_2599.rev.1696938170.JPG 1x"/> <source type="image/webp" srcset="/live/image/gid/68/width/345/height/225/crop/1/src_region/0,0,640,640/9083_IMG_2599.rev.1696938170.JPG 1x"/> <source type="image/jpeg" srcset="/live/image/gid/68/width/345/height/225/crop/1/src_region/0,0,640,640/9083_IMG_2599.rev.1696938170.JPG 1x"/> <img src="/live/image/gid/68/width/345/height/225/crop/1/src_region/0,0,640,640/9083_IMG_2599.rev.1696938170.JPG" alt="Dave McGlothlin, Emory & Henry Class of 1986" width="345" height="225" data-max-w="640" data-max-h="640" loading="lazy"/> </picture> </a></span></div><div class="lw_widget_text"><h4 class="lw_news_headline"><a href="/live/news/1551-dave-mcglothlin-says-theres-always-something-new">Dave McGlothlin Says There's Always Something New to Learn from History</a></h4><div class="lw_news_summary"> In 2015 Dave McGlothlin won the honor of being History Teacher of the Year for Massachusetts. But he readily admits that he is constantly learning new stories from our country's history. <a href="/live/news/1551-dave-mcglothlin-says-theres-always-something-new" class="link-with-arrow gold">Keep reading</a></div></div>
<div class="lw_news_image"><span class="lw_item_thumb"><a href="/live/news/1325-got-a-minute-catch-up-with-vanessa-capalad-burrell"><picture class="lw_image"> <source type="image/webp" srcset="/live/image/gid/68/width/345/height/225/crop/1/src_region/0,0,337,337/8373_vanessa_capalad.rev.1595383020.webp 1x"/> <source type="image/jpeg" srcset="/live/image/gid/68/width/345/height/225/crop/1/src_region/0,0,337,337/8373_vanessa_capalad.rev.1595383020.jpg 1x"/> <img src="/live/image/gid/68/width/345/height/225/crop/1/src_region/0,0,337,337/8373_vanessa_capalad.rev.1595383020.jpg" alt="Vanessa Capalad Burrell, E&H Class of 1992" width="345" height="225" data-max-w="337" data-max-h="337" loading="lazy"/> </picture> </a></span></div><div class="lw_widget_text"><h4 class="lw_news_headline"><a href="/live/news/1325-got-a-minute-catch-up-with-vanessa-capalad-burrell">Got a minute? Catch up with Vanessa Capalad Burrell ('92)</a></h4><div class="lw_news_summary"> Even in the midst of a pandemic, she's hiring! <a href="/live/news/1325-got-a-minute-catch-up-with-vanessa-capalad-burrell" class="link-with-arrow gold">Keep reading</a></div></div>
<div class="lw_news_image"><span class="lw_item_thumb"><a href="/live/news/971-on-the-cover"><picture class="lw_image"> <source type="image/webp" srcset="/live/image/gid/68/width/345/height/225/crop/1/src_region/113,24,959,870/6895_lindsay_powers.rev.1568661161.webp 1x, /live/image/scale/2x/gid/68/width/345/height/225/crop/1/src_region/113,24,959,870/6895_lindsay_powers.rev.1568661161.webp 2x"/> <source type="image/jpeg" srcset="/live/image/gid/68/width/345/height/225/crop/1/src_region/113,24,959,870/6895_lindsay_powers.rev.1568661161.jpg 1x, /live/image/scale/2x/gid/68/width/345/height/225/crop/1/src_region/113,24,959,870/6895_lindsay_powers.rev.1568661161.jpg 2x"/> <img src="/live/image/gid/68/width/345/height/225/crop/1/src_region/113,24,959,870/6895_lindsay_powers.rev.1568661161.jpg" alt="Lindsay Powers, E&H Class of 2016." width="345" height="225" srcset="/live/image/scale/2x/gid/68/width/345/height/225/crop/1/src_region/113,24,959,870/6895_lindsay_powers.rev.1568661161.jpg 2x" data-max-w="846" data-max-h="846" loading="lazy"/> </picture> </a></span></div><div class="lw_widget_text"><h4 class="lw_news_headline"><a href="/live/news/971-on-the-cover">On the Cover!</a></h4><div class="lw_news_summary"> Lindsay Powers was just featured on the cover of Kingsport's <em>Livability</em> magazine! <a href="/live/news/971-on-the-cover" class="link-with-arrow gold">Keep reading</a></div></div>
<div class="lw_news_image"><span class="lw_item_thumb"><a href="/live/news/945-mike-chitwood-is-finalist-for-library-of-virginia"><picture class="lw_image"> <source type="image/webp" srcset="/live/image/gid/68/width/345/height/225/crop/1/src_region/82,0,282,200/6801_Chitwood-Michael_MG_7181-300x200.rev.1567128095.webp 1x"/> <source type="image/jpeg" srcset="/live/image/gid/68/width/345/height/225/crop/1/src_region/82,0,282,200/6801_Chitwood-Michael_MG_7181-300x200.rev.1567128095.jpg 1x"/> <img src="/live/image/gid/68/width/345/height/225/crop/1/src_region/82,0,282,200/6801_Chitwood-Michael_MG_7181-300x200.rev.1567128095.jpg" alt="Michael Chitwood, E&H Class of 1980." width="345" height="225" data-max-w="200" data-max-h="200" loading="lazy"/> </picture> </a></span></div><div class="lw_widget_text"><h4 class="lw_news_headline"><a href="/live/news/945-mike-chitwood-is-finalist-for-library-of-virginia">Mike Chitwood is Finalist for Library of Virginia Literary Award</a></h4><div class="lw_news_summary"> Chitwood will speak at Emory & Henry on Sept. 10. <a href="/live/news/945-mike-chitwood-is-finalist-for-library-of-virginia" class="link-with-arrow gold">Keep reading</a></div></div>
<div class="lw_news_image"><span class="lw_item_thumb"><a href="/live/news/2283-eamph-mass-comm-student-story-colton-williams-gets"><picture class="lw_image"> <source type="image/webp" srcset="/live/image/gid/68/width/345/height/225/crop/1/src_region/0,0,927,1167/11065_IMG-0721.rev.1648510170.JPG 1x, /live/image/scale/2x/gid/68/width/345/height/225/crop/1/src_region/0,0,927,1167/11065_IMG-0721.rev.1648510170.JPG 2x"/> <source type="image/webp" srcset="/live/image/gid/68/width/345/height/225/crop/1/src_region/0,0,927,1167/11065_IMG-0721.rev.1648510170.JPG 1x, /live/image/scale/2x/gid/68/width/345/height/225/crop/1/src_region/0,0,927,1167/11065_IMG-0721.rev.1648510170.JPG 2x"/> <source type="image/jpeg" srcset="/live/image/gid/68/width/345/height/225/crop/1/src_region/0,0,927,1167/11065_IMG-0721.rev.1648510170.JPG 1x, /live/image/scale/2x/gid/68/width/345/height/225/crop/1/src_region/0,0,927,1167/11065_IMG-0721.rev.1648510170.JPG 2x"/> <img src="/live/image/gid/68/width/345/height/225/crop/1/src_region/0,0,927,1167/11065_IMG-0721.rev.1648510170.JPG" alt="Jenny Poston Bishop E&H Class of 1993" width="345" height="225" srcset="/live/image/scale/2x/gid/68/width/345/height/225/crop/1/src_region/0,0,927,1167/11065_IMG-0721.rev.1648510170.JPG 2x" data-max-w="927" data-max-h="1167" loading="lazy"/> </picture> </a></span></div><div class="lw_widget_text"><h4 class="lw_news_headline"><a href="/live/news/2283-eamph-mass-comm-student-story-colton-williams-gets">E&H Mass Comm Student Story: Colton Williams gets the scoop on Jenny Poston Bishop's luck</a></h4><div class="lw_news_summary"><em>This is part of a series of stories by members of the 2022 E&H Mass Comm 302 Class. This story is by E&H Sophomore, Colton Williams.</em><br/><br/>Even though 1993 graduate Jenny Poston Bishop has won a ridiculously wide array of prizes, she says that there is more to it than just plain luck. <a href="/live/news/2283-eamph-mass-comm-student-story-colton-williams-gets" class="link-with-arrow gold">Keep reading</a></div></div>
<div class="lw_news_image"><span class="lw_item_thumb"><a href="/live/news/1200-putting-employees-first"><picture class="lw_image"> <source type="image/webp" srcset="/live/image/gid/68/width/345/height/225/crop/1/src_region/231,0,844,613/8014_Doug_Dalton.rev.1586654328.webp 1x"/> <source type="image/jpeg" srcset="/live/image/gid/68/width/345/height/225/crop/1/src_region/231,0,844,613/8014_Doug_Dalton.rev.1586654328.jpg 1x"/> <img src="/live/image/gid/68/width/345/height/225/crop/1/src_region/231,0,844,613/8014_Doug_Dalton.rev.1586654328.jpg" alt="Doug Dalton, E&H Class of 1994." width="345" height="225" data-max-w="613" data-max-h="613" loading="lazy"/> </picture> </a></span></div><div class="lw_widget_text"><h4 class="lw_news_headline"><a href="/live/news/1200-putting-employees-first">Putting Employees First</a></h4><div class="lw_news_summary"> Doug Dalton (E&H '94) has a lucrative business that is taking a hard hit during the pandemic: but he's looking out for his employees. <a href="/live/news/1200-putting-employees-first" class="link-with-arrow gold">Keep reading</a></div></div>
<div class="lw_news_image"><span class="lw_item_thumb"><a href="/live/news/2236-charlie-phillips-named-2022-eamph-alumni-award"><picture class="lw_image"> <source type="image/webp" srcset="/live/image/gid/68/width/345/height/225/crop/1/src_region/0,0,245,350/10553_Charlie_Phillips.rev.1638892432.png 1x"/> <source type="image/webp" srcset="/live/image/gid/68/width/345/height/225/crop/1/src_region/0,0,245,350/10553_Charlie_Phillips.rev.1638892432.png 1x"/> <source type="image/png" srcset="/live/image/gid/68/width/345/height/225/crop/1/src_region/0,0,245,350/10553_Charlie_Phillips.rev.1638892432.png 1x"/> <img src="/live/image/gid/68/width/345/height/225/crop/1/src_region/0,0,245,350/10553_Charlie_Phillips.rev.1638892432.png" alt="Charlie Phillips Emory & Henry Class of 1960" width="345" height="225" data-max-w="245" data-max-h="350" loading="lazy"/> </picture> </a></span></div><div class="lw_widget_text"><h4 class="lw_news_headline"><a href="/live/news/2236-charlie-phillips-named-2022-eamph-alumni-award">Charlie Phillips Named 2022 E&H Alumni Award Honoree</a></h4><div class="lw_news_summary"> Charlie Phillips, E&H Class of 1960, has been named the 2022 recipient of the Carl and Ruth Looney Humanitarian Award. <a href="/live/news/2236-charlie-phillips-named-2022-eamph-alumni-award" class="link-with-arrow gold">Keep reading</a></div></div>
<div class="lw_news_image"><span class="lw_item_thumb"><a href="/live/news/1007-eamph-homecoming-announces-new-event-a-book"><picture class="lw_image"> <source type="image/webp" srcset="/live/image/gid/68/width/345/height/225/crop/1/src_region/0,0,313,499/6987_selfe.rev.1570067073.webp 1x"/> <source type="image/jpeg" srcset="/live/image/gid/68/width/345/height/225/crop/1/src_region/0,0,313,499/6987_selfe.rev.1570067073.jpg 1x"/> <img src="/live/image/gid/68/width/345/height/225/crop/1/src_region/0,0,313,499/6987_selfe.rev.1570067073.jpg" alt="Cover of "Great Big Small Things" width="345" height="225" data-max-w="313" data-max-h="499" loading="lazy"/> </picture> </a></span></div><div class="lw_widget_text"><h4 class="lw_news_headline"><a href="/live/news/1007-eamph-homecoming-announces-new-event-a-book">E&H Homecoming Announces New Event: A Book Signing!</a></h4><div class="lw_news_summary"> E&H alumni and faculty members will be selling and signing their original work. <a href="/live/news/1007-eamph-homecoming-announces-new-event-a-book" class="link-with-arrow gold">Keep reading</a></div></div>
<div class="lw_news_image"><span class="lw_item_thumb"><a href="/live/news/1203-tempting-god"><picture class="lw_image"> <source type="image/webp" srcset="/live/image/gid/68/width/345/height/225/crop/1/src_region/0,0,500,499/8025_george_stuart.rev.1586791776.webp 1x"/> <source type="image/jpeg" srcset="/live/image/gid/68/width/345/height/225/crop/1/src_region/0,0,500,499/8025_george_stuart.rev.1586791776.jpg 1x"/> <img src="/live/image/gid/68/width/345/height/225/crop/1/src_region/0,0,500,499/8025_george_stuart.rev.1586791776.jpg" alt="Rev. George R. Stuart, E&H Class of 1882" width="345" height="225" data-max-w="500" data-max-h="499" loading="lazy"/> </picture> </a></span></div><div class="lw_widget_text"><h4 class="lw_news_headline"><a href="/live/news/1203-tempting-god">"Tempting God"</a></h4><div class="lw_news_summary"> Rev. David St. Clair shares an interesting bit of insight from a former E&H alumnus that he ran across in <em>The Christian Century.</em><a href="/live/news/1203-tempting-god" class="link-with-arrow gold">Keep reading</a></div></div>
<div class="lw_news_image"><span class="lw_item_thumb"><a href="/live/news/1199-eamphs-rodes-fishburne-launches-new-television"><picture class="lw_image"> <source type="image/webp" srcset="/live/image/gid/68/width/345/height/225/crop/1/src_region/34,9,356,331/8013_Rodes_fishburne.rev.1586652695.webp 1x"/> <source type="image/jpeg" srcset="/live/image/gid/68/width/345/height/225/crop/1/src_region/34,9,356,331/8013_Rodes_fishburne.rev.1586652695.jpg 1x"/> <img src="/live/image/gid/68/width/345/height/225/crop/1/src_region/34,9,356,331/8013_Rodes_fishburne.rev.1586652695.jpg" alt="Rodes Fishburne, E&H Class of 1993" width="345" height="225" data-max-w="322" data-max-h="322" loading="lazy"/> </picture> </a></span></div><div class="lw_widget_text"><h4 class="lw_news_headline"><a href="/live/news/1199-eamphs-rodes-fishburne-launches-new-television">E&H's Rodes Fishburne Launches New Television Series</a></h4><div class="lw_news_summary"><em>Paradise Lost</em> debuts April 13, 2020. <a href="/live/news/1199-eamphs-rodes-fishburne-launches-new-television" class="link-with-arrow gold">Keep reading</a></div></div>
<div class="lw_news_image"><span class="lw_item_thumb"><a href="/live/news/2642-eric-drummond-smith-where-politics-and-art-collide"><picture class="lw_image"> <source type="image/webp" srcset="/live/image/gid/68/width/345/height/225/crop/1/src_region/0,0,375,375/12782_Eric_Smith.rev.1669858087.webp 1x"/> <source type="image/jpeg" srcset="/live/image/gid/68/width/345/height/225/crop/1/src_region/0,0,375,375/12782_Eric_Smith.rev.1669858087.jpg 1x"/> <img src="/live/image/gid/68/width/345/height/225/crop/1/src_region/0,0,375,375/12782_Eric_Smith.rev.1669858087.jpg" alt="Dr. Eric Drummond Smith E&H Class of 1998" width="345" height="225" data-max-w="375" data-max-h="375" loading="lazy"/> </picture> </a></span></div><div class="lw_widget_text"><h4 class="lw_news_headline"><a href="/live/news/2642-eric-drummond-smith-where-politics-and-art-collide">Eric Drummond Smith: Where Politics and Art Collide</a></h4><div class="lw_news_summary"> Dr. Eric Drummond Smith teaches politics at UVA-Wise, and is often called on to offer his pundit skills during an election cycle. But it's hard to say whether he's better known for his chops as a political scientist or as a well-known artist. <a href="/live/news/2642-eric-drummond-smith-where-politics-and-art-collide" class="link-with-arrow gold">Keep reading</a></div></div>