Duo Performs 'Beyond Bossa Nova' Sept. 15
A pair of musicians will present a musical performance at Emory & Henry College on Sept. 15 that narrates the tale of romantic classical music in Brazil.
Guilherme Andreas, flutist, and Gianne Ge Zhu, pianist, present "Beyond Bossa Nova" beginning at 7:30 p.m. in the Kennedy-Reedy Theatre of the McGlothlin Center for the Arts.
Andreas is an active performer and educator throughout the United States. He is based in New York, dedicating his time to discovering lesser-known composers whose music expresses extreme ranges of emotions and demands tremendous virtuosity. In addition, he teaches flute, chamber and general music, band and choir to students of all ages.
As an active pianist, Zhu has performed solo and chamber music. She has engaged in intensive accompaniment in the U.S., China, Germany, Italy, Spain and Malta. She is a prize-winner at numerous competitions, including the Sixth Catholic University of America International Piano Competition, West Virginia International Piano Competition, JMU Concerto/Aria Competition, VMTA Piano Concerto Competition, and VMTA Young Artist Piano Competition.
For tickets, visit www.ehc.edu/mca/tickets or call 276-944-6333.
Open gallery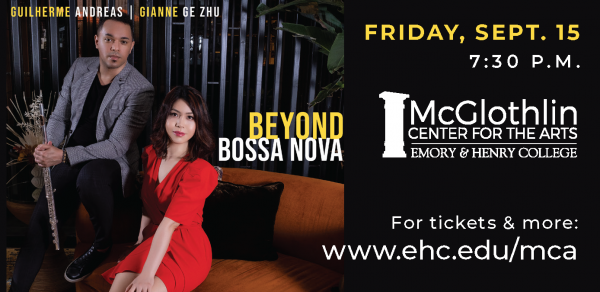 Location:
McGlothlin Center for the Arts, Emory & Henry College
More News
<div class="lw_news_image"><span class="lw_item_thumb"><a href="/live/news/3040-mca-gallery-presents-three-exhibitions-during-fall"><picture class="lw_image"> <source type="image/webp" srcset="/live/image/gid/7/width/345/height/225/crop/1/src_region/0,0,1800,1800/14215_Batcheller_Gretchen_ProblemsGainCurrency_2021_web.rev.1691369928.webp 1x, /live/image/scale/2x/gid/7/width/345/height/225/crop/1/src_region/0,0,1800,1800/14215_Batcheller_Gretchen_ProblemsGainCurrency_2021_web.rev.1691369928.webp 2x, /live/image/scale/3x/gid/7/width/345/height/225/crop/1/src_region/0,0,1800,1800/14215_Batcheller_Gretchen_ProblemsGainCurrency_2021_web.rev.1691369928.webp 3x"/> <source type="image/jpeg" srcset="/live/image/gid/7/width/345/height/225/crop/1/src_region/0,0,1800,1800/14215_Batcheller_Gretchen_ProblemsGainCurrency_2021_web.rev.1691369928.jpg 1x, /live/image/scale/2x/gid/7/width/345/height/225/crop/1/src_region/0,0,1800,1800/14215_Batcheller_Gretchen_ProblemsGainCurrency_2021_web.rev.1691369928.jpg 2x, /live/image/scale/3x/gid/7/width/345/height/225/crop/1/src_region/0,0,1800,1800/14215_Batcheller_Gretchen_ProblemsGainCurrency_2021_web.rev.1691369928.jpg 3x"/> <img src="/live/image/gid/7/width/345/height/225/crop/1/src_region/0,0,1800,1800/14215_Batcheller_Gretchen_ProblemsGainCurrency_2021_web.rev.1691369928.jpg" alt="Gretchen Batcheller, Problems Gain Currency 2021" width="345" height="225" srcset="/live/image/scale/2x/gid/7/width/345/height/225/crop/1/src_region/0,0,1800,1800/14215_Batcheller_Gretchen_ProblemsGainCurrency_2021_web.rev.1691369928.jpg 2x, /live/image/scale/3x/gid/7/width/345/height/225/crop/1/src_region/0,0,1800,1800/14215_Batcheller_Gretchen_ProblemsGainCurrency_2021_web.rev.1691369928.jpg 3x" data-max-w="1800" data-max-h="1800" loading="lazy"/> </picture> </a></span></div><div class="lw_widget_text"><h4 class="lw_news_headline"><a href="/live/news/3040-mca-gallery-presents-three-exhibitions-during-fall">MCA Gallery Presents Three Exhibitions During Fall</a></h4><div class="lw_news_summary"><p> The works of artists Lori Vrba, Gretchen Batcheller, and Nicole Santiago and John Lee will be featured in three separate exhibitions this fall at the McGlothlin Center Art Gallery.</p><a href="/live/news/3040-mca-gallery-presents-three-exhibitions-during-fall" class="link-with-arrow gold">Keep reading</a></div></div>
<div class="lw_news_image"><span class="lw_item_thumb"><a href="/live/news/3041-opera-star-and-emory-henry-alumnus-michael"><picture class="lw_image"> <source type="image/webp" srcset="/live/image/gid/7/width/345/height/225/crop/1/src_region/0,70,725,796/14217_mca-michael-austin_8.rev.1691370776.webp 1x, /live/image/scale/2x/gid/7/width/345/height/225/crop/1/src_region/0,70,725,796/14217_mca-michael-austin_8.rev.1691370776.webp 2x"/> <source type="image/jpeg" srcset="/live/image/gid/7/width/345/height/225/crop/1/src_region/0,70,725,796/14217_mca-michael-austin_8.rev.1691370776.jpg 1x, /live/image/scale/2x/gid/7/width/345/height/225/crop/1/src_region/0,70,725,796/14217_mca-michael-austin_8.rev.1691370776.jpg 2x"/> <img src="/live/image/gid/7/width/345/height/225/crop/1/src_region/0,70,725,796/14217_mca-michael-austin_8.rev.1691370776.jpg" alt="Michael Austin '75" width="345" height="225" srcset="/live/image/scale/2x/gid/7/width/345/height/225/crop/1/src_region/0,70,725,796/14217_mca-michael-austin_8.rev.1691370776.jpg 2x" data-max-w="725" data-max-h="726" loading="lazy"/> </picture> </a></span></div><div class="lw_widget_text"><h4 class="lw_news_headline"><a href="/live/news/3041-opera-star-and-emory-henry-alumnus-michael">Opera Star and Emory & Henry Alumnus, Michael Austin, Highlights Fall Season at McGlothlin Center for the Arts</a></h4><div class="lw_news_summary"><p> A performance by renowned international opera star Michael Austin highlights the fall season of the McGlothlin Center for the Arts at Emory & Henry College.</p><a href="/live/news/3041-opera-star-and-emory-henry-alumnus-michael" class="link-with-arrow gold">Keep reading</a></div></div>