Deep Time and Time Travel Lyceum
Deep Time and Time Travel Lyceum on August 29th 2023
On August 29th the Appalachian Center for Civic Life, and specifically the Watershed Project sponsored "Deep Time and Time Travel", a Lyceum. Dr. Tal Stanley, Coordinator of the Watershed Project, brought two of the collaborators of the Watershed Projectto speak on their individual professions and the role that it plays in understanding place and time.
Jeremy Stout is a biogeographer and Naturalist in Residence at Steele Creek Nature Center. Philip Prince is a geologist that specializes in modeling earth processes and demonstrating how the Earth is layered. Both contribute to the deeper understanding of this place of Southwest Virginia and the story behind it. The Watershed Project benefits from their skills in helping the project "step beyond the limits of time" as described by Tal Stanley, Project Coordinator.
When asked about the event and why it matters, Stanley responded, "It's important for us, as citizens, to be able to understand that our places are much more than just us and that the choices we make involve a lot more than us. That understanding has the ability to shift moral and civil paradigms."
The overall goal of the evening was to learn about the geology and ecology of the area in which Emory & Henry is situated with the hope of creating actors from each participant. What we do and how we perceive our role in time and place makes a difference.
The next steps for the project are to create an interactive experience and video into deep time on the Watershed website and overall project. The Watershed Project continues to work with Stout, Prince, and others to create "place profiles" of the rivers and mountains of the region.
The next Appalachian Center for Civic Life supported event will be the Appalachian Literary Festival taking place Sept 19th and 20th.
The next Watershed event, also a Lyceum, will be October 17th for the premiere of the video, A Remembrance.
Written by: Kyra Stinson-Wesley
Pictures provided by: Kyra Stinson-Wesley
Open gallery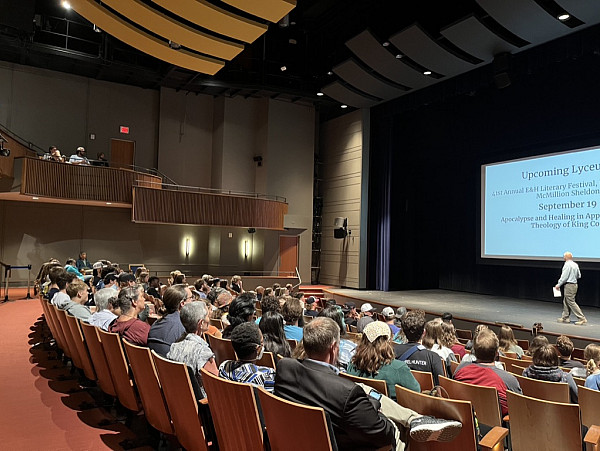 More News
<div class="lw_news_image"><span class="lw_item_thumb"><a href="/live/news/2376-carter-momsen-hudson-to-pursue-a-career-in"><picture class="lw_image"> <source type="image/webp" srcset="/live/image/gid/104/width/345/height/225/crop/1/src_region/288,0,2688,2400/11190_Carter-Hudson_IMG_6946.rev.1651496913.webp 1x, /live/image/scale/2x/gid/104/width/345/height/225/crop/1/src_region/288,0,2688,2400/11190_Carter-Hudson_IMG_6946.rev.1651496913.webp 2x, /live/image/scale/3x/gid/104/width/345/height/225/crop/1/src_region/288,0,2688,2400/11190_Carter-Hudson_IMG_6946.rev.1651496913.webp 3x"/> <source type="image/jpeg" srcset="/live/image/gid/104/width/345/height/225/crop/1/src_region/288,0,2688,2400/11190_Carter-Hudson_IMG_6946.rev.1651496913.jpg 1x, /live/image/scale/2x/gid/104/width/345/height/225/crop/1/src_region/288,0,2688,2400/11190_Carter-Hudson_IMG_6946.rev.1651496913.jpg 2x, /live/image/scale/3x/gid/104/width/345/height/225/crop/1/src_region/288,0,2688,2400/11190_Carter-Hudson_IMG_6946.rev.1651496913.jpg 3x"/> <img src="/live/image/gid/104/width/345/height/225/crop/1/src_region/288,0,2688,2400/11190_Carter-Hudson_IMG_6946.rev.1651496913.jpg" alt="Momsen-Hudson, '22, at a demonstration to bring attention to the realities that unhoused people face." width="345" height="225" srcset="/live/image/scale/2x/gid/104/width/345/height/225/crop/1/src_region/288,0,2688,2400/11190_Carter-Hudson_IMG_6946.rev.1651496913.jpg 2x, /live/image/scale/3x/gid/104/width/345/height/225/crop/1/src_region/288,0,2688,2400/11190_Carter-Hudson_IMG_6946.rev.1651496913.jpg 3x" data-max-w="2400" data-max-h="2400" loading="lazy"/> </picture> </a></span></div><div class="lw_widget_text"><h4 class="lw_news_headline"><a href="/live/news/2376-carter-momsen-hudson-to-pursue-a-career-in">Carter Momsen-Hudson to pursue a career in religion</a></h4><div class="lw_news_summary"><span style="font-weight: 400;">Our Emory & Henry seniors are preparing to graduate and change the world.</span> <a href="/live/news/2376-carter-momsen-hudson-to-pursue-a-career-in" class="link-with-arrow gold">Keep reading</a></div></div>
<div class="lw_news_image"><span class="lw_item_thumb"><a href="/live/news/2720-emory-henry-college-celebrates-grand-opening"><picture class="lw_image"> <source type="image/webp" srcset="/live/image/gid/51/width/345/height/225/crop/1/src_region/0,0,3200,2133/13266_EH-Thrift-Store-Opening_022.rev.1675530004.webp 1x, /live/image/scale/2x/gid/51/width/345/height/225/crop/1/src_region/0,0,3200,2133/13266_EH-Thrift-Store-Opening_022.rev.1675530004.webp 2x, /live/image/scale/3x/gid/51/width/345/height/225/crop/1/src_region/0,0,3200,2133/13266_EH-Thrift-Store-Opening_022.rev.1675530004.webp 3x"/> <source type="image/jpeg" srcset="/live/image/gid/51/width/345/height/225/crop/1/src_region/0,0,3200,2133/13266_EH-Thrift-Store-Opening_022.rev.1675530004.jpg 1x, /live/image/scale/2x/gid/51/width/345/height/225/crop/1/src_region/0,0,3200,2133/13266_EH-Thrift-Store-Opening_022.rev.1675530004.jpg 2x, /live/image/scale/3x/gid/51/width/345/height/225/crop/1/src_region/0,0,3200,2133/13266_EH-Thrift-Store-Opening_022.rev.1675530004.jpg 3x"/> <img src="/live/image/gid/51/width/345/height/225/crop/1/src_region/0,0,3200,2133/13266_EH-Thrift-Store-Opening_022.rev.1675530004.jpg" alt="Students who created the E&H Thrift Store cutting the ribbon Hermella Legesse, Feker Fetene, Paige Halcrow, Hayley Ritter, Tilly Crad..." width="345" height="225" srcset="/live/image/scale/2x/gid/51/width/345/height/225/crop/1/src_region/0,0,3200,2133/13266_EH-Thrift-Store-Opening_022.rev.1675530004.jpg 2x, /live/image/scale/3x/gid/51/width/345/height/225/crop/1/src_region/0,0,3200,2133/13266_EH-Thrift-Store-Opening_022.rev.1675530004.jpg 3x" data-max-w="3200" data-max-h="2133" loading="lazy"/> </picture> </a></span></div><div class="lw_widget_text"><h4 class="lw_news_headline"><a href="/live/news/2720-emory-henry-college-celebrates-grand-opening">Emory & Henry College Celebrates Grand Opening of Thrift Store on Campus</a></h4><div class="lw_news_summary"><p><span style="font-weight: 400;">Emory & Henry College is excited to announce the grand opening of its first on-campus thrift store located on the lower level of the Memorial Chapel on February 1, 2023. The Emory & Henry community celebrated the new E&H Thrift Store with a ribbon cutting and students in attendance had the opportunity to shop after. The store was made possible by the</span> <a href="https://www.ehc.edu/appalachian-center-for-civic-life/"><span style="font-weight: 400;">Appalachian Center for Civic Life</span></a> <span style="font-weight: 400;">and will be primarily managed by</span> <a href="https://www.ehc.edu/appalachian-center-for-civic-life/scholarships/bonner-scholars-program/"><span style="font-weight: 400;">Bonner Scholars</span></a> <span style="font-weight: 400;">and</span> <a href="https://www.ehc.edu/appalachian-center-for-civic-life/scholarships/civic-leader-scholars/"><span style="font-weight: 400;">Civic Leader Scholars</span></a><span style="font-weight: 400;">.</span></p><a href="/live/news/2720-emory-henry-college-celebrates-grand-opening" class="link-with-arrow gold">Keep reading</a></div></div>
<div class="lw_news_image"><span class="lw_item_thumb"><a href="/live/news/2707-emory-henry-college-receives-25000-grant-from"><picture class="lw_image"> <source type="image/webp" srcset="/live/image/gid/83/width/345/height/225/crop/1/src_region/159,0,1085,927/13143_graduation.ca1905_1.rev.1673966150.png 1x, /live/image/scale/2x/gid/83/width/345/height/225/crop/1/src_region/159,0,1085,927/13143_graduation.ca1905_1.rev.1673966150.png 2x"/> <source type="image/webp" srcset="/live/image/gid/83/width/345/height/225/crop/1/src_region/159,0,1085,927/13143_graduation.ca1905_1.rev.1673966150.png 1x, /live/image/scale/2x/gid/83/width/345/height/225/crop/1/src_region/159,0,1085,927/13143_graduation.ca1905_1.rev.1673966150.png 2x"/> <source type="image/png" srcset="/live/image/gid/83/width/345/height/225/crop/1/src_region/159,0,1085,927/13143_graduation.ca1905_1.rev.1673966150.png 1x, /live/image/scale/2x/gid/83/width/345/height/225/crop/1/src_region/159,0,1085,927/13143_graduation.ca1905_1.rev.1673966150.png 2x"/> <img src="/live/image/gid/83/width/345/height/225/crop/1/src_region/159,0,1085,927/13143_graduation.ca1905_1.rev.1673966150.png" alt="Visitors gather for graduation on the College grounds in front of the main college building, ca. 1905. Photo published in Legacy and Visi..." width="345" height="225" srcset="/live/image/scale/2x/gid/83/width/345/height/225/crop/1/src_region/159,0,1085,927/13143_graduation.ca1905_1.rev.1673966150.png 2x" data-max-w="926" data-max-h="927" loading="lazy"/> </picture> </a></span></div><div class="lw_widget_text"><h4 class="lw_news_headline"><a href="/live/news/2707-emory-henry-college-receives-25000-grant-from">Emory & Henry College Receives $25,000 Grant from Roller Bottimore Foundation for Preservation of Historical Material with Public Accessibility</a></h4><div class="lw_news_summary"><p> Emory & Henry College got a boost to support local and regional history preservation in Southwest Virginia thanks to recent funding from the Roller Bottimore Foundation. "<em>The Watershed Project: Civic Memory for a Citizenship of Place</em>" has a two-fold purpose - to preserve, index, and archive a wide range of historical material related to the history and operation of Emory & Henry College, the oldest institution of higher learning in Southwest Virginia, and to utilize these materials to create an engaging, dynamic, born-digital, open-source history of the region of Southwest Virginia and, more specifically, the college's role as an institutional citizen of that place.</p><a href="/live/news/2707-emory-henry-college-receives-25000-grant-from" class="link-with-arrow gold">Keep reading</a></div></div>
<div class="lw_news_image"><span class="lw_item_thumb"><a href="/live/news/2375-braxton-justice-to-continue-education-at-william"><picture class="lw_image"> <source type="image/webp" srcset="/live/image/gid/104/width/345/height/225/crop/1/src_region/37,55,718,735/11184_profesional_picture_-_Braxton_Justice.rev.1651252848.webp 1x"/> <source type="image/jpeg" srcset="/live/image/gid/104/width/345/height/225/crop/1/src_region/37,55,718,735/11184_profesional_picture_-_Braxton_Justice.rev.1651252848.jpg 1x"/> <img src="/live/image/gid/104/width/345/height/225/crop/1/src_region/37,55,718,735/11184_profesional_picture_-_Braxton_Justice.rev.1651252848.jpg" alt="Braxton Justice, '22" width="345" height="225" data-max-w="681" data-max-h="680" loading="lazy"/> </picture> </a></span></div><div class="lw_widget_text"><h4 class="lw_news_headline"><a href="/live/news/2375-braxton-justice-to-continue-education-at-william">Braxton Justice to continue education at William & Mary</a></h4><div class="lw_news_summary"><span style="font-weight: 400;">Our Emory & Henry seniors are preparing to graduate and change the world.</span> <a href="/live/news/2375-braxton-justice-to-continue-education-at-william" class="link-with-arrow gold">Keep reading</a></div></div>