Adam Parks Wants His Community to Be Healthier
Adam remembers the day when he realized his high school classmates looked healthier than he did.
It wasn't just about weight: Adam prided himself in being a big, strong young man. But it seemed like other kids looked fitter and they had better complexions. "I knew right away it was because we ate differently." While he ate mostly fast food, his classmates were bringing in packed lunches filled with healthier foods.
It wasn't a straight line from that epiphany to being a health consultant, but these days he is known as someone who can help people make important changes to old, unhelpful habits. Adam is a personal trainer and a health consultant who is focused on making his community of Appalachia a better, healthier place to live. 
He has been working with companies like Utility Trailer Manufacturing Co. and People Inc. to help their employees find a healthier work/life balance, and he has been teaching them about making healthier choices in their diet. Adam says the improvement is visible. "Now when I go to Utility, I can feel a difference among the employees. It's obvious they feel better."
It doesn't end at food choices. Adam also has a program called Unplug SWVA where he reminds people of the health benefits of simply being outdoors. "Even if you just eat your lunch outside, you're going to feel better!" He also leads monthly outings to cool places in SWVA that will get folks excited about being outside and will make them proud of their home.
You can enjoy a conversation with Adam on the Duck Pond Wall podcast that will not only tell you about his journey, but will also offer some great advice for feeling better.
Open gallery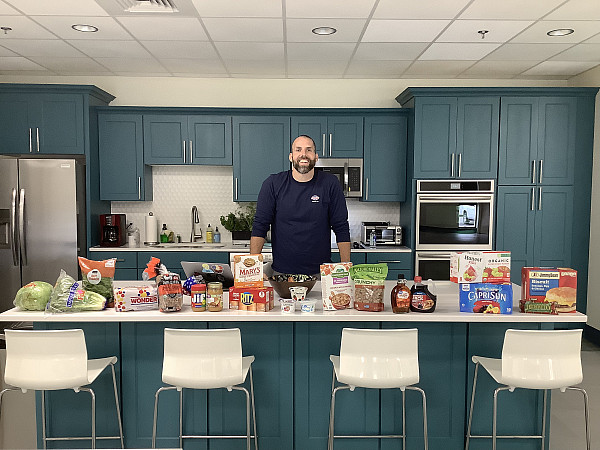 More News
<div class="lw_news_image"><span class="lw_item_thumb"><a href="/live/news/1273-finding-strategies-for-business-during-the"><picture class="lw_image"> <source type="image/webp" srcset="/live/image/gid/68/width/345/height/225/crop/1/src_region/0,81,531,612/8140_Brian_Chandler2019.rev.1588795040.webp 1x"/> <source type="image/jpeg" srcset="/live/image/gid/68/width/345/height/225/crop/1/src_region/0,81,531,612/8140_Brian_Chandler2019.rev.1588795040.jpg 1x"/> <img src="/live/image/gid/68/width/345/height/225/crop/1/src_region/0,81,531,612/8140_Brian_Chandler2019.rev.1588795040.jpg" alt="Brian Chandler, E&H Class of 1997" width="345" height="225" data-max-w="531" data-max-h="531" loading="lazy"/> </picture> </a></span></div><div class="lw_widget_text"><h4 class="lw_news_headline"><a href="/live/news/1273-finding-strategies-for-business-during-the">Finding Strategies for Business During the Pandemic</a></h4><div class="lw_news_summary"> Brian Chandler's public relations firm is offering data-driven advice to companies. <a href="/live/news/1273-finding-strategies-for-business-during-the" class="link-with-arrow gold">Keep reading</a></div></div>
<div class="lw_news_image"><span class="lw_item_thumb"><a href="/live/news/2135-dr-stacie-woolard-is-a-cancer-researcher-at-st"><picture class="lw_image"> <source type="image/webp" srcset="/live/image/gid/68/width/345/height/225/crop/1/src_region/0,0,2100,1500/10674_264057768_1315651488907844_401498892524876997_n_1.rev.1641163420.webp 1x, /live/image/scale/2x/gid/68/width/345/height/225/crop/1/src_region/0,0,2100,1500/10674_264057768_1315651488907844_401498892524876997_n_1.rev.1641163420.webp 2x, /live/image/scale/3x/gid/68/width/345/height/225/crop/1/src_region/0,0,2100,1500/10674_264057768_1315651488907844_401498892524876997_n_1.rev.1641163420.webp 3x"/> <source type="image/jpeg" srcset="/live/image/gid/68/width/345/height/225/crop/1/src_region/0,0,2100,1500/10674_264057768_1315651488907844_401498892524876997_n_1.rev.1641163420.jpg 1x, /live/image/scale/2x/gid/68/width/345/height/225/crop/1/src_region/0,0,2100,1500/10674_264057768_1315651488907844_401498892524876997_n_1.rev.1641163420.jpg 2x, /live/image/scale/3x/gid/68/width/345/height/225/crop/1/src_region/0,0,2100,1500/10674_264057768_1315651488907844_401498892524876997_n_1.rev.1641163420.jpg 3x"/> <img src="/live/image/gid/68/width/345/height/225/crop/1/src_region/0,0,2100,1500/10674_264057768_1315651488907844_401498892524876997_n_1.rev.1641163420.jpg" alt="Dr. Stacie Woolard E&H Class of 2004 Research Operations Manager of the Flow Cytometry and Cell Sorting Shared Resource Center at St...." width="345" height="225" srcset="/live/image/scale/2x/gid/68/width/345/height/225/crop/1/src_region/0,0,2100,1500/10674_264057768_1315651488907844_401498892524876997_n_1.rev.1641163420.jpg 2x, /live/image/scale/3x/gid/68/width/345/height/225/crop/1/src_region/0,0,2100,1500/10674_264057768_1315651488907844_401498892524876997_n_1.rev.1641163420.jpg 3x" data-max-w="2100" data-max-h="1500" loading="lazy"/> </picture> </a></span></div><div class="lw_widget_text"><h4 class="lw_news_headline"><a href="/live/news/2135-dr-stacie-woolard-is-a-cancer-researcher-at-st">Dr. Stacie Woolard Is a Cancer Researcher at St. Jude</a></h4><div class="lw_news_summary"> Dr. Stacie Woolard is trained in viral immunology, which is Dr. Anthony Fauci's field, But with her typical razor wit she says she doesn't want his job: "Nope. I just want to finish my laundry by the end of the week." <a href="/live/news/2135-dr-stacie-woolard-is-a-cancer-researcher-at-st" class="link-with-arrow gold">Keep reading</a></div></div>
<div class="lw_news_image"><span class="lw_item_thumb"><a href="/live/news/1164-friends-for-all-times"><picture class="lw_image"> <source type="image/webp" srcset="/live/image/gid/68/width/345/height/225/crop/1/src_region/0,0,1274,930/7551_clevinger.rev.1582752850.webp 1x, /live/image/scale/2x/gid/68/width/345/height/225/crop/1/src_region/0,0,1274,930/7551_clevinger.rev.1582752850.webp 2x, /live/image/scale/3x/gid/68/width/345/height/225/crop/1/src_region/0,0,1274,930/7551_clevinger.rev.1582752850.webp 3x"/> <source type="image/jpeg" srcset="/live/image/gid/68/width/345/height/225/crop/1/src_region/0,0,1274,930/7551_clevinger.rev.1582752850.jpg 1x, /live/image/scale/2x/gid/68/width/345/height/225/crop/1/src_region/0,0,1274,930/7551_clevinger.rev.1582752850.jpg 2x, /live/image/scale/3x/gid/68/width/345/height/225/crop/1/src_region/0,0,1274,930/7551_clevinger.rev.1582752850.jpg 3x"/> <img src="/live/image/gid/68/width/345/height/225/crop/1/src_region/0,0,1274,930/7551_clevinger.rev.1582752850.jpg" alt="Pattie & Todd Clevenger, Lisa Washington, JD Washington and Drew, Jeff Keys, Stephanie, Craig and Samantha Maddox. Todd says: This pi..." width="345" height="225" srcset="/live/image/scale/2x/gid/68/width/345/height/225/crop/1/src_region/0,0,1274,930/7551_clevinger.rev.1582752850.jpg 2x, /live/image/scale/3x/gid/68/width/345/height/225/crop/1/src_region/0,0,1274,930/7551_clevinger.rev.1582752850.jpg 3x" data-max-w="1274" data-max-h="930" loading="lazy"/> </picture> </a></span></div><div class="lw_widget_text"><h4 class="lw_news_headline"><a href="/live/news/1164-friends-for-all-times">Friends For All Times</a></h4><div class="lw_news_summary"> Todd Clevinger ('86) has found a creative way to remember his friend JD Washington ('86, deceased). <a href="/live/news/1164-friends-for-all-times" class="link-with-arrow gold">Keep reading</a></div></div>
<div class="lw_news_image"><span class="lw_item_thumb"><a href="/live/news/3048-lauren-rhea-is-working-in-saltville-and-attending"><picture class="lw_image"> <source type="image/webp" srcset="/live/image/gid/68/width/345/height/225/crop/1/src_region/0,0,1081,1080/14275_Lauren_Rhea.rev.1691604642.webp 1x, /live/image/scale/2x/gid/68/width/345/height/225/crop/1/src_region/0,0,1081,1080/14275_Lauren_Rhea.rev.1691604642.webp 2x, /live/image/scale/3x/gid/68/width/345/height/225/crop/1/src_region/0,0,1081,1080/14275_Lauren_Rhea.rev.1691604642.webp 3x"/> <source type="image/jpeg" srcset="/live/image/gid/68/width/345/height/225/crop/1/src_region/0,0,1081,1080/14275_Lauren_Rhea.rev.1691604642.jpg 1x, /live/image/scale/2x/gid/68/width/345/height/225/crop/1/src_region/0,0,1081,1080/14275_Lauren_Rhea.rev.1691604642.jpg 2x, /live/image/scale/3x/gid/68/width/345/height/225/crop/1/src_region/0,0,1081,1080/14275_Lauren_Rhea.rev.1691604642.jpg 3x"/> <img src="/live/image/gid/68/width/345/height/225/crop/1/src_region/0,0,1081,1080/14275_Lauren_Rhea.rev.1691604642.jpg" alt="Woman smiling" width="345" height="225" srcset="/live/image/scale/2x/gid/68/width/345/height/225/crop/1/src_region/0,0,1081,1080/14275_Lauren_Rhea.rev.1691604642.jpg 2x, /live/image/scale/3x/gid/68/width/345/height/225/crop/1/src_region/0,0,1081,1080/14275_Lauren_Rhea.rev.1691604642.jpg 3x" data-max-w="1081" data-max-h="1080" loading="lazy"/> </picture> </a></span></div><div class="lw_widget_text"><h4 class="lw_news_headline"><a href="/live/news/3048-lauren-rhea-is-working-in-saltville-and-attending">Lauren Rhea is Working in Saltville and Attending Harvard</a></h4><div class="lw_news_summary"><p> Yes...you read that right.</p><a href="/live/news/3048-lauren-rhea-is-working-in-saltville-and-attending" class="link-with-arrow gold">Keep reading</a></div></div>
<div class="lw_news_image"><span class="lw_item_thumb"><a href="/live/news/2145-hooked-on-matt-reilly-fly-fishing"><picture class="lw_image"> <source type="image/webp" srcset="/live/image/gid/68/width/345/height/225/crop/1/src_region/189,93,1245,1149/10693_271340844_659435785235455_4346640775979836869_n.rev.1641946454.webp 1x, /live/image/scale/2x/gid/68/width/345/height/225/crop/1/src_region/189,93,1245,1149/10693_271340844_659435785235455_4346640775979836869_n.rev.1641946454.webp 2x, /live/image/scale/3x/gid/68/width/345/height/225/crop/1/src_region/189,93,1245,1149/10693_271340844_659435785235455_4346640775979836869_n.rev.1641946454.webp 3x"/> <source type="image/jpeg" srcset="/live/image/gid/68/width/345/height/225/crop/1/src_region/189,93,1245,1149/10693_271340844_659435785235455_4346640775979836869_n.rev.1641946454.jpg 1x, /live/image/scale/2x/gid/68/width/345/height/225/crop/1/src_region/189,93,1245,1149/10693_271340844_659435785235455_4346640775979836869_n.rev.1641946454.jpg 2x, /live/image/scale/3x/gid/68/width/345/height/225/crop/1/src_region/189,93,1245,1149/10693_271340844_659435785235455_4346640775979836869_n.rev.1641946454.jpg 3x"/> <img src="/live/image/gid/68/width/345/height/225/crop/1/src_region/189,93,1245,1149/10693_271340844_659435785235455_4346640775979836869_n.rev.1641946454.jpg" alt="Matt Reilly Emory & Henry Class of 2018" width="345" height="225" srcset="/live/image/scale/2x/gid/68/width/345/height/225/crop/1/src_region/189,93,1245,1149/10693_271340844_659435785235455_4346640775979836869_n.rev.1641946454.jpg 2x, /live/image/scale/3x/gid/68/width/345/height/225/crop/1/src_region/189,93,1245,1149/10693_271340844_659435785235455_4346640775979836869_n.rev.1641946454.jpg 3x" data-max-w="1056" data-max-h="1056" loading="lazy"/> </picture> </a></span></div><div class="lw_widget_text"><h4 class="lw_news_headline"><a href="/live/news/2145-hooked-on-matt-reilly-fly-fishing">Hooked on Matt Reilly Fly Fishing</a></h4><div class="lw_news_summary"> Matt Reilly says of his job: "I take people fishing." But is <em>that</em> ever an understatement. <a href="/live/news/2145-hooked-on-matt-reilly-fly-fishing" class="link-with-arrow gold">Keep reading</a></div></div>
<div class="lw_news_image"><span class="lw_item_thumb"><a href="/live/news/780-jimmy-wilmouth-in-france"><picture class="lw_image"> <source type="image/webp" srcset="/live/image/gid/68/width/345/height/225/crop/1/src_region/0,510,991,1501/6178_Jimmy_Wilmouth.rev.1554494489.webp 1x, /live/image/scale/2x/gid/68/width/345/height/225/crop/1/src_region/0,510,991,1501/6178_Jimmy_Wilmouth.rev.1554494489.webp 2x"/> <source type="image/jpeg" srcset="/live/image/gid/68/width/345/height/225/crop/1/src_region/0,510,991,1501/6178_Jimmy_Wilmouth.rev.1554494489.jpg 1x, /live/image/scale/2x/gid/68/width/345/height/225/crop/1/src_region/0,510,991,1501/6178_Jimmy_Wilmouth.rev.1554494489.jpg 2x"/> <img src="/live/image/gid/68/width/345/height/225/crop/1/src_region/0,510,991,1501/6178_Jimmy_Wilmouth.rev.1554494489.jpg" alt="Jimmy Wilmouth with his girlfriend at the Eiffel Tower." width="345" height="225" srcset="/live/image/scale/2x/gid/68/width/345/height/225/crop/1/src_region/0,510,991,1501/6178_Jimmy_Wilmouth.rev.1554494489.jpg 2x" data-max-w="991" data-max-h="991" loading="lazy"/> </picture> </a></span></div><div class="lw_widget_text"><h4 class="lw_news_headline"><a href="/live/news/780-jimmy-wilmouth-in-france">Jimmy Wilmouth in France</a></h4><div class="lw_news_summary"> He ended up in France for love…but he's also doing important cancer research <a href="/live/news/780-jimmy-wilmouth-in-france" class="link-with-arrow gold">Keep reading</a></div></div>
<div class="lw_news_image"><span class="lw_item_thumb"><a href="/live/news/1349-got-a-minute-cassidy-york-sharp-04-has-a-new-title"><picture class="lw_image"> <source type="image/webp" srcset="/live/image/gid/68/width/345/height/225/crop/1/src_region/0,66,2400,2466/8478_Cassidy-11.rev.1598295415.webp 1x, /live/image/scale/2x/gid/68/width/345/height/225/crop/1/src_region/0,66,2400,2466/8478_Cassidy-11.rev.1598295415.webp 2x, /live/image/scale/3x/gid/68/width/345/height/225/crop/1/src_region/0,66,2400,2466/8478_Cassidy-11.rev.1598295415.webp 3x"/> <source type="image/jpeg" srcset="/live/image/gid/68/width/345/height/225/crop/1/src_region/0,66,2400,2466/8478_Cassidy-11.rev.1598295415.jpg 1x, /live/image/scale/2x/gid/68/width/345/height/225/crop/1/src_region/0,66,2400,2466/8478_Cassidy-11.rev.1598295415.jpg 2x, /live/image/scale/3x/gid/68/width/345/height/225/crop/1/src_region/0,66,2400,2466/8478_Cassidy-11.rev.1598295415.jpg 3x"/> <img src="/live/image/gid/68/width/345/height/225/crop/1/src_region/0,66,2400,2466/8478_Cassidy-11.rev.1598295415.jpg" alt="Cassidy York Sharp, US Modern Woman Novice Supreme" width="345" height="225" srcset="/live/image/scale/2x/gid/68/width/345/height/225/crop/1/src_region/0,66,2400,2466/8478_Cassidy-11.rev.1598295415.jpg 2x, /live/image/scale/3x/gid/68/width/345/height/225/crop/1/src_region/0,66,2400,2466/8478_Cassidy-11.rev.1598295415.jpg 3x" data-max-w="2400" data-max-h="2400" loading="lazy"/> </picture> </a></span></div><div class="lw_widget_text"><h4 class="lw_news_headline"><a href="/live/news/1349-got-a-minute-cassidy-york-sharp-04-has-a-new-title">Got a minute? Cassidy York Sharp ('04) Has a New Title</a></h4><div class="lw_news_summary"> She also has a crown and a sash – and a couple of adoring fans. <a href="/live/news/1349-got-a-minute-cassidy-york-sharp-04-has-a-new-title" class="link-with-arrow gold">Keep reading</a></div></div>
<div class="lw_news_image"><span class="lw_item_thumb"><a href="/live/news/2760-david-graybeal-has-published-a-book-faith-in-the"><picture class="lw_image"> <source type="image/webp" srcset="/live/image/gid/68/width/345/height/225/crop/1/src_region/0,0,1365,2048/13395_David_graybeal_1.rev.1676671868.webp 1x, /live/image/scale/2x/gid/68/width/345/height/225/crop/1/src_region/0,0,1365,2048/13395_David_graybeal_1.rev.1676671868.webp 2x, /live/image/scale/3x/gid/68/width/345/height/225/crop/1/src_region/0,0,1365,2048/13395_David_graybeal_1.rev.1676671868.webp 3x"/> <source type="image/jpeg" srcset="/live/image/gid/68/width/345/height/225/crop/1/src_region/0,0,1365,2048/13395_David_graybeal_1.rev.1676671868.jpg 1x, /live/image/scale/2x/gid/68/width/345/height/225/crop/1/src_region/0,0,1365,2048/13395_David_graybeal_1.rev.1676671868.jpg 2x, /live/image/scale/3x/gid/68/width/345/height/225/crop/1/src_region/0,0,1365,2048/13395_David_graybeal_1.rev.1676671868.jpg 3x"/> <img src="/live/image/gid/68/width/345/height/225/crop/1/src_region/0,0,1365,2048/13395_David_graybeal_1.rev.1676671868.jpg" alt="Rev. David Graybeal E&H Class of 1995" width="345" height="225" srcset="/live/image/scale/2x/gid/68/width/345/height/225/crop/1/src_region/0,0,1365,2048/13395_David_graybeal_1.rev.1676671868.jpg 2x, /live/image/scale/3x/gid/68/width/345/height/225/crop/1/src_region/0,0,1365,2048/13395_David_graybeal_1.rev.1676671868.jpg 3x" data-max-w="1365" data-max-h="2048" loading="lazy"/> </picture> </a></span></div><div class="lw_widget_text"><h4 class="lw_news_headline"><a href="/live/news/2760-david-graybeal-has-published-a-book-faith-in-the">David Graybeal Has Published a Book: Faith in the West Wing</a></h4><div class="lw_news_summary"><p> Rev. David Graybeal has just published a book called <em><a href="https://www.facebook.com/profile.php?id=100089565096055">Faith in the West Wing</a></em> that deals specifically with the presidency of Jed Bartlet. Do you not remember that U.S. President?</p><a href="/live/news/2760-david-graybeal-has-published-a-book-faith-in-the" class="link-with-arrow gold">Keep reading</a></div></div>
<div class="lw_news_image"><span class="lw_item_thumb"><a href="/live/news/2340-hannah-long-acquires-books-for-harper-collins"><picture class="lw_image"> <source type="image/webp" srcset="/live/image/gid/68/width/345/height/225/crop/1/src_region/582,531,2259,2208/11225_IMG_20211215_180338973.rev.1651854433.webp 1x, /live/image/scale/2x/gid/68/width/345/height/225/crop/1/src_region/582,531,2259,2208/11225_IMG_20211215_180338973.rev.1651854433.webp 2x, /live/image/scale/3x/gid/68/width/345/height/225/crop/1/src_region/582,531,2259,2208/11225_IMG_20211215_180338973.rev.1651854433.webp 3x"/> <source type="image/jpeg" srcset="/live/image/gid/68/width/345/height/225/crop/1/src_region/582,531,2259,2208/11225_IMG_20211215_180338973.rev.1651854433.jpg 1x, /live/image/scale/2x/gid/68/width/345/height/225/crop/1/src_region/582,531,2259,2208/11225_IMG_20211215_180338973.rev.1651854433.jpg 2x, /live/image/scale/3x/gid/68/width/345/height/225/crop/1/src_region/582,531,2259,2208/11225_IMG_20211215_180338973.rev.1651854433.jpg 3x"/> <img src="/live/image/gid/68/width/345/height/225/crop/1/src_region/582,531,2259,2208/11225_IMG_20211215_180338973.rev.1651854433.jpg" alt="Hannah Long E&H Class of 2018" width="345" height="225" srcset="/live/image/scale/2x/gid/68/width/345/height/225/crop/1/src_region/582,531,2259,2208/11225_IMG_20211215_180338973.rev.1651854433.jpg 2x, /live/image/scale/3x/gid/68/width/345/height/225/crop/1/src_region/582,531,2259,2208/11225_IMG_20211215_180338973.rev.1651854433.jpg 3x" data-max-w="1677" data-max-h="1677" loading="lazy"/> </picture> </a></span></div><div class="lw_widget_text"><h4 class="lw_news_headline"><a href="/live/news/2340-hannah-long-acquires-books-for-harper-collins">Hannah Long Acquires Books for Harper Collins</a></h4><div class="lw_news_summary"> Hannah is breaking a long family tradition – and the adventure is paying off. <a href="/live/news/2340-hannah-long-acquires-books-for-harper-collins" class="link-with-arrow gold">Keep reading</a></div></div>
<div class="lw_news_image"><span class="lw_item_thumb"><a href="/live/news/2070-tom-lundy-awarded-highest-honor-by-icma"><img src="/live/image/gid/68/width/345/height/225/crop/1/src_region/0,0,800,800/10461_Tom_Lundy.jfif" alt="Tom Lundy E&H Class of 1971" class="lw_image" width="345" height="225"/></a></span></div><div class="lw_widget_text"><h4 class="lw_news_headline"><a href="/live/news/2070-tom-lundy-awarded-highest-honor-by-icma">Tom Lundy Awarded Highest Honor by ICMA</a></h4><div class="lw_news_summary"> Because of an interest sparked and kindled while at Emory & Henry, Tom Lundy spent 44 years in local government, retiring in 2016 as Catawba County Manager, a position he held since 1979. <a href="/live/news/2070-tom-lundy-awarded-highest-honor-by-icma" class="link-with-arrow gold">Keep reading</a></div></div>
<div class="lw_news_image"><span class="lw_item_thumb"><a href="/live/news/1535-say-adios-to-your-old-spanish-textbook-chris"><picture class="lw_image"> <source type="image/webp" srcset="/live/image/gid/68/width/345/height/225/crop/1/src_region/0,52,360,412/9022_chris.rev.1606245017.webp 1x"/> <source type="image/jpeg" srcset="/live/image/gid/68/width/345/height/225/crop/1/src_region/0,52,360,412/9022_chris.rev.1606245017.jpg 1x"/> <img src="/live/image/gid/68/width/345/height/225/crop/1/src_region/0,52,360,412/9022_chris.rev.1606245017.jpg" alt="Chris Anama-Green, Emory & Henry Class of 2008" width="345" height="225" data-max-w="360" data-max-h="360" loading="lazy"/> </picture> </a></span></div><div class="lw_widget_text"><h4 class="lw_news_headline"><a href="/live/news/1535-say-adios-to-your-old-spanish-textbook-chris">Say Adios to Your Old Spanish Textbook: Chris Anama-Green Has Written a Brand New One</a></h4><div class="lw_news_summary"><p> Don't like the textbook you're using in class? Write your own!</p><p> That's what Dr. Chris Anama-Green did.</p><a href="/live/news/1535-say-adios-to-your-old-spanish-textbook-chris" class="link-with-arrow gold">Keep reading</a></div></div>
<div class="lw_news_image"><span class="lw_item_thumb"><a href="/live/news/2214-eamph-friends-on-center-stage"><picture class="lw_image"> <source type="image/webp" srcset="/live/image/gid/68/width/345/height/225/crop/1/src_region/119,0,919,800/10834_Free_Spirit_photo.rev.1645106838.webp 1x, /live/image/scale/2x/gid/68/width/345/height/225/crop/1/src_region/119,0,919,800/10834_Free_Spirit_photo.rev.1645106838.webp 2x"/> <source type="image/jpeg" srcset="/live/image/gid/68/width/345/height/225/crop/1/src_region/119,0,919,800/10834_Free_Spirit_photo.rev.1645106838.jpg 1x, /live/image/scale/2x/gid/68/width/345/height/225/crop/1/src_region/119,0,919,800/10834_Free_Spirit_photo.rev.1645106838.jpg 2x"/> <img src="/live/image/gid/68/width/345/height/225/crop/1/src_region/119,0,919,800/10834_Free_Spirit_photo.rev.1645106838.jpg" alt="The cast of Love, Loss, and What She Wore performed at the Free Spirit Theatre in Knoxville. (Front left is Cheri Compton, E&H " width="345" height="225" srcset="/live/image/scale/2x/gid/68/width/345/height/225/crop/1/src_region/119,0,919,800/10834_Free_Spirit_photo.rev.1645106838.jpg 2x" data-max-w="800" data-max-h="800" loading="lazy"/> </picture> </a></span></div><div class="lw_widget_text"><h4 class="lw_news_headline"><a href="/live/news/2214-eamph-friends-on-center-stage">E&H Friends on Center Stage</a></h4><div class="lw_news_summary"> Three of the stars in a recent Knoxville production of <em>Love, Loss and What I Wore</em> had more than a love of theatre in common: they also had a certain tiny college in Virginia as a mutual bond. <a href="/live/news/2214-eamph-friends-on-center-stage" class="link-with-arrow gold">Keep reading</a></div></div>
<div class="lw_news_image"><span class="lw_item_thumb"><a href="/live/news/1326-got-a-minute-catch-up-with-dr-zaneta-tutuh-hamlin"><picture class="lw_image"> <source type="image/webp" srcset="/live/image/gid/68/width/345/height/225/crop/1/src_region/0,0,800,800/8378_Zaneta_Tutuh_Hamlin.rev.1595870781.webp 1x, /live/image/scale/2x/gid/68/width/345/height/225/crop/1/src_region/0,0,800,800/8378_Zaneta_Tutuh_Hamlin.rev.1595870781.webp 2x"/> <source type="image/jpeg" srcset="/live/image/gid/68/width/345/height/225/crop/1/src_region/0,0,800,800/8378_Zaneta_Tutuh_Hamlin.rev.1595870781.jpg 1x, /live/image/scale/2x/gid/68/width/345/height/225/crop/1/src_region/0,0,800,800/8378_Zaneta_Tutuh_Hamlin.rev.1595870781.jpg 2x"/> <img src="/live/image/gid/68/width/345/height/225/crop/1/src_region/0,0,800,800/8378_Zaneta_Tutuh_Hamlin.rev.1595870781.jpg" alt="Dr. Zaneta Tutuh Hamlin, E&H Class of 2008" width="345" height="225" srcset="/live/image/scale/2x/gid/68/width/345/height/225/crop/1/src_region/0,0,800,800/8378_Zaneta_Tutuh_Hamlin.rev.1595870781.jpg 2x" data-max-w="800" data-max-h="800" loading="lazy"/> </picture> </a></span></div><div class="lw_widget_text"><h4 class="lw_news_headline"><a href="/live/news/1326-got-a-minute-catch-up-with-dr-zaneta-tutuh-hamlin">Got a Minute? Catch up with Dr. Zaneta Tutuh Hamlin (E&H '08)</a></h4><div class="lw_news_summary"> Dr. Hamlin has just added some very impressive letters to her name. <a href="/live/news/1326-got-a-minute-catch-up-with-dr-zaneta-tutuh-hamlin" class="link-with-arrow gold">Keep reading</a></div></div>
<div class="lw_news_image"><span class="lw_item_thumb"><a href="/live/news/2374-austen-bells-busy-summer-is-leading-to-an-even"><picture class="lw_image"> <source type="image/webp" srcset="/live/image/gid/68/width/345/height/225/crop/1/src_region/30,204,796,970/11406_image.rev.1655252559.png 1x, /live/image/scale/2x/gid/68/width/345/height/225/crop/1/src_region/30,204,796,970/11406_image.rev.1655252559.png 2x"/> <source type="image/webp" srcset="/live/image/gid/68/width/345/height/225/crop/1/src_region/30,204,796,970/11406_image.rev.1655252559.png 1x, /live/image/scale/2x/gid/68/width/345/height/225/crop/1/src_region/30,204,796,970/11406_image.rev.1655252559.png 2x"/> <source type="image/png" srcset="/live/image/gid/68/width/345/height/225/crop/1/src_region/30,204,796,970/11406_image.rev.1655252559.png 1x, /live/image/scale/2x/gid/68/width/345/height/225/crop/1/src_region/30,204,796,970/11406_image.rev.1655252559.png 2x"/> <img src="/live/image/gid/68/width/345/height/225/crop/1/src_region/30,204,796,970/11406_image.rev.1655252559.png" alt="Austen Bell Emory & Henry Class of 2020" width="345" height="225" srcset="/live/image/scale/2x/gid/68/width/345/height/225/crop/1/src_region/30,204,796,970/11406_image.rev.1655252559.png 2x" data-max-w="766" data-max-h="766" loading="lazy"/> </picture> </a></span></div><div class="lw_widget_text"><h4 class="lw_news_headline"><a href="/live/news/2374-austen-bells-busy-summer-is-leading-to-an-even">Austen Bell's Busy Summer is Leading to an Even Busier Career</a></h4><div class="lw_news_summary"><p><span style="font-weight: 400;">Austen is spending the summer of 2022 in Emory, but there are bigger goals on the horizon.</span></p><a href="/live/news/2374-austen-bells-busy-summer-is-leading-to-an-even" class="link-with-arrow gold">Keep reading</a></div></div>
<div class="lw_news_image"><span class="lw_item_thumb"><a href="/live/news/1739-richard-graves-says-art-makes-our-communities"><picture class="lw_image"> <source type="image/webp" srcset="/live/image/gid/68/width/345/height/225/crop/1/src_region/0,0,2573,2756/9671_Richard_Graves_bio_pic_biz.rev.1617831932.webp 1x, /live/image/scale/2x/gid/68/width/345/height/225/crop/1/src_region/0,0,2573,2756/9671_Richard_Graves_bio_pic_biz.rev.1617831932.webp 2x, /live/image/scale/3x/gid/68/width/345/height/225/crop/1/src_region/0,0,2573,2756/9671_Richard_Graves_bio_pic_biz.rev.1617831932.webp 3x"/> <source type="image/jpeg" srcset="/live/image/gid/68/width/345/height/225/crop/1/src_region/0,0,2573,2756/9671_Richard_Graves_bio_pic_biz.rev.1617831932.jpg 1x, /live/image/scale/2x/gid/68/width/345/height/225/crop/1/src_region/0,0,2573,2756/9671_Richard_Graves_bio_pic_biz.rev.1617831932.jpg 2x, /live/image/scale/3x/gid/68/width/345/height/225/crop/1/src_region/0,0,2573,2756/9671_Richard_Graves_bio_pic_biz.rev.1617831932.jpg 3x"/> <img src="/live/image/gid/68/width/345/height/225/crop/1/src_region/0,0,2573,2756/9671_Richard_Graves_bio_pic_biz.rev.1617831932.jpg" alt="Richard Graves Emory & Henry Class of 2008." width="345" height="225" srcset="/live/image/scale/2x/gid/68/width/345/height/225/crop/1/src_region/0,0,2573,2756/9671_Richard_Graves_bio_pic_biz.rev.1617831932.jpg 2x, /live/image/scale/3x/gid/68/width/345/height/225/crop/1/src_region/0,0,2573,2756/9671_Richard_Graves_bio_pic_biz.rev.1617831932.jpg 3x" data-max-w="2573" data-max-h="2756" loading="lazy"/> </picture> </a></span></div><div class="lw_widget_text"><h4 class="lw_news_headline"><a href="/live/news/1739-richard-graves-says-art-makes-our-communities">Richard Graves Says Art Makes Our Communities Stronger</a></h4><div class="lw_news_summary"> If you think Richard Graves is dreaming that his art will end up in a glitzy New York gallery, think again. <a href="/live/news/1739-richard-graves-says-art-makes-our-communities" class="link-with-arrow gold">Keep reading</a></div></div>