Fall 2023 Update about the Emory & Henry Thrift Store
The Emory & Henry Thrift Store is located in the basement of the Memorial Chapel on campus. The thrift store is student operated and is open from 3pm-7pm, Tuesday through Friday.
Thrifting has become a big part of this generation. The thrift store on campus provides students the opportunity to exchange their clothes, or get new clothes at no cost.
According to the students involved, the goal of the thrift store is, "to provide clothing and other essential/non essential goods to students in need. Also creating a secure sense of community and encouragement for students to give back." The Thrift Store also aims to reduce waste and carbon footprint by reusing.
Students are able to donate clothes to the E&H Thrift Store during operating hours. Clothes are always needed, and additional household items are welcome as well.
The expectation is that all donations are in good enough condition for resale.
Acceptable "payment" methods include volunteering to work a shift, donating a gently used item, or sharing a social media post about the store.
For more updates follow the Appalachian Center for Civic Life or the Emory & Henry Thrift Store on Instagram.
@ehcappalachiancenter
@emoryandhenrythrift
Open gallery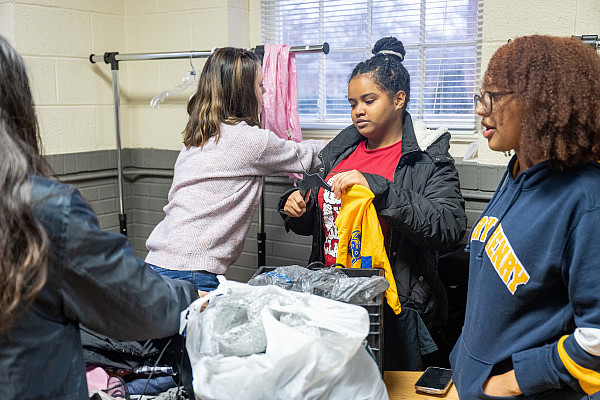 More News
<div class="lw_news_image"><span class="lw_item_thumb"><a href="/live/news/2707-emory-henry-college-receives-25000-grant-from"><picture class="lw_image"> <source type="image/webp" srcset="/live/image/gid/83/width/345/height/225/crop/1/src_region/159,0,1085,927/13143_graduation.ca1905_1.rev.1673966150.png 1x, /live/image/scale/2x/gid/83/width/345/height/225/crop/1/src_region/159,0,1085,927/13143_graduation.ca1905_1.rev.1673966150.png 2x"/> <source type="image/webp" srcset="/live/image/gid/83/width/345/height/225/crop/1/src_region/159,0,1085,927/13143_graduation.ca1905_1.rev.1673966150.png 1x, /live/image/scale/2x/gid/83/width/345/height/225/crop/1/src_region/159,0,1085,927/13143_graduation.ca1905_1.rev.1673966150.png 2x"/> <source type="image/png" srcset="/live/image/gid/83/width/345/height/225/crop/1/src_region/159,0,1085,927/13143_graduation.ca1905_1.rev.1673966150.png 1x, /live/image/scale/2x/gid/83/width/345/height/225/crop/1/src_region/159,0,1085,927/13143_graduation.ca1905_1.rev.1673966150.png 2x"/> <img src="/live/image/gid/83/width/345/height/225/crop/1/src_region/159,0,1085,927/13143_graduation.ca1905_1.rev.1673966150.png" alt="Visitors gather for graduation on the College grounds in front of the main college building, ca. 1905. Photo published in Legacy and Visi..." width="345" height="225" srcset="/live/image/scale/2x/gid/83/width/345/height/225/crop/1/src_region/159,0,1085,927/13143_graduation.ca1905_1.rev.1673966150.png 2x" data-max-w="926" data-max-h="927" loading="lazy"/> </picture> </a></span></div><div class="lw_widget_text"><h4 class="lw_news_headline"><a href="/live/news/2707-emory-henry-college-receives-25000-grant-from">Emory & Henry College Receives $25,000 Grant from Roller Bottimore Foundation for Preservation of Historical Material with Public Accessibility</a></h4><div class="lw_news_summary"><p> Emory & Henry College got a boost to support local and regional history preservation in Southwest Virginia thanks to recent funding from the Roller Bottimore Foundation. "<em>The Watershed Project: Civic Memory for a Citizenship of Place</em>" has a two-fold purpose - to preserve, index, and archive a wide range of historical material related to the history and operation of Emory & Henry College, the oldest institution of higher learning in Southwest Virginia, and to utilize these materials to create an engaging, dynamic, born-digital, open-source history of the region of Southwest Virginia and, more specifically, the college's role as an institutional citizen of that place.</p><a href="/live/news/2707-emory-henry-college-receives-25000-grant-from" class="link-with-arrow gold">Keep reading</a></div></div>
<div class="lw_news_image"><span class="lw_item_thumb"><a href="/live/news/2720-emory-henry-college-celebrates-grand-opening"><picture class="lw_image"> <source type="image/webp" srcset="/live/image/gid/51/width/345/height/225/crop/1/src_region/0,0,3200,2133/13266_EH-Thrift-Store-Opening_022.rev.1675530004.webp 1x, /live/image/scale/2x/gid/51/width/345/height/225/crop/1/src_region/0,0,3200,2133/13266_EH-Thrift-Store-Opening_022.rev.1675530004.webp 2x, /live/image/scale/3x/gid/51/width/345/height/225/crop/1/src_region/0,0,3200,2133/13266_EH-Thrift-Store-Opening_022.rev.1675530004.webp 3x"/> <source type="image/jpeg" srcset="/live/image/gid/51/width/345/height/225/crop/1/src_region/0,0,3200,2133/13266_EH-Thrift-Store-Opening_022.rev.1675530004.jpg 1x, /live/image/scale/2x/gid/51/width/345/height/225/crop/1/src_region/0,0,3200,2133/13266_EH-Thrift-Store-Opening_022.rev.1675530004.jpg 2x, /live/image/scale/3x/gid/51/width/345/height/225/crop/1/src_region/0,0,3200,2133/13266_EH-Thrift-Store-Opening_022.rev.1675530004.jpg 3x"/> <img src="/live/image/gid/51/width/345/height/225/crop/1/src_region/0,0,3200,2133/13266_EH-Thrift-Store-Opening_022.rev.1675530004.jpg" alt="Students who created the E&H Thrift Store cutting the ribbon Hermella Legesse, Feker Fetene, Paige Halcrow, Hayley Ritter, Tilly Crad..." width="345" height="225" srcset="/live/image/scale/2x/gid/51/width/345/height/225/crop/1/src_region/0,0,3200,2133/13266_EH-Thrift-Store-Opening_022.rev.1675530004.jpg 2x, /live/image/scale/3x/gid/51/width/345/height/225/crop/1/src_region/0,0,3200,2133/13266_EH-Thrift-Store-Opening_022.rev.1675530004.jpg 3x" data-max-w="3200" data-max-h="2133" loading="lazy"/> </picture> </a></span></div><div class="lw_widget_text"><h4 class="lw_news_headline"><a href="/live/news/2720-emory-henry-college-celebrates-grand-opening">Emory & Henry College Celebrates Grand Opening of Thrift Store on Campus</a></h4><div class="lw_news_summary"><p><span style="font-weight: 400;">Emory & Henry College is excited to announce the grand opening of its first on-campus thrift store located on the lower level of the Memorial Chapel on February 1, 2023. The Emory & Henry community celebrated the new E&H Thrift Store with a ribbon cutting and students in attendance had the opportunity to shop after. The store was made possible by the</span> <a href="https://www.ehc.edu/appalachian-center-for-civic-life/"><span style="font-weight: 400;">Appalachian Center for Civic Life</span></a> <span style="font-weight: 400;">and will be primarily managed by</span> <a href="https://www.ehc.edu/appalachian-center-for-civic-life/scholarships/bonner-scholars-program/"><span style="font-weight: 400;">Bonner Scholars</span></a> <span style="font-weight: 400;">and</span> <a href="https://www.ehc.edu/appalachian-center-for-civic-life/scholarships/civic-leader-scholars/"><span style="font-weight: 400;">Civic Leader Scholars</span></a><span style="font-weight: 400;">.</span></p><a href="/live/news/2720-emory-henry-college-celebrates-grand-opening" class="link-with-arrow gold">Keep reading</a></div></div>
<div class="lw_news_image"><span class="lw_item_thumb"><a href="/live/news/2375-braxton-justice-to-continue-education-at-william"><picture class="lw_image"> <source type="image/webp" srcset="/live/image/gid/104/width/345/height/225/crop/1/src_region/37,55,718,735/11184_profesional_picture_-_Braxton_Justice.rev.1651252848.webp 1x"/> <source type="image/jpeg" srcset="/live/image/gid/104/width/345/height/225/crop/1/src_region/37,55,718,735/11184_profesional_picture_-_Braxton_Justice.rev.1651252848.jpg 1x"/> <img src="/live/image/gid/104/width/345/height/225/crop/1/src_region/37,55,718,735/11184_profesional_picture_-_Braxton_Justice.rev.1651252848.jpg" alt="Braxton Justice, '22" width="345" height="225" data-max-w="681" data-max-h="680" loading="lazy"/> </picture> </a></span></div><div class="lw_widget_text"><h4 class="lw_news_headline"><a href="/live/news/2375-braxton-justice-to-continue-education-at-william">Braxton Justice to continue education at William & Mary</a></h4><div class="lw_news_summary"><span style="font-weight: 400;">Our Emory & Henry seniors are preparing to graduate and change the world.</span> <a href="/live/news/2375-braxton-justice-to-continue-education-at-william" class="link-with-arrow gold">Keep reading</a></div></div>
<div class="lw_news_image"><span class="lw_item_thumb"><a href="/live/news/2376-carter-momsen-hudson-to-pursue-a-career-in"><picture class="lw_image"> <source type="image/webp" srcset="/live/image/gid/104/width/345/height/225/crop/1/src_region/288,0,2688,2400/11190_Carter-Hudson_IMG_6946.rev.1651496913.webp 1x, /live/image/scale/2x/gid/104/width/345/height/225/crop/1/src_region/288,0,2688,2400/11190_Carter-Hudson_IMG_6946.rev.1651496913.webp 2x, /live/image/scale/3x/gid/104/width/345/height/225/crop/1/src_region/288,0,2688,2400/11190_Carter-Hudson_IMG_6946.rev.1651496913.webp 3x"/> <source type="image/jpeg" srcset="/live/image/gid/104/width/345/height/225/crop/1/src_region/288,0,2688,2400/11190_Carter-Hudson_IMG_6946.rev.1651496913.jpg 1x, /live/image/scale/2x/gid/104/width/345/height/225/crop/1/src_region/288,0,2688,2400/11190_Carter-Hudson_IMG_6946.rev.1651496913.jpg 2x, /live/image/scale/3x/gid/104/width/345/height/225/crop/1/src_region/288,0,2688,2400/11190_Carter-Hudson_IMG_6946.rev.1651496913.jpg 3x"/> <img src="/live/image/gid/104/width/345/height/225/crop/1/src_region/288,0,2688,2400/11190_Carter-Hudson_IMG_6946.rev.1651496913.jpg" alt="Momsen-Hudson, '22, at a demonstration to bring attention to the realities that unhoused people face." width="345" height="225" srcset="/live/image/scale/2x/gid/104/width/345/height/225/crop/1/src_region/288,0,2688,2400/11190_Carter-Hudson_IMG_6946.rev.1651496913.jpg 2x, /live/image/scale/3x/gid/104/width/345/height/225/crop/1/src_region/288,0,2688,2400/11190_Carter-Hudson_IMG_6946.rev.1651496913.jpg 3x" data-max-w="2400" data-max-h="2400" loading="lazy"/> </picture> </a></span></div><div class="lw_widget_text"><h4 class="lw_news_headline"><a href="/live/news/2376-carter-momsen-hudson-to-pursue-a-career-in">Carter Momsen-Hudson to pursue a career in religion</a></h4><div class="lw_news_summary"><span style="font-weight: 400;">Our Emory & Henry seniors are preparing to graduate and change the world.</span> <a href="/live/news/2376-carter-momsen-hudson-to-pursue-a-career-in" class="link-with-arrow gold">Keep reading</a></div></div>