McGothlin Street Hall
The home of the science department, containing the main science classrooms and labs.
Photo Album:
McGothlin Street Hall
Greenhouse
Contains a diverse collection of plants, along with space for research.
Herbarium
Located within MS, the Herbarium contains 2700 plant specimens that represent the flora of Southwest Virginia.
Molecular biology Resources
In labs, students get to work with DNA, RNA and protein gels, PCR and qPCR and gel imaging equipment.
Photo Album:
Molecular Biology Resources
Zoological teaching and research collection
Includes regional vertebrates and invertebrates.
A 72 acre preserve with wetlands, river access, forest and meadows for field laboratories and student research projects.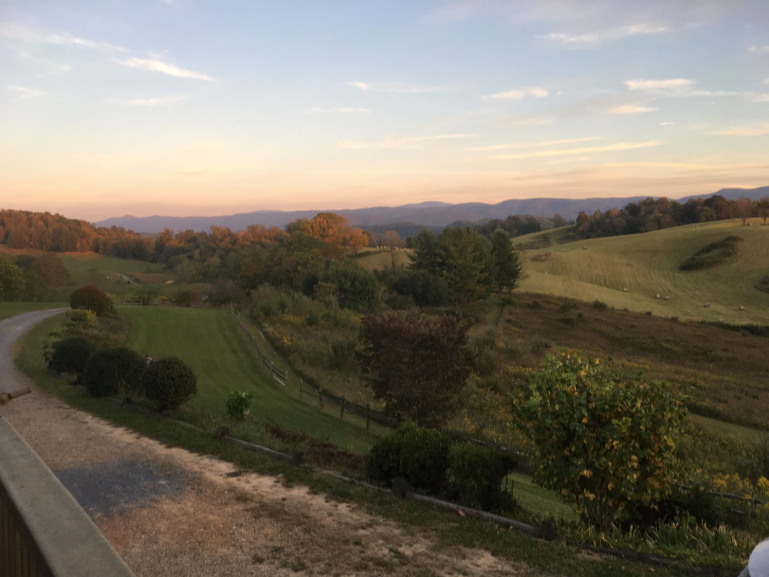 Meet Our Alumni
<span class="lw_item_thumb"><a href="/live/profiles/2055-nicole-powell"><picture class="lw_image"> <source type="image/webp" srcset="/live/image/gid/68/width/345/height/225/crop/1/src_region/0,24,1139,1161/4101_Nicole.rev.1525361616.png 1x, /live/image/scale/2x/gid/68/width/345/height/225/crop/1/src_region/0,24,1139,1161/4101_Nicole.rev.1525361616.png 2x, /live/image/scale/3x/gid/68/width/345/height/225/crop/1/src_region/0,24,1139,1161/4101_Nicole.rev.1525361616.png 3x"/> <source type="image/webp" srcset="/live/image/gid/68/width/345/height/225/crop/1/src_region/0,24,1139,1161/4101_Nicole.rev.1525361616.png 1x, /live/image/scale/2x/gid/68/width/345/height/225/crop/1/src_region/0,24,1139,1161/4101_Nicole.rev.1525361616.png 2x, /live/image/scale/3x/gid/68/width/345/height/225/crop/1/src_region/0,24,1139,1161/4101_Nicole.rev.1525361616.png 3x"/> <source type="image/png" srcset="/live/image/gid/68/width/345/height/225/crop/1/src_region/0,24,1139,1161/4101_Nicole.rev.1525361616.png 1x, /live/image/scale/2x/gid/68/width/345/height/225/crop/1/src_region/0,24,1139,1161/4101_Nicole.rev.1525361616.png 2x, /live/image/scale/3x/gid/68/width/345/height/225/crop/1/src_region/0,24,1139,1161/4101_Nicole.rev.1525361616.png 3x"/> <img src="/live/image/gid/68/width/345/height/225/crop/1/src_region/0,24,1139,1161/4101_Nicole.rev.1525361616.png" alt="Nicole Powell, E&H Class of 2016, in a photo taken during her zoo internship in St. Louis." width="345" height="225" srcset="/live/image/scale/2x/gid/68/width/345/height/225/crop/1/src_region/0,24,1139,1161/4101_Nicole.rev.1525361616.png 2x, /live/image/scale/3x/gid/68/width/345/height/225/crop/1/src_region/0,24,1139,1161/4101_Nicole.rev.1525361616.png 3x" data-max-w="1139" data-max-h="1137" loading="lazy"/> </picture> </a></span><div class="lw_widget_text"><h4 class="lw_profiles_headline"><a href="/live/profiles/2055-nicole-powell"><p> Nicole Powell's life is a like a zoo …and she loves it that way!</p></a></h4><div class="lw_profiles_description"><p> Nicole Powell has a nose for career success; but when it comes to stinky barns, she can't smell a thing.</p><p> Nicole is currently a "Swing Keeper" at the Memphis Zoo – which means she gets to move around from one area to another depending on where she's needed. One day she might be bottle-feeding baby goats, and another day she's helping  African Red River Hogs take a dip in the swimming pool. Nicole says they have young visitors who won't go into some of the places where she works because they say it smells so bad; "but honestly, I smell nothing!"</p><p> Nicole was a Biology major (Chemistry minor), and she's known for a long time this is the kind of work she wanted to do. At the end of her junior year at Emory & Henry she did an unpaid internship at the St. Louis Zoo in Missouri.  But zoo work doesn't come easily.</p><p> She has sent out 130 job applications. After graduation, she completed additional unpaid internships in Columbus, Ohio, and New Orleans. Nicole says most descriptions for job openings ask for several years of paid experience but sometimes they'll accept unpaid work because they expect up-and-comers to do that. "Three internships is average, but some do five."</p><p> She's happy to have this job in Memphis, even if it is only a part-time position. She understands that this is how it works: you get in the system and then you have the chance to move around to the best zoos and bigger jobs. When the chance arises, "I have to take the opportunity."</p><p> Nicole admits to wishing she could get back a bit closer to her home state of North Carolina, but she is willing to do what she needs to do in order to get closer to a fulltime, fulfilling career in zoo work, especially if it's a chance to work with giraffes. "I'd move anywhere for that job!"</p></div><a href="/live/profiles/2055-nicole-powell" class="link-with-arrow gold">Keep reading</a></div>
<span class="lw_item_thumb"><a href="/live/profiles/17-kyle-boden"><picture class="lw_image"> <source type="image/webp" srcset="/live/image/gid/2/width/345/height/225/crop/1/src_region/0,0,1000,666/26_28f97829f69611f15958da5f58be5431_f42621.rev.1490711184.webp 1x, /live/image/scale/2x/gid/2/width/345/height/225/crop/1/src_region/0,0,1000,666/26_28f97829f69611f15958da5f58be5431_f42621.rev.1490711184.webp 2x"/> <source type="image/jpeg" srcset="/live/image/gid/2/width/345/height/225/crop/1/src_region/0,0,1000,666/26_28f97829f69611f15958da5f58be5431_f42621.rev.1490711184.jpg 1x, /live/image/scale/2x/gid/2/width/345/height/225/crop/1/src_region/0,0,1000,666/26_28f97829f69611f15958da5f58be5431_f42621.rev.1490711184.jpg 2x"/> <img src="/live/image/gid/2/width/345/height/225/crop/1/src_region/0,0,1000,666/26_28f97829f69611f15958da5f58be5431_f42621.rev.1490711184.jpg" alt="" width="345" height="225" srcset="/live/image/scale/2x/gid/2/width/345/height/225/crop/1/src_region/0,0,1000,666/26_28f97829f69611f15958da5f58be5431_f42621.rev.1490711184.jpg 2x" data-max-w="1000" data-max-h="666" loading="lazy"/> </picture> </a></span><div class="lw_widget_text"><h4 class="lw_profiles_headline"><a href="/live/profiles/17-kyle-boden"><p> Kyle Boden '14 Continues to Find Success in Medical School</p></a></h4><div class="lw_profiles_description"><p> Kyle Boden became keenly aware of his responsibility to serve the community while attending Emory & Henry College.</p><p> During his first year at Emory & Henry, Boden found time to drive to a local elementary school where he read to a classroom of kindergarten students before returning to campus to switch gears, strapping on a football uniform for evening practice.</p><p> His contributions on campus didn't stop there. Honor student, skilled football player, and student leader, Boden has always been the epitome of what it takes to be admired and honored.</p><p> No doubt, his desire to serve others is what prompted the 2014 graduate to pursue a medical career. Beginning his second semester at East Tennessee State University's Quillen College of Medicine, Boden has a particular interest in orthopedic surgery.</p><blockquote> I am the first in my family to become a physician and to choose this specialty because I believe it provides a unique opportunity to positively impact those in my community. Medicine also provides an excellent opportunity to bridge the gap between my interest in the biological sciences and my desire to help people on a daily basis.</blockquote><p> "Emory & Henry taught me that it is better to dream the biggest, wildest dreams imaginable than to live my life in fear of failure. More importantly, Emory & Henry helped me develop the leadership skills necessary to provide the best possible care to my patients."</p><p> Boden said he was taught by many professors who left a lasting mark on him. "As a student at Emory & Henry, I valued the relationships I developed with my professors the most. It meant a great deal knowing my professors valued my growth as a person just as much, if not more than, my growth as a student."</p><p> Boden's accomplishments while a student at E&H did not go without recognition.</p><p> Boden, who played quarter back at the College, was awarded last May the Walter Byers Postgraduate Scholarship, one of the top scholar-athlete awards from the National Collegiate Athletic Association (NCAA). The award is given annually to one male and one female who are selected from among the more than 1,100 member institutions throughout all three NCAA divisions.</p><p> "It was an honor to receive the Walter Byers Postgraduate Scholarship and to represent Emory & Henry on a national level," Boden said. "I had the opportunity to go to the awards ceremony with my family in New Orleans last month and tell members of the NCAA from throughout the country how Emory & Henry shaped me into the person I am today."</p><p> The scholarship provides $48,000 of financial assistance toward post graduate education throughout the next two years.</p><p> Boden also was Emory & Henry's first Rhodes Scholar finalist in 109 years. The Rhodes Scholarships are the oldest and most celebrated international fellowship awards. The scholarship provides 32 recipients annually with an opportunity to study at Oxford University in England. Rhodes Scholars are chosen not only for their outstanding academic achievements, but for their character, leadership, and commitment to others.</p><p> "I don't get caught up in individual awards and accomplishments because my success at Emory & Henry was due to so many people who invested in me and pushed me to become the person I am today," he said.</p><p> "I hope people remember me as someone who lives each day to the fullest and treats his peers with respect and compassion."</p></div><a href="/live/profiles/17-kyle-boden" class="link-with-arrow gold">Keep reading</a></div>
<span class="lw_item_thumb"><a href="/live/profiles/3965-mary-katherine-herndon"><picture class="lw_image"> <source type="image/webp" srcset="/live/image/gid/10/width/345/height/225/crop/1/src_region/0,0,1018,1547/10030_AnyConv.com__Herndon_photo.rev.1627837389.webp 1x, /live/image/scale/2x/gid/10/width/345/height/225/crop/1/src_region/0,0,1018,1547/10030_AnyConv.com__Herndon_photo.rev.1627837389.webp 2x"/> <source type="image/jpeg" srcset="/live/image/gid/10/width/345/height/225/crop/1/src_region/0,0,1018,1547/10030_AnyConv.com__Herndon_photo.rev.1627837389.jpg 1x, /live/image/scale/2x/gid/10/width/345/height/225/crop/1/src_region/0,0,1018,1547/10030_AnyConv.com__Herndon_photo.rev.1627837389.jpg 2x"/> <img src="/live/image/gid/10/width/345/height/225/crop/1/src_region/0,0,1018,1547/10030_AnyConv.com__Herndon_photo.rev.1627837389.jpg" alt="" width="345" height="225" srcset="/live/image/scale/2x/gid/10/width/345/height/225/crop/1/src_region/0,0,1018,1547/10030_AnyConv.com__Herndon_photo.rev.1627837389.jpg 2x" data-max-w="1018" data-max-h="1547" loading="lazy"/> </picture> </a></span><div class="lw_widget_text"><h4 class="lw_profiles_headline"><a href="/live/profiles/3965-mary-katherine-herndon"></a></h4><div class="lw_profiles_description"><p><span style="font-weight: 400;">Hi! My name is Mary Katherine Herndon and I graduated from Emory & Henry College in 2018 with a B.S. in Biology. I am currently a third-year medical student at Quillen College of Medicine in Johnson City, TN class of 2023. I have finished my didactic years aka "book work" and am beginning my clinical training which I am thoroughly enjoying, especially the direct patient interaction. However, I am still trying to navigate what type of physician I want to be…stay tuned! Emory & Henry molded me into a student who is capable of handling the rigorous academic demands of medical school. My professors at Emory & Henry challenged me to ask more questions and always be an integral part of my learning experience. A few of my professors encouraged me to pursue medicine and highlighted how that profession would align well with my personality and my enthusiasm as a "life-long learner." I feel they saw my potential and challenged me to create a path which gave me a true vision for my future. The confidence, knowledge, guidance, and work ethic I developed at E&H were critical to my success in medical school.</span></p></div><a href="/live/profiles/3965-mary-katherine-herndon" class="link-with-arrow gold">Keep reading</a></div>
<span class="lw_item_thumb"><a href="/live/profiles/1947-ross-ellis"><picture class="lw_image"> <source type="image/webp" srcset="/live/image/gid/68/width/345/height/225/crop/1/src_region/142,366,693,917/3468_ross.rev.1520456379.webp 1x"/> <source type="image/jpeg" srcset="/live/image/gid/68/width/345/height/225/crop/1/src_region/142,366,693,917/3468_ross.rev.1520456379.jpg 1x"/> <img src="/live/image/gid/68/width/345/height/225/crop/1/src_region/142,366,693,917/3468_ross.rev.1520456379.jpg" alt="Ross Ellis, E&H Class of 2013." width="345" height="225" data-max-w="551" data-max-h="551" loading="lazy"/> </picture> </a></span><div class="lw_widget_text"><h4 class="lw_profiles_headline"><a href="/live/profiles/1947-ross-ellis"><p> Ross Ellis is a doctor of veterinary medicine in Chattanooga, Tennessee.</p></a></h4><div class="lw_profiles_description"><div class="_h8t"><div class="_5wd9 direction_ltr"><div class="_5wde _n4o"><div class="_5w1r _3_om _5wdf"><div class="_4gx_"><div class="_d97"><span class="_5yl5">Dr. Ross Ellis is a 2013 Emory & Henry grad who graduated from the veterinary school at the University of Tennessee. He is now working as a small animal emergency veterinarian at a referral hospital in Chattanooga, Tennessee.</span></div><div class="_d97"></div><div class="_d97"><span class="_5yl5">While at Emory Ross was a member of the football team, president of the blue key honor society, and was a resident advisor in Wiley Jackson residence Hall. </span></div></div></div></div></div></div></div><a href="/live/profiles/1947-ross-ellis" class="link-with-arrow gold">Keep reading</a></div>
<span class="lw_item_thumb"><a href="/live/profiles/1017-emma-sturgill"><picture class="lw_image"> <source type="image/webp" srcset="/live/image/gid/10/width/345/height/225/crop/1/src_region/0,0,377,384/1144_Profile.rev.1510677783.webp 1x"/> <source type="image/jpeg" srcset="/live/image/gid/10/width/345/height/225/crop/1/src_region/0,0,377,384/1144_Profile.rev.1510677783.jpg 1x"/> <img src="/live/image/gid/10/width/345/height/225/crop/1/src_region/0,0,377,384/1144_Profile.rev.1510677783.jpg" alt="Biology alumna Emma Sturgill" width="345" height="225" data-max-w="377" data-max-h="384" loading="lazy"/> </picture> </a></span><div class="lw_widget_text"><h4 class="lw_profiles_headline"><a href="/live/profiles/1017-emma-sturgill"><p> From Biology student to biotechnology entrepreneur</p></a></h4><div class="lw_profiles_description"><p> Emma graduated from the Emory & Henry Biology Department in 2009 and continued on to Vanderbilt University in Nashville, TN to study the activity of cytoskeletal proteins during cell division.  Upon obtaining her PhD in Cell Biology in 2014, Emma launched a biotechnology company that specializes in protein manufacturing.  She enjoys working at the intersection of research, entrepreneurship, and STEM education, and attributes her fascination for biology to her experiences at E&H.</p></div><a href="/live/profiles/1017-emma-sturgill" class="link-with-arrow gold">Keep reading</a></div>
<span class="lw_item_thumb"><a href="/live/profiles/1069-evelyn-hill"><picture class="lw_image"> <source type="image/webp" srcset="/live/image/gid/10/width/345/height/225/crop/1/src_region/0,0,819,1026/1436_AnnaHill.rev.1511978808.webp 1x, /live/image/scale/2x/gid/10/width/345/height/225/crop/1/src_region/0,0,819,1026/1436_AnnaHill.rev.1511978808.webp 2x"/> <source type="image/jpeg" srcset="/live/image/gid/10/width/345/height/225/crop/1/src_region/0,0,819,1026/1436_AnnaHill.rev.1511978808.jpg 1x, /live/image/scale/2x/gid/10/width/345/height/225/crop/1/src_region/0,0,819,1026/1436_AnnaHill.rev.1511978808.jpg 2x"/> <img src="/live/image/gid/10/width/345/height/225/crop/1/src_region/0,0,819,1026/1436_AnnaHill.rev.1511978808.jpg" alt="Anna Hill, working with the Humane Society Veterinary Medical Association (HSVMA) Remote Area Veterinary Services (RAVS) program on a Nat..." width="345" height="225" srcset="/live/image/scale/2x/gid/10/width/345/height/225/crop/1/src_region/0,0,819,1026/1436_AnnaHill.rev.1511978808.jpg 2x" data-max-w="819" data-max-h="1026" loading="lazy"/> </picture> </a></span><div class="lw_widget_text"><h4 class="lw_profiles_headline"><a href="/live/profiles/1069-evelyn-hill"><p> Veterinary student Anna Hill (2014) works with the Center for Animal and Human Health in Appalachia (CAHA).</p></a></h4><div class="lw_profiles_description"><p> I graduated from Emory & Henry in 2014 with a major in Biology and minor in Chemistry and am currently a third year vet student at Lincoln Memorial University College of Veterinary Medicine in Harrogate, TN. Although much of my time is spent in the classroom learning the fundamentals (everything from anatomy and physiology to medical and surgical techniques) for a variety of animal species, much of my curriculum is hands-on through the labs in my clinical and professional skills courses. Starting at the beginning of first semester I was learning how to do physical exams on both large and small animal patients. During that time, we also began working on our motor skills, doing things like stacking beads and tying knots with surgical instruments to work on dexterity and motor skills. This past (fifth) semester, I have been able to put all those skills and knowledge into practice, performing full physical exams, determining anesthetic protocols, and completing surgeries on our partnering shelter animals that have gone on to be adopted. I have also gotten to work with our larger resident teaching animals, doing things such as performing lameness and neurologic exams on horses and pregnancy checks in our herd of Jersey cows. Many people don't realize that all veterinarians learn about and are knowledgeable about all kinds of animals, regardless of what species they intend on working with.</p><p> This summer (2017), I worked on a research project through the Center for Animal and Human Health in Appalachia (CAHA), based here at LMU-CVM, which examined the role of One Health in in rural Appalachia, specifically eastern Kentucky. Part of LMU-CVM's mission statement includes service to the Appalachian region, something I can really appreciate as a graduate of Emory & Henry where service to community is so heavily emphasized. I don't have any specific plans for after graduation at the moment but I would love to stay in rural Appalachia and practice mixed animal medicine. I am looking forward to completing my didactic learning here on campus and starting my fourth year full of clinical rotations at veterinary clinics across the country. I'm excited to be closer to my childhood dream of being a veterinarian and using my knowledge and skills to serve my community.</p></div><a href="/live/profiles/1069-evelyn-hill" class="link-with-arrow gold">Keep reading</a></div>
<span class="lw_item_thumb"><a href="/live/profiles/2467-stephanie-edwards"><picture class="lw_image"> <source type="image/webp" srcset="/live/image/gid/10/width/345/height/225/crop/1/src_region/755,0,2553,1801/5694_S.Edwards_Headshot.rev.1543346401.webp 1x, /live/image/scale/2x/gid/10/width/345/height/225/crop/1/src_region/755,0,2553,1801/5694_S.Edwards_Headshot.rev.1543346401.webp 2x, /live/image/scale/3x/gid/10/width/345/height/225/crop/1/src_region/755,0,2553,1801/5694_S.Edwards_Headshot.rev.1543346401.webp 3x"/> <source type="image/jpeg" srcset="/live/image/gid/10/width/345/height/225/crop/1/src_region/755,0,2553,1801/5694_S.Edwards_Headshot.rev.1543346401.jpg 1x, /live/image/scale/2x/gid/10/width/345/height/225/crop/1/src_region/755,0,2553,1801/5694_S.Edwards_Headshot.rev.1543346401.jpg 2x, /live/image/scale/3x/gid/10/width/345/height/225/crop/1/src_region/755,0,2553,1801/5694_S.Edwards_Headshot.rev.1543346401.jpg 3x"/> <img src="/live/image/gid/10/width/345/height/225/crop/1/src_region/755,0,2553,1801/5694_S.Edwards_Headshot.rev.1543346401.jpg" alt="Stephanie Edwards" width="345" height="225" srcset="/live/image/scale/2x/gid/10/width/345/height/225/crop/1/src_region/755,0,2553,1801/5694_S.Edwards_Headshot.rev.1543346401.jpg 2x, /live/image/scale/3x/gid/10/width/345/height/225/crop/1/src_region/755,0,2553,1801/5694_S.Edwards_Headshot.rev.1543346401.jpg 3x" data-max-w="1798" data-max-h="1801" loading="lazy"/> </picture> </a></span><div class="lw_widget_text"><h4 class="lw_profiles_headline"><a href="/live/profiles/2467-stephanie-edwards"><p> Stephanie Edwards pursues PhD focusing on lipids and ovarian cancer.</p></a></h4><div class="lw_profiles_description"><p> I am a Ph.D. student at Virginia Tech in the Department of Human Nutrition, Foods, and Exercise with an emphasis in Molecular and Cellular Science. My research involves investigating cellular metabolism and mitochondrial aggregation of serous ovarian cancer, specifically focusing on the effects of sphingolipids, such as sphingosine-1-phosphate, on ovarian cancer monolayers and spheroids. In addition to my research, I am also a member of the American Association of Cancer Research and the Virginia Tech Graduate Academy of Teaching Excellence.</p><p>  </p><p> I am so appreciative of the education I received at Emory & Henry, especially within the Biology department. The variety of courses offered at E&H contributed to a broad biological knowledge background that benefits me in class and in the lab. Conducting my own research experiment, from idea development to funding to presentations, has prepared me for my Ph.D. beyond what other institutions provide to their students. My Biology education, combined with the liberal arts education that E&H does best, has also made me a more translational scientist capable of working across the research spectrum with different scientists. Whether you want to enter cell biology, healthcare, or animal sciences, the Biology department at E&H gives you a strong foundation on which to build your future career.</p></div><a href="/live/profiles/2467-stephanie-edwards" class="link-with-arrow gold">Keep reading</a></div>
<span class="lw_item_thumb"><a href="/live/profiles/4078-caroline-french"><picture class="lw_image"> <source type="image/webp" srcset="/live/image/gid/10/width/345/height/225/crop/1/src_region/0,0,2400,3200/10434_French_alum_S21.rev.1635384579.webp 1x, /live/image/scale/2x/gid/10/width/345/height/225/crop/1/src_region/0,0,2400,3200/10434_French_alum_S21.rev.1635384579.webp 2x, /live/image/scale/3x/gid/10/width/345/height/225/crop/1/src_region/0,0,2400,3200/10434_French_alum_S21.rev.1635384579.webp 3x"/> <source type="image/jpeg" srcset="/live/image/gid/10/width/345/height/225/crop/1/src_region/0,0,2400,3200/10434_French_alum_S21.rev.1635384579.jpg 1x, /live/image/scale/2x/gid/10/width/345/height/225/crop/1/src_region/0,0,2400,3200/10434_French_alum_S21.rev.1635384579.jpg 2x, /live/image/scale/3x/gid/10/width/345/height/225/crop/1/src_region/0,0,2400,3200/10434_French_alum_S21.rev.1635384579.jpg 3x"/> <img src="/live/image/gid/10/width/345/height/225/crop/1/src_region/0,0,2400,3200/10434_French_alum_S21.rev.1635384579.jpg" alt="Caroline French, E&H Biology '21" width="345" height="225" srcset="/live/image/scale/2x/gid/10/width/345/height/225/crop/1/src_region/0,0,2400,3200/10434_French_alum_S21.rev.1635384579.jpg 2x, /live/image/scale/3x/gid/10/width/345/height/225/crop/1/src_region/0,0,2400,3200/10434_French_alum_S21.rev.1635384579.jpg 3x" data-max-w="2400" data-max-h="3200" loading="lazy"/> </picture> </a></span><div class="lw_widget_text"><h4 class="lw_profiles_headline"><a href="/live/profiles/4078-caroline-french"></a></h4><div class="lw_profiles_description"><p><span style="font-weight: 400;">Caroline graduated with a Biology degree in 2021 and is an M.S. student in the Richardson lab at UNC Charlotte. The lab currently has projects studying DNA repair and genome stability, and DNA damage-induced chromosomal rearrangements in leukemia.</span></p></div><a href="/live/profiles/4078-caroline-french" class="link-with-arrow gold">Keep reading</a></div>
<span class="lw_item_thumb"><a href="/live/profiles/1018-william-wadlington"><picture class="lw_image"> <source type="image/webp" srcset="/live/image/gid/10/width/345/height/225/crop/1/src_region/0,0,411,441/1145_Wadlington.rev.1510678188.webp 1x"/> <source type="image/jpeg" srcset="/live/image/gid/10/width/345/height/225/crop/1/src_region/0,0,411,441/1145_Wadlington.rev.1510678188.jpg 1x"/> <img src="/live/image/gid/10/width/345/height/225/crop/1/src_region/0,0,411,441/1145_Wadlington.rev.1510678188.jpg" alt="Biology alumnus Will Wadlington" width="345" height="225" data-max-w="411" data-max-h="441" loading="lazy"/> </picture> </a></span><div class="lw_widget_text"><h4 class="lw_profiles_headline"><a href="/live/profiles/1018-william-wadlington"><p> Salad Days</p></a></h4><div class="lw_profiles_description"><p> Will Wadlington ('08) recently shared a little tidbit:</p><p> "You may like to know I just accepted a new position as Lettuce Breeder, fyi."</p><p> How could we not have follow up questions??</p><p> He recently defended his Ph. D. work in Plant Biology at the University of Illinois, and his current research is on spinach sex chromosomes. Working at Everglades Research & Education Center, Dr. Wadlington says they are doing research to determine how plants control whether they are male or female. "We don't really know how plants do that, so I'm researching how spinach (my specialty) and also papaya use sex chromosomes to have male or female plants.  It's basic research to figure out how botany works."</p><p> Turns out there's an advantage to being able to change the sex of spinach: "I developed a variety of spinach that makes YY spinach (not XX not XY but with two Y's).  Breeders use those for seed production to make the most pollen."</p><p> His next post-doc job will be working with lettuce. In particular, he's looking at making lettuce more disease-resistant.  "Lettuce in the field gets pathogens sometimes and it can ruin a crop or make them ugly.  We are finding varieties that are resistant to common diseases so we can then breed naturally occurring resistance genes into major lines."</p><p> The hope is for less food waste and higher quality produce – which is great for growers, but also for the environment. "Disease-resistant lettuce requires fewer chemical sprays when cultivated, so it's cheaper to produce, better for the environment, and great for the people that work in the fields and eat salads."</p><p> Let-us all hope for Will's success.</p></div><a href="/live/profiles/1018-william-wadlington" class="link-with-arrow gold">Keep reading</a></div>
<span class="lw_item_thumb"><a href="/live/profiles/3880-sarah-buchanan"><picture class="lw_image"> <source type="image/webp" srcset="/live/image/gid/10/width/345/height/225/crop/1/src_region/0,0,1447,2117/9725_Sarah_Buchanan.rev.1618605729.webp 1x, /live/image/scale/2x/gid/10/width/345/height/225/crop/1/src_region/0,0,1447,2117/9725_Sarah_Buchanan.rev.1618605729.webp 2x, /live/image/scale/3x/gid/10/width/345/height/225/crop/1/src_region/0,0,1447,2117/9725_Sarah_Buchanan.rev.1618605729.webp 3x"/> <source type="image/jpeg" srcset="/live/image/gid/10/width/345/height/225/crop/1/src_region/0,0,1447,2117/9725_Sarah_Buchanan.rev.1618605729.jpg 1x, /live/image/scale/2x/gid/10/width/345/height/225/crop/1/src_region/0,0,1447,2117/9725_Sarah_Buchanan.rev.1618605729.jpg 2x, /live/image/scale/3x/gid/10/width/345/height/225/crop/1/src_region/0,0,1447,2117/9725_Sarah_Buchanan.rev.1618605729.jpg 3x"/> <img src="/live/image/gid/10/width/345/height/225/crop/1/src_region/0,0,1447,2117/9725_Sarah_Buchanan.rev.1618605729.jpg" alt="" width="345" height="225" srcset="/live/image/scale/2x/gid/10/width/345/height/225/crop/1/src_region/0,0,1447,2117/9725_Sarah_Buchanan.rev.1618605729.jpg 2x, /live/image/scale/3x/gid/10/width/345/height/225/crop/1/src_region/0,0,1447,2117/9725_Sarah_Buchanan.rev.1618605729.jpg 3x" data-max-w="1447" data-max-h="2117" loading="lazy"/> </picture> </a></span><div class="lw_widget_text"><h4 class="lw_profiles_headline"><a href="/live/profiles/3880-sarah-buchanan"></a></h4><div class="lw_profiles_description"><p><span style="font-weight: 400;">Sarah Buchanan OD graduated from Emory & Henry College in 2016 with a degree in biology. She then attended the Kentucky College of Optometry where she completed her training to become an optometrist in 2020. She currently works in Johnson City, TN at I Care Vision Associates where she regularly sees patients for comprehensive vision exams as well as treating disease. Sarah also works at Woolfson Eye Institute in Johnson City where she does LASIK consults with patients to see if they are candidates for surgery and plans the surgeries for those that are.</span></p></div><a href="/live/profiles/3880-sarah-buchanan" class="link-with-arrow gold">Keep reading</a></div>
<span class="lw_item_thumb"><a href="/live/profiles/2461-emma-sturgill"><picture class="lw_image"> <source type="image/webp" srcset="/live/image/gid/68/width/345/height/225/crop/1/src_region/0,0,960,960/5661_Emma_sturgill.rev.1542300590.webp 1x, /live/image/scale/2x/gid/68/width/345/height/225/crop/1/src_region/0,0,960,960/5661_Emma_sturgill.rev.1542300590.webp 2x"/> <source type="image/jpeg" srcset="/live/image/gid/68/width/345/height/225/crop/1/src_region/0,0,960,960/5661_Emma_sturgill.rev.1542300590.jpg 1x, /live/image/scale/2x/gid/68/width/345/height/225/crop/1/src_region/0,0,960,960/5661_Emma_sturgill.rev.1542300590.jpg 2x"/> <img src="/live/image/gid/68/width/345/height/225/crop/1/src_region/0,0,960,960/5661_Emma_sturgill.rev.1542300590.jpg" alt="Emma Sturgill, E&H Class of 2009." width="345" height="225" srcset="/live/image/scale/2x/gid/68/width/345/height/225/crop/1/src_region/0,0,960,960/5661_Emma_sturgill.rev.1542300590.jpg 2x" data-max-w="960" data-max-h="960" loading="lazy"/> </picture> </a></span><div class="lw_widget_text"><h4 class="lw_profiles_headline"><a href="/live/profiles/2461-emma-sturgill"><p> Emma Sturgill is a scientific researcher <em>and</em> an entrepreneur. </p></a></h4><div class="lw_profiles_description"><p> Emma Sturgill, PhD, graduated from the Emory & Henry College in 2009 with a degree in Biology. She continued her education at Vanderbilt University in Nashville, Tennessee, to study the activity of cytoskeletal proteins during cell division.  Upon obtaining her PhD in Cell Biology in 2014, Emma launched a biotechnology company, PurSolutions, LLC that specializes in protein manufacturing and self-assembling technologies. <br/><br/> PurSolutions, LLC is a startup biotechnology company located in Nashville that works to harness cytoskeletal proteins for self-assembly innovations and advancements in research. They operate under the premise that nature has devised the most powerful and efficient mechanisms imaginable, and work at the intersection of biology and engineering to harness natural phenomena for synthetic applications. They work to supply premium quality cytoskeletal proteins as easily accessible reagents and harness the cytoskeleton for self-assembling materials and devices.</p><p> Emma describes her work this way: "The 'cytoskeleton' is the cell's internal skeleton.  It is made of protein building blocks that constantly rearrange in order to allow the cell to move and have shape.  At PurSolutions, we purify the individual protein building blocks away from the rest of the cell so that researchers can study them in isolation.  Researchers use our protein products to better understand the life of the cell and what goes wrong during human disease."</p><p> She says she owes her fascination for cell biology to Emory & Henry. "Learning that the cell, the most basic unit of life, has molecular transport highways, power plants, assembly lines, and information data banks opened my eyes to the dynamic, microscopic world that is the center of human health and disease.  The emphasis that E&H places on the liberal arts and community service further encouraged me to work at the intersection of multiple disciplines, including entrepreneurship and education."</p></div><a href="/live/profiles/2461-emma-sturgill" class="link-with-arrow gold">Keep reading</a></div>
<span class="lw_item_thumb"><a href="/live/profiles/706-kellie-flaherty"><picture class="lw_image"> <source type="image/webp" srcset="/live/image/gid/2/width/345/height/225/crop/1/src_region/0,0,100,100/356_static1.squarespace.rev.1500388033.webp 1x"/> <source type="image/jpeg" srcset="/live/image/gid/2/width/345/height/225/crop/1/src_region/0,0,100,100/356_static1.squarespace.rev.1500388033.jpg 1x"/> <img src="/live/image/gid/2/width/345/height/225/crop/1/src_region/0,0,100,100/356_static1.squarespace.rev.1500388033.jpg" alt="" width="345" height="225" data-max-w="100" data-max-h="100" loading="lazy"/> </picture> </a></span><div class="lw_widget_text"><h4 class="lw_profiles_headline"><a href="/live/profiles/706-kellie-flaherty"><p> Pursing a Passion for Helping Others </p></a></h4><div class="lw_profiles_description"><p> During Kellie's time at E&H she discovered her passion for helping others through the healthcare field and desire to become a PA.</p><p> I graduated from E&H with a B.S. in Biology and minor in Chemistry.  I will complete my Masters in Physician Assistant Studies from the University of Arkansas for Medical Sciences (UAMS) this August and return to Texarkana, Texas where I have accepted a position as a Hospitalist. During my time at E&H I found myself traveling to Eastern Europe for Cross-cultural Psychology and to Costa Rica for Tropical Biology.  These experiences abroad sparked my passion for international travel.  Between college and grad school, I again had an opportunity to travel internationally when I ventured a second time to Costa Rica for my first mission trip. I am partnered with an international ministry based in Texarkana and intend to incorporate my medical training with missions.  My compassion for people inspired me to pursue healthcare, where I will be able to facilitate healing for the whole person - spirit, soul, and body.</p><blockquote> "E&H was absolutely the right place for my undergraduate education.  The college's motto "increase in excellence" is manifested in an environment that encourages students to achieve their full potential.  E&H has countless opportunities to become involved, whatever your passion is - there is a place for you!  I had the honor of being co-captain of the women's soccer team, where I developed a strong sense of community, the meaning of team, and commitment.  I participated in numerous organizations from Fellowship of Christian Athletes to residence life to the biological honor society.  Through the Outdoor Program I discovered my enjoyment of backpacking on the Appalachian Trail.  The cultural history of Appalachia interwoven with innovative programs provides a high-quality and unique experience that makes E&H a hidden treasure."</blockquote></div><a href="/live/profiles/706-kellie-flaherty" class="link-with-arrow gold">Keep reading</a></div>
<span class="lw_item_thumb"><a href="/live/profiles/2453-callee-blankenbeckler"><picture class="lw_image"> <source type="image/webp" srcset="/live/image/gid/68/width/345/height/225/crop/1/src_region/0,0,1356,2048/5646_image1_1.rev.1541713890.webp 1x, /live/image/scale/2x/gid/68/width/345/height/225/crop/1/src_region/0,0,1356,2048/5646_image1_1.rev.1541713890.webp 2x, /live/image/scale/3x/gid/68/width/345/height/225/crop/1/src_region/0,0,1356,2048/5646_image1_1.rev.1541713890.webp 3x"/> <source type="image/jpeg" srcset="/live/image/gid/68/width/345/height/225/crop/1/src_region/0,0,1356,2048/5646_image1_1.rev.1541713890.jpg 1x, /live/image/scale/2x/gid/68/width/345/height/225/crop/1/src_region/0,0,1356,2048/5646_image1_1.rev.1541713890.jpg 2x, /live/image/scale/3x/gid/68/width/345/height/225/crop/1/src_region/0,0,1356,2048/5646_image1_1.rev.1541713890.jpg 3x"/> <img src="/live/image/gid/68/width/345/height/225/crop/1/src_region/0,0,1356,2048/5646_image1_1.rev.1541713890.jpg" alt="Dr. Callee Blankenbeckler, E&H Class of 2014." width="345" height="225" srcset="/live/image/scale/2x/gid/68/width/345/height/225/crop/1/src_region/0,0,1356,2048/5646_image1_1.rev.1541713890.jpg 2x, /live/image/scale/3x/gid/68/width/345/height/225/crop/1/src_region/0,0,1356,2048/5646_image1_1.rev.1541713890.jpg 3x" data-max-w="1356" data-max-h="2048" loading="lazy"/> </picture> </a></span><div class="lw_widget_text"><h4 class="lw_profiles_headline"><a href="/live/profiles/2453-callee-blankenbeckler"><p> Callee Blankenbeckler is a pharmacist who has a special talent for interacting with people.</p></a></h4><div class="lw_profiles_description"><p><strong>Dr. Callee Danielle Blankenbeckler</strong> is a 2014 Emory & Henry graduate who majored in biology. In May, 2018, she graduated summa cum laude with a Doctor of Pharmacy degree from Bill Gatton College of Pharmacy at ETSU. She is a pharmacist licensed in Virginia and Tennessee and is currently working for Food City pharmacy.</p><p> Callee finds the most rewarding part of her career being able to help patients better their health. "I find that pharmacists are among the most trusted professionals, and I like that I can be available for them to talk to.  I've had so many conversations where a patient just needs someone to listen, and I'm so happy for any chance to brighten someone's day a little."</p><p> Callee says she had planned to go into pharmacy since she was a middle school student! And she is grateful for the preparation Emory & Henry gave her for her post undergraduate education. "I was definitely ahead of the game when I started pharmacy school. The education I received at Emory & Henry was far more than sufficient, including background knowledge of biology and chemistry and managing the course load."</p><p> She enthusiastically encourages other young people to consider this field, and suggests they find a pharmacist who would allow them to shadow them at work or hints that they might get a pharmacy technician certification that will allow them to get experience in the field. "It's an amazing career with a lot of different avenues you can take."</p></div><a href="/live/profiles/2453-callee-blankenbeckler" class="link-with-arrow gold">Keep reading</a></div>
<span class="lw_item_thumb"><a href="/live/profiles/4143-maggie-crutchfield"><picture class="lw_image"> <source type="image/webp" srcset="/live/image/gid/10/width/345/height/225/crop/1/src_region/0,0,1296,1936/10820_Crutchfield_alum.rev.1644807568.JPG 1x, /live/image/scale/2x/gid/10/width/345/height/225/crop/1/src_region/0,0,1296,1936/10820_Crutchfield_alum.rev.1644807568.JPG 2x, /live/image/scale/3x/gid/10/width/345/height/225/crop/1/src_region/0,0,1296,1936/10820_Crutchfield_alum.rev.1644807568.JPG 3x"/> <source type="image/webp" srcset="/live/image/gid/10/width/345/height/225/crop/1/src_region/0,0,1296,1936/10820_Crutchfield_alum.rev.1644807568.JPG 1x, /live/image/scale/2x/gid/10/width/345/height/225/crop/1/src_region/0,0,1296,1936/10820_Crutchfield_alum.rev.1644807568.JPG 2x, /live/image/scale/3x/gid/10/width/345/height/225/crop/1/src_region/0,0,1296,1936/10820_Crutchfield_alum.rev.1644807568.JPG 3x"/> <source type="image/jpeg" srcset="/live/image/gid/10/width/345/height/225/crop/1/src_region/0,0,1296,1936/10820_Crutchfield_alum.rev.1644807568.JPG 1x, /live/image/scale/2x/gid/10/width/345/height/225/crop/1/src_region/0,0,1296,1936/10820_Crutchfield_alum.rev.1644807568.JPG 2x, /live/image/scale/3x/gid/10/width/345/height/225/crop/1/src_region/0,0,1296,1936/10820_Crutchfield_alum.rev.1644807568.JPG 3x"/> <img src="/live/image/gid/10/width/345/height/225/crop/1/src_region/0,0,1296,1936/10820_Crutchfield_alum.rev.1644807568.JPG" alt="Maggie Crutchfield" width="345" height="225" srcset="/live/image/scale/2x/gid/10/width/345/height/225/crop/1/src_region/0,0,1296,1936/10820_Crutchfield_alum.rev.1644807568.JPG 2x, /live/image/scale/3x/gid/10/width/345/height/225/crop/1/src_region/0,0,1296,1936/10820_Crutchfield_alum.rev.1644807568.JPG 3x" data-max-w="1296" data-max-h="1936" loading="lazy"/> </picture> </a></span><div class="lw_widget_text"><h4 class="lw_profiles_headline"><a href="/live/profiles/4143-maggie-crutchfield"></a></h4><div class="lw_profiles_description"><p> Maggie is a 2021 graduate of the Biology Department, and is now enrolled in Emory & Henry's Doctorate of Physical Therapy program.</p></div><a href="/live/profiles/4143-maggie-crutchfield" class="link-with-arrow gold">Keep reading</a></div>
<span class="lw_item_thumb"><a href="/live/profiles/3966-emily-hill"><picture class="lw_image"> <source type="image/webp" srcset="/live/image/gid/10/width/345/height/225/crop/1/src_region/0,0,2316,3088/10031_Me.rev.1627837532.webp 1x, /live/image/scale/2x/gid/10/width/345/height/225/crop/1/src_region/0,0,2316,3088/10031_Me.rev.1627837532.webp 2x, /live/image/scale/3x/gid/10/width/345/height/225/crop/1/src_region/0,0,2316,3088/10031_Me.rev.1627837532.webp 3x"/> <source type="image/jpeg" srcset="/live/image/gid/10/width/345/height/225/crop/1/src_region/0,0,2316,3088/10031_Me.rev.1627837532.jpg 1x, /live/image/scale/2x/gid/10/width/345/height/225/crop/1/src_region/0,0,2316,3088/10031_Me.rev.1627837532.jpg 2x, /live/image/scale/3x/gid/10/width/345/height/225/crop/1/src_region/0,0,2316,3088/10031_Me.rev.1627837532.jpg 3x"/> <img src="/live/image/gid/10/width/345/height/225/crop/1/src_region/0,0,2316,3088/10031_Me.rev.1627837532.jpg" alt="" width="345" height="225" srcset="/live/image/scale/2x/gid/10/width/345/height/225/crop/1/src_region/0,0,2316,3088/10031_Me.rev.1627837532.jpg 2x, /live/image/scale/3x/gid/10/width/345/height/225/crop/1/src_region/0,0,2316,3088/10031_Me.rev.1627837532.jpg 3x" data-max-w="2316" data-max-h="3088" loading="lazy"/> </picture> </a></span><div class="lw_widget_text"><h4 class="lw_profiles_headline"><a href="/live/profiles/3966-emily-hill"></a></h4><div class="lw_profiles_description"><p><span style="font-weight: 400;">My name is Emily Hill and I graduated in the Spring of 2021 with a double major in Biology and Chemistry. I am currently a research technician at Massachusetts General Hospital in Boston and</span> <span style="font-weight: 400;">am involved in a high dimensional immunology project, related to ALS and vaccine development. In the near future, I hope to apply to medical school.</span></p><p><span style="font-weight: 400;">My experience in the E&H biology department was immeasurable; I was provided an environment in which I could better my personal portfolio in preparation for medical school and learn under the most supportive faculty I've met to date. It is truly an experience I would recommend to anyone–especially those who want a personal learning experience in which they have plenty of opportunity to interact with professors and other students.</span></p></div><a href="/live/profiles/3966-emily-hill" class="link-with-arrow gold">Keep reading</a></div>