Volunteer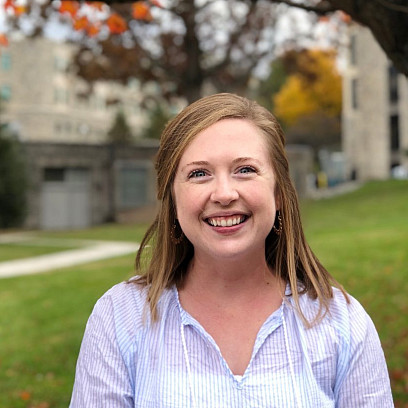 Kadie Britt, E&H Class of 2013, came to campus to do a lyceum event for current students.
There are many ways to be involved: share your knowledge, share your time, share your network…just share a little of YOU as an alumni volunteer. 
Alumni Volunteers assist graduating seniors with academic regalia. This happens annually in May. Let us know you'd like to help! alumni@ehc.edu 
Alumni gather in various cities on the same evening for a happy hour event aimed at allowing alumni to get to know other  E&Hers  in their area. This happens annually in March, and we need volunteers to help host events.
Faculty-Staff Social
The  E&H  Alumni Board hosts the first Emory & Henry Faculty/Staff Social of the school year. It's a wonderful opportunity to meet other alumni and to see your favorite faculty members! This occurs annually in August. Be in touch! alumni@ehc.edu
LinkedIn
The Emory & Henry LinkedIn Company Page — If you're not registered there, do that now! We encourage students to use this link for job networking and we'd love to have your involvement.
The  E&H  Alumni Board of Directors
We're always looking for alumni who would like to serve E&H through this leadership board. Let us know if you're interested in serving as opportunities allow. alumni@ehc.edu
On-Campus Event Volunteers
When the College throws a particularly big event (inaugurations, commencement, etc.) they often need volunteers to help as ushers and helpers. Watch the calendar for opportunities, or be in touch: alumni@ehc.edu 
Event Attendance
Never underestimate the importance of your attendance at organized events. Join the fun, and make the event truly successful. Check out upcoming events!
Student Referral
Referring a prospective student to Emory & Henry College is one of the greatest things you can do to assist the College in promoting its mission. If you know of a potential college student who'd be a productive member of the E&H community, let us know!
Donate
A gift to the Emory & Henry Fund is a great way to be involved at the College. Your gift supports the students and the work of the faculty— and giving online is easy!
Promote
If you use Facebook or Twitter or any other form of social media, use it to promote Emory & Henry's good news. "Like" and "Follow" the Emory & Henry page for breaking news, then share it with your friends and colleagues.
Meet Our Alumni
<span class="lw_item_thumb"><a href="/live/profiles/3028-dr-adam-pugh"><picture class="lw_image"> <source type="image/webp" srcset="/live/image/gid/68/width/345/height/225/crop/1/src_region/0,32,1947,1977/7197_Head_Shot.rev.1575315387.webp 1x, /live/image/scale/2x/gid/68/width/345/height/225/crop/1/src_region/0,32,1947,1977/7197_Head_Shot.rev.1575315387.webp 2x, /live/image/scale/3x/gid/68/width/345/height/225/crop/1/src_region/0,32,1947,1977/7197_Head_Shot.rev.1575315387.webp 3x"/> <source type="image/jpeg" srcset="/live/image/gid/68/width/345/height/225/crop/1/src_region/0,32,1947,1977/7197_Head_Shot.rev.1575315387.jpg 1x, /live/image/scale/2x/gid/68/width/345/height/225/crop/1/src_region/0,32,1947,1977/7197_Head_Shot.rev.1575315387.jpg 2x, /live/image/scale/3x/gid/68/width/345/height/225/crop/1/src_region/0,32,1947,1977/7197_Head_Shot.rev.1575315387.jpg 3x"/> <img src="/live/image/gid/68/width/345/height/225/crop/1/src_region/0,32,1947,1977/7197_Head_Shot.rev.1575315387.jpg" alt="Dr. Adam Pugh is a 2014 graduate of Emory & Henry, and a 2018 graduate of the E&H School of Health Sciences." width="345" height="225" srcset="/live/image/scale/2x/gid/68/width/345/height/225/crop/1/src_region/0,32,1947,1977/7197_Head_Shot.rev.1575315387.jpg 2x, /live/image/scale/3x/gid/68/width/345/height/225/crop/1/src_region/0,32,1947,1977/7197_Head_Shot.rev.1575315387.jpg 3x" data-max-w="1947" data-max-h="1945" loading="lazy"/> </picture> </a></span><div class="lw_widget_text"><h4 class="lw_profiles_headline"><a href="/live/profiles/3028-dr-adam-pugh"><p> Dr. Adam Pugh is a Physical Therapist at BenchMark Physical Therapy.</p></a></h4><div class="lw_profiles_description"><p> Dr. Adam Pugh is a 2014 graduate of Emory & Henry College. In May of 2018 he graduated from the Doctor of Physical Therapy program at Emory & Henry School of Health Sciences. He was part of the inaugural class.  <br/><br/> He and his wife, Amber, welcomed their first baby (a son) into their family in March of 2019.<br/><br/> Adam is currently the clinic director and physical therapist at BenchMark Physical Therapy in Marion, Virginia, and he says the part of the job he most enjoys is "getting to work with a variety of people from a variety of backgrounds to help them achieve their best in life."<br/><br/> Because Adam completed his Physical Therapy degree as part of the E&H School of Health Sciences' inaugural class, he had to enter the program with a lot of faith because the program's accreditation didn't officially occur until the first cohort completed their course work and they were just about to graduate from the program. When asked if that ever concerned him, Adam says, "I never once doubted that Emory & Henry wouldn't become accredited. This school excels in everything that it does academically and I knew this wouldn't be any different. It's no wonder why E&H has been known to be one of the top 100 colleges that changes lives."<br/><br/> These days Adam is busy seeing 10-18 clients a day. He says the best part of his job is "getting to interact with the people of the community, build lasting relationships, and become a part of their healing story."    </p></div><a href="/live/profiles/3028-dr-adam-pugh" class="link-with-arrow gold">Keep reading</a></div>
<span class="lw_item_thumb"><a href="/live/profiles/2314-tammy-parks"><picture class="lw_image"> <source type="image/webp" srcset="/live/image/gid/68/width/345/height/225/crop/1/src_region/6,0,157,150/4597_Tammy_Parks.rev.1536941020.webp 1x"/> <source type="image/jpeg" srcset="/live/image/gid/68/width/345/height/225/crop/1/src_region/6,0,157,150/4597_Tammy_Parks.rev.1536941020.jpg 1x"/> <img src="/live/image/gid/68/width/345/height/225/crop/1/src_region/6,0,157,150/4597_Tammy_Parks.rev.1536941020.jpg" alt="Tammy McMillan Parks (E&H '95) is an art professor at New River Community College." width="345" height="225" data-max-w="151" data-max-h="150" loading="lazy"/> </picture> </a></span><div class="lw_widget_text"><h4 class="lw_profiles_headline"><a href="/live/profiles/2314-tammy-parks"><p> Tammy McMillan Parks is making sure her students see art all over the world: paying forward a gift bestowed by an E&H faculty mentor.</p></a></h4><div class="lw_profiles_description"><p> Tammy McMillan Parks (E&H '95) is taking a page out of the Royce Morris handbook.</p><p> Tammy was an art major at Emory & Henry, and loved classes with E&H's classics and art history professor, Dr. Royce Morris (deceased). She went with him on his semi-annual trip to Rome, and found the experience to be life-changing. Now that she is an art professor herself, she is carrying on his legacy of sharing the world's most amazing art with young people.</p><p> She is a professor of art at New River Community College (Dublin, Virginia), and she is committed to offering her students opportunities to see, try, and experience art in every possible fashion.  Study abroad is a huge part of her teaching method. "Travel accomplishes two wonderful things: it makes them appreciate things at home they never really paid attention to before and it makes them consider how their home could benefit from doing things in some of the ways they encountered abroad."</p><p> Her last trip with students was to the Balkan region of Europe – Croatia, Bosnia, Serbia, Romania, Bulgaria and Greece. She said the experience was great. "This past summer is no different from my many years of taking students abroad…our plane flight back home was filled with their new memories, laughter, plans for future travel and all their ideas for new art projects and trips."</p><p> She is known as a professor who goes beyond the classroom to serve her students. Right now she is involved in expanding the clubs at NRCC to create opportunities for students to travel more – not only to see the world but also to experience the history and culture of the area. "I want them to see places like Biltmore and museums and festivals that are accessible within our own region and surrounding states.  We don't have to go to Rome to appreciate other cultural experiences! These experiences can have a strong influence on their understanding of the arts in and around place they study and live."</p><p> Tammy earned her bachelor's degree in art from Emory & Henry, she earned a master's in Spanish from the University of Southern Mississippi, and an M.F. A. in public art from Goddard College in Vermont. She is currently working on a Ph.D. at the Institute for Doctoral Studies in the Visual Arts, Portland, Maine.</p></div><a href="/live/profiles/2314-tammy-parks" class="link-with-arrow gold">Keep reading</a></div>
<span class="lw_item_thumb"><a href="/live/profiles/13-"><picture class="lw_image"> <source type="image/webp" srcset="/live/image/gid/2/width/345/height/225/crop/1/src_region/0,0,1000,666/22_fbd04c901271156159e4e275a5bf845f_f50561.rev.1490707796.webp 1x, /live/image/scale/2x/gid/2/width/345/height/225/crop/1/src_region/0,0,1000,666/22_fbd04c901271156159e4e275a5bf845f_f50561.rev.1490707796.webp 2x"/> <source type="image/jpeg" srcset="/live/image/gid/2/width/345/height/225/crop/1/src_region/0,0,1000,666/22_fbd04c901271156159e4e275a5bf845f_f50561.rev.1490707796.jpg 1x, /live/image/scale/2x/gid/2/width/345/height/225/crop/1/src_region/0,0,1000,666/22_fbd04c901271156159e4e275a5bf845f_f50561.rev.1490707796.jpg 2x"/> <img src="/live/image/gid/2/width/345/height/225/crop/1/src_region/0,0,1000,666/22_fbd04c901271156159e4e275a5bf845f_f50561.rev.1490707796.jpg" alt="" width="345" height="225" srcset="/live/image/scale/2x/gid/2/width/345/height/225/crop/1/src_region/0,0,1000,666/22_fbd04c901271156159e4e275a5bf845f_f50561.rev.1490707796.jpg 2x" data-max-w="1000" data-max-h="666" loading="lazy"/> </picture> </a></span><div class="lw_widget_text"><h4 class="lw_profiles_headline"><a href="/live/profiles/13-"><p> Sydney England ('14) Receives Prestigious Fellowship Opportunity </p></a></h4><div class="lw_profiles_description"><p> She received the Armbrister Memorial Scholarship for freshmen honors and the Outstanding Senior Award from the Sociology Department. She was on the dean's list all eight semesters while a student at Emory & Henry, and she graduated summa cum laude with college honors. She also was inducted into several national honor societies.</p><p> Is it any wonder that Sydney England is one of only two students throughout the country selected to receive the Jessie Ball duPont Fund Fellowship, providing a two-year period of work and study in philanthropy and charitable work?</p><p> England, a 2014 graduate of Emory & Henry College, was nominated by the college, which is among many liberal arts colleges and universities eligible for support from the Jessie DuPont Fund. England was selected from a large field of applicants.</p><blockquote> Dr. Joe Lane brought the fellowship opportunity to my attention. I don't know if I ever fully set my sights on the fellowship because it always seemed like a long shot.Sydney EnglandClass of 2014</blockquote><p> The Jessie Ball duPont Fund Fellowship program, headquartered in Jacksonville, Fla., is designed to provide practical experience for students interested in careers with nonprofit, faith-based, or philanthropic organizations. As a fellow, England is exposed to foundation governance, grant making, governmental oversight, and industry events.</p><p> "Responsibilities shift daily, but primarily it's a lot of research and grant management. The fellows are really there to support senior staffers with some of their project management and report preparation," explained England.</p><p> "This fellowship will afford me an acute insight into the full life-cycle of a grant, from initial proposal to grant management and re-evaluation. It's very rare to have the opportunity to see this grant maturation within a wide array of nonprofit organizations at my age and experience level," she said.</p><p> "I'm really just hoping to develop a strong grant writing and nonprofit management portfolio and to engage in meaningful personal research during my two years at the Fund."</p><p> England is among the fifth class of fellows at the Jessie Ball duPont Fund. Some of their predecessors work with the Peace Corps, religious organizations, and community-based nonprofits.</p><p> Her accomplishments at Emory & Henry are equally impressive.</p><p> The alumna doubled majored in sociology and history with a minor in women's studies. "When I entered Emory & Henry, I was the conventional high-performing student who was primarily concerned with grades. If nothing else, E&H taught me that if you aren't imagining beyond your goals, you aren't giving yourself enough latitude to grow."</p><p> While a student at Emory & Henry, England was a research assistant, and she also gained experience working for Terry McAuliffe's campaign for governor in Virginia.</p><p> Her honors thesis was entitled "Check Here: A Critique of Normative Discursive Categorization within Survey Construction." The premise of her research was to address some of the General Social Survey's methodological limitations.</p><p> "I found that nominal and mutually-exclusive language, as it pertains to the General Social Survey categorization of sex, creates a false sense of normativeness within American society and harshly limits the accuracy of data when causal inferences link these two categories to various other demographic features within the data set. Ultimately, I created an alternative survey proposal that I hope will be adopted more frequently on campus."</p><p> England said her experiences at Emory & Henry have enabled her to be a successful person, employee, and citizen.</p><p> "I feel the impact of my liberal arts education daily and in several dimensions. First, I often find myself willing to engage in critical, solutions-oriented dialogue, and I think that's a direct result of the type of Socratic courses that you regularly find at Emory.</p><p> "Second, I'm acutely aware of the impact that place has on people, and this is really imperative when you're in a workspace. I'm really aware of workplace dynamics and organizational core values. Those are really important to understand when you're trying to figure out how you, the individual, fit into the structure. At Emory, we were constantly reminded of how people and place are inextricably connected."</p></div><a href="/live/profiles/13-" class="link-with-arrow gold">Keep reading</a></div>
<span class="lw_item_thumb"><a href="/live/profiles/2726-henri-fitzgerald"><picture class="lw_image"> <source type="image/webp" srcset="/live/image/gid/68/width/345/height/225/crop/1/src_region/0,0,288,288/6519_Henri_Fitzgerald.rev.1562185295.webp 1x"/> <source type="image/jpeg" srcset="/live/image/gid/68/width/345/height/225/crop/1/src_region/0,0,288,288/6519_Henri_Fitzgerald.rev.1562185295.jpg 1x"/> <img src="/live/image/gid/68/width/345/height/225/crop/1/src_region/0,0,288,288/6519_Henri_Fitzgerald.rev.1562185295.jpg" alt="Henri Fitzgerald, E&H Class of 2000." width="345" height="225" data-max-w="288" data-max-h="288" loading="lazy"/> </picture> </a></span><div class="lw_widget_text"><h4 class="lw_profiles_headline"><a href="/live/profiles/2726-henri-fitzgerald"><p> Henri Fitzgerald is the Director of Non-profit Solutions (Endowment and Foundation National Practice Group) at PNC bank.</p></a></h4><div class="lw_profiles_description"><p> Henri Fitzgerald was a Bonner Scholars student at Emory & Henry and graduated in 2000.</p><p> He is currently the Director of Non-profit Solutions (Endowment and Foundation National Practice Group) at PNC bank in the Greensboro/Winston-Salem, North Carolina Area.</p><p> Previously, he was Vice President for Philanthropic Planning and also Senior Trust and Fiduciary Specialist at Wells Fargo. And he was Vice President and Senior Planned Giving Advisor for Wachovia Wealth Management, Inc.</p><p> Henri has remained committed to the community service habits he established in college. He has served on the YMCA Board of Winston-Salem and is president of the South Fork Panthers Youth Football and Cheer Association. He serves as a member of the Board of Trustees for Emory & Henry College.</p><p> He earned his Juris Doctor degree in Corporate Law and Planning from Wake Forest University School of Law. And he garnered a Chartered Advisor in Philanthropy (CAP) designation from The American College.</p></div><a href="/live/profiles/2726-henri-fitzgerald" class="link-with-arrow gold">Keep reading</a></div>
<span class="lw_item_thumb"><a href="/live/profiles/2864-kelly-steele"><picture class="lw_image"> <source type="image/webp" srcset="/live/image/gid/68/width/345/height/225/crop/1/src_region/0,114,750,864/6649_1A3D5553-3A82-41FD-9147-BA67509933FB.rev.1564602478.webp 1x, /live/image/scale/2x/gid/68/width/345/height/225/crop/1/src_region/0,114,750,864/6649_1A3D5553-3A82-41FD-9147-BA67509933FB.rev.1564602478.webp 2x"/> <source type="image/jpeg" srcset="/live/image/gid/68/width/345/height/225/crop/1/src_region/0,114,750,864/6649_1A3D5553-3A82-41FD-9147-BA67509933FB.rev.1564602478.jpg 1x, /live/image/scale/2x/gid/68/width/345/height/225/crop/1/src_region/0,114,750,864/6649_1A3D5553-3A82-41FD-9147-BA67509933FB.rev.1564602478.jpg 2x"/> <img src="/live/image/gid/68/width/345/height/225/crop/1/src_region/0,114,750,864/6649_1A3D5553-3A82-41FD-9147-BA67509933FB.rev.1564602478.jpg" alt="Kelly Moss Steele, E&H Class of 2002" width="345" height="225" srcset="/live/image/scale/2x/gid/68/width/345/height/225/crop/1/src_region/0,114,750,864/6649_1A3D5553-3A82-41FD-9147-BA67509933FB.rev.1564602478.jpg 2x" data-max-w="750" data-max-h="750" loading="lazy"/> </picture> </a></span><div class="lw_widget_text"><h4 class="lw_profiles_headline"><a href="/live/profiles/2864-kelly-steele"></a></h4><div class="lw_profiles_description"><p> Sales Training Manager for Bristol-Myers Squibb. E&H Class of 2002.</p></div><a href="/live/profiles/2864-kelly-steele" class="link-with-arrow gold">Keep reading</a></div>
<span class="lw_item_thumb"><a href="/live/profiles/2042-chandler-davis"><picture class="lw_image"> <source type="image/webp" srcset="/live/image/gid/68/width/345/height/225/crop/1/src_region/0,0,2048,1365/4040_Headshot.rev.1524839960.webp 1x, /live/image/scale/2x/gid/68/width/345/height/225/crop/1/src_region/0,0,2048,1365/4040_Headshot.rev.1524839960.webp 2x, /live/image/scale/3x/gid/68/width/345/height/225/crop/1/src_region/0,0,2048,1365/4040_Headshot.rev.1524839960.webp 3x"/> <source type="image/jpeg" srcset="/live/image/gid/68/width/345/height/225/crop/1/src_region/0,0,2048,1365/4040_Headshot.rev.1524839960.jpg 1x, /live/image/scale/2x/gid/68/width/345/height/225/crop/1/src_region/0,0,2048,1365/4040_Headshot.rev.1524839960.jpg 2x, /live/image/scale/3x/gid/68/width/345/height/225/crop/1/src_region/0,0,2048,1365/4040_Headshot.rev.1524839960.jpg 3x"/> <img src="/live/image/gid/68/width/345/height/225/crop/1/src_region/0,0,2048,1365/4040_Headshot.rev.1524839960.jpg" alt="E&H's Chandler Davis." width="345" height="225" srcset="/live/image/scale/2x/gid/68/width/345/height/225/crop/1/src_region/0,0,2048,1365/4040_Headshot.rev.1524839960.jpg 2x, /live/image/scale/3x/gid/68/width/345/height/225/crop/1/src_region/0,0,2048,1365/4040_Headshot.rev.1524839960.jpg 3x" data-max-w="2048" data-max-h="1365" loading="lazy"/> </picture> </a></span><div class="lw_widget_text"><h4 class="lw_profiles_headline"><a href="/live/profiles/2042-chandler-davis"><p> Chandler Davis is a "Woman to Watch" in the theatre!</p></a></h4><div class="lw_profiles_description"><p> Immediately after leaving Emory & Henry, Chandler was cast in the Barter Player Program at Barter Theatre, the State Theatre of Virginia. After that, Chandler spent three years being a cowgirl at Tweetsie Railroad in Blowing Rock North Carolina.</p><p> In the Fall of 2011, Chandler moved to Roanoke, Virginia, where she had the pleasure of producing an original musical she co-wrote with E&H alumnus Will Coleman ('07). Chandler then went on to work as a stage manager and performer with Roanoke Children's Theatre.</p><p> After moving to Wilmington, North Carolina, Chandler became the managing director for City Stage Co., a theater producing contemporary and cutting edge works. In 2015 Chandler was named a Woman to Watch in the Arts field for North Carolina by <em>Wilma Magazine</em>.</p><p> Chandler is currently the artistic director for The Thalian Association which produces five main stage shows a year at Historic Thalian Hall, five youth shows at the Hannah Block Historic USO, and runs a youth arts academy in the Fall and Spring. In early 2018, Chandler became a member of the Dramatists Guild of America.</p></div><a href="/live/profiles/2042-chandler-davis" class="link-with-arrow gold">Keep reading</a></div>
<span class="lw_item_thumb"><a href="/live/profiles/155-"><picture class="lw_image"> <source type="image/webp" srcset="/live/image/gid/2/width/345/height/225/crop/1/src_region/0,0,450,490/27_abe1975e59116cf763b1821b22668003_f74661.rev.1491319536.webp 1x"/> <source type="image/jpeg" srcset="/live/image/gid/2/width/345/height/225/crop/1/src_region/0,0,450,490/27_abe1975e59116cf763b1821b22668003_f74661.rev.1491319536.jpg 1x"/> <img src="/live/image/gid/2/width/345/height/225/crop/1/src_region/0,0,450,490/27_abe1975e59116cf763b1821b22668003_f74661.rev.1491319536.jpg" alt="Dr. Ken Noe poses with one of his Auburn grad students, Peter Thomas (E&H, '08). In addition to the flag of his home state in the bac..." width="345" height="225" data-max-w="450" data-max-h="490" loading="lazy"/> </picture> </a></span><div class="lw_widget_text"><h4 class="lw_profiles_headline"><a href="/live/profiles/155-"><p> Dr. Ken Noe '79 Writing Book on the Weather's Impact on the American Civil War</p></a></h4><div class="lw_profiles_description"><p> When Dr. Ken Noe ('79) was growing up in Elliston he remembers that weather played a huge role in the work done on his grandfather's farm. "If rain was coming, we dropped everything else to put up hay." He thinks this experience planted a seed in the back of his mind about the impactful influence of weather. Later, his interest in weather grew when he took a geography course at Emory & Henry with Dr. Ed Bingham.</p><p> But even he could never have predicted that he would now be writing a two-volume book on weather's impact on the American Civil War.</p><p> Ken is the Draughon Professor of Southern History at Auburn University. He is the author or editor of seven books, and he has published scads of articles, essays and chapters about the Civil War. He is a decorated history professor serving at West Georgia College before heading to Auburn. He was a Pulitzer Prize entrant and won the 2003 Kentucky Governor's award, the 2002 Peter Seaborg Book Award for Civil War Non-fiction, and the 1997 Tennessee History Book Award. He has won several teaching awards, has served as president of the Alabama Historical Association, and is serving on the Advisory Board of the Society of Civil War Historians. He has even been a consultant for the NBC series <em>Who Do You Think You Are? </em></p><p> But in all his prolific writing and research and publishing even he is surprised that his biggest and most industrious work to-date will be about weather.  "Meteorologists are still trying to work out why the weather during the Civil War was so unusual. They dealt with incredibly snowy and rainy winters and droughts in the summer that affected Southern food supplies. There were dust storms, flooded rivers, and only two hurricanes. It had a profound effect on many campaigns."</p><p> His research on weather has already taken several years, and he still has a few years left before he publishes. And even he was amazed to realize just how much information he had accumulated. "Very little has been written about Civil War environmental history. It is only now becoming part of the conversation about Civil War history."  </p><p> Ken says that even in a field of study like Civil War history where so many things have been written, there is still new area for research and a lot of topics that haven't been covered.  He has grad students asking new questions about the role of religion, the prison industries during the war, the role of friendship, and one young man, who is an E&H grad, is looking into camp life.</p><p> Even though we have just passed the 150<sup>th</sup> anniversary of the American Civil War, Ken points out that this conflict still has implications for current events; and he marvels that most conversations over the past 18 months have quickly moved from history to current topics like the Confederate flag, U.S. prisons, and race relations. He says his field has gotten so tangled with politics that there is a declining interest in Civil War history among the public. "But this event still has much to teach us. It was a great turning point in American History and opened up questions that are still being answered about equality of humankind, the status of women, states' rights. I don't know how we can answer all these questions unless we go back to the beginning." He consistently stresses to his students the importance of going back to primary source information rather than depending on how the stories have been told and passed down.</p><p> Ken actually majored in education at Emory & Henry and still remembers panicking when he realized he didn't want to be a junior high school teacher. "I had a lot of electives leftover and started taking history classes late in my college experience. I realized what I wanted to be was a historian and teach at a higher level." A conversation with Patsi Trollinger ('72) reassured him that most alumni do not stick to work within their major. And a conversation with Dr. Gene Rasor in the history department led to a phone call which ended with Dr. Rasor telling Ken he had an interview with the history department at Virginia Tech.</p><p> The rest, as they say, is history.</p></div><a href="/live/profiles/155-" class="link-with-arrow gold">Keep reading</a></div>
<span class="lw_item_thumb"><a href="/live/profiles/675-"><picture class="lw_image"> <source type="image/webp" srcset="/live/image/gid/2/width/345/height/225/crop/1/src_region/0,0,960,960/269_1912405_682582264006_8756799307793601402_n.rev.1496850332.webp 1x, /live/image/scale/2x/gid/2/width/345/height/225/crop/1/src_region/0,0,960,960/269_1912405_682582264006_8756799307793601402_n.rev.1496850332.webp 2x"/> <source type="image/jpeg" srcset="/live/image/gid/2/width/345/height/225/crop/1/src_region/0,0,960,960/269_1912405_682582264006_8756799307793601402_n.rev.1496850332.jpg 1x, /live/image/scale/2x/gid/2/width/345/height/225/crop/1/src_region/0,0,960,960/269_1912405_682582264006_8756799307793601402_n.rev.1496850332.jpg 2x"/> <img src="/live/image/gid/2/width/345/height/225/crop/1/src_region/0,0,960,960/269_1912405_682582264006_8756799307793601402_n.rev.1496850332.jpg" alt="Anne Ryan Driscoll (right)." width="345" height="225" srcset="/live/image/scale/2x/gid/2/width/345/height/225/crop/1/src_region/0,0,960,960/269_1912405_682582264006_8756799307793601402_n.rev.1496850332.jpg 2x" data-max-w="960" data-max-h="960" loading="lazy"/> </picture> </a></span><div class="lw_widget_text"><h4 class="lw_profiles_headline"><a href="/live/profiles/675-"><p> Anne Ryan Driscoll '06 Honored for her Teaching and Research at Virginia Tech</p></a></h4><div class="lw_profiles_description"><p> A press release from Virginia Tech has announced the 2016 Dr. Carroll B. Shannon Excellence in Teaching Awards presented to faculty members in the College of Science and the College of Liberal Arts and Human Sciences.</p><p> Emory & Henry's Anne Ryan Driscoll ('06) was among the honorees for her work in the Department of Statistics.</p><p> Anne majored in Mathematics and Physics at Emory & Henry and played basketball and tennis as a student athlete, and did all this while maintaining a perfect 4.0 GPA. Anne was a 3-time ODAC All-Academic selection and a 2-time ITA Scholar Athlete. She and her tennis teammates finished 2nd in both the ODAC regular season and in the ODAC Championship tournament in her junior year, where she played #5 singles and #3 doubles. Anne was also a member of Kappa Phi Alpha sorority and Sigma Mu Honor Society.</p><p> After graduation, Anne went on to earn a Master's Degree in Statistics and a Ph.D. in Statistics from Virginia Tech. She currently works as an Assistant Professor of Practice at Virginia Tech teaching both undergraduate and graduate level courses in research and statistics. Anne has received other professional awards at Tech that honor her Outstanding Departmental Citizenship and twice was selected for an Excellence in Teaching award. She has published numerous scholarly articles related to research methodology and statistics. Additionally, Anne has collaborated on projects for the Department of Defense and with NASA.</p><p> An excerpt from the press release is listed below, and you may read the entire press release at the Virginia Tech webpage <a href="http://vtnews.vt.edu/content/vtnews_vt_edu/en/articles/2016/08/science-shannonteachingaward.html" target="_blank" rel="noopener noreferrer">here</a>.</p><p> August 3, 2016 – Four Virginia Tech faculty with the <a href="http://liberalarts.vt.edu/index.html" target="_blank" rel="noopener noreferrer">College of Science and College of Liberal Arts and Human Sciences</a> have received the 2016 Dr. Carroll B. Shannon Excellence in Teaching Award.</p><p> The awards were presented to: Anne Ryan Driscoll, an assistant professor of practice in the Department of Statistics; Michel Pleimling, a professor with the Department of Physics and director of the Academy of Integrated Science; and Gordon Yee, an associate professor with the Department of Chemistry, all in the College of Science; and Marian Mollin, an associate professor in the Department of History, part of the College of Liberal Arts and Human Sciences.</p><p><br/> The award is made possible by an endowment established by Peter and Carroll Shannon, of Wilmington, Delaware, and is given annually to College of Science and College of Liberal Arts and Human Sciences faculty members who demonstrate outstanding teaching skills, innovative methods, and dedication to learning. The colleges once formed the College of Arts and Sciences, which split in 2002.</p><p><br/> "Virginia Tech gave me the opportunity to become someone who I would never have become if it had not been for the university," said Peter Shannon, who graduated from Virginia Tech in 1969 with a general science degree and who named the award in honor of his wife, Carroll, an educator for her entire career.</p><p><br/> "Outstanding teachers have the opportunity to be change agents in the lives of students. They inspire a love of learning, encourage students to reach their potential and discover their career path," said Carroll Shannon, who worked in education for the state of Delaware. "Most importantly, they guide students in becoming contributing members of society who will impact positively the lives of others."</p><p><strong>Anne Driscoll</strong><br/> Since joining Virginia Tech's faculty in 2011, Driscoll has taught eight courses at the undergraduate and graduate levels in the <a href="http://www.stat.vt.edu" target="_blank" rel="noopener noreferrer">Department of Statistics</a>. She also has collaborated on projects for the U.S. Department of Defense and with NASA, and she chairs the department's corporate partners program, which is a cooperative outreach venture that links the department with 11 different companies.</p><p> Of Driscoll's nomination, the college committee said, "The committee was particularly impressed with the strength of your teaching's impact on your students and their careers." Her research focuses on statistical process control, health care surveillance, and industrial statistics.</p><p> She earned dual bachelor's degrees in mathematics and physics from Emory & Henry College in 2006, followed by master's and doctoral degrees in statistics from Virginia Tech in, respectively, 2007 and 2011. Her awards won at Virginia Tech include the Jesse C. Arnold Award for Excellence in Teaching, 2010-2011, and the Rose Costain Award for Outstanding Departmental Citizenship, 2010.</p></div><a href="/live/profiles/675-" class="link-with-arrow gold">Keep reading</a></div>
<span class="lw_item_thumb"><a href="/live/profiles/677-doug-dalton"><picture class="lw_image"> <source type="image/webp" srcset="/live/image/gid/2/width/345/height/225/crop/1/src_region/0,0,640,640/272_11140356_10154000682162786_5533273719072550783_n.rev.1497276685.webp 1x"/> <source type="image/jpeg" srcset="/live/image/gid/2/width/345/height/225/crop/1/src_region/0,0,640,640/272_11140356_10154000682162786_5533273719072550783_n.rev.1497276685.jpg 1x"/> <img src="/live/image/gid/2/width/345/height/225/crop/1/src_region/0,0,640,640/272_11140356_10154000682162786_5533273719072550783_n.rev.1497276685.jpg" alt="" width="345" height="225" data-max-w="640" data-max-h="640" loading="lazy"/> </picture> </a></span><div class="lw_widget_text"><h4 class="lw_profiles_headline"><a href="/live/profiles/677-doug-dalton"><p> Doug Dalton ('94) is More Than Meets The Eye</p></a></h4><div class="lw_profiles_description"><p> Ask anyone who follows Doug Dalton on social media and they'll tell you that this guy knows how to have a good time. The Fairfax, Va., native is now a dyed-in-the-wool Californian, and photos of him wearing a cheetah suit and going to Burning Man, cocktail parties, and rock concerts might lead you to think he is just a playboy.</p><p> Think again!</p><p> He is also the owner of 9 very successful, very popular, very trendy bars in San Francisco, as well as 3 stores.</p><p> How — and why – does a former "dot com guy" end up as a bar entrepreneur? "I was working at Estee Lauder as the Chief Technology Officer living in San Francisco and New York City. New Yorkers would often speak poorly about San Francisco saying there was nothing interesting to do there. I wanted to contribute to San Francisco because I felt it was a wonderful town. San Francisco at the time was full of incredible restaurants and dive bars but nothing in between, so I ventured to make an elusive but not exclusive high-end bar experience on par with the New York nightlife scene."</p><p> Doug and his partners venture into areas that some businesses are reluctant to consider (like the Tenderloin District) and his successes are reinvigorating long-ignored areas. "Our bars are bringing new life and other businesses to the area, helping to better them and make them more inviting."</p><p> If you know a student who is interested in identifying a problem…and working for a solution…encourage him or her to look at Emory & Henry's Ampersand project. Maybe they'll grow up and be like Doug Dalton: an answer to community challenge.</p></div><a href="/live/profiles/677-doug-dalton" class="link-with-arrow gold">Keep reading</a></div>
<span class="lw_item_thumb"><a href="/live/profiles/1430-becky-kurtz"><picture class="lw_image"> <source type="image/webp" srcset="/live/image/gid/68/width/345/height/225/crop/1/src_region/0,0,232,216/741_kurtz.rev.1507059839.webp 1x"/> <source type="image/jpeg" srcset="/live/image/gid/68/width/345/height/225/crop/1/src_region/0,0,232,216/741_kurtz.rev.1507059839.jpg 1x"/> <img src="/live/image/gid/68/width/345/height/225/crop/1/src_region/0,0,232,216/741_kurtz.rev.1507059839.jpg" alt="Becky Kurtz E&H '84" width="345" height="225" data-max-w="232" data-max-h="216" loading="lazy"/> </picture> </a></span><div class="lw_widget_text"><h4 class="lw_profiles_headline"><a href="/live/profiles/1430-becky-kurtz"><p> Kurtz is manager of the Atlanta's Aging & Health Resources Division.</p></a></h4><div class="lw_profiles_description"><p> After a successful stint in the office of U.S. Administration for Community Living, where she served as Director of the Office of Long-Term Care Ombudsman Program, Becky Kurtz is now back in Georgia.</p><div class="m_-8668633278848088304m_-3351044740351875199m_-7072934309234766291gmail-m_8690036448639047984gmail-formattedContent" id="m_-8668633278848088304m_-3351044740351875199m_-7072934309234766291gmail-m_8690036448639047984gmail-ctl01_formattedContent"><div class="m_-8668633278848088304m_-3351044740351875199m_-7072934309234766291gmail-m_8690036448639047984gmail-formattedContent-container" id="m_-8668633278848088304m_-3351044740351875199m_-7072934309234766291gmail-m_8690036448639047984gmail-ctl01_formattedContent_ctl00"><p> IN March, 2017, the Atlanta Regional Commission (ARC) named <span class="il">Becky</span> <span class="il">Kurtz</span> manager of the agency's Aging & Health Resources Division. <span class="il">Kurtz. She </span>will also serve as the Director of the Atlanta Area Agency on Aging (AAA). <br/><br/> At ARC, <span class="il">Kurtz </span>leads a team of 50 professionals who plan and provide comprehensive services to address the needs of the Atlanta region's rapidly growing population of older adults and individuals with disabilities. As the Atlanta AAA Director, <span class="il">Kurtz</span> manages the allocation of more than $22 million in federal, state and grant funds annually to community-based organizations and local governments that provide direct services to older adults, persons with disabilities, and their families.<br/><br/><span class="il">Kurtz</span> has been a leader in aging issues at both the federal and state levels. She went to ARC from the U.S. Administration for Community Living, where she served as Director of the Office of Long-Term Care Ombudsman Program. In this role, she worked to enhance the health, safety and welfare of long-term care facility residents and helped states carry out effective ombudsman programs.  <br/><br/> Previously, she spent 16 years as Georgia's Long-Term Care Ombudsman and served on the leadership team of the Georgia Division of Aging Services.  She also held leadership roles with the National Association of State Long-Term Care Ombudsman Programs, including a term as president. <br/><br/> A native of western North Carolina, <span class="il">Becky</span> is also a graduate of Columbia University School of Law. </p><p>   </p></div></div></div><a href="/live/profiles/1430-becky-kurtz" class="link-with-arrow gold">Keep reading</a></div>
<span class="lw_item_thumb"><a href="/live/profiles/3005-natalia-sutherland"><picture class="lw_image"> <source type="image/webp" srcset="/live/image/gid/68/width/345/height/225/crop/1/src_region/0,14,714,728/5663_Natalia_Sutherland.rev.1542303444.webp 1x, /live/image/scale/2x/gid/68/width/345/height/225/crop/1/src_region/0,14,714,728/5663_Natalia_Sutherland.rev.1542303444.webp 2x"/> <source type="image/jpeg" srcset="/live/image/gid/68/width/345/height/225/crop/1/src_region/0,14,714,728/5663_Natalia_Sutherland.rev.1542303444.jpg 1x, /live/image/scale/2x/gid/68/width/345/height/225/crop/1/src_region/0,14,714,728/5663_Natalia_Sutherland.rev.1542303444.jpg 2x"/> <img src="/live/image/gid/68/width/345/height/225/crop/1/src_region/0,14,714,728/5663_Natalia_Sutherland.rev.1542303444.jpg" alt="Sutherland, Natalia (E&H Class of 2017)" width="345" height="225" srcset="/live/image/scale/2x/gid/68/width/345/height/225/crop/1/src_region/0,14,714,728/5663_Natalia_Sutherland.rev.1542303444.jpg 2x" data-max-w="714" data-max-h="714" loading="lazy"/> </picture> </a></span><div class="lw_widget_text"><h4 class="lw_profiles_headline"><a href="/live/profiles/3005-natalia-sutherland"><p> Natalia Sutherland is a medical student at <a href="https://medicine.vtc.vt.edu/" target="_blank" rel="noopener noreferrer">Virginia Tech Carilion Medical School</a>.</p></a></h4><div class="lw_profiles_description"><p> Life is not multiple choice</p><p> Natalia Sutherland is starting her second year at <a href="https://medicine.vtc.vt.edu/" target="_blank" rel="noopener noreferrer">Virginia Tech Carilion Medical School</a>. She smiles widely when she talks about the other students in her cohort. "They're from Duke and Johns Hopkins and Clemson and Vanderbilt…there are only 3 of us from liberal arts colleges."</p><p> But this is what seems to give her an edge. Natalia is among the top tier of students in her class and she says, "You can tell Dr. Fleet I give her all the credit for that!"</p><p> She says her E&H Biology professor, Dr. Christine Fleet, insisted on project-based classwork that forced students  to truly understand and apply what they were learning in class. Granted, there are tests in medical school that are multiple choice, but Natalia says she feels like she has an advantage over many of her classmates because Emory & Henry gave her a framework for truly understanding the science.  She says it's one thing to memorize the answers…but it's another thing altogether to truly understand causes and effects and how systems in your body interact. She says Emory & Henry prepared her to be that well-rounded learner.</p><p> She beams when talking about how much she's enjoying medical school, and about the work she did at E&H to prepare her for what she's doing now. "I'll come back to campus and talk to prospective students and families any time! Emory & Henry was a great place to get ready for medical school!"</p><p> Natalia is also the recipient of the <a href="https://medicine.vtc.vt.edu/giving/morgan-harrington.html" target="_blank" rel="noopener noreferrer">Morgan Dana Harrington Scholarship</a>, and she expresses great honor in representing that award.</p></div><a href="/live/profiles/3005-natalia-sutherland" class="link-with-arrow gold">Keep reading</a></div>
<span class="lw_item_thumb"><a href="/live/profiles/1946-brooklyn-belk"><picture class="lw_image"> <source type="image/webp" srcset="/live/image/gid/68/width/345/height/225/crop/1/src_region/0,28,347,376/3466_BrooklynSawyersBelk.rev.1520453426.webp 1x"/> <source type="image/jpeg" srcset="/live/image/gid/68/width/345/height/225/crop/1/src_region/0,28,347,376/3466_BrooklynSawyersBelk.rev.1520453426.jpg 1x"/> <img src="/live/image/gid/68/width/345/height/225/crop/1/src_region/0,28,347,376/3466_BrooklynSawyersBelk.rev.1520453426.jpg" alt="Brooklyn Sawyers Belk E&H 2002." width="345" height="225" data-max-w="347" data-max-h="348" loading="lazy"/> </picture> </a></span><div class="lw_widget_text"><h4 class="lw_profiles_headline"><a href="/live/profiles/1946-brooklyn-belk"><p> Brooklyn Sawyers Belk is an Assistant United States Attorney for the Department of Justice, United States Attorney's Office for the Eastern District of Tennessee.</p></a></h4><div class="lw_profiles_description"><p> Brooklyn Sawyers Belk is an attorney with Weinberg Wheeler Hudgins Gunn and Dial in Atlanta, Georgia. She is a Partner of Counsel, & Chief Diversity & Inclusion Officer.</p><p> She was formerly an Assistant United States Attorney for the Department of Justice, United States Attorney's Office for the Eastern District of Tennessee.  Sawyers Belk was admitted to the United States Supreme Court bar in November 2015. She is also an adjunct professor at the University of Tennessee (UT) College of Law, where she teaches trial practice and interviewing and counseling. Additionally, she teaches a host of undergraduate history and pre-law courses. </p><p><br/> Sawyers Belk graduated from Emory & Henry College in 2002 and serves on the College's Board of Trustees. She obtained a Master of Arts degree in history in 2004 from East Tennessee State University and is a 2006 graduate of the UT College of Law. </p></div><a href="/live/profiles/1946-brooklyn-belk" class="link-with-arrow gold">Keep reading</a></div>
<span class="lw_item_thumb"><a href="/live/profiles/874-laura-holley"><picture class="lw_image"> <source type="image/webp" srcset="/live/image/gid/68/width/345/height/225/crop/1/src_region/0,0,1000,664/918_Laura_Holley_2.rev.1509131760.webp 1x, /live/image/scale/2x/gid/68/width/345/height/225/crop/1/src_region/0,0,1000,664/918_Laura_Holley_2.rev.1509131760.webp 2x"/> <source type="image/jpeg" srcset="/live/image/gid/68/width/345/height/225/crop/1/src_region/0,0,1000,664/918_Laura_Holley_2.rev.1509131760.jpg 1x, /live/image/scale/2x/gid/68/width/345/height/225/crop/1/src_region/0,0,1000,664/918_Laura_Holley_2.rev.1509131760.jpg 2x"/> <img src="/live/image/gid/68/width/345/height/225/crop/1/src_region/0,0,1000,664/918_Laura_Holley_2.rev.1509131760.jpg" alt="Laura Holley with one of her trailhead exhibit signs (1 of 25 installed spring of 2016)." width="345" height="225" srcset="/live/image/scale/2x/gid/68/width/345/height/225/crop/1/src_region/0,0,1000,664/918_Laura_Holley_2.rev.1509131760.jpg 2x" data-max-w="1000" data-max-h="664" loading="lazy"/> </picture> </a></span><div class="lw_widget_text"><h4 class="lw_profiles_headline"><a href="/live/profiles/874-laura-holley"><p> Laura Holley isn't using her art skills as planned – but she's bringing a lot of great talent to the National Park System!</p></a></h4><div class="lw_profiles_description"><p> Laura Holley Thomas is a long way from fashion magazines.</p><p> Laura (E&H '10) majored in art and minored in environmental studies, and she's finding the two disciplines to be a perfect match for the work she's doing: a special 4-year long project that has her planning, researching, writing and designing trailhead and wayside exhibits for the entirety of Theodore Roosevelt National Park in North Dakota – all 110 square miles. "I'm using art, design, and the written word to communicate information about plants, animals, human culture, climate change, habitats, ecosystems, etc. Though, had I known there was more to graphic design than making fashion magazines (I kid you not. That's what I really thought.) I might have taken more classes focused on digital art."</p><p> Laura has been with the National Park Service for 5 years, all of which has been spent at Theodore Roosevelt. She began as a full-time volunteer (citing that volunteerism is something she saw emphasized at Emory & Henry). That led to several paid seasonal positions, and now to this current assignment. She says this is her dream job…"But, it's temporary! So I'll be moving on with another job or another project here or at another park. I'd like to make a career with the NPS, but gaining permanent status is difficult, so I'm keeping other options open."</p><p> Her job experiences can't be calculated within the confines of a resume. "Often I'll get called away from my desk to help with whatever is going on in the park. We have a really small staff, so we all pitch in. I've helped return escaped bison to the park, assisted with elk reduction efforts, helped at bison roundups, helped with a prescribed burn, illustrated our new junior ranger book, led bird counts, helped plan our annual astronomy festival, done on-camera interviews with the media, gone on search and rescues, and so much more."</p><p> And her current project to develop signage is more than busy work: it feeds into her core beliefs about the importance of National Parks. "My biggest concern is that the NPS will become irrelevant. We have to inspire each next generation to care for and about our American landscape and its history or we risk losing our relevancy. But staying relevant shouldn't be difficult. Our parks speak for themselves. I've watched people look up and see the Milky Way for the first time. It's something they (and I) will never forget. And they'll remember that the clearest, darkest, most uninhibited sky they've ever seen was above a national park and they'll understand why we protect this place. We just have to get people into their parks and make sure their experiences are meaningful and memorable. That's what this signage project is all about. Hopefully the exhibits I create will inspire visitors to connect intellectually and emotionally with the park and its resources and turn those personal connections into active stewardship of this place and the public lands in their own communities."</p><p> Laura's experiences have run the gamut from wildlife management to designing websites and social media content. She even designed a special pictorial postmark to commemorate this year's National Park Centennial (an honor stamp aficionados can appreciate). And she admits that some of the skills she's using now were learned in E&H classes she didn't think were all that important. "In my first few seasons as a ranger I was writing and presenting interpretive programs (tours, guided hikes, campfire talks, etc.). I leaned heavily on what I learned in speech class which I would absolutely never have signed up for had it not been mandatory!"</p><p> If you find yourself in Theodore Roosevelt National Park, look for Ranger Laura…and certainly, look for her signs.</p><p>  </p><p><em><a href="https://www.ehc.edu/live/image/gid/68/height/815/919_Laura_Holley.jpg" class="lw_preview_image"><picture class="lw_image lw_image919 lw_align_left lw_column_width_half"> <source type="image/webp" media="(max-width: 500px)" srcset="/live/image/gid/68/width/500/height/667/919_Laura_Holley.rev.1509131808.webp 1x, /live/image/scale/2x/gid/68/width/500/height/667/919_Laura_Holley.rev.1509131808.webp 2x, /live/image/scale/3x/gid/68/width/500/height/667/919_Laura_Holley.rev.1509131808.webp 3x"/> <source type="image/webp" media="(min-width: 501px)" srcset="/live/image/gid/68/width/611/height/815/919_Laura_Holley.rev.1509131808.webp 1x, /live/image/scale/2x/gid/68/width/611/height/815/919_Laura_Holley.rev.1509131808.webp 2x, /live/image/scale/3x/gid/68/width/611/height/815/919_Laura_Holley.rev.1509131808.webp 3x"/> <source type="image/jpeg" media="(max-width: 500px)" srcset="/live/image/gid/68/width/500/height/667/919_Laura_Holley.rev.1509131808.jpg 1x, /live/image/scale/2x/gid/68/width/500/height/667/919_Laura_Holley.rev.1509131808.jpg 2x, /live/image/scale/3x/gid/68/width/500/height/667/919_Laura_Holley.rev.1509131808.jpg 3x"/> <source type="image/jpeg" media="(min-width: 501px)" srcset="/live/image/gid/68/width/611/height/815/919_Laura_Holley.rev.1509131808.jpg 1x, /live/image/scale/2x/gid/68/width/611/height/815/919_Laura_Holley.rev.1509131808.jpg 2x, /live/image/scale/3x/gid/68/width/611/height/815/919_Laura_Holley.rev.1509131808.jpg 3x"/> <img width="611" height="815" alt="Laura Holley Thomas is shown here with her husband, Shawn, who is no longer a ranger, but is now ..." src="/live/image/gid/68/width/611/height/815/919_Laura_Holley.rev.1509131808.jpg" srcset="/live/image/scale/2x/gid/68/width/611/height/815/919_Laura_Holley.rev.1509131808.jpg 2x, /live/image/scale/3x/gid/68/width/611/height/815/919_Laura_Holley.rev.1509131808.jpg 3x" data-max-w="1944" data-max-h="2592" loading="lazy"/> </picture> </a>Photo, left: Laura Holley Thomas is shown here with her husband, Shawn, who is no longer a ranger, but is now a deputy.</em></p><p>  </p><p> Submitted October 25, 2016</p></div><a href="/live/profiles/874-laura-holley" class="link-with-arrow gold">Keep reading</a></div>
<span class="lw_item_thumb"><a href="/live/profiles/1431-jeremy-peters"><picture class="lw_image"> <source type="image/webp" srcset="/live/image/gid/68/width/345/height/225/crop/1/src_region/357,137,786,568/916_Jeremy_Peters_photo.rev.1508790892.webp 1x"/> <source type="image/jpeg" srcset="/live/image/gid/68/width/345/height/225/crop/1/src_region/357,137,786,568/916_Jeremy_Peters_photo.rev.1508790892.jpg 1x"/> <img src="/live/image/gid/68/width/345/height/225/crop/1/src_region/357,137,786,568/916_Jeremy_Peters_photo.rev.1508790892.jpg" alt="Jeremy Peters (E&H '99) receives award from CBEAR in 2017." width="345" height="225" data-max-w="429" data-max-h="431" loading="lazy"/> </picture> </a></span><div class="lw_widget_text"><h4 class="lw_profiles_headline"><a href="/live/profiles/1431-jeremy-peters"></a></h4><div class="lw_profiles_description"><p> Jeremy Peters is the Chief Executive Officer of the National Association of Conservation Districts (NACD).</p><p> NACD is a nonprofit organization representing America's 3,000 conservation districts, their state and territory associations, and the 17,000 men and women who serve on their governing boards. These districts work with millions of cooperating landowners and operators to help them manage and protect land and water resources on private and public lands in the United States. NACD's mission is to promote the wise and responsible use of natural resources for all lands by representing locally-led conservation districts and their associations through grassroots advocacy, education, and partnerships.</p><p> In 2017, the Center for Behavioral and Experimental Agri-Environmental Research (CBEAR) presented Jeremy with their CBEAR Prize for Agri-Environmental Innovation. In presenting the Award, CBEAR Outreach Director Mark Masters commented, "Jeremy's effective leadership of NACD is based, in large part, on his ability to bridge the gaps that often exist between research, policy, and application. The relationships established and opportunities facilitated through Jeremy's hard work have greatly informed, and improved, CBEAR's research and outreach efforts."</p></div><a href="/live/profiles/1431-jeremy-peters" class="link-with-arrow gold">Keep reading</a></div>
<span class="lw_item_thumb"><a href="/live/profiles/1815-christina-druen"><picture class="lw_image"> <source type="image/webp" srcset="/live/image/gid/68/width/345/height/225/crop/1/src_region/233,0,1593,1361/3301_IMG_2692.rev.1518713658.JPG 1x, /live/image/scale/2x/gid/68/width/345/height/225/crop/1/src_region/233,0,1593,1361/3301_IMG_2692.rev.1518713658.JPG 2x, /live/image/scale/3x/gid/68/width/345/height/225/crop/1/src_region/233,0,1593,1361/3301_IMG_2692.rev.1518713658.JPG 3x"/> <source type="image/webp" srcset="/live/image/gid/68/width/345/height/225/crop/1/src_region/233,0,1593,1361/3301_IMG_2692.rev.1518713658.JPG 1x, /live/image/scale/2x/gid/68/width/345/height/225/crop/1/src_region/233,0,1593,1361/3301_IMG_2692.rev.1518713658.JPG 2x, /live/image/scale/3x/gid/68/width/345/height/225/crop/1/src_region/233,0,1593,1361/3301_IMG_2692.rev.1518713658.JPG 3x"/> <source type="image/jpeg" srcset="/live/image/gid/68/width/345/height/225/crop/1/src_region/233,0,1593,1361/3301_IMG_2692.rev.1518713658.JPG 1x, /live/image/scale/2x/gid/68/width/345/height/225/crop/1/src_region/233,0,1593,1361/3301_IMG_2692.rev.1518713658.JPG 2x, /live/image/scale/3x/gid/68/width/345/height/225/crop/1/src_region/233,0,1593,1361/3301_IMG_2692.rev.1518713658.JPG 3x"/> <img src="/live/image/gid/68/width/345/height/225/crop/1/src_region/233,0,1593,1361/3301_IMG_2692.rev.1518713658.JPG" alt="Christina Druen, E&H Class of 2016" width="345" height="225" srcset="/live/image/scale/2x/gid/68/width/345/height/225/crop/1/src_region/233,0,1593,1361/3301_IMG_2692.rev.1518713658.JPG 2x, /live/image/scale/3x/gid/68/width/345/height/225/crop/1/src_region/233,0,1593,1361/3301_IMG_2692.rev.1518713658.JPG 3x" data-max-w="1360" data-max-h="1361" loading="lazy"/> </picture> </a></span><div class="lw_widget_text"><h4 class="lw_profiles_headline"><a href="/live/profiles/1815-christina-druen"><p> And on top of all this….she can really sing!</p></a></h4><div class="lw_profiles_description"><div> Christina Druen currently works as a graphic designer for K-VA-T Food Stores, Inc. In this role, she creates various print materials, social media graphics, videos and other materials for the Food City stores and events they sponsor including the Food City Family Race Night, Food City 500/300, and their Annual Golf Tournament. Before coming to K-VA-T, Christina worked as a Marketing & Design Coordinator for Southwest Virginia Community Health Systems (SVCHS) where she aided in the re-branding of the organization, designed print materials and helped manage their website and social media. Right before graduation, she landed a job working for a NASCAR K&N team, Martin-McClure Racing as their Public Relations Representative. In this role, she managed the team's social media accounts, escorted drivers to all appearances and helped manage the "Racing for 90.7 and Emory & Henry" project. Simultaneously, she worked for Dogwood Marketing located in Abingdon, Virginia, as a graphic designer and sales representative before coming to SVCHS. </div><div><br/> In her spare time, Christina works as a Marketing & Design Consultant to help smaller local businesses and non-profits with their marketing needs. She has completed work for Family Promise of Bristol, Garic Stephens and Lavelle Manufacturing, Borderline Billiards, Apple Ridge Photography, First Bank & Trust, Emory & Henry College, Clinch Valley Printing, and more. </div><div><br/> Christina also serves as a board member for the American Advertising Federation of Southwest Virginia. As the Communications Team Leader, her responsibilities include getting information out about their events, managing and updating their website, creating graphics and content for their social media platforms, writing press releases, creating email campaigns and aiding in planning events. </div><div><br/> During her time at Emory & Henry, Christina worked as an Events and Operations Intern for the Academy of Country Music in Los Angeles, California, and a Volunteer Captain for the Annual Academy of Country Music Awards in Los Vegas. She also interned for a popular local band, Annabelle's Curse, as well as Family Promise of Bristol as their Communications Intern. On campus, she was the Director of EHC-TV, President of Alpha Psi Omega, President of the E&H Choral Department, Treasurer and Founding Member of the AAF Student Chapter, Business Manager of the Whitetopper, Manager of The Sphinx, House Manager and Volunteer Coordinator for the McGlothlin Center for the Arts, Graphic Design Intern for the Admissions Office, and Writer for The Odyssey Online. </div><div><br/> Christina resides in Abingdon, VA. When she's not working, you can catch her at Borderline Billiards bar-tending and shooting pool. </div></div><a href="/live/profiles/1815-christina-druen" class="link-with-arrow gold">Keep reading</a></div>