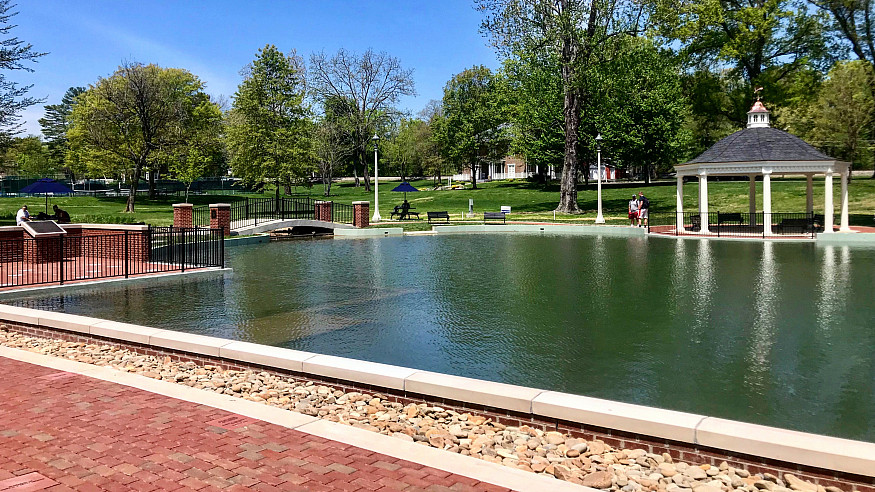 Honor Roll of Donors
Emory & Henry College takes pride in providing this online Honor Roll of Donors for the 2021-2022 fiscal year (July 1- June 30). We sincerely thank all listed below for their support of the College.
Every effort has been made to verify the accuracy of the lists, but any person who finds an error or omission should contact the Office of Advancement at Emory & Henry, 276-944-6119.
In these listings, (D) indicates the donor is deceased.
Top Story
<div class="lw_news_image"><span class="lw_item_thumb"><a href="/live/news/863-2019-a-year-in-review"><picture class="lw_image"> <source type="image/webp" srcset="/live/image/gid/65/width/345/height/225/crop/1/src_region/207,0,774,567/6466_youtube-EOY.rev.1560433647.webp 1x"/> <source type="image/jpeg" srcset="/live/image/gid/65/width/345/height/225/crop/1/src_region/207,0,774,567/6466_youtube-EOY.rev.1560433647.jpg 1x"/> <img src="/live/image/gid/65/width/345/height/225/crop/1/src_region/207,0,774,567/6466_youtube-EOY.rev.1560433647.jpg" alt="Emory & Henry College" width="345" height="225" data-max-w="567" data-max-h="567" loading="lazy"/> </picture> </a></span></div><div class="lw_widget_text"><h4 class="lw_news_headline"><a href="/live/news/863-2019-a-year-in-review">2019: A Year in Review</a></h4><div class="lw_news_summary"> Emory & Henry College faculty, staff, students and alumni have experienced an amazing year! Here's a peek at what makes E&H an exceptional place to learn, serve and make a difference. <a href="/live/news/863-2019-a-year-in-review" class="link-with-arrow gold">Keep reading</a></div></div>
<div class="lw_news_image"><span class="lw_item_thumb"><a href="/live/news/177-college-awarded-300000-grant-to-fight-sexual"><picture class="lw_image"> <source type="image/webp" srcset="/live/image/gid/90/width/345/height/225/crop/1/src_region/0,0,770,300/1551_OVW_logo.rev.1512748664.webp 1x, /live/image/scale/2x/gid/90/width/345/height/225/crop/1/src_region/0,0,770,300/1551_OVW_logo.rev.1512748664.webp 2x"/> <source type="image/jpeg" srcset="/live/image/gid/90/width/345/height/225/crop/1/src_region/0,0,770,300/1551_OVW_logo.rev.1512748664.jpg 1x, /live/image/scale/2x/gid/90/width/345/height/225/crop/1/src_region/0,0,770,300/1551_OVW_logo.rev.1512748664.jpg 2x"/> <img src="/live/image/gid/90/width/345/height/225/crop/1/src_region/0,0,770,300/1551_OVW_logo.rev.1512748664.jpg" alt="Logo for Office on Violence Against Women" width="345" height="225" data-max-w="770" data-max-h="300" loading="lazy"/> </picture> </a></span></div><div class="lw_widget_text"><h4 class="lw_news_headline"><a href="/live/news/177-college-awarded-300000-grant-to-fight-sexual">College Awarded $300,000 Grant to Fight Sexual Assault</a></h4><div class="lw_news_summary"> Emory & Henry is just one of several colleges receiving a grant to address an important campus issue. <a href="/live/news/177-college-awarded-300000-grant-to-fight-sexual" class="link-with-arrow gold">Keep reading</a></div></div>
<div class="lw_news_image"><span class="lw_item_thumb"><a href="/live/news/1810-scholarship-established-to-honor-dr-george"><picture class="lw_image"> <source type="image/webp" srcset="/live/image/gid/90/width/345/height/225/crop/1/src_region/134,126,419,412/9815_IMG_0538_1.rev.1619625495.JPG 1x"/> <source type="image/webp" srcset="/live/image/gid/90/width/345/height/225/crop/1/src_region/134,126,419,412/9815_IMG_0538_1.rev.1619625495.JPG 1x"/> <source type="image/jpeg" srcset="/live/image/gid/90/width/345/height/225/crop/1/src_region/134,126,419,412/9815_IMG_0538_1.rev.1619625495.JPG 1x"/> <img src="/live/image/gid/90/width/345/height/225/crop/1/src_region/134,126,419,412/9815_IMG_0538_1.rev.1619625495.JPG" alt="Dr. George Treadwell flanked by Dr. John Joyce (E&H '72) and Ann Keeling (E&H '72)." width="345" height="225" data-max-w="285" data-max-h="286" loading="lazy"/> </picture> </a></span></div><div class="lw_widget_text"><h4 class="lw_news_headline"><a href="/live/news/1810-scholarship-established-to-honor-dr-george">Scholarship Established to Honor Dr. George Treadwell</a></h4><div class="lw_news_summary"><p> Dr. George Treadwell came to Emory & Henry in 1970 to teach biology, and across the many years of his career in Emory he made many impacts. But perhaps none as vivid or lasting as the influence he had on E&H alumnus Dr. John Joyce (Class of 1972).</p><a href="/live/news/1810-scholarship-established-to-honor-dr-george" class="link-with-arrow gold">Keep reading</a></div></div>
<div class="lw_news_image"><span class="lw_item_thumb"><a href="/live/news/90-college-named-best-value-school"><picture class="lw_image"> <source type="image/webp" srcset="/live/image/gid/65/width/345/height/225/crop/1/src_region/0,0,600,450/772_best-value-school.rev.1507229322.webp 1x"/> <source type="image/jpeg" srcset="/live/image/gid/65/width/345/height/225/crop/1/src_region/0,0,600,450/772_best-value-school.rev.1507229322.jpg 1x"/> <img src="/live/image/gid/65/width/345/height/225/crop/1/src_region/0,0,600,450/772_best-value-school.rev.1507229322.jpg" alt="" width="345" height="225" data-max-w="600" data-max-h="450" loading="lazy"/> </picture> </a></span></div><div class="lw_widget_text"><h4 class="lw_news_headline"><a href="/live/news/90-college-named-best-value-school">College Named "Best Value School"</a></h4><div class="lw_news_summary"> One of the top online resources for students to find colleges, universities and career schools that provide a valuable education has ranked Emory & Henry College one of the top 80 colleges and universities in the nation that is a "Best Value School." <a href="/live/news/90-college-named-best-value-school" class="link-with-arrow gold">Keep reading</a></div></div>
<div class="lw_news_image"><span class="lw_item_thumb"><a href="/live/news/179-students-in-swva-could-get-extra-financial-help"><picture class="lw_image"> <source type="image/webp" srcset="/live/image/gid/90/width/345/height/225/crop/1/src_region/0,0,1000,666/1572_lift.rev.1512761474.webp 1x, /live/image/scale/2x/gid/90/width/345/height/225/crop/1/src_region/0,0,1000,666/1572_lift.rev.1512761474.webp 2x"/> <source type="image/jpeg" srcset="/live/image/gid/90/width/345/height/225/crop/1/src_region/0,0,1000,666/1572_lift.rev.1512761474.jpg 1x, /live/image/scale/2x/gid/90/width/345/height/225/crop/1/src_region/0,0,1000,666/1572_lift.rev.1512761474.jpg 2x"/> <img src="/live/image/gid/90/width/345/height/225/crop/1/src_region/0,0,1000,666/1572_lift.rev.1512761474.jpg" alt="The Lift program at E&H" width="345" height="225" srcset="/live/image/scale/2x/gid/90/width/345/height/225/crop/1/src_region/0,0,1000,666/1572_lift.rev.1512761474.jpg 2x" data-max-w="1000" data-max-h="666" loading="lazy"/> </picture> </a></span></div><div class="lw_widget_text"><h4 class="lw_news_headline"><a href="/live/news/179-students-in-swva-could-get-extra-financial-help">Students in SWVA Could Get Extra Financial Help</a></h4><div class="lw_news_summary"> SWVA students are offered a special bit of financial incentive to attend Emory & Henry. <a href="/live/news/179-students-in-swva-could-get-extra-financial-help" class="link-with-arrow gold">Keep reading</a></div></div>
<div class="lw_news_image"><span class="lw_item_thumb"><a href="/live/news/280-emory-henry-college-opens-interfaith-prayer"><picture class="lw_image"> <source type="image/webp" srcset="/live/image/gid/83/width/345/height/225/crop/1/src_region/0,0,3200,2133/3171_InterfaithPrayerRoom16_2.rev.1518211260.webp 1x, /live/image/scale/2x/gid/83/width/345/height/225/crop/1/src_region/0,0,3200,2133/3171_InterfaithPrayerRoom16_2.rev.1518211260.webp 2x, /live/image/scale/3x/gid/83/width/345/height/225/crop/1/src_region/0,0,3200,2133/3171_InterfaithPrayerRoom16_2.rev.1518211260.webp 3x"/> <source type="image/jpeg" srcset="/live/image/gid/83/width/345/height/225/crop/1/src_region/0,0,3200,2133/3171_InterfaithPrayerRoom16_2.rev.1518211260.jpg 1x, /live/image/scale/2x/gid/83/width/345/height/225/crop/1/src_region/0,0,3200,2133/3171_InterfaithPrayerRoom16_2.rev.1518211260.jpg 2x, /live/image/scale/3x/gid/83/width/345/height/225/crop/1/src_region/0,0,3200,2133/3171_InterfaithPrayerRoom16_2.rev.1518211260.jpg 3x"/> <img src="/live/image/gid/83/width/345/height/225/crop/1/src_region/0,0,3200,2133/3171_InterfaithPrayerRoom16_2.rev.1518211260.jpg" alt="Student Safa Farhoumand helps dedicate the Interfaith Prayer Room." width="345" height="225" srcset="/live/image/scale/2x/gid/83/width/345/height/225/crop/1/src_region/0,0,3200,2133/3171_InterfaithPrayerRoom16_2.rev.1518211260.jpg 2x, /live/image/scale/3x/gid/83/width/345/height/225/crop/1/src_region/0,0,3200,2133/3171_InterfaithPrayerRoom16_2.rev.1518211260.jpg 3x" data-max-w="3200" data-max-h="2133" loading="lazy"/> </picture> </a></span></div><div class="lw_widget_text"><h4 class="lw_news_headline"><a href="/live/news/280-emory-henry-college-opens-interfaith-prayer">Emory & Henry College Opens Interfaith Prayer Room</a></h4><div class="lw_news_summary"><p> Equipped with chairs, tables, prayer rugs and religious texts, a room in the lower-level of Memorial Chapel on the Emory & Henry College campus is now available for students of all faiths to have a quiet place to pray and meditate.</p><a href="/live/news/280-emory-henry-college-opens-interfaith-prayer" class="link-with-arrow gold">Keep reading</a></div></div>
<div class="lw_news_image"><span class="lw_item_thumb"><a href="/live/news/188-eamph-awarded-math-teaching-grant"><picture class="lw_image"> <source type="image/webp" srcset="/live/image/gid/90/width/345/height/225/crop/1/src_region/0,0,1240,775/1606_math.rev.1513107949.webp 1x, /live/image/scale/2x/gid/90/width/345/height/225/crop/1/src_region/0,0,1240,775/1606_math.rev.1513107949.webp 2x, /live/image/scale/3x/gid/90/width/345/height/225/crop/1/src_region/0,0,1240,775/1606_math.rev.1513107949.webp 3x"/> <source type="image/jpeg" srcset="/live/image/gid/90/width/345/height/225/crop/1/src_region/0,0,1240,775/1606_math.rev.1513107949.jpg 1x, /live/image/scale/2x/gid/90/width/345/height/225/crop/1/src_region/0,0,1240,775/1606_math.rev.1513107949.jpg 2x, /live/image/scale/3x/gid/90/width/345/height/225/crop/1/src_region/0,0,1240,775/1606_math.rev.1513107949.jpg 3x"/> <img src="/live/image/gid/90/width/345/height/225/crop/1/src_region/0,0,1240,775/1606_math.rev.1513107949.jpg" alt="E&H has received a math grant from the Va. Dept. of Education" width="345" height="225" srcset="/live/image/scale/2x/gid/90/width/345/height/225/crop/1/src_region/0,0,1240,775/1606_math.rev.1513107949.jpg 2x, /live/image/scale/3x/gid/90/width/345/height/225/crop/1/src_region/0,0,1240,775/1606_math.rev.1513107949.jpg 3x" data-max-w="1240" data-max-h="775" loading="lazy"/> </picture> </a></span></div><div class="lw_widget_text"><h4 class="lw_news_headline"><a href="/live/news/188-eamph-awarded-math-teaching-grant">E&H Awarded Math Teaching Grant</a></h4><div class="lw_news_summary"> The College has received a grant for more than $80,000 to serve teachers in Bristol, Smyth County and Washington County (Va.) school divisions. <a href="/live/news/188-eamph-awarded-math-teaching-grant" class="link-with-arrow gold">Keep reading</a></div></div>
<div class="lw_news_image"><span class="lw_item_thumb"><a href="/live/news/955-eamph-climbs-in-the-us-news-world-report-best"><picture class="lw_image"> <source type="image/webp" srcset="/live/image/gid/83/width/345/height/225/crop/1/src_region/364,0,1732,1367/6834_Campus_graduates.rev.1568038341.webp 1x, /live/image/scale/2x/gid/83/width/345/height/225/crop/1/src_region/364,0,1732,1367/6834_Campus_graduates.rev.1568038341.webp 2x, /live/image/scale/3x/gid/83/width/345/height/225/crop/1/src_region/364,0,1732,1367/6834_Campus_graduates.rev.1568038341.webp 3x"/> <source type="image/jpeg" srcset="/live/image/gid/83/width/345/height/225/crop/1/src_region/364,0,1732,1367/6834_Campus_graduates.rev.1568038341.jpg 1x, /live/image/scale/2x/gid/83/width/345/height/225/crop/1/src_region/364,0,1732,1367/6834_Campus_graduates.rev.1568038341.jpg 2x, /live/image/scale/3x/gid/83/width/345/height/225/crop/1/src_region/364,0,1732,1367/6834_Campus_graduates.rev.1568038341.jpg 3x"/> <img src="/live/image/gid/83/width/345/height/225/crop/1/src_region/364,0,1732,1367/6834_Campus_graduates.rev.1568038341.jpg" alt="Graduates in front of the Patrick Henry statue." width="345" height="225" srcset="/live/image/scale/2x/gid/83/width/345/height/225/crop/1/src_region/364,0,1732,1367/6834_Campus_graduates.rev.1568038341.jpg 2x, /live/image/scale/3x/gid/83/width/345/height/225/crop/1/src_region/364,0,1732,1367/6834_Campus_graduates.rev.1568038341.jpg 3x" data-max-w="1368" data-max-h="1367" loading="lazy"/> </picture> </a></span></div><div class="lw_widget_text"><h4 class="lw_news_headline"><a href="/live/news/955-eamph-climbs-in-the-us-news-world-report-best">E&H Climbs in the U.S. News & World Report, Best College Rankings</a></h4><div class="lw_news_summary"> Emory & Henry College continues to be listed as a Top National Liberals Arts College in the United States by <em>U.S. News & World Report, Best Colleges</em>. Factors for the listing include graduation rate, alumni giving, academic reputation, class sizes and financial support. <a href="/live/news/955-eamph-climbs-in-the-us-news-world-report-best" class="link-with-arrow gold">Keep reading</a></div></div>
<div class="lw_news_image"></div><div class="lw_widget_text"><h4 class="lw_news_headline"><a href="/live/news/2190-dan-leidigs-lasting-legacy">Dan Leidig's Lasting Legacy</a></h4></div>
<div class="lw_news_image"><span class="lw_item_thumb"><a href="/live/news/276-deadline-extended-until-march-1-for-swva-lift"><picture class="lw_image"> <source type="image/webp" srcset="/live/image/gid/83/width/345/height/225/crop/1/src_region/0,0,1200,800/2658_Lift-SWVA.jpg.rev.1518186593.webp 1x, /live/image/scale/2x/gid/83/width/345/height/225/crop/1/src_region/0,0,1200,800/2658_Lift-SWVA.jpg.rev.1518186593.webp 2x, /live/image/scale/3x/gid/83/width/345/height/225/crop/1/src_region/0,0,1200,800/2658_Lift-SWVA.jpg.rev.1518186593.webp 3x"/> <source type="image/jpeg" srcset="/live/image/gid/83/width/345/height/225/crop/1/src_region/0,0,1200,800/2658_Lift-SWVA.jpg.rev.1518186593.jpg 1x, /live/image/scale/2x/gid/83/width/345/height/225/crop/1/src_region/0,0,1200,800/2658_Lift-SWVA.jpg.rev.1518186593.jpg 2x, /live/image/scale/3x/gid/83/width/345/height/225/crop/1/src_region/0,0,1200,800/2658_Lift-SWVA.jpg.rev.1518186593.jpg 3x"/> <img src="/live/image/gid/83/width/345/height/225/crop/1/src_region/0,0,1200,800/2658_Lift-SWVA.jpg.rev.1518186593.jpg" alt="A map shows the counties, cities and towns covered by the SWVA Lift program." width="345" height="225" srcset="/live/image/scale/2x/gid/83/width/345/height/225/crop/1/src_region/0,0,1200,800/2658_Lift-SWVA.jpg.rev.1518186593.jpg 2x, /live/image/scale/3x/gid/83/width/345/height/225/crop/1/src_region/0,0,1200,800/2658_Lift-SWVA.jpg.rev.1518186593.jpg 3x" data-max-w="1200" data-max-h="800" loading="lazy"/> </picture> </a></span></div><div class="lw_widget_text"><h4 class="lw_news_headline"><a href="/live/news/276-deadline-extended-until-march-1-for-swva-lift">Deadline Extended Until March 1 for SWVA Lift</a></h4><div class="lw_news_summary"><p> Emory & Henry College, exit 26 off I-81 in Emory, Va., has extended the deadline for its SWVA Lift initiative until March 1. The program helps make a top liberal arts education affordable for need-based students across Southwest Virginia at Emory & Henry.</p><a href="/live/news/276-deadline-extended-until-march-1-for-swva-lift" class="link-with-arrow gold">Keep reading</a></div></div>
<div class="lw_news_image"><span class="lw_item_thumb"><a href="/live/news/181-eamph-voted-affordable-school-for-study-abroad"><picture class="lw_image"> <source type="image/webp" srcset="/live/image/gid/90/width/345/height/225/crop/1/src_region/0,0,1000,666/1574_abroad.rev.1512762288.webp 1x, /live/image/scale/2x/gid/90/width/345/height/225/crop/1/src_region/0,0,1000,666/1574_abroad.rev.1512762288.webp 2x"/> <source type="image/jpeg" srcset="/live/image/gid/90/width/345/height/225/crop/1/src_region/0,0,1000,666/1574_abroad.rev.1512762288.jpg 1x, /live/image/scale/2x/gid/90/width/345/height/225/crop/1/src_region/0,0,1000,666/1574_abroad.rev.1512762288.jpg 2x"/> <img src="/live/image/gid/90/width/345/height/225/crop/1/src_region/0,0,1000,666/1574_abroad.rev.1512762288.jpg" alt="E&H voted affordable school for students wishing to study abroad." width="345" height="225" srcset="/live/image/scale/2x/gid/90/width/345/height/225/crop/1/src_region/0,0,1000,666/1574_abroad.rev.1512762288.jpg 2x" data-max-w="1000" data-max-h="666" loading="lazy"/> </picture> </a></span></div><div class="lw_widget_text"><h4 class="lw_news_headline"><a href="/live/news/181-eamph-voted-affordable-school-for-study-abroad">E&H Voted Affordable School for Study Abroad</a></h4><div class="lw_news_summary"> For the second time in 2017, Emory & Henry College <a href="/international-education/">study abroad</a> has been named one of the top programs in the nation. <a href="/live/news/181-eamph-voted-affordable-school-for-study-abroad" class="link-with-arrow gold">Keep reading</a></div></div>
<div class="lw_news_image"><span class="lw_item_thumb"><a href="/live/news/1177-college-community-club-provides-endowment"><picture class="lw_image"> <source type="image/webp" srcset="/live/image/gid/83/width/345/height/225/crop/1/src_region/0,0,799,534/7846_49655604988_1011f5dc41_c.rev.1584458217.webp 1x, /live/image/scale/2x/gid/83/width/345/height/225/crop/1/src_region/0,0,799,534/7846_49655604988_1011f5dc41_c.rev.1584458217.webp 2x"/> <source type="image/jpeg" srcset="/live/image/gid/83/width/345/height/225/crop/1/src_region/0,0,799,534/7846_49655604988_1011f5dc41_c.rev.1584458217.jpg 1x, /live/image/scale/2x/gid/83/width/345/height/225/crop/1/src_region/0,0,799,534/7846_49655604988_1011f5dc41_c.rev.1584458217.jpg 2x"/> <img src="/live/image/gid/83/width/345/height/225/crop/1/src_region/0,0,799,534/7846_49655604988_1011f5dc41_c.rev.1584458217.jpg" alt="College Community Club at the signing" width="345" height="225" srcset="/live/image/scale/2x/gid/83/width/345/height/225/crop/1/src_region/0,0,799,534/7846_49655604988_1011f5dc41_c.rev.1584458217.jpg 2x" data-max-w="799" data-max-h="534" loading="lazy"/> </picture> </a></span></div><div class="lw_widget_text"><h4 class="lw_news_headline"><a href="/live/news/1177-college-community-club-provides-endowment">College Community Club provides Endowment Scholarship at Emory & Henry College</a></h4><div class="lw_news_summary"> The Emory & Henry College Community Club held a signing ceremony on Thursday, March 12 to fully endow a scholarship. <a href="/live/news/1177-college-community-club-provides-endowment" class="link-with-arrow gold">Keep reading</a></div></div>
<div class="lw_news_image"><span class="lw_item_thumb"><a href="/live/news/2178-new-leadership-program-at-emory-henry-college"><picture class="lw_image"> <source type="image/webp" srcset="/live/image/gid/116/width/345/height/225/crop/1/src_region/0,0,3200,2136/10775_DEI_Holston_Check-30.rev.1643820875.webp 1x, /live/image/scale/2x/gid/116/width/345/height/225/crop/1/src_region/0,0,3200,2136/10775_DEI_Holston_Check-30.rev.1643820875.webp 2x, /live/image/scale/3x/gid/116/width/345/height/225/crop/1/src_region/0,0,3200,2136/10775_DEI_Holston_Check-30.rev.1643820875.webp 3x"/> <source type="image/jpeg" srcset="/live/image/gid/116/width/345/height/225/crop/1/src_region/0,0,3200,2136/10775_DEI_Holston_Check-30.rev.1643820875.jpg 1x, /live/image/scale/2x/gid/116/width/345/height/225/crop/1/src_region/0,0,3200,2136/10775_DEI_Holston_Check-30.rev.1643820875.jpg 2x, /live/image/scale/3x/gid/116/width/345/height/225/crop/1/src_region/0,0,3200,2136/10775_DEI_Holston_Check-30.rev.1643820875.jpg 3x"/> <img src="/live/image/gid/116/width/345/height/225/crop/1/src_region/0,0,3200,2136/10775_DEI_Holston_Check-30.rev.1643820875.jpg" alt="Greg McMillan '90, VP for Advancement, E&H; Rev. Sharon Bowers, Director of the Inclusion & Dialogue Center, E&H; Alliso..." width="345" height="225" srcset="/live/image/scale/2x/gid/116/width/345/height/225/crop/1/src_region/0,0,3200,2136/10775_DEI_Holston_Check-30.rev.1643820875.jpg 2x, /live/image/scale/3x/gid/116/width/345/height/225/crop/1/src_region/0,0,3200,2136/10775_DEI_Holston_Check-30.rev.1643820875.jpg 3x" data-max-w="3200" data-max-h="2136" loading="lazy"/> </picture> </a></span></div><div class="lw_widget_text"><h4 class="lw_news_headline"><a href="/live/news/2178-new-leadership-program-at-emory-henry-college">New Leadership Program at Emory & Henry College: Receives $50,000 Gift from Holston Foundation</a></h4><div class="lw_news_summary"> Students in the region will now have a new opportunity to develop key leadership skills in the area of diversity, equity, inclusion, civic engagement and social justice at Emory & Henry College due to a generous gift of $50,000 from the Holston Foundation. <a href="/live/news/2178-new-leadership-program-at-emory-henry-college" class="link-with-arrow gold">Keep reading</a></div></div>
<div class="lw_news_image"><span class="lw_item_thumb"><a href="/live/news/2113-emory-henrys-giving-tuesday-campaign-is-a"><picture class="lw_image"> <source type="image/webp" srcset="/live/image/gid/83/width/345/height/225/crop/1/src_region/0,0,1862,1706/10545_Screen_Shot_2021-12-01_at_1.49.00_PM.rev.1638384576.png 1x, /live/image/scale/2x/gid/83/width/345/height/225/crop/1/src_region/0,0,1862,1706/10545_Screen_Shot_2021-12-01_at_1.49.00_PM.rev.1638384576.png 2x, /live/image/scale/3x/gid/83/width/345/height/225/crop/1/src_region/0,0,1862,1706/10545_Screen_Shot_2021-12-01_at_1.49.00_PM.rev.1638384576.png 3x"/> <source type="image/webp" srcset="/live/image/gid/83/width/345/height/225/crop/1/src_region/0,0,1862,1706/10545_Screen_Shot_2021-12-01_at_1.49.00_PM.rev.1638384576.png 1x, /live/image/scale/2x/gid/83/width/345/height/225/crop/1/src_region/0,0,1862,1706/10545_Screen_Shot_2021-12-01_at_1.49.00_PM.rev.1638384576.png 2x, /live/image/scale/3x/gid/83/width/345/height/225/crop/1/src_region/0,0,1862,1706/10545_Screen_Shot_2021-12-01_at_1.49.00_PM.rev.1638384576.png 3x"/> <source type="image/png" srcset="/live/image/gid/83/width/345/height/225/crop/1/src_region/0,0,1862,1706/10545_Screen_Shot_2021-12-01_at_1.49.00_PM.rev.1638384576.png 1x, /live/image/scale/2x/gid/83/width/345/height/225/crop/1/src_region/0,0,1862,1706/10545_Screen_Shot_2021-12-01_at_1.49.00_PM.rev.1638384576.png 2x, /live/image/scale/3x/gid/83/width/345/height/225/crop/1/src_region/0,0,1862,1706/10545_Screen_Shot_2021-12-01_at_1.49.00_PM.rev.1638384576.png 3x"/> <img src="/live/image/gid/83/width/345/height/225/crop/1/src_region/0,0,1862,1706/10545_Screen_Shot_2021-12-01_at_1.49.00_PM.rev.1638384576.png" alt="Emory & Henry fall campus" width="345" height="225" srcset="/live/image/scale/2x/gid/83/width/345/height/225/crop/1/src_region/0,0,1862,1706/10545_Screen_Shot_2021-12-01_at_1.49.00_PM.rev.1638384576.png 2x, /live/image/scale/3x/gid/83/width/345/height/225/crop/1/src_region/0,0,1862,1706/10545_Screen_Shot_2021-12-01_at_1.49.00_PM.rev.1638384576.png 3x" data-max-w="1862" data-max-h="1706" loading="lazy"/> </picture> </a></span></div><div class="lw_widget_text"><h4 class="lw_news_headline"><a href="/live/news/2113-emory-henrys-giving-tuesday-campaign-is-a">Emory & Henry's Giving Tuesday campaign is a success</a></h4><div class="lw_news_summary"><span style="font-weight: 400;">Tuesday, November 30 marked Emory & Henry's ninth annual Giving Tuesday, a one-day</span> <span style="font-weight: 400;">annual celebration of generosity event.</span> <a href="/live/news/2113-emory-henrys-giving-tuesday-campaign-is-a" class="link-with-arrow gold">Keep reading</a></div></div>
<div class="lw_news_image"><span class="lw_item_thumb"><a href="/live/news/2177-anonymous-donor-establishes-scholarship-for"><picture class="lw_image"> <source type="image/webp" srcset="/live/image/gid/90/width/345/height/225/crop/1/src_region/0,0,227,254/10755_annette.rev.1643320356.webp 1x"/> <source type="image/jpeg" srcset="/live/image/gid/90/width/345/height/225/crop/1/src_region/0,0,227,254/10755_annette.rev.1643320356.jpg 1x"/> <img src="/live/image/gid/90/width/345/height/225/crop/1/src_region/0,0,227,254/10755_annette.rev.1643320356.jpg" alt="Annette Welch Webb E&H Class of 1967" width="345" height="225" data-max-w="227" data-max-h="254" loading="lazy"/> </picture> </a></span></div><div class="lw_widget_text"><h4 class="lw_news_headline"><a href="/live/news/2177-anonymous-donor-establishes-scholarship-for">Anonymous Donor Establishes Scholarship for Annette Welch Webb</a></h4><div class="lw_news_summary"> The Annette Welch Webb Memorial Endowed Scholarship <a href="/live/news/2177-anonymous-donor-establishes-scholarship-for" class="link-with-arrow gold">Keep reading</a></div></div>