Emory & Henry Honored as an Affordable College of Distinction
Emory & Henry College has been awarded a prestigious distinction for its commitment to affordability compared to other institutions. The recognition comes from Colleges of Distinction, a resource that selects schools based on the quality and diversity of hands-on experiences rather than relying on traditional rankings.
In an era dominated by discussions about college tuition and student debt, the Affordable Colleges of Distinction award aims to assist cost-conscious students and parents in navigating the complex landscape of college financing. Emory & Henry is notable for its affordability among the group of Colleges of Distinction, showcasing its notable financial costs and positive outcomes.
Tyson Schritter, Chief Operating Officer at Colleges of Distinction, emphasized the significance of addressing today's cost of higher education. "For new students, the ability to finance their education is a very reasonable concern. Emory & Henry has demonstrated its commitment to ensuring manageable student debt and empowering career opportunities."
Emory & Henry offers its students more than 90 academic programs and tracks. Additionally, an annual report provided by The van Vlissingen Center for Career and Professional Development revealed that students from the class of 2023 have landed incredible positions in widely known workplaces and graduate programs. The graduate placement rate is more than 95%.
Being one of fewer than 150 institutions selected as an Affordable College of Distinction, Emory & Henry stands out as a unique and cost-effective choice. Schritter explained, "Our evaluation factors in various cost-related aspects. It is essential for us to recognize that students come from diverse socioeconomic backgrounds. Thus, our methodology incorporates weighted variables that consider family income relative to net price." The selection process relies on institutional data provided by the U.S. Department of Education, specifically focusing on low net prices proportionate to student household income.
In addition to net price, Colleges of Distinction considered median debt and mean earnings data of graduates, factoring in location, size, public/private affiliation status, and the percentage of Pell Grant recipients. These criteria collectively positioned Emory & Henry among the most affordable institutions.
Schritter further emphasized, "Our Affordable Colleges of Distinction are not just about a low price tag; they epitomize a significant return on a student's investment. Emory & Henry has exemplified that an engaging, real-world education can be accessible without a hefty financial burden."
Other rankings of Distinction include: Education, Business and Equity & Inclusion.
About Colleges of Distinction
Since 2000, Colleges of Distinction has been dedicated to recognizing excellence in higher education across the United States. Member schools within the Colleges of Distinction consortium distinguish themselves by their unwavering focus on providing exceptional undergraduate experiences. The website offers dynamic college profiles, customized tools, and resources for students, parents, and high school.
About Emory & Henry College
Located in the Highlands of Virginia, Emory & Henry College has devoted itself since 1836 to the belief that education can have a transformative effect on an individual, a place and ultimately the wider world. Emory & Henry College is consistently ranked among the nation's best private liberal arts institutions. The College's many accolades include the Presidential Award for Service Learning, the highest national recognition for community service and service learning; top tier recognition in Washington Monthly, USA Today, Newsweek and we are also listed among the top 40 schools in Colleges that Change Lives.
Open gallery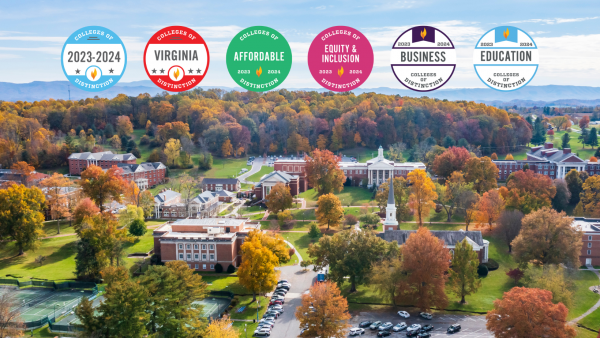 Our evaluation factors in various cost-related aspects. It is essential for us to recognize that students come from diverse socioeconomic backgrounds. Thus, our methodology incorporates weighted variables that consider family income relative to net price.
Tyson Schritter, Chief Operating Officer at Colleges of Distinction

More News
<div class="lw_news_image"><span class="lw_item_thumb"><a href="/live/news/349-oquinn-challenges-college-to-conquer-new-frontiers"><picture class="lw_image"> <source type="image/webp" srcset="/live/image/gid/83/width/345/height/225/crop/1/src_region/300,0,2438,2136/3620_Israel_OQuinn.rev.1521739891.webp 1x, /live/image/scale/2x/gid/83/width/345/height/225/crop/1/src_region/300,0,2438,2136/3620_Israel_OQuinn.rev.1521739891.webp 2x, /live/image/scale/3x/gid/83/width/345/height/225/crop/1/src_region/300,0,2438,2136/3620_Israel_OQuinn.rev.1521739891.webp 3x"/> <source type="image/jpeg" srcset="/live/image/gid/83/width/345/height/225/crop/1/src_region/300,0,2438,2136/3620_Israel_OQuinn.rev.1521739891.jpg 1x, /live/image/scale/2x/gid/83/width/345/height/225/crop/1/src_region/300,0,2438,2136/3620_Israel_OQuinn.rev.1521739891.jpg 2x, /live/image/scale/3x/gid/83/width/345/height/225/crop/1/src_region/300,0,2438,2136/3620_Israel_OQuinn.rev.1521739891.jpg 3x"/> <img src="/live/image/gid/83/width/345/height/225/crop/1/src_region/300,0,2438,2136/3620_Israel_OQuinn.rev.1521739891.jpg" alt="Israel O'Quinn speaks at Founders Day 2018" width="345" height="225" srcset="/live/image/scale/2x/gid/83/width/345/height/225/crop/1/src_region/300,0,2438,2136/3620_Israel_OQuinn.rev.1521739891.jpg 2x, /live/image/scale/3x/gid/83/width/345/height/225/crop/1/src_region/300,0,2438,2136/3620_Israel_OQuinn.rev.1521739891.jpg 3x" data-max-w="2138" data-max-h="2136" loading="lazy"/> </picture> </a></span></div><div class="lw_widget_text"><h4 class="lw_news_headline"><a href="/live/news/349-oquinn-challenges-college-to-conquer-new-frontiers">O'Quinn Challenges College to Conquer New Frontiers</a></h4><div class="lw_news_summary"><p> In the 181 years of existence, Emory & Henry College has had many opportunities to conquer new frontiers, according to Virginia House Delegate Israel O'Quinn ('02), the keynote speaker during the annual Founders Day celebration.</p><a href="/live/news/349-oquinn-challenges-college-to-conquer-new-frontiers" class="link-with-arrow gold">Keep reading</a></div></div>
<div class="lw_news_image"><span class="lw_item_thumb"><a href="/live/news/735-koch-uncovers-the-inequalities-of-food"><picture class="lw_image"> <source type="image/webp" srcset="/live/image/gid/38/width/345/height/225/crop/1/src_region/0,492,2136,2630/6049_Shelley_Koch-2.rev.1552061534.webp 1x, /live/image/scale/2x/gid/38/width/345/height/225/crop/1/src_region/0,492,2136,2630/6049_Shelley_Koch-2.rev.1552061534.webp 2x, /live/image/scale/3x/gid/38/width/345/height/225/crop/1/src_region/0,492,2136,2630/6049_Shelley_Koch-2.rev.1552061534.webp 3x"/> <source type="image/jpeg" srcset="/live/image/gid/38/width/345/height/225/crop/1/src_region/0,492,2136,2630/6049_Shelley_Koch-2.rev.1552061534.jpg 1x, /live/image/scale/2x/gid/38/width/345/height/225/crop/1/src_region/0,492,2136,2630/6049_Shelley_Koch-2.rev.1552061534.jpg 2x, /live/image/scale/3x/gid/38/width/345/height/225/crop/1/src_region/0,492,2136,2630/6049_Shelley_Koch-2.rev.1552061534.jpg 3x"/> <img src="/live/image/gid/38/width/345/height/225/crop/1/src_region/0,492,2136,2630/6049_Shelley_Koch-2.rev.1552061534.jpg" alt="Shelley Koch" width="345" height="225" srcset="/live/image/scale/2x/gid/38/width/345/height/225/crop/1/src_region/0,492,2136,2630/6049_Shelley_Koch-2.rev.1552061534.jpg 2x, /live/image/scale/3x/gid/38/width/345/height/225/crop/1/src_region/0,492,2136,2630/6049_Shelley_Koch-2.rev.1552061534.jpg 3x" data-max-w="2136" data-max-h="2138" loading="lazy"/> </picture> </a></span></div><div class="lw_widget_text"><h4 class="lw_news_headline"><a href="/live/news/735-koch-uncovers-the-inequalities-of-food">Koch Uncovers the Inequalities of Food</a></h4><div class="lw_news_summary"><p>Dr. Shelley Koch has released her third book, <em>Gender and Food: A Critical Look at the Food System</em>. The book looks at different aspects of food and how it is affected by gender inequalities.</p><a href="/live/news/735-koch-uncovers-the-inequalities-of-food" class="link-with-arrow gold">Keep reading</a></div></div>
<div class="lw_news_image"><span class="lw_item_thumb"><a href="/live/news/665-professor-michael-lane-releases-groundbreaking"><picture class="lw_image"> <source type="image/webp" srcset="/live/image/gid/83/width/345/height/225/crop/1/src_region/409,0,1411,1003/5918_Michael_Lane.rev.1549029248.webp 1x, /live/image/scale/2x/gid/83/width/345/height/225/crop/1/src_region/409,0,1411,1003/5918_Michael_Lane.rev.1549029248.webp 2x"/> <source type="image/jpeg" srcset="/live/image/gid/83/width/345/height/225/crop/1/src_region/409,0,1411,1003/5918_Michael_Lane.rev.1549029248.jpg 1x, /live/image/scale/2x/gid/83/width/345/height/225/crop/1/src_region/409,0,1411,1003/5918_Michael_Lane.rev.1549029248.jpg 2x"/> <img src="/live/image/gid/83/width/345/height/225/crop/1/src_region/409,0,1411,1003/5918_Michael_Lane.rev.1549029248.jpg" alt="Michael Lane works with students in the chemistry lab." width="345" height="225" srcset="/live/image/scale/2x/gid/83/width/345/height/225/crop/1/src_region/409,0,1411,1003/5918_Michael_Lane.rev.1549029248.jpg 2x" data-max-w="1002" data-max-h="1003" loading="lazy"/> </picture> </a></span></div><div class="lw_widget_text"><h4 class="lw_news_headline"><a href="/live/news/665-professor-michael-lane-releases-groundbreaking">Professor Michael Lane Releases Groundbreaking Work</a></h4><div class="lw_news_summary"><p>Professor of Chemistry, Michael Lane, has released a collaborative work on the strength of composite materials.</p><a href="/live/news/665-professor-michael-lane-releases-groundbreaking" class="link-with-arrow gold">Keep reading</a></div></div>
<div class="lw_news_image"><span class="lw_item_thumb"><a href="/live/news/276-deadline-extended-until-march-1-for-swva-lift"><picture class="lw_image"> <source type="image/webp" srcset="/live/image/gid/83/width/345/height/225/crop/1/src_region/0,0,1200,800/2658_Lift-SWVA.jpg.rev.1518186593.webp 1x, /live/image/scale/2x/gid/83/width/345/height/225/crop/1/src_region/0,0,1200,800/2658_Lift-SWVA.jpg.rev.1518186593.webp 2x, /live/image/scale/3x/gid/83/width/345/height/225/crop/1/src_region/0,0,1200,800/2658_Lift-SWVA.jpg.rev.1518186593.webp 3x"/> <source type="image/jpeg" srcset="/live/image/gid/83/width/345/height/225/crop/1/src_region/0,0,1200,800/2658_Lift-SWVA.jpg.rev.1518186593.jpg 1x, /live/image/scale/2x/gid/83/width/345/height/225/crop/1/src_region/0,0,1200,800/2658_Lift-SWVA.jpg.rev.1518186593.jpg 2x, /live/image/scale/3x/gid/83/width/345/height/225/crop/1/src_region/0,0,1200,800/2658_Lift-SWVA.jpg.rev.1518186593.jpg 3x"/> <img src="/live/image/gid/83/width/345/height/225/crop/1/src_region/0,0,1200,800/2658_Lift-SWVA.jpg.rev.1518186593.jpg" alt="A map shows the counties, cities and towns covered by the SWVA Lift program." width="345" height="225" srcset="/live/image/scale/2x/gid/83/width/345/height/225/crop/1/src_region/0,0,1200,800/2658_Lift-SWVA.jpg.rev.1518186593.jpg 2x, /live/image/scale/3x/gid/83/width/345/height/225/crop/1/src_region/0,0,1200,800/2658_Lift-SWVA.jpg.rev.1518186593.jpg 3x" data-max-w="1200" data-max-h="800" loading="lazy"/> </picture> </a></span></div><div class="lw_widget_text"><h4 class="lw_news_headline"><a href="/live/news/276-deadline-extended-until-march-1-for-swva-lift">Deadline Extended Until March 1 for SWVA Lift</a></h4><div class="lw_news_summary"><p> Emory & Henry College, exit 26 off I-81 in Emory, Va., has extended the deadline for its SWVA Lift initiative until March 1. The program helps make a top liberal arts education affordable for need-based students across Southwest Virginia at Emory & Henry.</p><a href="/live/news/276-deadline-extended-until-march-1-for-swva-lift" class="link-with-arrow gold">Keep reading</a></div></div>
<div class="lw_news_image"><span class="lw_item_thumb"><a href="/live/news/280-emory-henry-college-opens-interfaith-prayer"><picture class="lw_image"> <source type="image/webp" srcset="/live/image/gid/83/width/345/height/225/crop/1/src_region/0,0,3200,2133/3171_InterfaithPrayerRoom16_2.rev.1518211260.webp 1x, /live/image/scale/2x/gid/83/width/345/height/225/crop/1/src_region/0,0,3200,2133/3171_InterfaithPrayerRoom16_2.rev.1518211260.webp 2x, /live/image/scale/3x/gid/83/width/345/height/225/crop/1/src_region/0,0,3200,2133/3171_InterfaithPrayerRoom16_2.rev.1518211260.webp 3x"/> <source type="image/jpeg" srcset="/live/image/gid/83/width/345/height/225/crop/1/src_region/0,0,3200,2133/3171_InterfaithPrayerRoom16_2.rev.1518211260.jpg 1x, /live/image/scale/2x/gid/83/width/345/height/225/crop/1/src_region/0,0,3200,2133/3171_InterfaithPrayerRoom16_2.rev.1518211260.jpg 2x, /live/image/scale/3x/gid/83/width/345/height/225/crop/1/src_region/0,0,3200,2133/3171_InterfaithPrayerRoom16_2.rev.1518211260.jpg 3x"/> <img src="/live/image/gid/83/width/345/height/225/crop/1/src_region/0,0,3200,2133/3171_InterfaithPrayerRoom16_2.rev.1518211260.jpg" alt="Student Safa Farhoumand helps dedicate the Interfaith Prayer Room." width="345" height="225" srcset="/live/image/scale/2x/gid/83/width/345/height/225/crop/1/src_region/0,0,3200,2133/3171_InterfaithPrayerRoom16_2.rev.1518211260.jpg 2x, /live/image/scale/3x/gid/83/width/345/height/225/crop/1/src_region/0,0,3200,2133/3171_InterfaithPrayerRoom16_2.rev.1518211260.jpg 3x" data-max-w="3200" data-max-h="2133" loading="lazy"/> </picture> </a></span></div><div class="lw_widget_text"><h4 class="lw_news_headline"><a href="/live/news/280-emory-henry-college-opens-interfaith-prayer">Emory & Henry College Opens Interfaith Prayer Room</a></h4><div class="lw_news_summary"><p> Equipped with chairs, tables, prayer rugs and religious texts, a room in the lower-level of Memorial Chapel on the Emory & Henry College campus is now available for students of all faiths to have a quiet place to pray and meditate.</p><a href="/live/news/280-emory-henry-college-opens-interfaith-prayer" class="link-with-arrow gold">Keep reading</a></div></div>
<div class="lw_news_image"><span class="lw_item_thumb"><a href="/live/news/521-emory-henry-college-lands-in-four-national"><picture class="lw_image"> <source type="image/webp" srcset="/live/image/gid/83/width/345/height/225/crop/1/src_region/0,1043,2133,3174/4542_Pocket-Folder-Cover-RGB_1_4.rev.1536594635.webp 1x, /live/image/scale/2x/gid/83/width/345/height/225/crop/1/src_region/0,1043,2133,3174/4542_Pocket-Folder-Cover-RGB_1_4.rev.1536594635.webp 2x, /live/image/scale/3x/gid/83/width/345/height/225/crop/1/src_region/0,1043,2133,3174/4542_Pocket-Folder-Cover-RGB_1_4.rev.1536594635.webp 3x"/> <source type="image/jpeg" srcset="/live/image/gid/83/width/345/height/225/crop/1/src_region/0,1043,2133,3174/4542_Pocket-Folder-Cover-RGB_1_4.rev.1536594635.jpg 1x, /live/image/scale/2x/gid/83/width/345/height/225/crop/1/src_region/0,1043,2133,3174/4542_Pocket-Folder-Cover-RGB_1_4.rev.1536594635.jpg 2x, /live/image/scale/3x/gid/83/width/345/height/225/crop/1/src_region/0,1043,2133,3174/4542_Pocket-Folder-Cover-RGB_1_4.rev.1536594635.jpg 3x"/> <img src="/live/image/gid/83/width/345/height/225/crop/1/src_region/0,1043,2133,3174/4542_Pocket-Folder-Cover-RGB_1_4.rev.1536594635.jpg" alt="Emory & Henry College campus view pictured here was ranked as one of the best liberal arts colleges by U.S. News & World Report." width="345" height="225" srcset="/live/image/scale/2x/gid/83/width/345/height/225/crop/1/src_region/0,1043,2133,3174/4542_Pocket-Folder-Cover-RGB_1_4.rev.1536594635.jpg 2x, /live/image/scale/3x/gid/83/width/345/height/225/crop/1/src_region/0,1043,2133,3174/4542_Pocket-Folder-Cover-RGB_1_4.rev.1536594635.jpg 3x" data-max-w="2133" data-max-h="2131" loading="lazy"/> </picture> </a></span></div><div class="lw_widget_text"><h4 class="lw_news_headline"><a href="/live/news/521-emory-henry-college-lands-in-four-national">Emory & Henry College Lands in Four National College Rankings</a></h4><div class="lw_news_summary"> Emory & Henry College ranks among the best liberal arts colleges in the United States, according to the annual list of rankings released this week by <em>U.S. News & World Report, Best Colleges</em>. <a href="/live/news/521-emory-henry-college-lands-in-four-national" class="link-with-arrow gold">Keep reading</a></div></div>
<div class="lw_news_image"><span class="lw_item_thumb"><a href="/live/news/313-eamphs-wehc-launches-spring-fund-drive"><picture class="lw_image"> <source type="image/webp" srcset="/live/image/gid/83/width/345/height/225/crop/1/src_region/0,0,3200,2133/3409_Sam-Mungai-February-2018-IMG003.rev.1519990134.webp 1x, /live/image/scale/2x/gid/83/width/345/height/225/crop/1/src_region/0,0,3200,2133/3409_Sam-Mungai-February-2018-IMG003.rev.1519990134.webp 2x, /live/image/scale/3x/gid/83/width/345/height/225/crop/1/src_region/0,0,3200,2133/3409_Sam-Mungai-February-2018-IMG003.rev.1519990134.webp 3x"/> <source type="image/jpeg" srcset="/live/image/gid/83/width/345/height/225/crop/1/src_region/0,0,3200,2133/3409_Sam-Mungai-February-2018-IMG003.rev.1519990134.jpg 1x, /live/image/scale/2x/gid/83/width/345/height/225/crop/1/src_region/0,0,3200,2133/3409_Sam-Mungai-February-2018-IMG003.rev.1519990134.jpg 2x, /live/image/scale/3x/gid/83/width/345/height/225/crop/1/src_region/0,0,3200,2133/3409_Sam-Mungai-February-2018-IMG003.rev.1519990134.jpg 3x"/> <img src="/live/image/gid/83/width/345/height/225/crop/1/src_region/0,0,3200,2133/3409_Sam-Mungai-February-2018-IMG003.rev.1519990134.jpg" alt="Student Sam Mungai hosts a weekly call-in music request radio show on WEHC 90.7FM." width="345" height="225" srcset="/live/image/scale/2x/gid/83/width/345/height/225/crop/1/src_region/0,0,3200,2133/3409_Sam-Mungai-February-2018-IMG003.rev.1519990134.jpg 2x, /live/image/scale/3x/gid/83/width/345/height/225/crop/1/src_region/0,0,3200,2133/3409_Sam-Mungai-February-2018-IMG003.rev.1519990134.jpg 3x" data-max-w="3200" data-max-h="2133" loading="lazy"/> </picture> </a></span></div><div class="lw_widget_text"><h4 class="lw_news_headline"><a href="/live/news/313-eamphs-wehc-launches-spring-fund-drive">E&H's WEHC Launches Spring Fund Drive</a></h4><div class="lw_news_summary"> WEHC 90.7, Emory & Henry College's "College and Community Station," has launched it spring fund drive. Between now and March 9 the station is planning to raise a good share of its annual fundraising goal. <a href="/live/news/313-eamphs-wehc-launches-spring-fund-drive" class="link-with-arrow gold">Keep reading</a></div></div>
<div class="lw_news_image"><span class="lw_item_thumb"><a href="/live/news/668-emory-henry-announces-new-rn-to-bsn-program"><picture class="lw_image"> <source type="image/webp" srcset="/live/image/gid/83/width/345/height/225/crop/1/src_region/1011,0,3148,2136/5941_RN-BSN-54.rev.1549910260.webp 1x, /live/image/scale/2x/gid/83/width/345/height/225/crop/1/src_region/1011,0,3148,2136/5941_RN-BSN-54.rev.1549910260.webp 2x, /live/image/scale/3x/gid/83/width/345/height/225/crop/1/src_region/1011,0,3148,2136/5941_RN-BSN-54.rev.1549910260.webp 3x"/> <source type="image/jpeg" srcset="/live/image/gid/83/width/345/height/225/crop/1/src_region/1011,0,3148,2136/5941_RN-BSN-54.rev.1549910260.jpg 1x, /live/image/scale/2x/gid/83/width/345/height/225/crop/1/src_region/1011,0,3148,2136/5941_RN-BSN-54.rev.1549910260.jpg 2x, /live/image/scale/3x/gid/83/width/345/height/225/crop/1/src_region/1011,0,3148,2136/5941_RN-BSN-54.rev.1549910260.jpg 3x"/> <img src="/live/image/gid/83/width/345/height/225/crop/1/src_region/1011,0,3148,2136/5941_RN-BSN-54.rev.1549910260.jpg" alt="Students at the School of Health Sciences campus in Marion, Va. Applications are now being accepted for the RN to BSN program. Apply now." width="345" height="225" srcset="/live/image/scale/2x/gid/83/width/345/height/225/crop/1/src_region/1011,0,3148,2136/5941_RN-BSN-54.rev.1549910260.jpg 2x, /live/image/scale/3x/gid/83/width/345/height/225/crop/1/src_region/1011,0,3148,2136/5941_RN-BSN-54.rev.1549910260.jpg 3x" data-max-w="2137" data-max-h="2136" loading="lazy"/> </picture> </a></span></div><div class="lw_widget_text"><h4 class="lw_news_headline"><a href="/live/news/668-emory-henry-announces-new-rn-to-bsn-program">Emory & Henry Announces New RN to BSN Program</a></h4><div class="lw_news_summary"> Due to an ever-demanding increased need for nurses in the region, Emory & Henry College has established its first-ever RN to BSN program and is now enrolling students to start classes this fall. <a href="/live/news/668-emory-henry-announces-new-rn-to-bsn-program" class="link-with-arrow gold">Keep reading</a></div></div>
<div class="lw_news_image"><span class="lw_item_thumb"><a href="/live/news/717-emory-henry-college-holds-mid-appalachian"><picture class="lw_image"> <source type="image/webp" srcset="/live/image/gid/83/width/345/height/225/crop/1/src_region/921,0,3059,2136/6043_Mid-Appalachian_Higher_Ed_Summit.rev.1551899402.webp 1x, /live/image/scale/2x/gid/83/width/345/height/225/crop/1/src_region/921,0,3059,2136/6043_Mid-Appalachian_Higher_Ed_Summit.rev.1551899402.webp 2x, /live/image/scale/3x/gid/83/width/345/height/225/crop/1/src_region/921,0,3059,2136/6043_Mid-Appalachian_Higher_Ed_Summit.rev.1551899402.webp 3x"/> <source type="image/jpeg" srcset="/live/image/gid/83/width/345/height/225/crop/1/src_region/921,0,3059,2136/6043_Mid-Appalachian_Higher_Ed_Summit.rev.1551899402.jpg 1x, /live/image/scale/2x/gid/83/width/345/height/225/crop/1/src_region/921,0,3059,2136/6043_Mid-Appalachian_Higher_Ed_Summit.rev.1551899402.jpg 2x, /live/image/scale/3x/gid/83/width/345/height/225/crop/1/src_region/921,0,3059,2136/6043_Mid-Appalachian_Higher_Ed_Summit.rev.1551899402.jpg 3x"/> <img src="/live/image/gid/83/width/345/height/225/crop/1/src_region/921,0,3059,2136/6043_Mid-Appalachian_Higher_Ed_Summit.rev.1551899402.jpg" alt="From left to right: Moderator Dr. Michael Puglisi of Emory & Henry College, Dr. Dean Sprinkle, President of Wytheville Community Coll..." width="345" height="225" srcset="/live/image/scale/2x/gid/83/width/345/height/225/crop/1/src_region/921,0,3059,2136/6043_Mid-Appalachian_Higher_Ed_Summit.rev.1551899402.jpg 2x, /live/image/scale/3x/gid/83/width/345/height/225/crop/1/src_region/921,0,3059,2136/6043_Mid-Appalachian_Higher_Ed_Summit.rev.1551899402.jpg 3x" data-max-w="2138" data-max-h="2136" loading="lazy"/> </picture> </a></span></div><div class="lw_widget_text"><h4 class="lw_news_headline"><a href="/live/news/717-emory-henry-college-holds-mid-appalachian">Emory & Henry College holds Mid-Appalachian Higher Ed Summit</a></h4><div class="lw_news_summary"> For the first time in the Mid-Appalachian region, leaders of nine higher education institutions gathered to look at the state of higher education, demographic and economic trends, and workforce and career development needs in the region. <a href="/live/news/717-emory-henry-college-holds-mid-appalachian" class="link-with-arrow gold">Keep reading</a></div></div>