Service Plunge at Emory & Henry Gives Back to the Community
Nearly 430 new Emory & Henry College students spread across Southwest Virginia and Northeast Tennessee to 21 different service locations to join in on the 26th annual Service Plunge on Tuesday, August 8. Service Plunge is a time-honored tradition at the College that is organized by the Appalachian Center for Civic Life, in which teams of students and faculty coordinators serve various locations, most of which represent a theme of their first-year courses.
Each service location provided students with a unique and valuable experience to learn more about the needs of the community and the importance of service. Many students took turns harvesting tomatoes and peppers at Central Christian Church in Bristol, Tennessee, with River's Way to donate to local food banks. Others pulled weeds at the YWCA playground, stained fences at Hungry Mother State Park and engaged in community-building activities at the Damascus Trail Center.
"Service Plunge is a reflection of Emory & Henry's mission and values of service to others in our region and the larger world," said Leah Wilson, coordinator of civic life. "It is an important opportunity for new students to make connections with community organizations to better understand themselves as part of the larger community while also bonding with classmates, faculty and staff. I am so happy we were able to continue with the tradition of Service Plunge."
As part of the educational community of Emory & Henry College, the Appalachian Center for Civic Life strives to create a nationally distinctive program of service and education, equipping students to be agents of social change in our region, our nation and the world. Focusing on the interconnection of place, citizenship, public policy, social capital and mediating structures, the Appalachian Center will expand its place-based model, creating new opportunities for service and learning that is responsive to the long, environmental and human history of a place, acknowledging the persistence of a range of social and cultural conflicts.
"Students, faculty and staff worked so hard to make a difference, connect with others and spread love outside of the campus walls. It is our hope that Service Plunge will be a spark that ignites students' continued engagement in ongoing meaningful opportunities to make Southwest Virginia and Northeast Tennessee thrive," said Wilson.
Open gallery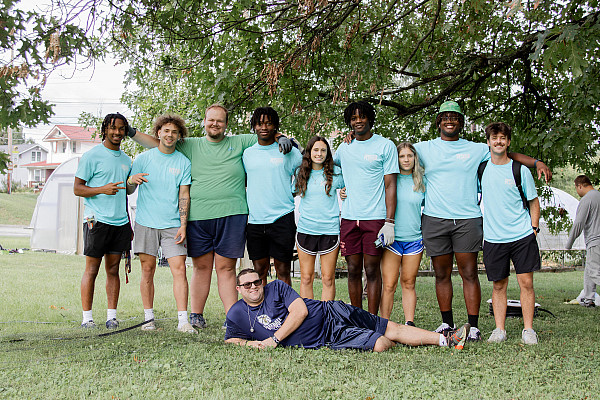 "Students, faculty and staff worked so hard to make a difference, connect with others and spread love outside of the campus walls. It is our hope that Service Plunge will be a spark that ignites students' continued engagement in ongoing meaningful opportunities to make Southwest Virginia and Northeast Tennessee thrive."
-Leah Wilson
Coordinator for Civic Life
More News
<div class="lw_news_image"><span class="lw_item_thumb"><a href="/live/news/276-deadline-extended-until-march-1-for-swva-lift"><picture class="lw_image"> <source type="image/webp" srcset="/live/image/gid/83/width/345/height/225/crop/1/src_region/0,0,1200,800/2658_Lift-SWVA.jpg.rev.1518186593.webp 1x, /live/image/scale/2x/gid/83/width/345/height/225/crop/1/src_region/0,0,1200,800/2658_Lift-SWVA.jpg.rev.1518186593.webp 2x, /live/image/scale/3x/gid/83/width/345/height/225/crop/1/src_region/0,0,1200,800/2658_Lift-SWVA.jpg.rev.1518186593.webp 3x"/> <source type="image/jpeg" srcset="/live/image/gid/83/width/345/height/225/crop/1/src_region/0,0,1200,800/2658_Lift-SWVA.jpg.rev.1518186593.jpg 1x, /live/image/scale/2x/gid/83/width/345/height/225/crop/1/src_region/0,0,1200,800/2658_Lift-SWVA.jpg.rev.1518186593.jpg 2x, /live/image/scale/3x/gid/83/width/345/height/225/crop/1/src_region/0,0,1200,800/2658_Lift-SWVA.jpg.rev.1518186593.jpg 3x"/> <img src="/live/image/gid/83/width/345/height/225/crop/1/src_region/0,0,1200,800/2658_Lift-SWVA.jpg.rev.1518186593.jpg" alt="A map shows the counties, cities and towns covered by the SWVA Lift program." width="345" height="225" srcset="/live/image/scale/2x/gid/83/width/345/height/225/crop/1/src_region/0,0,1200,800/2658_Lift-SWVA.jpg.rev.1518186593.jpg 2x, /live/image/scale/3x/gid/83/width/345/height/225/crop/1/src_region/0,0,1200,800/2658_Lift-SWVA.jpg.rev.1518186593.jpg 3x" data-max-w="1200" data-max-h="800" loading="lazy"/> </picture> </a></span></div><div class="lw_widget_text"><h4 class="lw_news_headline"><a href="/live/news/276-deadline-extended-until-march-1-for-swva-lift">Deadline Extended Until March 1 for SWVA Lift</a></h4><div class="lw_news_summary"><p> Emory & Henry College, exit 26 off I-81 in Emory, Va., has extended the deadline for its SWVA Lift initiative until March 1. The program helps make a top liberal arts education affordable for need-based students across Southwest Virginia at Emory & Henry.</p><a href="/live/news/276-deadline-extended-until-march-1-for-swva-lift" class="link-with-arrow gold">Keep reading</a></div></div>
<div class="lw_news_image"><span class="lw_item_thumb"><a href="/live/news/280-emory-henry-college-opens-interfaith-prayer"><picture class="lw_image"> <source type="image/webp" srcset="/live/image/gid/83/width/345/height/225/crop/1/src_region/0,0,3200,2133/3171_InterfaithPrayerRoom16_2.rev.1518211260.webp 1x, /live/image/scale/2x/gid/83/width/345/height/225/crop/1/src_region/0,0,3200,2133/3171_InterfaithPrayerRoom16_2.rev.1518211260.webp 2x, /live/image/scale/3x/gid/83/width/345/height/225/crop/1/src_region/0,0,3200,2133/3171_InterfaithPrayerRoom16_2.rev.1518211260.webp 3x"/> <source type="image/jpeg" srcset="/live/image/gid/83/width/345/height/225/crop/1/src_region/0,0,3200,2133/3171_InterfaithPrayerRoom16_2.rev.1518211260.jpg 1x, /live/image/scale/2x/gid/83/width/345/height/225/crop/1/src_region/0,0,3200,2133/3171_InterfaithPrayerRoom16_2.rev.1518211260.jpg 2x, /live/image/scale/3x/gid/83/width/345/height/225/crop/1/src_region/0,0,3200,2133/3171_InterfaithPrayerRoom16_2.rev.1518211260.jpg 3x"/> <img src="/live/image/gid/83/width/345/height/225/crop/1/src_region/0,0,3200,2133/3171_InterfaithPrayerRoom16_2.rev.1518211260.jpg" alt="Student Safa Farhoumand helps dedicate the Interfaith Prayer Room." width="345" height="225" srcset="/live/image/scale/2x/gid/83/width/345/height/225/crop/1/src_region/0,0,3200,2133/3171_InterfaithPrayerRoom16_2.rev.1518211260.jpg 2x, /live/image/scale/3x/gid/83/width/345/height/225/crop/1/src_region/0,0,3200,2133/3171_InterfaithPrayerRoom16_2.rev.1518211260.jpg 3x" data-max-w="3200" data-max-h="2133" loading="lazy"/> </picture> </a></span></div><div class="lw_widget_text"><h4 class="lw_news_headline"><a href="/live/news/280-emory-henry-college-opens-interfaith-prayer">Emory & Henry College Opens Interfaith Prayer Room</a></h4><div class="lw_news_summary"><p> Equipped with chairs, tables, prayer rugs and religious texts, a room in the lower-level of Memorial Chapel on the Emory & Henry College campus is now available for students of all faiths to have a quiet place to pray and meditate.</p><a href="/live/news/280-emory-henry-college-opens-interfaith-prayer" class="link-with-arrow gold">Keep reading</a></div></div>
<div class="lw_news_image"><span class="lw_item_thumb"><a href="/live/news/717-emory-henry-college-holds-mid-appalachian"><picture class="lw_image"> <source type="image/webp" srcset="/live/image/gid/83/width/345/height/225/crop/1/src_region/921,0,3059,2136/6043_Mid-Appalachian_Higher_Ed_Summit.rev.1551899402.webp 1x, /live/image/scale/2x/gid/83/width/345/height/225/crop/1/src_region/921,0,3059,2136/6043_Mid-Appalachian_Higher_Ed_Summit.rev.1551899402.webp 2x, /live/image/scale/3x/gid/83/width/345/height/225/crop/1/src_region/921,0,3059,2136/6043_Mid-Appalachian_Higher_Ed_Summit.rev.1551899402.webp 3x"/> <source type="image/jpeg" srcset="/live/image/gid/83/width/345/height/225/crop/1/src_region/921,0,3059,2136/6043_Mid-Appalachian_Higher_Ed_Summit.rev.1551899402.jpg 1x, /live/image/scale/2x/gid/83/width/345/height/225/crop/1/src_region/921,0,3059,2136/6043_Mid-Appalachian_Higher_Ed_Summit.rev.1551899402.jpg 2x, /live/image/scale/3x/gid/83/width/345/height/225/crop/1/src_region/921,0,3059,2136/6043_Mid-Appalachian_Higher_Ed_Summit.rev.1551899402.jpg 3x"/> <img src="/live/image/gid/83/width/345/height/225/crop/1/src_region/921,0,3059,2136/6043_Mid-Appalachian_Higher_Ed_Summit.rev.1551899402.jpg" alt="From left to right: Moderator Dr. Michael Puglisi of Emory & Henry College, Dr. Dean Sprinkle, President of Wytheville Community Coll..." width="345" height="225" srcset="/live/image/scale/2x/gid/83/width/345/height/225/crop/1/src_region/921,0,3059,2136/6043_Mid-Appalachian_Higher_Ed_Summit.rev.1551899402.jpg 2x, /live/image/scale/3x/gid/83/width/345/height/225/crop/1/src_region/921,0,3059,2136/6043_Mid-Appalachian_Higher_Ed_Summit.rev.1551899402.jpg 3x" data-max-w="2138" data-max-h="2136" loading="lazy"/> </picture> </a></span></div><div class="lw_widget_text"><h4 class="lw_news_headline"><a href="/live/news/717-emory-henry-college-holds-mid-appalachian">Emory & Henry College holds Mid-Appalachian Higher Ed Summit</a></h4><div class="lw_news_summary"> For the first time in the Mid-Appalachian region, leaders of nine higher education institutions gathered to look at the state of higher education, demographic and economic trends, and workforce and career development needs in the region. <a href="/live/news/717-emory-henry-college-holds-mid-appalachian" class="link-with-arrow gold">Keep reading</a></div></div>
<div class="lw_news_image"><span class="lw_item_thumb"><a href="/live/news/521-emory-henry-college-lands-in-four-national"><picture class="lw_image"> <source type="image/webp" srcset="/live/image/gid/83/width/345/height/225/crop/1/src_region/0,1043,2133,3174/4542_Pocket-Folder-Cover-RGB_1_4.rev.1536594635.webp 1x, /live/image/scale/2x/gid/83/width/345/height/225/crop/1/src_region/0,1043,2133,3174/4542_Pocket-Folder-Cover-RGB_1_4.rev.1536594635.webp 2x, /live/image/scale/3x/gid/83/width/345/height/225/crop/1/src_region/0,1043,2133,3174/4542_Pocket-Folder-Cover-RGB_1_4.rev.1536594635.webp 3x"/> <source type="image/jpeg" srcset="/live/image/gid/83/width/345/height/225/crop/1/src_region/0,1043,2133,3174/4542_Pocket-Folder-Cover-RGB_1_4.rev.1536594635.jpg 1x, /live/image/scale/2x/gid/83/width/345/height/225/crop/1/src_region/0,1043,2133,3174/4542_Pocket-Folder-Cover-RGB_1_4.rev.1536594635.jpg 2x, /live/image/scale/3x/gid/83/width/345/height/225/crop/1/src_region/0,1043,2133,3174/4542_Pocket-Folder-Cover-RGB_1_4.rev.1536594635.jpg 3x"/> <img src="/live/image/gid/83/width/345/height/225/crop/1/src_region/0,1043,2133,3174/4542_Pocket-Folder-Cover-RGB_1_4.rev.1536594635.jpg" alt="Emory & Henry College campus view pictured here was ranked as one of the best liberal arts colleges by U.S. News & World Report." width="345" height="225" srcset="/live/image/scale/2x/gid/83/width/345/height/225/crop/1/src_region/0,1043,2133,3174/4542_Pocket-Folder-Cover-RGB_1_4.rev.1536594635.jpg 2x, /live/image/scale/3x/gid/83/width/345/height/225/crop/1/src_region/0,1043,2133,3174/4542_Pocket-Folder-Cover-RGB_1_4.rev.1536594635.jpg 3x" data-max-w="2133" data-max-h="2131" loading="lazy"/> </picture> </a></span></div><div class="lw_widget_text"><h4 class="lw_news_headline"><a href="/live/news/521-emory-henry-college-lands-in-four-national">Emory & Henry College Lands in Four National College Rankings</a></h4><div class="lw_news_summary"> Emory & Henry College ranks among the best liberal arts colleges in the United States, according to the annual list of rankings released this week by <em>U.S. News & World Report, Best Colleges</em>. <a href="/live/news/521-emory-henry-college-lands-in-four-national" class="link-with-arrow gold">Keep reading</a></div></div>
<div class="lw_news_image"><span class="lw_item_thumb"><a href="/live/news/668-emory-henry-announces-new-rn-to-bsn-program"><picture class="lw_image"> <source type="image/webp" srcset="/live/image/gid/83/width/345/height/225/crop/1/src_region/1011,0,3148,2136/5941_RN-BSN-54.rev.1549910260.webp 1x, /live/image/scale/2x/gid/83/width/345/height/225/crop/1/src_region/1011,0,3148,2136/5941_RN-BSN-54.rev.1549910260.webp 2x, /live/image/scale/3x/gid/83/width/345/height/225/crop/1/src_region/1011,0,3148,2136/5941_RN-BSN-54.rev.1549910260.webp 3x"/> <source type="image/jpeg" srcset="/live/image/gid/83/width/345/height/225/crop/1/src_region/1011,0,3148,2136/5941_RN-BSN-54.rev.1549910260.jpg 1x, /live/image/scale/2x/gid/83/width/345/height/225/crop/1/src_region/1011,0,3148,2136/5941_RN-BSN-54.rev.1549910260.jpg 2x, /live/image/scale/3x/gid/83/width/345/height/225/crop/1/src_region/1011,0,3148,2136/5941_RN-BSN-54.rev.1549910260.jpg 3x"/> <img src="/live/image/gid/83/width/345/height/225/crop/1/src_region/1011,0,3148,2136/5941_RN-BSN-54.rev.1549910260.jpg" alt="Students at the School of Health Sciences campus in Marion, Va. Applications are now being accepted for the RN to BSN program. Apply now." width="345" height="225" srcset="/live/image/scale/2x/gid/83/width/345/height/225/crop/1/src_region/1011,0,3148,2136/5941_RN-BSN-54.rev.1549910260.jpg 2x, /live/image/scale/3x/gid/83/width/345/height/225/crop/1/src_region/1011,0,3148,2136/5941_RN-BSN-54.rev.1549910260.jpg 3x" data-max-w="2137" data-max-h="2136" loading="lazy"/> </picture> </a></span></div><div class="lw_widget_text"><h4 class="lw_news_headline"><a href="/live/news/668-emory-henry-announces-new-rn-to-bsn-program">Emory & Henry Announces New RN to BSN Program</a></h4><div class="lw_news_summary"> Due to an ever-demanding increased need for nurses in the region, Emory & Henry College has established its first-ever RN to BSN program and is now enrolling students to start classes this fall. <a href="/live/news/668-emory-henry-announces-new-rn-to-bsn-program" class="link-with-arrow gold">Keep reading</a></div></div>
<div class="lw_news_image"><span class="lw_item_thumb"><a href="/live/news/735-koch-uncovers-the-inequalities-of-food"><picture class="lw_image"> <source type="image/webp" srcset="/live/image/gid/38/width/345/height/225/crop/1/src_region/0,492,2136,2630/6049_Shelley_Koch-2.rev.1552061534.webp 1x, /live/image/scale/2x/gid/38/width/345/height/225/crop/1/src_region/0,492,2136,2630/6049_Shelley_Koch-2.rev.1552061534.webp 2x, /live/image/scale/3x/gid/38/width/345/height/225/crop/1/src_region/0,492,2136,2630/6049_Shelley_Koch-2.rev.1552061534.webp 3x"/> <source type="image/jpeg" srcset="/live/image/gid/38/width/345/height/225/crop/1/src_region/0,492,2136,2630/6049_Shelley_Koch-2.rev.1552061534.jpg 1x, /live/image/scale/2x/gid/38/width/345/height/225/crop/1/src_region/0,492,2136,2630/6049_Shelley_Koch-2.rev.1552061534.jpg 2x, /live/image/scale/3x/gid/38/width/345/height/225/crop/1/src_region/0,492,2136,2630/6049_Shelley_Koch-2.rev.1552061534.jpg 3x"/> <img src="/live/image/gid/38/width/345/height/225/crop/1/src_region/0,492,2136,2630/6049_Shelley_Koch-2.rev.1552061534.jpg" alt="Shelley Koch" width="345" height="225" srcset="/live/image/scale/2x/gid/38/width/345/height/225/crop/1/src_region/0,492,2136,2630/6049_Shelley_Koch-2.rev.1552061534.jpg 2x, /live/image/scale/3x/gid/38/width/345/height/225/crop/1/src_region/0,492,2136,2630/6049_Shelley_Koch-2.rev.1552061534.jpg 3x" data-max-w="2136" data-max-h="2138" loading="lazy"/> </picture> </a></span></div><div class="lw_widget_text"><h4 class="lw_news_headline"><a href="/live/news/735-koch-uncovers-the-inequalities-of-food">Koch Uncovers the Inequalities of Food</a></h4><div class="lw_news_summary"><p>Dr. Shelley Koch has released her third book, <em>Gender and Food: A Critical Look at the Food System</em>. The book looks at different aspects of food and how it is affected by gender inequalities.</p><a href="/live/news/735-koch-uncovers-the-inequalities-of-food" class="link-with-arrow gold">Keep reading</a></div></div>
<div class="lw_news_image"><span class="lw_item_thumb"><a href="/live/news/313-eamphs-wehc-launches-spring-fund-drive"><picture class="lw_image"> <source type="image/webp" srcset="/live/image/gid/83/width/345/height/225/crop/1/src_region/0,0,3200,2133/3409_Sam-Mungai-February-2018-IMG003.rev.1519990134.webp 1x, /live/image/scale/2x/gid/83/width/345/height/225/crop/1/src_region/0,0,3200,2133/3409_Sam-Mungai-February-2018-IMG003.rev.1519990134.webp 2x, /live/image/scale/3x/gid/83/width/345/height/225/crop/1/src_region/0,0,3200,2133/3409_Sam-Mungai-February-2018-IMG003.rev.1519990134.webp 3x"/> <source type="image/jpeg" srcset="/live/image/gid/83/width/345/height/225/crop/1/src_region/0,0,3200,2133/3409_Sam-Mungai-February-2018-IMG003.rev.1519990134.jpg 1x, /live/image/scale/2x/gid/83/width/345/height/225/crop/1/src_region/0,0,3200,2133/3409_Sam-Mungai-February-2018-IMG003.rev.1519990134.jpg 2x, /live/image/scale/3x/gid/83/width/345/height/225/crop/1/src_region/0,0,3200,2133/3409_Sam-Mungai-February-2018-IMG003.rev.1519990134.jpg 3x"/> <img src="/live/image/gid/83/width/345/height/225/crop/1/src_region/0,0,3200,2133/3409_Sam-Mungai-February-2018-IMG003.rev.1519990134.jpg" alt="Student Sam Mungai hosts a weekly call-in music request radio show on WEHC 90.7FM." width="345" height="225" srcset="/live/image/scale/2x/gid/83/width/345/height/225/crop/1/src_region/0,0,3200,2133/3409_Sam-Mungai-February-2018-IMG003.rev.1519990134.jpg 2x, /live/image/scale/3x/gid/83/width/345/height/225/crop/1/src_region/0,0,3200,2133/3409_Sam-Mungai-February-2018-IMG003.rev.1519990134.jpg 3x" data-max-w="3200" data-max-h="2133" loading="lazy"/> </picture> </a></span></div><div class="lw_widget_text"><h4 class="lw_news_headline"><a href="/live/news/313-eamphs-wehc-launches-spring-fund-drive">E&H's WEHC Launches Spring Fund Drive</a></h4><div class="lw_news_summary"> WEHC 90.7, Emory & Henry College's "College and Community Station," has launched it spring fund drive. Between now and March 9 the station is planning to raise a good share of its annual fundraising goal. <a href="/live/news/313-eamphs-wehc-launches-spring-fund-drive" class="link-with-arrow gold">Keep reading</a></div></div>
<div class="lw_news_image"><span class="lw_item_thumb"><a href="/live/news/665-professor-michael-lane-releases-groundbreaking"><picture class="lw_image"> <source type="image/webp" srcset="/live/image/gid/83/width/345/height/225/crop/1/src_region/409,0,1411,1003/5918_Michael_Lane.rev.1549029248.webp 1x, /live/image/scale/2x/gid/83/width/345/height/225/crop/1/src_region/409,0,1411,1003/5918_Michael_Lane.rev.1549029248.webp 2x"/> <source type="image/jpeg" srcset="/live/image/gid/83/width/345/height/225/crop/1/src_region/409,0,1411,1003/5918_Michael_Lane.rev.1549029248.jpg 1x, /live/image/scale/2x/gid/83/width/345/height/225/crop/1/src_region/409,0,1411,1003/5918_Michael_Lane.rev.1549029248.jpg 2x"/> <img src="/live/image/gid/83/width/345/height/225/crop/1/src_region/409,0,1411,1003/5918_Michael_Lane.rev.1549029248.jpg" alt="Michael Lane works with students in the chemistry lab." width="345" height="225" srcset="/live/image/scale/2x/gid/83/width/345/height/225/crop/1/src_region/409,0,1411,1003/5918_Michael_Lane.rev.1549029248.jpg 2x" data-max-w="1002" data-max-h="1003" loading="lazy"/> </picture> </a></span></div><div class="lw_widget_text"><h4 class="lw_news_headline"><a href="/live/news/665-professor-michael-lane-releases-groundbreaking">Professor Michael Lane Releases Groundbreaking Work</a></h4><div class="lw_news_summary"><p>Professor of Chemistry, Michael Lane, has released a collaborative work on the strength of composite materials.</p><a href="/live/news/665-professor-michael-lane-releases-groundbreaking" class="link-with-arrow gold">Keep reading</a></div></div>
<div class="lw_news_image"><span class="lw_item_thumb"><a href="/live/news/349-oquinn-challenges-college-to-conquer-new-frontiers"><picture class="lw_image"> <source type="image/webp" srcset="/live/image/gid/83/width/345/height/225/crop/1/src_region/300,0,2438,2136/3620_Israel_OQuinn.rev.1521739891.webp 1x, /live/image/scale/2x/gid/83/width/345/height/225/crop/1/src_region/300,0,2438,2136/3620_Israel_OQuinn.rev.1521739891.webp 2x, /live/image/scale/3x/gid/83/width/345/height/225/crop/1/src_region/300,0,2438,2136/3620_Israel_OQuinn.rev.1521739891.webp 3x"/> <source type="image/jpeg" srcset="/live/image/gid/83/width/345/height/225/crop/1/src_region/300,0,2438,2136/3620_Israel_OQuinn.rev.1521739891.jpg 1x, /live/image/scale/2x/gid/83/width/345/height/225/crop/1/src_region/300,0,2438,2136/3620_Israel_OQuinn.rev.1521739891.jpg 2x, /live/image/scale/3x/gid/83/width/345/height/225/crop/1/src_region/300,0,2438,2136/3620_Israel_OQuinn.rev.1521739891.jpg 3x"/> <img src="/live/image/gid/83/width/345/height/225/crop/1/src_region/300,0,2438,2136/3620_Israel_OQuinn.rev.1521739891.jpg" alt="Israel O'Quinn speaks at Founders Day 2018" width="345" height="225" srcset="/live/image/scale/2x/gid/83/width/345/height/225/crop/1/src_region/300,0,2438,2136/3620_Israel_OQuinn.rev.1521739891.jpg 2x, /live/image/scale/3x/gid/83/width/345/height/225/crop/1/src_region/300,0,2438,2136/3620_Israel_OQuinn.rev.1521739891.jpg 3x" data-max-w="2138" data-max-h="2136" loading="lazy"/> </picture> </a></span></div><div class="lw_widget_text"><h4 class="lw_news_headline"><a href="/live/news/349-oquinn-challenges-college-to-conquer-new-frontiers">O'Quinn Challenges College to Conquer New Frontiers</a></h4><div class="lw_news_summary"><p> In the 181 years of existence, Emory & Henry College has had many opportunities to conquer new frontiers, according to Virginia House Delegate Israel O'Quinn ('02), the keynote speaker during the annual Founders Day celebration.</p><a href="/live/news/349-oquinn-challenges-college-to-conquer-new-frontiers" class="link-with-arrow gold">Keep reading</a></div></div>