Emory & Henry Cuts Ribbon on Newly Built University Apartments
After welcoming more than 1,100 students to its Emory, Va. campus, Emory & Henry held a ribbon-cutting ceremony on Tuesday, September 12, at University Apartments, its newest apartment-style living complex, adding 96 new beds to its inventory in the fall of 2023. After the ceremony, attendees had the opportunity to tour the new living spaces.
"We are pleased to offer a new and exciting living environment for upperclassmen in a beautiful setting," said President John W. Wells at the ceremony. "This fall, we've seen a record-breaking amount of students living on campus since 2004 and have needed to come up with some creative housing options. The new apartments could not have come at a better time."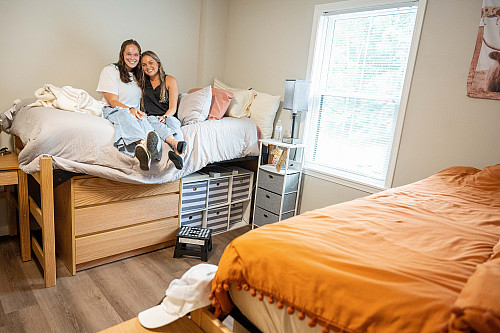 Makenzie Harris '25 and Chloe Jones '25 show off their new rooms at the Emory & Henry University Apartments
The new University Apartments are situated on the northwest side of College Drive across from the College's Lynch Links golf course, on a 10-acre property owned by Emory & Henry. The primary access to the complex is on Hillman Highway, just one mile from campus. The modern apartments complement the current apartment-style living on campus and offer students a more independent lifestyle.
The apartment building is three stories and houses 96 beds in 24 apartments. A walking and bike greenway trail will be designed for easy access to campus, lined with trees, landscaping and lights.
"We are excited to provide such a functional space for students," said Dean of Students Fred George. "Students have an additional outdoor space at the apartments, a very inviting environment to gather in."
The new apartments, including two handicap-accessible units, are each 1,200 square feet and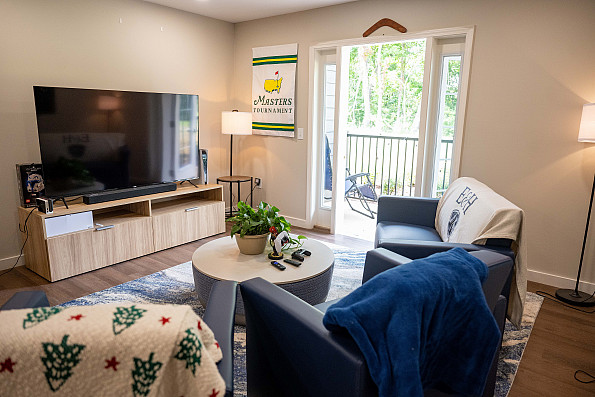 E&H University Apartments shared living area feature two bedrooms, two baths with walk-in closets, an open kitchen plan with all modern appliances, a dining and living space, laundry and a private balcony or patio. Ample parking has been included in the project. BurWil Construction served as the builder of the site and facility.
As housing needs grow, the plans may accommodate additional units. There are future plans for a clubhouse and an outdoor pool, which mimic what graduates would find in more contemporary housing complexes.
Open gallery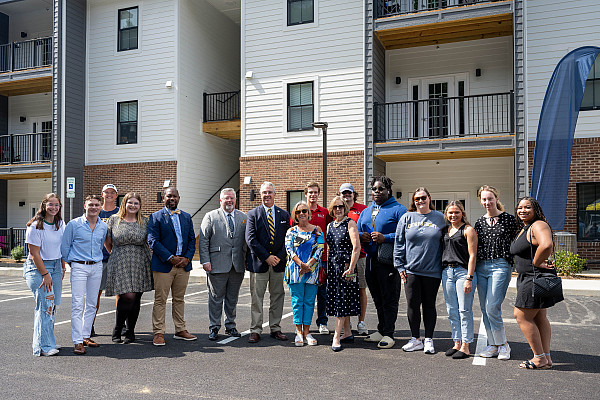 Location:
Apartments on Hillman Highway
More News
<div class="lw_news_image"><span class="lw_item_thumb"><a href="/live/news/735-koch-uncovers-the-inequalities-of-food"><picture class="lw_image"> <source type="image/webp" srcset="/live/image/gid/38/width/345/height/225/crop/1/src_region/0,492,2136,2630/6049_Shelley_Koch-2.rev.1552061534.webp 1x, /live/image/scale/2x/gid/38/width/345/height/225/crop/1/src_region/0,492,2136,2630/6049_Shelley_Koch-2.rev.1552061534.webp 2x, /live/image/scale/3x/gid/38/width/345/height/225/crop/1/src_region/0,492,2136,2630/6049_Shelley_Koch-2.rev.1552061534.webp 3x"/> <source type="image/jpeg" srcset="/live/image/gid/38/width/345/height/225/crop/1/src_region/0,492,2136,2630/6049_Shelley_Koch-2.rev.1552061534.jpg 1x, /live/image/scale/2x/gid/38/width/345/height/225/crop/1/src_region/0,492,2136,2630/6049_Shelley_Koch-2.rev.1552061534.jpg 2x, /live/image/scale/3x/gid/38/width/345/height/225/crop/1/src_region/0,492,2136,2630/6049_Shelley_Koch-2.rev.1552061534.jpg 3x"/> <img src="/live/image/gid/38/width/345/height/225/crop/1/src_region/0,492,2136,2630/6049_Shelley_Koch-2.rev.1552061534.jpg" alt="Shelley Koch" width="345" height="225" srcset="/live/image/scale/2x/gid/38/width/345/height/225/crop/1/src_region/0,492,2136,2630/6049_Shelley_Koch-2.rev.1552061534.jpg 2x, /live/image/scale/3x/gid/38/width/345/height/225/crop/1/src_region/0,492,2136,2630/6049_Shelley_Koch-2.rev.1552061534.jpg 3x" data-max-w="2136" data-max-h="2138" loading="lazy"/> </picture> </a></span></div><div class="lw_widget_text"><h4 class="lw_news_headline"><a href="/live/news/735-koch-uncovers-the-inequalities-of-food">Koch Uncovers the Inequalities of Food</a></h4><div class="lw_news_summary"><p>Dr. Shelley Koch has released her third book, <em>Gender and Food: A Critical Look at the Food System</em>. The book looks at different aspects of food and how it is affected by gender inequalities.</p><a href="/live/news/735-koch-uncovers-the-inequalities-of-food" class="link-with-arrow gold">Keep reading</a></div></div>
<div class="lw_news_image"><span class="lw_item_thumb"><a href="/live/news/313-eamphs-wehc-launches-spring-fund-drive"><picture class="lw_image"> <source type="image/webp" srcset="/live/image/gid/83/width/345/height/225/crop/1/src_region/0,0,3200,2133/3409_Sam-Mungai-February-2018-IMG003.rev.1519990134.webp 1x, /live/image/scale/2x/gid/83/width/345/height/225/crop/1/src_region/0,0,3200,2133/3409_Sam-Mungai-February-2018-IMG003.rev.1519990134.webp 2x, /live/image/scale/3x/gid/83/width/345/height/225/crop/1/src_region/0,0,3200,2133/3409_Sam-Mungai-February-2018-IMG003.rev.1519990134.webp 3x"/> <source type="image/jpeg" srcset="/live/image/gid/83/width/345/height/225/crop/1/src_region/0,0,3200,2133/3409_Sam-Mungai-February-2018-IMG003.rev.1519990134.jpg 1x, /live/image/scale/2x/gid/83/width/345/height/225/crop/1/src_region/0,0,3200,2133/3409_Sam-Mungai-February-2018-IMG003.rev.1519990134.jpg 2x, /live/image/scale/3x/gid/83/width/345/height/225/crop/1/src_region/0,0,3200,2133/3409_Sam-Mungai-February-2018-IMG003.rev.1519990134.jpg 3x"/> <img src="/live/image/gid/83/width/345/height/225/crop/1/src_region/0,0,3200,2133/3409_Sam-Mungai-February-2018-IMG003.rev.1519990134.jpg" alt="Student Sam Mungai hosts a weekly call-in music request radio show on WEHC 90.7FM." width="345" height="225" srcset="/live/image/scale/2x/gid/83/width/345/height/225/crop/1/src_region/0,0,3200,2133/3409_Sam-Mungai-February-2018-IMG003.rev.1519990134.jpg 2x, /live/image/scale/3x/gid/83/width/345/height/225/crop/1/src_region/0,0,3200,2133/3409_Sam-Mungai-February-2018-IMG003.rev.1519990134.jpg 3x" data-max-w="3200" data-max-h="2133" loading="lazy"/> </picture> </a></span></div><div class="lw_widget_text"><h4 class="lw_news_headline"><a href="/live/news/313-eamphs-wehc-launches-spring-fund-drive">E&H's WEHC Launches Spring Fund Drive</a></h4><div class="lw_news_summary"> WEHC 90.7, Emory & Henry College's "College and Community Station," has launched it spring fund drive. Between now and March 9 the station is planning to raise a good share of its annual fundraising goal. <a href="/live/news/313-eamphs-wehc-launches-spring-fund-drive" class="link-with-arrow gold">Keep reading</a></div></div>
<div class="lw_news_image"><span class="lw_item_thumb"><a href="/live/news/276-deadline-extended-until-march-1-for-swva-lift"><picture class="lw_image"> <source type="image/webp" srcset="/live/image/gid/83/width/345/height/225/crop/1/src_region/0,0,1200,800/2658_Lift-SWVA.jpg.rev.1518186593.webp 1x, /live/image/scale/2x/gid/83/width/345/height/225/crop/1/src_region/0,0,1200,800/2658_Lift-SWVA.jpg.rev.1518186593.webp 2x, /live/image/scale/3x/gid/83/width/345/height/225/crop/1/src_region/0,0,1200,800/2658_Lift-SWVA.jpg.rev.1518186593.webp 3x"/> <source type="image/jpeg" srcset="/live/image/gid/83/width/345/height/225/crop/1/src_region/0,0,1200,800/2658_Lift-SWVA.jpg.rev.1518186593.jpg 1x, /live/image/scale/2x/gid/83/width/345/height/225/crop/1/src_region/0,0,1200,800/2658_Lift-SWVA.jpg.rev.1518186593.jpg 2x, /live/image/scale/3x/gid/83/width/345/height/225/crop/1/src_region/0,0,1200,800/2658_Lift-SWVA.jpg.rev.1518186593.jpg 3x"/> <img src="/live/image/gid/83/width/345/height/225/crop/1/src_region/0,0,1200,800/2658_Lift-SWVA.jpg.rev.1518186593.jpg" alt="A map shows the counties, cities and towns covered by the SWVA Lift program." width="345" height="225" srcset="/live/image/scale/2x/gid/83/width/345/height/225/crop/1/src_region/0,0,1200,800/2658_Lift-SWVA.jpg.rev.1518186593.jpg 2x, /live/image/scale/3x/gid/83/width/345/height/225/crop/1/src_region/0,0,1200,800/2658_Lift-SWVA.jpg.rev.1518186593.jpg 3x" data-max-w="1200" data-max-h="800" loading="lazy"/> </picture> </a></span></div><div class="lw_widget_text"><h4 class="lw_news_headline"><a href="/live/news/276-deadline-extended-until-march-1-for-swva-lift">Deadline Extended Until March 1 for SWVA Lift</a></h4><div class="lw_news_summary"><p> Emory & Henry College, exit 26 off I-81 in Emory, Va., has extended the deadline for its SWVA Lift initiative until March 1. The program helps make a top liberal arts education affordable for need-based students across Southwest Virginia at Emory & Henry.</p><a href="/live/news/276-deadline-extended-until-march-1-for-swva-lift" class="link-with-arrow gold">Keep reading</a></div></div>
<div class="lw_news_image"><span class="lw_item_thumb"><a href="/live/news/521-emory-henry-college-lands-in-four-national"><picture class="lw_image"> <source type="image/webp" srcset="/live/image/gid/83/width/345/height/225/crop/1/src_region/0,1043,2133,3174/4542_Pocket-Folder-Cover-RGB_1_4.rev.1536594635.webp 1x, /live/image/scale/2x/gid/83/width/345/height/225/crop/1/src_region/0,1043,2133,3174/4542_Pocket-Folder-Cover-RGB_1_4.rev.1536594635.webp 2x, /live/image/scale/3x/gid/83/width/345/height/225/crop/1/src_region/0,1043,2133,3174/4542_Pocket-Folder-Cover-RGB_1_4.rev.1536594635.webp 3x"/> <source type="image/jpeg" srcset="/live/image/gid/83/width/345/height/225/crop/1/src_region/0,1043,2133,3174/4542_Pocket-Folder-Cover-RGB_1_4.rev.1536594635.jpg 1x, /live/image/scale/2x/gid/83/width/345/height/225/crop/1/src_region/0,1043,2133,3174/4542_Pocket-Folder-Cover-RGB_1_4.rev.1536594635.jpg 2x, /live/image/scale/3x/gid/83/width/345/height/225/crop/1/src_region/0,1043,2133,3174/4542_Pocket-Folder-Cover-RGB_1_4.rev.1536594635.jpg 3x"/> <img src="/live/image/gid/83/width/345/height/225/crop/1/src_region/0,1043,2133,3174/4542_Pocket-Folder-Cover-RGB_1_4.rev.1536594635.jpg" alt="Emory & Henry College campus view pictured here was ranked as one of the best liberal arts colleges by U.S. News & World Report." width="345" height="225" srcset="/live/image/scale/2x/gid/83/width/345/height/225/crop/1/src_region/0,1043,2133,3174/4542_Pocket-Folder-Cover-RGB_1_4.rev.1536594635.jpg 2x, /live/image/scale/3x/gid/83/width/345/height/225/crop/1/src_region/0,1043,2133,3174/4542_Pocket-Folder-Cover-RGB_1_4.rev.1536594635.jpg 3x" data-max-w="2133" data-max-h="2131" loading="lazy"/> </picture> </a></span></div><div class="lw_widget_text"><h4 class="lw_news_headline"><a href="/live/news/521-emory-henry-college-lands-in-four-national">Emory & Henry College Lands in Four National College Rankings</a></h4><div class="lw_news_summary"> Emory & Henry College ranks among the best liberal arts colleges in the United States, according to the annual list of rankings released this week by <em>U.S. News & World Report, Best Colleges</em>. <a href="/live/news/521-emory-henry-college-lands-in-four-national" class="link-with-arrow gold">Keep reading</a></div></div>
<div class="lw_news_image"><span class="lw_item_thumb"><a href="/live/news/668-emory-henry-announces-new-rn-to-bsn-program"><picture class="lw_image"> <source type="image/webp" srcset="/live/image/gid/83/width/345/height/225/crop/1/src_region/1011,0,3148,2136/5941_RN-BSN-54.rev.1549910260.webp 1x, /live/image/scale/2x/gid/83/width/345/height/225/crop/1/src_region/1011,0,3148,2136/5941_RN-BSN-54.rev.1549910260.webp 2x, /live/image/scale/3x/gid/83/width/345/height/225/crop/1/src_region/1011,0,3148,2136/5941_RN-BSN-54.rev.1549910260.webp 3x"/> <source type="image/jpeg" srcset="/live/image/gid/83/width/345/height/225/crop/1/src_region/1011,0,3148,2136/5941_RN-BSN-54.rev.1549910260.jpg 1x, /live/image/scale/2x/gid/83/width/345/height/225/crop/1/src_region/1011,0,3148,2136/5941_RN-BSN-54.rev.1549910260.jpg 2x, /live/image/scale/3x/gid/83/width/345/height/225/crop/1/src_region/1011,0,3148,2136/5941_RN-BSN-54.rev.1549910260.jpg 3x"/> <img src="/live/image/gid/83/width/345/height/225/crop/1/src_region/1011,0,3148,2136/5941_RN-BSN-54.rev.1549910260.jpg" alt="Students at the School of Health Sciences campus in Marion, Va. Applications are now being accepted for the RN to BSN program. Apply now." width="345" height="225" srcset="/live/image/scale/2x/gid/83/width/345/height/225/crop/1/src_region/1011,0,3148,2136/5941_RN-BSN-54.rev.1549910260.jpg 2x, /live/image/scale/3x/gid/83/width/345/height/225/crop/1/src_region/1011,0,3148,2136/5941_RN-BSN-54.rev.1549910260.jpg 3x" data-max-w="2137" data-max-h="2136" loading="lazy"/> </picture> </a></span></div><div class="lw_widget_text"><h4 class="lw_news_headline"><a href="/live/news/668-emory-henry-announces-new-rn-to-bsn-program">Emory & Henry Announces New RN to BSN Program</a></h4><div class="lw_news_summary"> Due to an ever-demanding increased need for nurses in the region, Emory & Henry College has established its first-ever RN to BSN program and is now enrolling students to start classes this fall. <a href="/live/news/668-emory-henry-announces-new-rn-to-bsn-program" class="link-with-arrow gold">Keep reading</a></div></div>
<div class="lw_news_image"><span class="lw_item_thumb"><a href="/live/news/349-oquinn-challenges-college-to-conquer-new-frontiers"><picture class="lw_image"> <source type="image/webp" srcset="/live/image/gid/83/width/345/height/225/crop/1/src_region/300,0,2438,2136/3620_Israel_OQuinn.rev.1521739891.webp 1x, /live/image/scale/2x/gid/83/width/345/height/225/crop/1/src_region/300,0,2438,2136/3620_Israel_OQuinn.rev.1521739891.webp 2x, /live/image/scale/3x/gid/83/width/345/height/225/crop/1/src_region/300,0,2438,2136/3620_Israel_OQuinn.rev.1521739891.webp 3x"/> <source type="image/jpeg" srcset="/live/image/gid/83/width/345/height/225/crop/1/src_region/300,0,2438,2136/3620_Israel_OQuinn.rev.1521739891.jpg 1x, /live/image/scale/2x/gid/83/width/345/height/225/crop/1/src_region/300,0,2438,2136/3620_Israel_OQuinn.rev.1521739891.jpg 2x, /live/image/scale/3x/gid/83/width/345/height/225/crop/1/src_region/300,0,2438,2136/3620_Israel_OQuinn.rev.1521739891.jpg 3x"/> <img src="/live/image/gid/83/width/345/height/225/crop/1/src_region/300,0,2438,2136/3620_Israel_OQuinn.rev.1521739891.jpg" alt="Israel O'Quinn speaks at Founders Day 2018" width="345" height="225" srcset="/live/image/scale/2x/gid/83/width/345/height/225/crop/1/src_region/300,0,2438,2136/3620_Israel_OQuinn.rev.1521739891.jpg 2x, /live/image/scale/3x/gid/83/width/345/height/225/crop/1/src_region/300,0,2438,2136/3620_Israel_OQuinn.rev.1521739891.jpg 3x" data-max-w="2138" data-max-h="2136" loading="lazy"/> </picture> </a></span></div><div class="lw_widget_text"><h4 class="lw_news_headline"><a href="/live/news/349-oquinn-challenges-college-to-conquer-new-frontiers">O'Quinn Challenges College to Conquer New Frontiers</a></h4><div class="lw_news_summary"><p> In the 181 years of existence, Emory & Henry College has had many opportunities to conquer new frontiers, according to Virginia House Delegate Israel O'Quinn ('02), the keynote speaker during the annual Founders Day celebration.</p><a href="/live/news/349-oquinn-challenges-college-to-conquer-new-frontiers" class="link-with-arrow gold">Keep reading</a></div></div>
<div class="lw_news_image"><span class="lw_item_thumb"><a href="/live/news/665-professor-michael-lane-releases-groundbreaking"><picture class="lw_image"> <source type="image/webp" srcset="/live/image/gid/83/width/345/height/225/crop/1/src_region/409,0,1411,1003/5918_Michael_Lane.rev.1549029248.webp 1x, /live/image/scale/2x/gid/83/width/345/height/225/crop/1/src_region/409,0,1411,1003/5918_Michael_Lane.rev.1549029248.webp 2x"/> <source type="image/jpeg" srcset="/live/image/gid/83/width/345/height/225/crop/1/src_region/409,0,1411,1003/5918_Michael_Lane.rev.1549029248.jpg 1x, /live/image/scale/2x/gid/83/width/345/height/225/crop/1/src_region/409,0,1411,1003/5918_Michael_Lane.rev.1549029248.jpg 2x"/> <img src="/live/image/gid/83/width/345/height/225/crop/1/src_region/409,0,1411,1003/5918_Michael_Lane.rev.1549029248.jpg" alt="Michael Lane works with students in the chemistry lab." width="345" height="225" srcset="/live/image/scale/2x/gid/83/width/345/height/225/crop/1/src_region/409,0,1411,1003/5918_Michael_Lane.rev.1549029248.jpg 2x" data-max-w="1002" data-max-h="1003" loading="lazy"/> </picture> </a></span></div><div class="lw_widget_text"><h4 class="lw_news_headline"><a href="/live/news/665-professor-michael-lane-releases-groundbreaking">Professor Michael Lane Releases Groundbreaking Work</a></h4><div class="lw_news_summary"><p>Professor of Chemistry, Michael Lane, has released a collaborative work on the strength of composite materials.</p><a href="/live/news/665-professor-michael-lane-releases-groundbreaking" class="link-with-arrow gold">Keep reading</a></div></div>
<div class="lw_news_image"><span class="lw_item_thumb"><a href="/live/news/717-emory-henry-college-holds-mid-appalachian"><picture class="lw_image"> <source type="image/webp" srcset="/live/image/gid/83/width/345/height/225/crop/1/src_region/921,0,3059,2136/6043_Mid-Appalachian_Higher_Ed_Summit.rev.1551899402.webp 1x, /live/image/scale/2x/gid/83/width/345/height/225/crop/1/src_region/921,0,3059,2136/6043_Mid-Appalachian_Higher_Ed_Summit.rev.1551899402.webp 2x, /live/image/scale/3x/gid/83/width/345/height/225/crop/1/src_region/921,0,3059,2136/6043_Mid-Appalachian_Higher_Ed_Summit.rev.1551899402.webp 3x"/> <source type="image/jpeg" srcset="/live/image/gid/83/width/345/height/225/crop/1/src_region/921,0,3059,2136/6043_Mid-Appalachian_Higher_Ed_Summit.rev.1551899402.jpg 1x, /live/image/scale/2x/gid/83/width/345/height/225/crop/1/src_region/921,0,3059,2136/6043_Mid-Appalachian_Higher_Ed_Summit.rev.1551899402.jpg 2x, /live/image/scale/3x/gid/83/width/345/height/225/crop/1/src_region/921,0,3059,2136/6043_Mid-Appalachian_Higher_Ed_Summit.rev.1551899402.jpg 3x"/> <img src="/live/image/gid/83/width/345/height/225/crop/1/src_region/921,0,3059,2136/6043_Mid-Appalachian_Higher_Ed_Summit.rev.1551899402.jpg" alt="From left to right: Moderator Dr. Michael Puglisi of Emory & Henry College, Dr. Dean Sprinkle, President of Wytheville Community Coll..." width="345" height="225" srcset="/live/image/scale/2x/gid/83/width/345/height/225/crop/1/src_region/921,0,3059,2136/6043_Mid-Appalachian_Higher_Ed_Summit.rev.1551899402.jpg 2x, /live/image/scale/3x/gid/83/width/345/height/225/crop/1/src_region/921,0,3059,2136/6043_Mid-Appalachian_Higher_Ed_Summit.rev.1551899402.jpg 3x" data-max-w="2138" data-max-h="2136" loading="lazy"/> </picture> </a></span></div><div class="lw_widget_text"><h4 class="lw_news_headline"><a href="/live/news/717-emory-henry-college-holds-mid-appalachian">Emory & Henry College holds Mid-Appalachian Higher Ed Summit</a></h4><div class="lw_news_summary"> For the first time in the Mid-Appalachian region, leaders of nine higher education institutions gathered to look at the state of higher education, demographic and economic trends, and workforce and career development needs in the region. <a href="/live/news/717-emory-henry-college-holds-mid-appalachian" class="link-with-arrow gold">Keep reading</a></div></div>
<div class="lw_news_image"><span class="lw_item_thumb"><a href="/live/news/280-emory-henry-college-opens-interfaith-prayer"><picture class="lw_image"> <source type="image/webp" srcset="/live/image/gid/83/width/345/height/225/crop/1/src_region/0,0,3200,2133/3171_InterfaithPrayerRoom16_2.rev.1518211260.webp 1x, /live/image/scale/2x/gid/83/width/345/height/225/crop/1/src_region/0,0,3200,2133/3171_InterfaithPrayerRoom16_2.rev.1518211260.webp 2x, /live/image/scale/3x/gid/83/width/345/height/225/crop/1/src_region/0,0,3200,2133/3171_InterfaithPrayerRoom16_2.rev.1518211260.webp 3x"/> <source type="image/jpeg" srcset="/live/image/gid/83/width/345/height/225/crop/1/src_region/0,0,3200,2133/3171_InterfaithPrayerRoom16_2.rev.1518211260.jpg 1x, /live/image/scale/2x/gid/83/width/345/height/225/crop/1/src_region/0,0,3200,2133/3171_InterfaithPrayerRoom16_2.rev.1518211260.jpg 2x, /live/image/scale/3x/gid/83/width/345/height/225/crop/1/src_region/0,0,3200,2133/3171_InterfaithPrayerRoom16_2.rev.1518211260.jpg 3x"/> <img src="/live/image/gid/83/width/345/height/225/crop/1/src_region/0,0,3200,2133/3171_InterfaithPrayerRoom16_2.rev.1518211260.jpg" alt="Student Safa Farhoumand helps dedicate the Interfaith Prayer Room." width="345" height="225" srcset="/live/image/scale/2x/gid/83/width/345/height/225/crop/1/src_region/0,0,3200,2133/3171_InterfaithPrayerRoom16_2.rev.1518211260.jpg 2x, /live/image/scale/3x/gid/83/width/345/height/225/crop/1/src_region/0,0,3200,2133/3171_InterfaithPrayerRoom16_2.rev.1518211260.jpg 3x" data-max-w="3200" data-max-h="2133" loading="lazy"/> </picture> </a></span></div><div class="lw_widget_text"><h4 class="lw_news_headline"><a href="/live/news/280-emory-henry-college-opens-interfaith-prayer">Emory & Henry College Opens Interfaith Prayer Room</a></h4><div class="lw_news_summary"><p> Equipped with chairs, tables, prayer rugs and religious texts, a room in the lower-level of Memorial Chapel on the Emory & Henry College campus is now available for students of all faiths to have a quiet place to pray and meditate.</p><a href="/live/news/280-emory-henry-college-opens-interfaith-prayer" class="link-with-arrow gold">Keep reading</a></div></div>