Emory & Henry Ranks 21 of 135 Regional University (South) Rankings from U.S. News & World Report Best Colleges
Emory & Henry had a strong showing in the U.S. News & World Report, Best Colleges for 2023-24, earning the number 21 spot of the Best Colleges amongst 135 peer institutions. Emory & Henry was also ranked #13 for Best Undergraduate Teaching Programs among regional universities in the south and #68 for Social Mobility moving up nine spots amongst its peers.
Emory & Henry offers more than 90 majors and tracks including master's and doctoral degrees in education and healthcare. Advanced degrees in nursing and business were added in 2023 in an online/hybrid format. This year saw the enhancement of the Center for Outdoor Studies, including a semester on the Appalachian Trail for credit. The program is the only one of its kind in the country and sees students transferring from their home colleges to take advantage of the training, preparation and supervision to go on the AT and study.
"These rankings reflect our commitment to growth by offering market-demand programs while maintaining Emory & Henry's foundation of a liberal arts education," said President Dr. John W. Wells. "Our students are critical thinkers, leaders and problem solvers when they start their careers or graduate programs due to their broad educational experience at Emory & Henry. With our emphasis on student success, career and graduate placements we are continuing to build connections here that impact our region and beyond."
The competitive ranking considers Emory & Henry's performance in graduation rate, alumni giving, academic reputation, class sizes, and financial support. Factors contributing to improvement include retention rate, graduation rate and debt load to graduation.
Being ranked thirteenth among the Best Undergraduate Teaching Programs illustrates that Emory & Henry has "a strong commitment to teaching undergraduates instead of conducting graduate-level research," per the guidelines. In a survey conducted in the spring and summer of 2023, the schools on these lists received the most votes from top college administrators for focusing on undergraduate teaching.
To support Emory & Henry's dedication to the institution's growth and its students' success, The van Vlissingen Center for Career and Professional Development plays an active role in preparing students for the world of work throughout their higher education experience. Students are encouraged to participate in seminars, workshops and internships that will enrich them and provide them with hands-on experiences or professional development while they pursue their education at Emory & Henry.
"Economically disadvantaged students are less likely than others to finish college, even when controlling for their achievement in high school. But some colleges are more successful than others at advancing social mobility by enrolling and graduating large proportions of disadvantaged students awarded with Pell Grants," according to the U.S. News ranking team. "The vast majority of these federal grants are awarded to students whose adjusted gross family incomes are under $50,000. In addition to the two Pell Grant factors, the ranking also includes first generation graduation rate factors for National Universities only."
Emory & Henry moved up nine points this year in the Social Mobility rankings to #68 indicating its commitment to see that students receive all the tools they need to be successful during college and in their lives and careers to come.
As an institution whose primary goals are based on student success and satisfaction, Emory & Henry has also been recognized as one of the renowned Colleges of Distinction, earning badges for affordability and equity & inclusion. Emory & Henry is one of the 43 original schools championed as part of Colleges That Change Lives, a non-profit organization dedicated to advancing and supporting a student-centered college search process.
"We've always been an institution of opportunity and have worked hard to minimize debt for our students in need," said Wells. "We look at merit scholarships, need-based aid, and other alternatives to make our education affordable and accessible. We are committed to our region and any student who desires a degree in higher education to make a difference in the world."
Emory & Henry continues to grow, recently completing the construction of the University Apartments near the Emory campus and the renovation of Carriger Hall, the new home of the School of Business. Emory & Henry also broke ground on the upcoming Multi-Sport Complex, scheduled to be completed by spring 2024. In addition, the Emory & Henry Board of Trustees voted to approve the institution's transition from College to University status effective fall 2024. The Athletics teams are in the process of moving to DII and have joined the South Atlantic Conference.
For more information, visit www.ehc.edu, and for a complete list of college rankings, visit www.usnews.com/best-colleges
Open gallery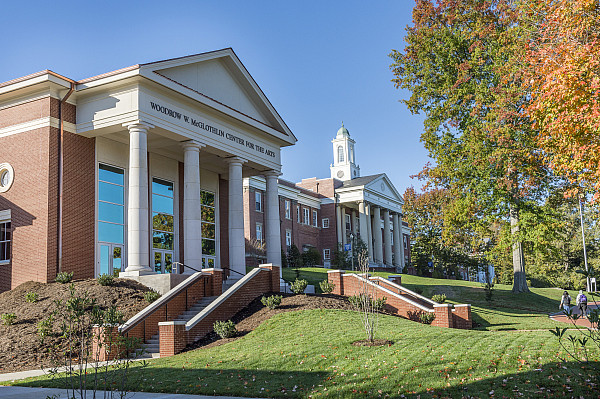 These rankings reflect our commitment to growth by offering market-demand programs while maintaining Emory & Henry's foundation of a liberal arts education.

President John W. Wells
More News
<div class="lw_news_image"><span class="lw_item_thumb"><a href="/live/news/280-emory-henry-college-opens-interfaith-prayer"><picture class="lw_image"> <source type="image/webp" srcset="/live/image/gid/83/width/345/height/225/crop/1/src_region/0,0,3200,2133/3171_InterfaithPrayerRoom16_2.rev.1518211260.webp 1x, /live/image/scale/2x/gid/83/width/345/height/225/crop/1/src_region/0,0,3200,2133/3171_InterfaithPrayerRoom16_2.rev.1518211260.webp 2x, /live/image/scale/3x/gid/83/width/345/height/225/crop/1/src_region/0,0,3200,2133/3171_InterfaithPrayerRoom16_2.rev.1518211260.webp 3x"/> <source type="image/jpeg" srcset="/live/image/gid/83/width/345/height/225/crop/1/src_region/0,0,3200,2133/3171_InterfaithPrayerRoom16_2.rev.1518211260.jpg 1x, /live/image/scale/2x/gid/83/width/345/height/225/crop/1/src_region/0,0,3200,2133/3171_InterfaithPrayerRoom16_2.rev.1518211260.jpg 2x, /live/image/scale/3x/gid/83/width/345/height/225/crop/1/src_region/0,0,3200,2133/3171_InterfaithPrayerRoom16_2.rev.1518211260.jpg 3x"/> <img src="/live/image/gid/83/width/345/height/225/crop/1/src_region/0,0,3200,2133/3171_InterfaithPrayerRoom16_2.rev.1518211260.jpg" alt="Student Safa Farhoumand helps dedicate the Interfaith Prayer Room." width="345" height="225" srcset="/live/image/scale/2x/gid/83/width/345/height/225/crop/1/src_region/0,0,3200,2133/3171_InterfaithPrayerRoom16_2.rev.1518211260.jpg 2x, /live/image/scale/3x/gid/83/width/345/height/225/crop/1/src_region/0,0,3200,2133/3171_InterfaithPrayerRoom16_2.rev.1518211260.jpg 3x" data-max-w="3200" data-max-h="2133" loading="lazy"/> </picture> </a></span></div><div class="lw_widget_text"><h4 class="lw_news_headline"><a href="/live/news/280-emory-henry-college-opens-interfaith-prayer">Emory & Henry College Opens Interfaith Prayer Room</a></h4><div class="lw_news_summary"><p> Equipped with chairs, tables, prayer rugs and religious texts, a room in the lower-level of Memorial Chapel on the Emory & Henry College campus is now available for students of all faiths to have a quiet place to pray and meditate.</p><a href="/live/news/280-emory-henry-college-opens-interfaith-prayer" class="link-with-arrow gold">Keep reading</a></div></div>
<div class="lw_news_image"><span class="lw_item_thumb"><a href="/live/news/665-professor-michael-lane-releases-groundbreaking"><picture class="lw_image"> <source type="image/webp" srcset="/live/image/gid/83/width/345/height/225/crop/1/src_region/409,0,1411,1003/5918_Michael_Lane.rev.1549029248.webp 1x, /live/image/scale/2x/gid/83/width/345/height/225/crop/1/src_region/409,0,1411,1003/5918_Michael_Lane.rev.1549029248.webp 2x"/> <source type="image/jpeg" srcset="/live/image/gid/83/width/345/height/225/crop/1/src_region/409,0,1411,1003/5918_Michael_Lane.rev.1549029248.jpg 1x, /live/image/scale/2x/gid/83/width/345/height/225/crop/1/src_region/409,0,1411,1003/5918_Michael_Lane.rev.1549029248.jpg 2x"/> <img src="/live/image/gid/83/width/345/height/225/crop/1/src_region/409,0,1411,1003/5918_Michael_Lane.rev.1549029248.jpg" alt="Michael Lane works with students in the chemistry lab." width="345" height="225" srcset="/live/image/scale/2x/gid/83/width/345/height/225/crop/1/src_region/409,0,1411,1003/5918_Michael_Lane.rev.1549029248.jpg 2x" data-max-w="1002" data-max-h="1003" loading="lazy"/> </picture> </a></span></div><div class="lw_widget_text"><h4 class="lw_news_headline"><a href="/live/news/665-professor-michael-lane-releases-groundbreaking">Professor Michael Lane Releases Groundbreaking Work</a></h4><div class="lw_news_summary"><p>Professor of Chemistry, Michael Lane, has released a collaborative work on the strength of composite materials.</p><a href="/live/news/665-professor-michael-lane-releases-groundbreaking" class="link-with-arrow gold">Keep reading</a></div></div>
<div class="lw_news_image"><span class="lw_item_thumb"><a href="/live/news/668-emory-henry-announces-new-rn-to-bsn-program"><picture class="lw_image"> <source type="image/webp" srcset="/live/image/gid/83/width/345/height/225/crop/1/src_region/1011,0,3148,2136/5941_RN-BSN-54.rev.1549910260.webp 1x, /live/image/scale/2x/gid/83/width/345/height/225/crop/1/src_region/1011,0,3148,2136/5941_RN-BSN-54.rev.1549910260.webp 2x, /live/image/scale/3x/gid/83/width/345/height/225/crop/1/src_region/1011,0,3148,2136/5941_RN-BSN-54.rev.1549910260.webp 3x"/> <source type="image/jpeg" srcset="/live/image/gid/83/width/345/height/225/crop/1/src_region/1011,0,3148,2136/5941_RN-BSN-54.rev.1549910260.jpg 1x, /live/image/scale/2x/gid/83/width/345/height/225/crop/1/src_region/1011,0,3148,2136/5941_RN-BSN-54.rev.1549910260.jpg 2x, /live/image/scale/3x/gid/83/width/345/height/225/crop/1/src_region/1011,0,3148,2136/5941_RN-BSN-54.rev.1549910260.jpg 3x"/> <img src="/live/image/gid/83/width/345/height/225/crop/1/src_region/1011,0,3148,2136/5941_RN-BSN-54.rev.1549910260.jpg" alt="Students at the School of Health Sciences campus in Marion, Va. Applications are now being accepted for the RN to BSN program. Apply now." width="345" height="225" srcset="/live/image/scale/2x/gid/83/width/345/height/225/crop/1/src_region/1011,0,3148,2136/5941_RN-BSN-54.rev.1549910260.jpg 2x, /live/image/scale/3x/gid/83/width/345/height/225/crop/1/src_region/1011,0,3148,2136/5941_RN-BSN-54.rev.1549910260.jpg 3x" data-max-w="2137" data-max-h="2136" loading="lazy"/> </picture> </a></span></div><div class="lw_widget_text"><h4 class="lw_news_headline"><a href="/live/news/668-emory-henry-announces-new-rn-to-bsn-program">Emory & Henry Announces New RN to BSN Program</a></h4><div class="lw_news_summary"> Due to an ever-demanding increased need for nurses in the region, Emory & Henry College has established its first-ever RN to BSN program and is now enrolling students to start classes this fall. <a href="/live/news/668-emory-henry-announces-new-rn-to-bsn-program" class="link-with-arrow gold">Keep reading</a></div></div>
<div class="lw_news_image"><span class="lw_item_thumb"><a href="/live/news/521-emory-henry-college-lands-in-four-national"><picture class="lw_image"> <source type="image/webp" srcset="/live/image/gid/83/width/345/height/225/crop/1/src_region/0,1043,2133,3174/4542_Pocket-Folder-Cover-RGB_1_4.rev.1536594635.webp 1x, /live/image/scale/2x/gid/83/width/345/height/225/crop/1/src_region/0,1043,2133,3174/4542_Pocket-Folder-Cover-RGB_1_4.rev.1536594635.webp 2x, /live/image/scale/3x/gid/83/width/345/height/225/crop/1/src_region/0,1043,2133,3174/4542_Pocket-Folder-Cover-RGB_1_4.rev.1536594635.webp 3x"/> <source type="image/jpeg" srcset="/live/image/gid/83/width/345/height/225/crop/1/src_region/0,1043,2133,3174/4542_Pocket-Folder-Cover-RGB_1_4.rev.1536594635.jpg 1x, /live/image/scale/2x/gid/83/width/345/height/225/crop/1/src_region/0,1043,2133,3174/4542_Pocket-Folder-Cover-RGB_1_4.rev.1536594635.jpg 2x, /live/image/scale/3x/gid/83/width/345/height/225/crop/1/src_region/0,1043,2133,3174/4542_Pocket-Folder-Cover-RGB_1_4.rev.1536594635.jpg 3x"/> <img src="/live/image/gid/83/width/345/height/225/crop/1/src_region/0,1043,2133,3174/4542_Pocket-Folder-Cover-RGB_1_4.rev.1536594635.jpg" alt="Emory & Henry College campus view pictured here was ranked as one of the best liberal arts colleges by U.S. News & World Report." width="345" height="225" srcset="/live/image/scale/2x/gid/83/width/345/height/225/crop/1/src_region/0,1043,2133,3174/4542_Pocket-Folder-Cover-RGB_1_4.rev.1536594635.jpg 2x, /live/image/scale/3x/gid/83/width/345/height/225/crop/1/src_region/0,1043,2133,3174/4542_Pocket-Folder-Cover-RGB_1_4.rev.1536594635.jpg 3x" data-max-w="2133" data-max-h="2131" loading="lazy"/> </picture> </a></span></div><div class="lw_widget_text"><h4 class="lw_news_headline"><a href="/live/news/521-emory-henry-college-lands-in-four-national">Emory & Henry College Lands in Four National College Rankings</a></h4><div class="lw_news_summary"> Emory & Henry College ranks among the best liberal arts colleges in the United States, according to the annual list of rankings released this week by <em>U.S. News & World Report, Best Colleges</em>. <a href="/live/news/521-emory-henry-college-lands-in-four-national" class="link-with-arrow gold">Keep reading</a></div></div>
<div class="lw_news_image"><span class="lw_item_thumb"><a href="/live/news/276-deadline-extended-until-march-1-for-swva-lift"><picture class="lw_image"> <source type="image/webp" srcset="/live/image/gid/83/width/345/height/225/crop/1/src_region/0,0,1200,800/2658_Lift-SWVA.jpg.rev.1518186593.webp 1x, /live/image/scale/2x/gid/83/width/345/height/225/crop/1/src_region/0,0,1200,800/2658_Lift-SWVA.jpg.rev.1518186593.webp 2x, /live/image/scale/3x/gid/83/width/345/height/225/crop/1/src_region/0,0,1200,800/2658_Lift-SWVA.jpg.rev.1518186593.webp 3x"/> <source type="image/jpeg" srcset="/live/image/gid/83/width/345/height/225/crop/1/src_region/0,0,1200,800/2658_Lift-SWVA.jpg.rev.1518186593.jpg 1x, /live/image/scale/2x/gid/83/width/345/height/225/crop/1/src_region/0,0,1200,800/2658_Lift-SWVA.jpg.rev.1518186593.jpg 2x, /live/image/scale/3x/gid/83/width/345/height/225/crop/1/src_region/0,0,1200,800/2658_Lift-SWVA.jpg.rev.1518186593.jpg 3x"/> <img src="/live/image/gid/83/width/345/height/225/crop/1/src_region/0,0,1200,800/2658_Lift-SWVA.jpg.rev.1518186593.jpg" alt="A map shows the counties, cities and towns covered by the SWVA Lift program." width="345" height="225" srcset="/live/image/scale/2x/gid/83/width/345/height/225/crop/1/src_region/0,0,1200,800/2658_Lift-SWVA.jpg.rev.1518186593.jpg 2x, /live/image/scale/3x/gid/83/width/345/height/225/crop/1/src_region/0,0,1200,800/2658_Lift-SWVA.jpg.rev.1518186593.jpg 3x" data-max-w="1200" data-max-h="800" loading="lazy"/> </picture> </a></span></div><div class="lw_widget_text"><h4 class="lw_news_headline"><a href="/live/news/276-deadline-extended-until-march-1-for-swva-lift">Deadline Extended Until March 1 for SWVA Lift</a></h4><div class="lw_news_summary"><p> Emory & Henry College, exit 26 off I-81 in Emory, Va., has extended the deadline for its SWVA Lift initiative until March 1. The program helps make a top liberal arts education affordable for need-based students across Southwest Virginia at Emory & Henry.</p><a href="/live/news/276-deadline-extended-until-march-1-for-swva-lift" class="link-with-arrow gold">Keep reading</a></div></div>
<div class="lw_news_image"><span class="lw_item_thumb"><a href="/live/news/717-emory-henry-college-holds-mid-appalachian"><picture class="lw_image"> <source type="image/webp" srcset="/live/image/gid/83/width/345/height/225/crop/1/src_region/921,0,3059,2136/6043_Mid-Appalachian_Higher_Ed_Summit.rev.1551899402.webp 1x, /live/image/scale/2x/gid/83/width/345/height/225/crop/1/src_region/921,0,3059,2136/6043_Mid-Appalachian_Higher_Ed_Summit.rev.1551899402.webp 2x, /live/image/scale/3x/gid/83/width/345/height/225/crop/1/src_region/921,0,3059,2136/6043_Mid-Appalachian_Higher_Ed_Summit.rev.1551899402.webp 3x"/> <source type="image/jpeg" srcset="/live/image/gid/83/width/345/height/225/crop/1/src_region/921,0,3059,2136/6043_Mid-Appalachian_Higher_Ed_Summit.rev.1551899402.jpg 1x, /live/image/scale/2x/gid/83/width/345/height/225/crop/1/src_region/921,0,3059,2136/6043_Mid-Appalachian_Higher_Ed_Summit.rev.1551899402.jpg 2x, /live/image/scale/3x/gid/83/width/345/height/225/crop/1/src_region/921,0,3059,2136/6043_Mid-Appalachian_Higher_Ed_Summit.rev.1551899402.jpg 3x"/> <img src="/live/image/gid/83/width/345/height/225/crop/1/src_region/921,0,3059,2136/6043_Mid-Appalachian_Higher_Ed_Summit.rev.1551899402.jpg" alt="From left to right: Moderator Dr. Michael Puglisi of Emory & Henry College, Dr. Dean Sprinkle, President of Wytheville Community Coll..." width="345" height="225" srcset="/live/image/scale/2x/gid/83/width/345/height/225/crop/1/src_region/921,0,3059,2136/6043_Mid-Appalachian_Higher_Ed_Summit.rev.1551899402.jpg 2x, /live/image/scale/3x/gid/83/width/345/height/225/crop/1/src_region/921,0,3059,2136/6043_Mid-Appalachian_Higher_Ed_Summit.rev.1551899402.jpg 3x" data-max-w="2138" data-max-h="2136" loading="lazy"/> </picture> </a></span></div><div class="lw_widget_text"><h4 class="lw_news_headline"><a href="/live/news/717-emory-henry-college-holds-mid-appalachian">Emory & Henry College holds Mid-Appalachian Higher Ed Summit</a></h4><div class="lw_news_summary"> For the first time in the Mid-Appalachian region, leaders of nine higher education institutions gathered to look at the state of higher education, demographic and economic trends, and workforce and career development needs in the region. <a href="/live/news/717-emory-henry-college-holds-mid-appalachian" class="link-with-arrow gold">Keep reading</a></div></div>
<div class="lw_news_image"><span class="lw_item_thumb"><a href="/live/news/349-oquinn-challenges-college-to-conquer-new-frontiers"><picture class="lw_image"> <source type="image/webp" srcset="/live/image/gid/83/width/345/height/225/crop/1/src_region/300,0,2438,2136/3620_Israel_OQuinn.rev.1521739891.webp 1x, /live/image/scale/2x/gid/83/width/345/height/225/crop/1/src_region/300,0,2438,2136/3620_Israel_OQuinn.rev.1521739891.webp 2x, /live/image/scale/3x/gid/83/width/345/height/225/crop/1/src_region/300,0,2438,2136/3620_Israel_OQuinn.rev.1521739891.webp 3x"/> <source type="image/jpeg" srcset="/live/image/gid/83/width/345/height/225/crop/1/src_region/300,0,2438,2136/3620_Israel_OQuinn.rev.1521739891.jpg 1x, /live/image/scale/2x/gid/83/width/345/height/225/crop/1/src_region/300,0,2438,2136/3620_Israel_OQuinn.rev.1521739891.jpg 2x, /live/image/scale/3x/gid/83/width/345/height/225/crop/1/src_region/300,0,2438,2136/3620_Israel_OQuinn.rev.1521739891.jpg 3x"/> <img src="/live/image/gid/83/width/345/height/225/crop/1/src_region/300,0,2438,2136/3620_Israel_OQuinn.rev.1521739891.jpg" alt="Israel O'Quinn speaks at Founders Day 2018" width="345" height="225" srcset="/live/image/scale/2x/gid/83/width/345/height/225/crop/1/src_region/300,0,2438,2136/3620_Israel_OQuinn.rev.1521739891.jpg 2x, /live/image/scale/3x/gid/83/width/345/height/225/crop/1/src_region/300,0,2438,2136/3620_Israel_OQuinn.rev.1521739891.jpg 3x" data-max-w="2138" data-max-h="2136" loading="lazy"/> </picture> </a></span></div><div class="lw_widget_text"><h4 class="lw_news_headline"><a href="/live/news/349-oquinn-challenges-college-to-conquer-new-frontiers">O'Quinn Challenges College to Conquer New Frontiers</a></h4><div class="lw_news_summary"><p> In the 181 years of existence, Emory & Henry College has had many opportunities to conquer new frontiers, according to Virginia House Delegate Israel O'Quinn ('02), the keynote speaker during the annual Founders Day celebration.</p><a href="/live/news/349-oquinn-challenges-college-to-conquer-new-frontiers" class="link-with-arrow gold">Keep reading</a></div></div>
<div class="lw_news_image"><span class="lw_item_thumb"><a href="/live/news/735-koch-uncovers-the-inequalities-of-food"><picture class="lw_image"> <source type="image/webp" srcset="/live/image/gid/38/width/345/height/225/crop/1/src_region/0,492,2136,2630/6049_Shelley_Koch-2.rev.1552061534.webp 1x, /live/image/scale/2x/gid/38/width/345/height/225/crop/1/src_region/0,492,2136,2630/6049_Shelley_Koch-2.rev.1552061534.webp 2x, /live/image/scale/3x/gid/38/width/345/height/225/crop/1/src_region/0,492,2136,2630/6049_Shelley_Koch-2.rev.1552061534.webp 3x"/> <source type="image/jpeg" srcset="/live/image/gid/38/width/345/height/225/crop/1/src_region/0,492,2136,2630/6049_Shelley_Koch-2.rev.1552061534.jpg 1x, /live/image/scale/2x/gid/38/width/345/height/225/crop/1/src_region/0,492,2136,2630/6049_Shelley_Koch-2.rev.1552061534.jpg 2x, /live/image/scale/3x/gid/38/width/345/height/225/crop/1/src_region/0,492,2136,2630/6049_Shelley_Koch-2.rev.1552061534.jpg 3x"/> <img src="/live/image/gid/38/width/345/height/225/crop/1/src_region/0,492,2136,2630/6049_Shelley_Koch-2.rev.1552061534.jpg" alt="Shelley Koch" width="345" height="225" srcset="/live/image/scale/2x/gid/38/width/345/height/225/crop/1/src_region/0,492,2136,2630/6049_Shelley_Koch-2.rev.1552061534.jpg 2x, /live/image/scale/3x/gid/38/width/345/height/225/crop/1/src_region/0,492,2136,2630/6049_Shelley_Koch-2.rev.1552061534.jpg 3x" data-max-w="2136" data-max-h="2138" loading="lazy"/> </picture> </a></span></div><div class="lw_widget_text"><h4 class="lw_news_headline"><a href="/live/news/735-koch-uncovers-the-inequalities-of-food">Koch Uncovers the Inequalities of Food</a></h4><div class="lw_news_summary"><p>Dr. Shelley Koch has released her third book, <em>Gender and Food: A Critical Look at the Food System</em>. The book looks at different aspects of food and how it is affected by gender inequalities.</p><a href="/live/news/735-koch-uncovers-the-inequalities-of-food" class="link-with-arrow gold">Keep reading</a></div></div>
<div class="lw_news_image"><span class="lw_item_thumb"><a href="/live/news/313-eamphs-wehc-launches-spring-fund-drive"><picture class="lw_image"> <source type="image/webp" srcset="/live/image/gid/83/width/345/height/225/crop/1/src_region/0,0,3200,2133/3409_Sam-Mungai-February-2018-IMG003.rev.1519990134.webp 1x, /live/image/scale/2x/gid/83/width/345/height/225/crop/1/src_region/0,0,3200,2133/3409_Sam-Mungai-February-2018-IMG003.rev.1519990134.webp 2x, /live/image/scale/3x/gid/83/width/345/height/225/crop/1/src_region/0,0,3200,2133/3409_Sam-Mungai-February-2018-IMG003.rev.1519990134.webp 3x"/> <source type="image/jpeg" srcset="/live/image/gid/83/width/345/height/225/crop/1/src_region/0,0,3200,2133/3409_Sam-Mungai-February-2018-IMG003.rev.1519990134.jpg 1x, /live/image/scale/2x/gid/83/width/345/height/225/crop/1/src_region/0,0,3200,2133/3409_Sam-Mungai-February-2018-IMG003.rev.1519990134.jpg 2x, /live/image/scale/3x/gid/83/width/345/height/225/crop/1/src_region/0,0,3200,2133/3409_Sam-Mungai-February-2018-IMG003.rev.1519990134.jpg 3x"/> <img src="/live/image/gid/83/width/345/height/225/crop/1/src_region/0,0,3200,2133/3409_Sam-Mungai-February-2018-IMG003.rev.1519990134.jpg" alt="Student Sam Mungai hosts a weekly call-in music request radio show on WEHC 90.7FM." width="345" height="225" srcset="/live/image/scale/2x/gid/83/width/345/height/225/crop/1/src_region/0,0,3200,2133/3409_Sam-Mungai-February-2018-IMG003.rev.1519990134.jpg 2x, /live/image/scale/3x/gid/83/width/345/height/225/crop/1/src_region/0,0,3200,2133/3409_Sam-Mungai-February-2018-IMG003.rev.1519990134.jpg 3x" data-max-w="3200" data-max-h="2133" loading="lazy"/> </picture> </a></span></div><div class="lw_widget_text"><h4 class="lw_news_headline"><a href="/live/news/313-eamphs-wehc-launches-spring-fund-drive">E&H's WEHC Launches Spring Fund Drive</a></h4><div class="lw_news_summary"> WEHC 90.7, Emory & Henry College's "College and Community Station," has launched it spring fund drive. Between now and March 9 the station is planning to raise a good share of its annual fundraising goal. <a href="/live/news/313-eamphs-wehc-launches-spring-fund-drive" class="link-with-arrow gold">Keep reading</a></div></div>