L O R I  V R B A  :  V E S T I G E
Artist Statement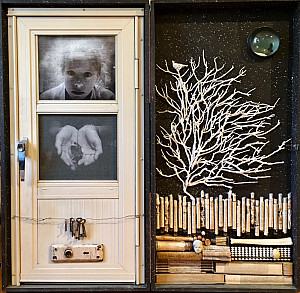 Caged Bird, mixed media assemblage, 38.75" x 39.5" x 2.5", 2016 I have been collecting curious objects for my entire life. The old, the discarded, the broken bits of history tucked into funky shops and flea markets…they say "pick me! pick me!" I bring these out-cast treasures home, and so it begins.
I started my photographic career as somewhat of a traditionalist, capturing images on black and white film, processing and printing in my home darkroom, and all of that is still true today. Found object art was not part of my grand plan. It began by accident. After making my very first encaustic block (just for fun with no clue as to what I was doing), I truly loved how it felt in my hands. The original photo became an object very different from a print. That day, as I admired my newfound wax working skills, (twirling her in my hands, inspecting from all angles), I realized it would fit perfectly inside a vintage box I'd had for twenty years. Once I discovered it really did snuggle in beautifully, I kept going. By the end of the day I had fully assembled my first assemblage and I was hooked! That was about twelve years ago.
I am a romantic and shamelessly sentimental. I consider myself more of a storyteller than a photographer. Every image I make is rooted in a narrative, and each object piece begins there as well. The story directs me to the elements that make sense together, not only visually, but intellectually, metaphorically and emotionally. I feel a kind of empathy for the forgotten artifacts. Giving them new life is strangely comforting.
Artist Bio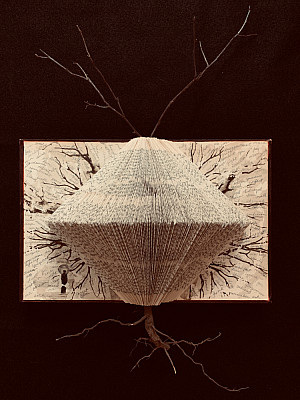 Tree of Life, mixed media assemblage, 19" x 11.5" x 6.25", 2019 Lori Vrba is a self-taught artist based in Hillsborough, North Carolina. With a southern sensibility for storytelling, her imagery and assemblage is rooted in themes of memory, illusion, loss and revival. Vrba's work is held in private and permanent collections throughout the world including the Museum of Fine Arts Houston and the Fox Talbot Museum at Lacock Abbey. Vrba has curated numerous exhibitions including Tribe for the Fox Talbot Museum in 2018. Her monograph, The Moth Wing Diaries, was published in 2015 by Daylight Books.
She currently lives on a small farm with her newly retired husband and is crazy about the garden, baby goats and chickens.