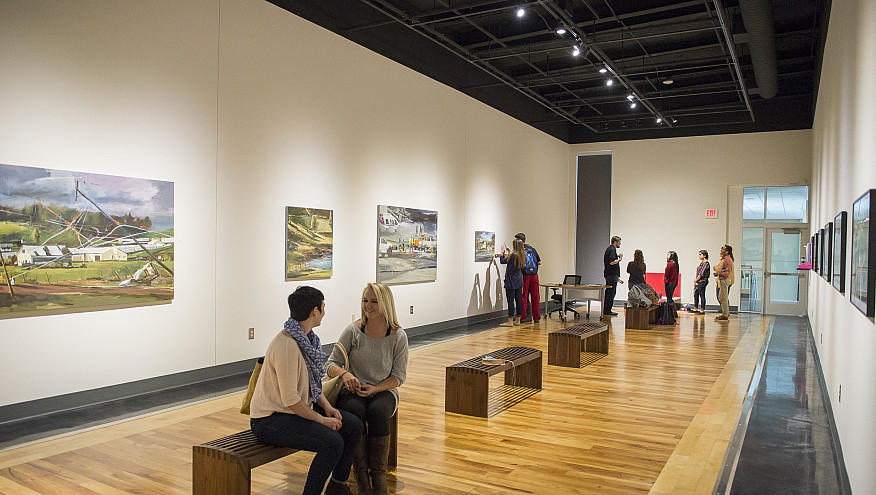 Galleries
Emerging and nationally acclaimed visual artists come together in one inspiring place. 
The MCA Art Gallery located in the McGlothlin Center for the Arts is a state of the art gallery space where artists, students, and the community come together.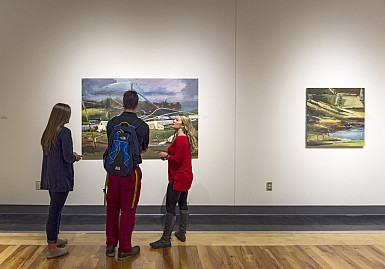 The 1200 square foot gallery allows artists to showcase their work in a variety of professional ways.  From traditional 2D media to full-scale site-specific installations, the gallery can transform to highlight both traditional and contemporary works. 
Each year the gallery features six different nationally known artists.  Guest artists represent all types of media and ideas that encompass diverse and unique philosophies. 
Hands-On Experience
Students across all disciplines have the opportunity to help get involved at The MCA Art Gallery. Whether it's working as a gallery attendant or helping in the installation process, students have the rare opportunity to work hands-on in every aspect of the gallery as well.
Artists
Notable artists include: Jerry Uelsmann, Jack Beal, Virginia Scotchie, Cora Cohen, Richard Jolley, Tom Nakashima, Jennifer Pepper, Anne Austin Pearce, Cort Savage, Barbara Tisserat, James McGarrell, Willie Anne Wright, Jake Berthot, Harvey Littleton, Janet Fish, Dale Chihuly, and Sally Mann. 

Jennifer Angus installation of insects from her show A Wing & A Prayer.
More recently nationally known artist Jennifer Angus, transformed the gallery with her floor-to-ceiling installation of insects.