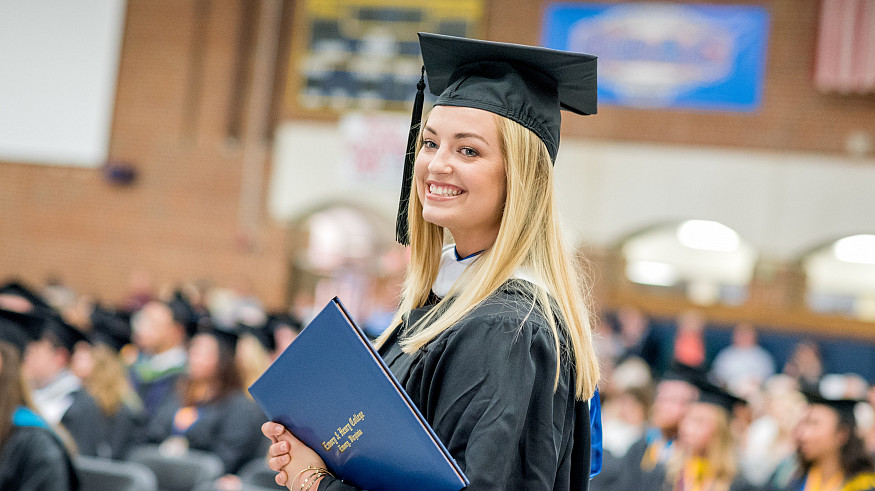 For Graduates
Commencement 2023
Congratulations to the graduates! We look forward to celebrating your accomplishments! Emory & Henry College plans to hold an in-person commencement ceremony this spring for the graduating class of 2023 on Saturday, May 6 at 10 a.m. on Nicewonder Field at Fred Selfe Stadium. The ceremony includes those that have completed degrees in December 2022, May 2023 or August 2023.
Graduation Practice and Celebration
Graduation rehearsal for undergraduates is at 4 p.m. on Thursday, May 4 at Fred Selfe Stadium. Rehearsal for graduate students on the Emory campus is at 5:15 p.m. on May 4 at Fred Selfe Stadium.  A "May the Fourth be With You"/Pre-Cinco de Mayo party is scheduled for graduates on Thursday, May 4, 2023, at 5 p.m. at Van Dyke Center.
Special Ceremonies
As we approach one of our most cherished moments of the academic year, commencement, we also celebrate our student achievements in hosting the Diversity & Inclusion Year-End Ceremonies. Learn more.
Baccalaureate 
The baccalaureate service is scheduled for Friday, May 5 at 4 p.m. in Memorial Chapel. All are welcome to attend this open worship service for graduates and families. The baccalaureate preacher will be Dr. Jim Dawsey, Wolfe Chair and Professor of Religion. More details are forthcoming.
Caps, Gowns, Stoles & Cords
There is no additional fee for your cap and gown! Make sure you have ordered one through the E&H Bookstore (The Merc). Students are welcome to tastefully decorate their caps. Stoles and cords are provided by the representative of each student organization. Contact your group leader for more information.  
Graduation Announcements and Rings
Commencement Location
The commencement ceremony will be held at Fred Selfe Stadium rain or shine with up to 1,500 attendees. We intend to be outside at Fred Selfe Stadium, rain or shine. We will go inside the King Center gym only if there is a chance of extreme weather or lightning in which case tickets will be limited. The ceremony will also be live-streamed online for those that cannot attend.
Graduate Check-in and lining up
Graduates must check in with the registrar at Van Dyke before the event. If you do not check-in, your diploma will not be available for distribution at commencement. Members of the Class of 2023 must check in before 9:30 a.m. Please arrive early. Do not delay because many graduates will need to check-in. Because Emory & Henry provides actual diplomas at commencement, if a graduate does not check in as required, their diploma will be pulled and they will have to make other arrangements to pick up a diploma after the ceremony. Graduates (undergraduates and graduate students) are to line up in front of the Van Dyke Center by 9:30 a.m. Graduates should wear their cap, gown, and hood. Hoods for master's students will be presented before the commencement ceremony. Representatives of the Alumni Association will be available to assist with "Robe-n-Ready." Please note that commencement involves an academic procession so unauthorized cords, medallions or stoles are not permitted.
Seating for Guests
Up to 1,500 seats will be available in the Fred Selfe Stadium. Please be aware that handicapped seating will be located along the sidewalk in front of the scoreboard. Family and friends will enter the stadium on the east end or Brooks Field House side and be seated in the home stands. In the case of an extreme weather event, graduates will be provided with TWO (2) guest tickets for commencement that may be used for seating in the King Center gym.
Ticket Information
Graduates will be provided with TWO (2) guest tickets for commencement that may be used in the event of extreme weather conditions. Otherwise, we intend to be outside. It is our intention to have the commencement outdoors in Fred Selfe Stadium, rain or shine. In case of rain, the stage will be covered. Guests may bring umbrellas. Clear ponchos are available for graduates to wear over academic regalia if needed. Diplomas will be in plastic coverings in the event of rain. The event will be live-streamed for family and friends who cannot attend. Since COVID-19 restrictions have been eased, there will be no limit to the number of guests allowed in the stadium and masks will not be required.
Parking
Reserved parking for guests with disabilities will be available behind The van Vlissingen Center for wheelchairs, with additional handicapped parking at the King Center. All other parking lots on campus will be open for other guests. Automobile traffic through the campus will be restricted beginning at 9:45 a.m. After that time, traffic will be directed away from the King Center.
Dress
Graduates are asked to wear their cap, gown, hood, cords and medallions. Grads should also dress appropriately under regalia, paying special attention to shoes. Mortarboards are to be worn squared, not tilted, with the tassel on the right side (tassels will be moved to the left during the ceremony). Men traditionally remove caps for the ceremony. Women traditionally do not.
In Case of EXTREME WEATHER or lightning
In the event of lightning, the ceremony will be paused or delayed to allow severe weather to pass. Guests may relocate to nearby buildings or vehicles. If the chance of lightning continues, graduates and TWO guests only will be allowed into the King Center gym where the ceremony will continue and diplomas will be handed out.
Photography
Guests are welcome to take photos and videotape the ceremony. Unfortunately, family and friends will not be allowed on the field to take photos or in any way interact in close proximity with graduates during the ceremony.
Pets
Only service animals are allowed at commencement.