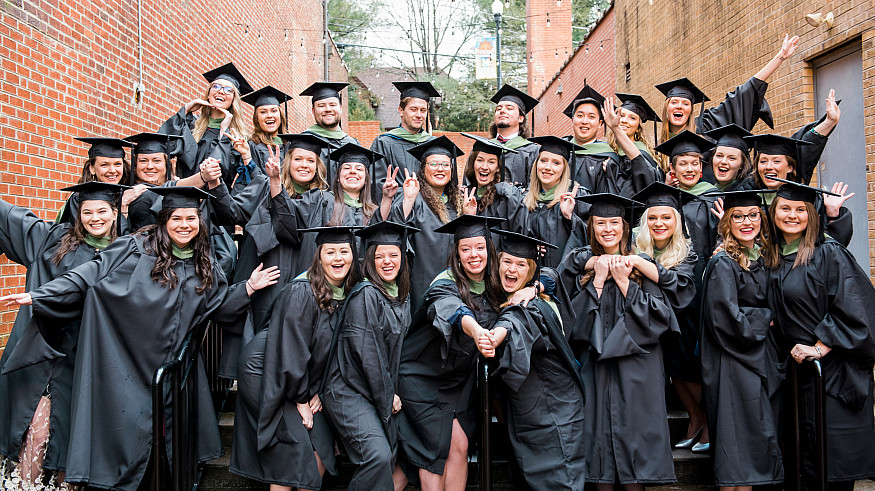 For Health Sciences Campus
The Health Sciences Campus has various ceremonies throughout the year for each of The School of Health Sciences graduate-level academic programs including Occupational Therapy, Physical Therapy and Physician Assistant Studies and for the School of Nursing. 
For a complete listing of previously live streamed ceremonies view our YouTube playlist here
School of Health Sciences & Nursing Commencement
The School of Health Sciences Commencement happens at different times throughout the year given the timing of each specific program. The August ceremonies recognize the graduates from Physical Therapy and Physician Assistant Studies while the December ceremony recognizes the graduates from Occupational Therapy.
---
White Coat Ceremony
Both the Physical Therapy and Physician Assistant Studies programs participate in White Coat Ceremonies for each of their cohorts. These special ceremonies happen throughout the various stages of each cohort. 
Physical Therapy
For the Physical Therapy students, this signifies the beginning of the year-long clinical rotation component of the program and comes following two years focused on the didactic portion of students' training. The ceremony is a rite of passage that serves as a symbol of the responsibility, obligations, honor, excellence, accountability, compassion and inclusiveness required of their chosen profession. 
Physician Assistant Studies
The White Coat Ceremony for Physician Assistant Studies students signifies their transition as they prepare to begin supervised practice in a clinical setting. Students also recite the Physician Assistant Professional Oath near the end of the ceremony.
Pinning Ceremonies
School of Nursing
Students graduating from our Nursing programs participate in a pinning ceremony signifying their completion of the program. 
Occupational Therapy
The Occupational Therapy program recognizes the students in their cohorts who have completed the classroom portion of their program with a Pinning Ceremony. Students will go on to begin their six months of clinical training and this ceremony celebrates their accomplishments over the past two years.