Hispanic Heritage Month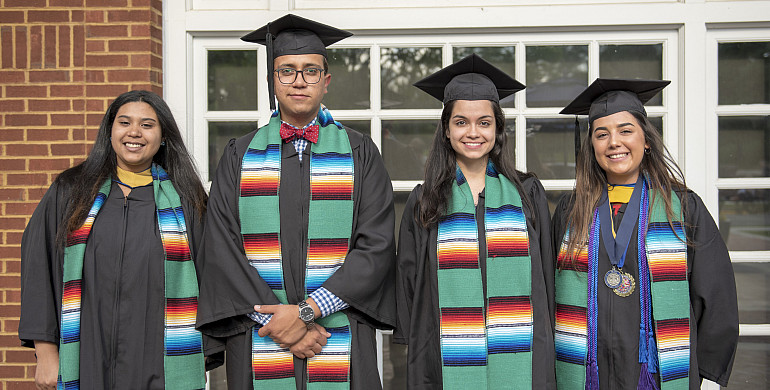 Students in the Raza Ceremony, celebrating the pride, heritage, and sense of purpose to Hispanic and Latine students.
Emory & Henry celebrates Hispanic Heritage Month! Check this page for upcoming events.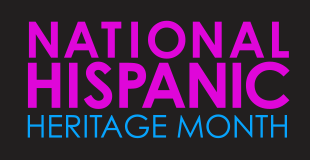 National Hispanic Heritage Month is observed annually from September 15 to October 15 and celebrates the histories, cultures and contributions of Hispanic and Latin Americans who trace their ancestry to Spain, Mexico, the Caribbean and Central and South America.
The observation began in 1968 as Hispanic Heritage Week under the presidency of Lyndon B. Johnson. Hispanic Heritage Week was expanded to a month-long observation in 1988 under the presidency of Ronald Reagan. The Library of Congress has resources on its Hispanic Heritage Month website.
The Office of Diversity, Equity, Inclusion & Belonging brings Hispanic Heritage Month events to the Emory & Henry community. Students should go to the Lyceum calendar for any related events for Lyceum credits.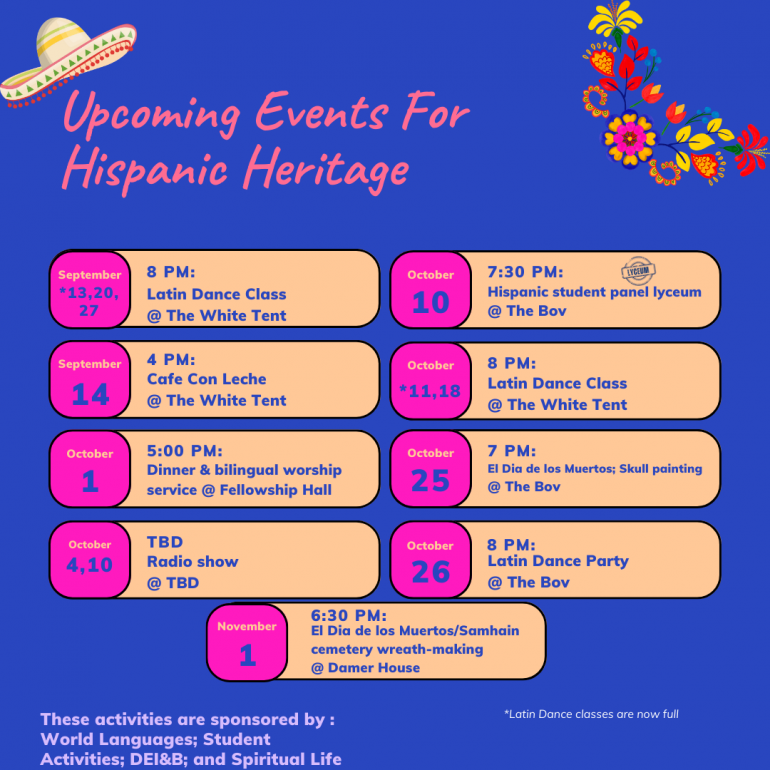 Top Story
<div class="lw_news_image"><span class="lw_item_thumb"><a href="/live/news/1839-may-is-asian-americanpacific-islander-heritage"><picture class="lw_image"> <source type="image/webp" srcset="/live/image/gid/116/width/345/height/225/crop/1/src_region/0,0,1080,1080/9840_Copy_of_Spring_Sale_Instagram_Template_-_Made_with_PosterMyWall.rev.1620314092.webp 1x, /live/image/scale/2x/gid/116/width/345/height/225/crop/1/src_region/0,0,1080,1080/9840_Copy_of_Spring_Sale_Instagram_Template_-_Made_with_PosterMyWall.rev.1620314092.webp 2x, /live/image/scale/3x/gid/116/width/345/height/225/crop/1/src_region/0,0,1080,1080/9840_Copy_of_Spring_Sale_Instagram_Template_-_Made_with_PosterMyWall.rev.1620314092.webp 3x"/> <source type="image/jpeg" srcset="/live/image/gid/116/width/345/height/225/crop/1/src_region/0,0,1080,1080/9840_Copy_of_Spring_Sale_Instagram_Template_-_Made_with_PosterMyWall.rev.1620314092.jpg 1x, /live/image/scale/2x/gid/116/width/345/height/225/crop/1/src_region/0,0,1080,1080/9840_Copy_of_Spring_Sale_Instagram_Template_-_Made_with_PosterMyWall.rev.1620314092.jpg 2x, /live/image/scale/3x/gid/116/width/345/height/225/crop/1/src_region/0,0,1080,1080/9840_Copy_of_Spring_Sale_Instagram_Template_-_Made_with_PosterMyWall.rev.1620314092.jpg 3x"/> <img src="/live/image/gid/116/width/345/height/225/crop/1/src_region/0,0,1080,1080/9840_Copy_of_Spring_Sale_Instagram_Template_-_Made_with_PosterMyWall.rev.1620314092.jpg" alt="May Heritage Month Flyer" width="345" height="225" srcset="/live/image/scale/2x/gid/116/width/345/height/225/crop/1/src_region/0,0,1080,1080/9840_Copy_of_Spring_Sale_Instagram_Template_-_Made_with_PosterMyWall.rev.1620314092.jpg 2x, /live/image/scale/3x/gid/116/width/345/height/225/crop/1/src_region/0,0,1080,1080/9840_Copy_of_Spring_Sale_Instagram_Template_-_Made_with_PosterMyWall.rev.1620314092.jpg 3x" data-max-w="1080" data-max-h="1080" loading="lazy"/> </picture> </a></span></div><div class="lw_widget_text"><h4 class="lw_news_headline"><a href="/live/news/1839-may-is-asian-americanpacific-islander-heritage">May is Asian American/Pacific Islander Heritage Month, Mental Health Awareness Month & Jewish American Heritage Month</a></h4><div class="lw_news_summary"> The Office of Diversity, Equity & Inclusion is commemorating & celebrating May as Asian American/Pacific Islander Heritage Month, Mental Health Awareness Month, and Jewish American Heritage Month. We invite all of you to join us as we celebrate!  <a href="/live/news/1839-may-is-asian-americanpacific-islander-heritage" class="link-with-arrow gold">Keep reading</a></div></div>
<div class="lw_news_image"><span class="lw_item_thumb"><a href="/live/news/2171-emory-henry-college-kicks-off-black-history"><picture class="lw_image"> <source type="image/webp" srcset="/live/image/gid/116/width/345/height/225/crop/1/src_region/6,313,2560,2867/10747_William_H_Turner_-_06Oct2021-5.rev.1643222682.webp 1x, /live/image/scale/2x/gid/116/width/345/height/225/crop/1/src_region/6,313,2560,2867/10747_William_H_Turner_-_06Oct2021-5.rev.1643222682.webp 2x, /live/image/scale/3x/gid/116/width/345/height/225/crop/1/src_region/6,313,2560,2867/10747_William_H_Turner_-_06Oct2021-5.rev.1643222682.webp 3x"/> <source type="image/jpeg" srcset="/live/image/gid/116/width/345/height/225/crop/1/src_region/6,313,2560,2867/10747_William_H_Turner_-_06Oct2021-5.rev.1643222682.jpg 1x, /live/image/scale/2x/gid/116/width/345/height/225/crop/1/src_region/6,313,2560,2867/10747_William_H_Turner_-_06Oct2021-5.rev.1643222682.jpg 2x, /live/image/scale/3x/gid/116/width/345/height/225/crop/1/src_region/6,313,2560,2867/10747_William_H_Turner_-_06Oct2021-5.rev.1643222682.jpg 3x"/> <img src="/live/image/gid/116/width/345/height/225/crop/1/src_region/6,313,2560,2867/10747_William_H_Turner_-_06Oct2021-5.rev.1643222682.jpg" alt="Dr. William Bill H. Turner" width="345" height="225" srcset="/live/image/scale/2x/gid/116/width/345/height/225/crop/1/src_region/6,313,2560,2867/10747_William_H_Turner_-_06Oct2021-5.rev.1643222682.jpg 2x, /live/image/scale/3x/gid/116/width/345/height/225/crop/1/src_region/6,313,2560,2867/10747_William_H_Turner_-_06Oct2021-5.rev.1643222682.jpg 3x" data-max-w="2554" data-max-h="2554" loading="lazy"/> </picture> </a></span></div><div class="lw_widget_text"><h4 class="lw_news_headline"><a href="/live/news/2171-emory-henry-college-kicks-off-black-history">Emory & Henry College Kicks off Black History Month Celebration</a></h4><div class="lw_news_summary"> The Office of Diversity, Equity, and Inclusion at Emory & Henry College will kick off its month-long celebration of Black History with featured speaker Dr. William "Bill" H. Turner. His talk will take place at the Van Dyke Center on the Emory Campus in the Board of Visitors Lounge on Wednesday, February 2, at 7:30 p.m. and is open to the public. <a href="/live/news/2171-emory-henry-college-kicks-off-black-history" class="link-with-arrow gold">Keep reading</a></div></div>
<div class="lw_news_image"><span class="lw_item_thumb"><a href="/live/news/1857-the-office-of-diversity-equity-inclusion"><picture class="lw_image"> <source type="image/webp" srcset="/live/image/gid/116/width/345/height/225/crop/1/src_region/0,0,259,194/9873_download_13.rev.1622589223.webp 1x"/> <source type="image/jpeg" srcset="/live/image/gid/116/width/345/height/225/crop/1/src_region/0,0,259,194/9873_download_13.rev.1622589223.jpg 1x"/> <img src="/live/image/gid/116/width/345/height/225/crop/1/src_region/0,0,259,194/9873_download_13.rev.1622589223.jpg" alt="LGBTQ+ Flag" width="345" height="225" data-max-w="259" data-max-h="194" loading="lazy"/> </picture> </a></span></div><div class="lw_widget_text"><h4 class="lw_news_headline"><a href="/live/news/1857-the-office-of-diversity-equity-inclusion">The Office of Diversity, Equity & Inclusion Commemorates Pride Month</a></h4><div class="lw_news_summary"> Happy Pride, Y'all!<br/><span style="font-weight: 400;"><br/>The Office of Diversity, Equity & Inclusion wants to wish our LGBTQ+ friends and family a Happy Pride! We stand in solidarity and affirm our commitment to with the Queer community and affirm that gay and trans rights are human rights. During the month of June and all subsequent months we encourage our gay sisters, brothers & siblings to "be who you be!"</span> <a href="/live/news/1857-the-office-of-diversity-equity-inclusion" class="link-with-arrow gold">Keep reading</a></div></div>
<div class="lw_news_image"><span class="lw_item_thumb"><a href="/live/news/1308-president-wells-addresses-our-lgbtq-community"><picture class="lw_image"> <source type="image/webp" srcset="/live/image/gid/83/width/345/height/225/crop/1/src_region/1107,0,2355,1250/8318_unnamed.rev.1593103144.webp 1x, /live/image/scale/2x/gid/83/width/345/height/225/crop/1/src_region/1107,0,2355,1250/8318_unnamed.rev.1593103144.webp 2x, /live/image/scale/3x/gid/83/width/345/height/225/crop/1/src_region/1107,0,2355,1250/8318_unnamed.rev.1593103144.webp 3x"/> <source type="image/jpeg" srcset="/live/image/gid/83/width/345/height/225/crop/1/src_region/1107,0,2355,1250/8318_unnamed.rev.1593103144.jpg 1x, /live/image/scale/2x/gid/83/width/345/height/225/crop/1/src_region/1107,0,2355,1250/8318_unnamed.rev.1593103144.jpg 2x, /live/image/scale/3x/gid/83/width/345/height/225/crop/1/src_region/1107,0,2355,1250/8318_unnamed.rev.1593103144.jpg 3x"/> <img src="/live/image/gid/83/width/345/height/225/crop/1/src_region/1107,0,2355,1250/8318_unnamed.rev.1593103144.jpg" alt="Emory & Henry welcomes all." width="345" height="225" srcset="/live/image/scale/2x/gid/83/width/345/height/225/crop/1/src_region/1107,0,2355,1250/8318_unnamed.rev.1593103144.jpg 2x, /live/image/scale/3x/gid/83/width/345/height/225/crop/1/src_region/1107,0,2355,1250/8318_unnamed.rev.1593103144.jpg 3x" data-max-w="1248" data-max-h="1250" loading="lazy"/> </picture> </a></span></div><div class="lw_widget_text"><h4 class="lw_news_headline"><a href="/live/news/1308-president-wells-addresses-our-lgbtq-community">President Wells Addresses Our LGBTQ+ Community</a></h4><div class="lw_news_summary"> Emory & Henry is celebrating Pride Month by providing outreach and support to the Emory & Henry LGBTQ+ Community. <a href="/live/news/1308-president-wells-addresses-our-lgbtq-community" class="link-with-arrow gold">Keep reading</a></div></div>
<div class="lw_news_image"><span class="lw_item_thumb"><a href="/live/news/1345-emory-henry-ushers-in-new-academic-year-with"><picture class="lw_image"> <source type="image/webp" srcset="/live/image/gid/83/width/345/height/225/crop/1/src_region/0,0,3200,1800/8459_50200549542_74a8c92faf_o.rev.1597852029.webp 1x, /live/image/scale/2x/gid/83/width/345/height/225/crop/1/src_region/0,0,3200,1800/8459_50200549542_74a8c92faf_o.rev.1597852029.webp 2x, /live/image/scale/3x/gid/83/width/345/height/225/crop/1/src_region/0,0,3200,1800/8459_50200549542_74a8c92faf_o.rev.1597852029.webp 3x"/> <source type="image/jpeg" srcset="/live/image/gid/83/width/345/height/225/crop/1/src_region/0,0,3200,1800/8459_50200549542_74a8c92faf_o.rev.1597852029.jpg 1x, /live/image/scale/2x/gid/83/width/345/height/225/crop/1/src_region/0,0,3200,1800/8459_50200549542_74a8c92faf_o.rev.1597852029.jpg 2x, /live/image/scale/3x/gid/83/width/345/height/225/crop/1/src_region/0,0,3200,1800/8459_50200549542_74a8c92faf_o.rev.1597852029.jpg 3x"/> <img src="/live/image/gid/83/width/345/height/225/crop/1/src_region/0,0,3200,1800/8459_50200549542_74a8c92faf_o.rev.1597852029.jpg" alt="Emory & Henry campus" width="345" height="225" srcset="/live/image/scale/2x/gid/83/width/345/height/225/crop/1/src_region/0,0,3200,1800/8459_50200549542_74a8c92faf_o.rev.1597852029.jpg 2x, /live/image/scale/3x/gid/83/width/345/height/225/crop/1/src_region/0,0,3200,1800/8459_50200549542_74a8c92faf_o.rev.1597852029.jpg 3x" data-max-w="3200" data-max-h="1800" loading="lazy"/> </picture> </a></span></div><div class="lw_widget_text"><h4 class="lw_news_headline"><a href="/live/news/1345-emory-henry-ushers-in-new-academic-year-with">Emory & Henry ushers in new academic year with focus on inclusion</a></h4><div class="lw_news_summary"> As some students return to the campus of Emory & Henry College and most start their studies remotely due to the global pandemic, concerns for social justice, diversity, equity and inclusion remain at the forefront of dialogue on campus as well as in the country. <a href="/live/news/1345-emory-henry-ushers-in-new-academic-year-with" class="link-with-arrow gold">Keep reading</a></div></div>
<div class="lw_news_image"><span class="lw_item_thumb"><a href="/live/news/1296-emory-henry-college-recognized-as-a-college-of"><picture class="lw_image"> <source type="image/webp" srcset="/live/image/gid/83/width/345/height/225/crop/1/src_region/298,0,1797,1500/8278_2020_CoD_badges.rev.1591364491.webp 1x, /live/image/scale/2x/gid/83/width/345/height/225/crop/1/src_region/298,0,1797,1500/8278_2020_CoD_badges.rev.1591364491.webp 2x, /live/image/scale/3x/gid/83/width/345/height/225/crop/1/src_region/298,0,1797,1500/8278_2020_CoD_badges.rev.1591364491.webp 3x"/> <source type="image/jpeg" srcset="/live/image/gid/83/width/345/height/225/crop/1/src_region/298,0,1797,1500/8278_2020_CoD_badges.rev.1591364491.jpg 1x, /live/image/scale/2x/gid/83/width/345/height/225/crop/1/src_region/298,0,1797,1500/8278_2020_CoD_badges.rev.1591364491.jpg 2x, /live/image/scale/3x/gid/83/width/345/height/225/crop/1/src_region/298,0,1797,1500/8278_2020_CoD_badges.rev.1591364491.jpg 3x"/> <img src="/live/image/gid/83/width/345/height/225/crop/1/src_region/298,0,1797,1500/8278_2020_CoD_badges.rev.1591364491.jpg" alt="Emory & Henry College Recognized as a College of Distinction" width="345" height="225" srcset="/live/image/scale/2x/gid/83/width/345/height/225/crop/1/src_region/298,0,1797,1500/8278_2020_CoD_badges.rev.1591364491.jpg 2x, /live/image/scale/3x/gid/83/width/345/height/225/crop/1/src_region/298,0,1797,1500/8278_2020_CoD_badges.rev.1591364491.jpg 3x" data-max-w="1499" data-max-h="1500" loading="lazy"/> </picture> </a></span></div><div class="lw_widget_text"><h4 class="lw_news_headline"><a href="/live/news/1296-emory-henry-college-recognized-as-a-college-of">Emory & Henry College Recognized as a College of Distinction</a></h4><div class="lw_news_summary"> The Colleges of Distinction recognition promotes engagement over prestige. <a href="/live/news/1296-emory-henry-college-recognized-as-a-college-of" class="link-with-arrow gold">Keep reading</a></div></div>
<div class="lw_news_image"><span class="lw_item_thumb"><a href="/live/news/1309-emory-henry-office-of-diversity-equity-amp"><picture class="lw_image"> <source type="image/webp" srcset="/live/image/gid/83/width/345/height/225/crop/1/src_region/0,0,800,500/8326_Emory__Henry_College-2.rev.1593527701.webp 1x, /live/image/scale/2x/gid/83/width/345/height/225/crop/1/src_region/0,0,800,500/8326_Emory__Henry_College-2.rev.1593527701.webp 2x"/> <source type="image/jpeg" srcset="/live/image/gid/83/width/345/height/225/crop/1/src_region/0,0,800,500/8326_Emory__Henry_College-2.rev.1593527701.jpg 1x, /live/image/scale/2x/gid/83/width/345/height/225/crop/1/src_region/0,0,800,500/8326_Emory__Henry_College-2.rev.1593527701.jpg 2x"/> <img src="/live/image/gid/83/width/345/height/225/crop/1/src_region/0,0,800,500/8326_Emory__Henry_College-2.rev.1593527701.jpg" alt="Emory & Henry College campus" width="345" height="225" srcset="/live/image/scale/2x/gid/83/width/345/height/225/crop/1/src_region/0,0,800,500/8326_Emory__Henry_College-2.rev.1593527701.jpg 2x" data-max-w="800" data-max-h="500" loading="lazy"/> </picture> </a></span></div><div class="lw_widget_text"><h4 class="lw_news_headline"><a href="/live/news/1309-emory-henry-office-of-diversity-equity-amp">Emory & Henry Office of Diversity, Equity & Inclusion update</a></h4><div class="lw_news_summary"> Emory & Henry unequivocally supports the organized efforts around the world that seek to disrupt the deeply entrenched systematic mistreatment and discrimination. <a href="/live/news/1309-emory-henry-office-of-diversity-equity-amp" class="link-with-arrow gold">Keep reading</a></div></div>
<div class="lw_news_image"><span class="lw_item_thumb"><a href="/live/news/1854-the-office-of-diversity-equity-inclusion"><picture class="lw_image"> <source type="image/webp" srcset="/live/image/gid/116/width/345/height/225/crop/1/src_region/0,0,700,840/9867_2500.rev.1621974265.webp 1x, /live/image/scale/2x/gid/116/width/345/height/225/crop/1/src_region/0,0,700,840/9867_2500.rev.1621974265.webp 2x"/> <source type="image/jpeg" srcset="/live/image/gid/116/width/345/height/225/crop/1/src_region/0,0,700,840/9867_2500.rev.1621974265.jpg 1x, /live/image/scale/2x/gid/116/width/345/height/225/crop/1/src_region/0,0,700,840/9867_2500.rev.1621974265.jpg 2x"/> <img src="/live/image/gid/116/width/345/height/225/crop/1/src_region/0,0,700,840/9867_2500.rev.1621974265.jpg" alt="George Floyd art" width="345" height="225" srcset="/live/image/scale/2x/gid/116/width/345/height/225/crop/1/src_region/0,0,700,840/9867_2500.rev.1621974265.jpg 2x" data-max-w="700" data-max-h="840" loading="lazy"/> </picture> </a></span></div><div class="lw_widget_text"><h4 class="lw_news_headline"><a href="/live/news/1854-the-office-of-diversity-equity-inclusion">The Office of Diversity, Equity & Inclusion Reflects on the Anniversary of the Death of George Floyd</a></h4><div class="lw_news_summary"><span style="font-weight: 400;">Today marks the anniversary of the death of George Floyd who was killed by a police officer in Minneapolis. We have witnessed a year of sustained political unrest as Mr. Floyd's death brought international attention and global protest against police brutality.</span> <a href="/live/news/1854-the-office-of-diversity-equity-inclusion" class="link-with-arrow gold">Keep reading</a></div></div>
<div class="lw_news_image"><span class="lw_item_thumb"><a href="/live/news/2178-new-leadership-program-at-emory-henry-college"><picture class="lw_image"> <source type="image/webp" srcset="/live/image/gid/116/width/345/height/225/crop/1/src_region/0,0,3200,2136/10775_DEI_Holston_Check-30.rev.1643820875.webp 1x, /live/image/scale/2x/gid/116/width/345/height/225/crop/1/src_region/0,0,3200,2136/10775_DEI_Holston_Check-30.rev.1643820875.webp 2x, /live/image/scale/3x/gid/116/width/345/height/225/crop/1/src_region/0,0,3200,2136/10775_DEI_Holston_Check-30.rev.1643820875.webp 3x"/> <source type="image/jpeg" srcset="/live/image/gid/116/width/345/height/225/crop/1/src_region/0,0,3200,2136/10775_DEI_Holston_Check-30.rev.1643820875.jpg 1x, /live/image/scale/2x/gid/116/width/345/height/225/crop/1/src_region/0,0,3200,2136/10775_DEI_Holston_Check-30.rev.1643820875.jpg 2x, /live/image/scale/3x/gid/116/width/345/height/225/crop/1/src_region/0,0,3200,2136/10775_DEI_Holston_Check-30.rev.1643820875.jpg 3x"/> <img src="/live/image/gid/116/width/345/height/225/crop/1/src_region/0,0,3200,2136/10775_DEI_Holston_Check-30.rev.1643820875.jpg" alt="Greg McMillan '90, VP for Advancement, E&H; Rev. Sharon Bowers, Director of the Inclusion & Dialogue Center, E&H; Alliso..." width="345" height="225" srcset="/live/image/scale/2x/gid/116/width/345/height/225/crop/1/src_region/0,0,3200,2136/10775_DEI_Holston_Check-30.rev.1643820875.jpg 2x, /live/image/scale/3x/gid/116/width/345/height/225/crop/1/src_region/0,0,3200,2136/10775_DEI_Holston_Check-30.rev.1643820875.jpg 3x" data-max-w="3200" data-max-h="2136" loading="lazy"/> </picture> </a></span></div><div class="lw_widget_text"><h4 class="lw_news_headline"><a href="/live/news/2178-new-leadership-program-at-emory-henry-college">New Leadership Program at Emory & Henry College: Receives $50,000 Gift from Holston Foundation</a></h4><div class="lw_news_summary"> Students in the region will now have a new opportunity to develop key leadership skills in the area of diversity, equity, inclusion, civic engagement and social justice at Emory & Henry College due to a generous gift of $50,000 from the Holston Foundation. <a href="/live/news/2178-new-leadership-program-at-emory-henry-college" class="link-with-arrow gold">Keep reading</a></div></div>
<div class="lw_news_image"><span class="lw_item_thumb"><a href="/live/news/1127-project-promise-comes-to-emory-henry-through"><picture class="lw_image"> <source type="image/webp" srcset="/live/image/gid/83/width/345/height/225/crop/1/src_region/96,0,2233,2136/7367_group2.rev.1579796171.webp 1x, /live/image/scale/2x/gid/83/width/345/height/225/crop/1/src_region/96,0,2233,2136/7367_group2.rev.1579796171.webp 2x, /live/image/scale/3x/gid/83/width/345/height/225/crop/1/src_region/96,0,2233,2136/7367_group2.rev.1579796171.webp 3x"/> <source type="image/jpeg" srcset="/live/image/gid/83/width/345/height/225/crop/1/src_region/96,0,2233,2136/7367_group2.rev.1579796171.jpg 1x, /live/image/scale/2x/gid/83/width/345/height/225/crop/1/src_region/96,0,2233,2136/7367_group2.rev.1579796171.jpg 2x, /live/image/scale/3x/gid/83/width/345/height/225/crop/1/src_region/96,0,2233,2136/7367_group2.rev.1579796171.jpg 3x"/> <img src="/live/image/gid/83/width/345/height/225/crop/1/src_region/96,0,2233,2136/7367_group2.rev.1579796171.jpg" alt="Student discuss topics during a breakout session during MLK Convocation." width="345" height="225" srcset="/live/image/scale/2x/gid/83/width/345/height/225/crop/1/src_region/96,0,2233,2136/7367_group2.rev.1579796171.jpg 2x, /live/image/scale/3x/gid/83/width/345/height/225/crop/1/src_region/96,0,2233,2136/7367_group2.rev.1579796171.jpg 3x" data-max-w="2137" data-max-h="2136" loading="lazy"/> </picture> </a></span></div><div class="lw_widget_text"><h4 class="lw_news_headline"><a href="/live/news/1127-project-promise-comes-to-emory-henry-through">Project PROMISE Comes to Emory & Henry Through the Awarding of a Grant</a></h4><div class="lw_news_summary"> The Arthur Vining Davis Foundation has awarded Emory & Henry College as one of seven Appalachian College Association (ACA) colleges with a grant to initiate Project PROMISE, a collaborative program to help college campuses identify their strengths and weaknesses regarding diversity and inclusion. <a href="/live/news/1127-project-promise-comes-to-emory-henry-through" class="link-with-arrow gold">Keep reading</a></div></div>
<div class="lw_news_image"><span class="lw_item_thumb"><a href="/live/news/2068-the-office-of-diversity-equity-and-inclusion"><picture class="lw_image"> <source type="image/webp" srcset="/live/image/gid/116/width/345/height/225/crop/1/src_region/0,0,560,315/10458_Native_American_Heritage_Month.rev.1636033032.png 1x"/> <source type="image/webp" srcset="/live/image/gid/116/width/345/height/225/crop/1/src_region/0,0,560,315/10458_Native_American_Heritage_Month.rev.1636033032.png 1x"/> <source type="image/png" srcset="/live/image/gid/116/width/345/height/225/crop/1/src_region/0,0,560,315/10458_Native_American_Heritage_Month.rev.1636033032.png 1x"/> <img src="/live/image/gid/116/width/345/height/225/crop/1/src_region/0,0,560,315/10458_Native_American_Heritage_Month.rev.1636033032.png" alt="Native American Heritage Month" width="345" height="225" data-max-w="560" data-max-h="315" loading="lazy"/> </picture> </a></span></div><div class="lw_widget_text"><h4 class="lw_news_headline"><a href="/live/news/2068-the-office-of-diversity-equity-and-inclusion">The Office of Diversity, Equity and Inclusion recognizes Native American Heritage Month</a></h4><div class="lw_news_summary"> National Native American, American Indian and Alaska Native Heritage Month is observed in November and pays tribute to the rich ancestry and traditions of Native Americans. <a href="/live/news/2068-the-office-of-diversity-equity-and-inclusion" class="link-with-arrow gold">Keep reading</a></div></div>