Student Experience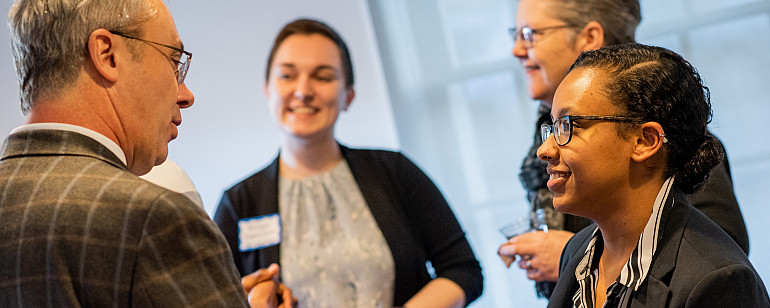 We deliver the promise of quality online learning to all learners.
Emory & Henry College is committed to providing high-quality online and hybrid courses and programs for learners of all backgrounds as well as empowering educators to effectively engage with students and ensure success.
We strive to create excellence in digital learning experiences by championing a new, connected liberal arts—one that provides students with the flexibility and skills they need to succeed.
Top Story
<div class="lw_news_image"><span class="lw_item_thumb"><a href="/live/news/2619-emory-henry-rises-to-top-20-as-best-regional"><picture class="lw_image"> <source type="image/webp" srcset="/live/image/gid/83/width/345/height/225/crop/1/src_region/0,0,2048,1151/12048_pasted_image_0.rev.1663096104.webp 1x, /live/image/scale/2x/gid/83/width/345/height/225/crop/1/src_region/0,0,2048,1151/12048_pasted_image_0.rev.1663096104.webp 2x, /live/image/scale/3x/gid/83/width/345/height/225/crop/1/src_region/0,0,2048,1151/12048_pasted_image_0.rev.1663096104.webp 3x"/> <source type="image/jpeg" srcset="/live/image/gid/83/width/345/height/225/crop/1/src_region/0,0,2048,1151/12048_pasted_image_0.rev.1663096104.jpg 1x, /live/image/scale/2x/gid/83/width/345/height/225/crop/1/src_region/0,0,2048,1151/12048_pasted_image_0.rev.1663096104.jpg 2x, /live/image/scale/3x/gid/83/width/345/height/225/crop/1/src_region/0,0,2048,1151/12048_pasted_image_0.rev.1663096104.jpg 3x"/> <img src="/live/image/gid/83/width/345/height/225/crop/1/src_region/0,0,2048,1151/12048_pasted_image_0.rev.1663096104.jpg" alt="Fall at Emory & Henry College" width="345" height="225" srcset="/live/image/scale/2x/gid/83/width/345/height/225/crop/1/src_region/0,0,2048,1151/12048_pasted_image_0.rev.1663096104.jpg 2x, /live/image/scale/3x/gid/83/width/345/height/225/crop/1/src_region/0,0,2048,1151/12048_pasted_image_0.rev.1663096104.jpg 3x" data-max-w="2048" data-max-h="1151" loading="lazy"/> </picture> </a></span></div><div class="lw_widget_text"><h4 class="lw_news_headline"><a href="/live/news/2619-emory-henry-rises-to-top-20-as-best-regional">Emory & Henry Rises to Top 20 as Best Regional University in U.S. News & World Report, Best Colleges Rankings</a></h4><div class="lw_news_summary"><p><span style="font-weight: 400;">Emory & Henry College has shifted category rankings in</span> <strong><i>U.S. News & World Report, Best Colleges </i></strong><span style="font-weight: 400;">for 2022-23 from National Liberal Arts College to Regional University (South), earning a Top 20 Best Colleges ranking amongst 135 peer institutions. The College also ranked 77 among the universities as a Top Performer for Social Mobility, offering a gateway to students whose families earn less than $50,000 a year and are eligible for Federal Pell Grants. In addition, Emory & Henry was ranked #6 for Best Undergraduate Teaching Programs.</span></p><a href="/live/news/2619-emory-henry-rises-to-top-20-as-best-regional" class="link-with-arrow gold">Keep reading</a></div></div>
<div class="lw_news_image"><span class="lw_item_thumb"><a href="/live/news/2212-edtech-workshops-featuring-free-edtech-tools"><picture class="lw_image"> <source type="image/webp" srcset="/live/image/gid/124/width/345/height/225/crop/1/src_region/0,0,2400,3200/9474_pexels-oleg-magni-1005644.rev.1614368151.webp 1x, /live/image/scale/2x/gid/124/width/345/height/225/crop/1/src_region/0,0,2400,3200/9474_pexels-oleg-magni-1005644.rev.1614368151.webp 2x, /live/image/scale/3x/gid/124/width/345/height/225/crop/1/src_region/0,0,2400,3200/9474_pexels-oleg-magni-1005644.rev.1614368151.webp 3x"/> <source type="image/jpeg" srcset="/live/image/gid/124/width/345/height/225/crop/1/src_region/0,0,2400,3200/9474_pexels-oleg-magni-1005644.rev.1614368151.jpg 1x, /live/image/scale/2x/gid/124/width/345/height/225/crop/1/src_region/0,0,2400,3200/9474_pexels-oleg-magni-1005644.rev.1614368151.jpg 2x, /live/image/scale/3x/gid/124/width/345/height/225/crop/1/src_region/0,0,2400,3200/9474_pexels-oleg-magni-1005644.rev.1614368151.jpg 3x"/> <img src="/live/image/gid/124/width/345/height/225/crop/1/src_region/0,0,2400,3200/9474_pexels-oleg-magni-1005644.rev.1614368151.jpg" alt="Design" width="345" height="225" srcset="/live/image/scale/2x/gid/124/width/345/height/225/crop/1/src_region/0,0,2400,3200/9474_pexels-oleg-magni-1005644.rev.1614368151.jpg 2x, /live/image/scale/3x/gid/124/width/345/height/225/crop/1/src_region/0,0,2400,3200/9474_pexels-oleg-magni-1005644.rev.1614368151.jpg 3x" data-max-w="2400" data-max-h="3200" loading="lazy"/> </picture> </a></span></div><div class="lw_widget_text"><h4 class="lw_news_headline"><a href="/live/news/2212-edtech-workshops-featuring-free-edtech-tools">EdTech Workshops, Featuring Free EdTech Tools</a></h4><div class="lw_news_summary"><span style="font-weight: 400;">E&H Online, led by <a href="/live/profiles/3580-xuan-wang-wolf" target="_blank" rel="noopener">Dr. Xuan Wang-Wolf</a></span><span style="font-weight: 400;">, Emory & Henry College's Director of Online Education, provides professional development workshops and support for the institutionally-licensed educational technologies (EdTech) employed at Emory & Henry College.</span> <a href="/live/news/2212-edtech-workshops-featuring-free-edtech-tools" class="link-with-arrow gold">Keep reading</a></div></div>
<div class="lw_news_image"><span class="lw_item_thumb"><a href="/live/news/1481-eamph-online-offers-series-of-opportunities-for"><picture class="lw_image"> <source type="image/webp" srcset="/live/image/gid/83/width/345/height/225/crop/1/src_region/0,0,1280,720/8934_image.rev.1604420867.png 1x, /live/image/scale/2x/gid/83/width/345/height/225/crop/1/src_region/0,0,1280,720/8934_image.rev.1604420867.png 2x, /live/image/scale/3x/gid/83/width/345/height/225/crop/1/src_region/0,0,1280,720/8934_image.rev.1604420867.png 3x"/> <source type="image/webp" srcset="/live/image/gid/83/width/345/height/225/crop/1/src_region/0,0,1280,720/8934_image.rev.1604420867.png 1x, /live/image/scale/2x/gid/83/width/345/height/225/crop/1/src_region/0,0,1280,720/8934_image.rev.1604420867.png 2x, /live/image/scale/3x/gid/83/width/345/height/225/crop/1/src_region/0,0,1280,720/8934_image.rev.1604420867.png 3x"/> <source type="image/png" srcset="/live/image/gid/83/width/345/height/225/crop/1/src_region/0,0,1280,720/8934_image.rev.1604420867.png 1x, /live/image/scale/2x/gid/83/width/345/height/225/crop/1/src_region/0,0,1280,720/8934_image.rev.1604420867.png 2x, /live/image/scale/3x/gid/83/width/345/height/225/crop/1/src_region/0,0,1280,720/8934_image.rev.1604420867.png 3x"/> <img src="/live/image/gid/83/width/345/height/225/crop/1/src_region/0,0,1280,720/8934_image.rev.1604420867.png" alt="E&H Online offers faculty professional development opportunities" width="345" height="225" srcset="/live/image/scale/2x/gid/83/width/345/height/225/crop/1/src_region/0,0,1280,720/8934_image.rev.1604420867.png 2x, /live/image/scale/3x/gid/83/width/345/height/225/crop/1/src_region/0,0,1280,720/8934_image.rev.1604420867.png 3x" data-max-w="1280" data-max-h="720" loading="lazy"/> </picture> </a></span></div><div class="lw_widget_text"><h4 class="lw_news_headline"><a href="/live/news/1481-eamph-online-offers-series-of-opportunities-for">E&H Online offers series of opportunities for faculty professional development</a></h4><div class="lw_news_summary"><span style="font-weight: 400;">E&H Online offers a comprehensive, customized, and flexible series of opportunities for faculty professional development.</span> <a href="/live/news/1481-eamph-online-offers-series-of-opportunities-for" class="link-with-arrow gold">Keep reading</a></div></div>
<div class="lw_news_image"><span class="lw_item_thumb"><a href="/live/news/2028-top-10-reasons-to-choose-emory-henry-college"><picture class="lw_image"> <source type="image/webp" srcset="/live/image/gid/42/width/345/height/225/crop/1/src_region/0,0,3200,2133/10240__PPA0108.rev.1631114106.webp 1x, /live/image/scale/2x/gid/42/width/345/height/225/crop/1/src_region/0,0,3200,2133/10240__PPA0108.rev.1631114106.webp 2x, /live/image/scale/3x/gid/42/width/345/height/225/crop/1/src_region/0,0,3200,2133/10240__PPA0108.rev.1631114106.webp 3x"/> <source type="image/jpeg" srcset="/live/image/gid/42/width/345/height/225/crop/1/src_region/0,0,3200,2133/10240__PPA0108.rev.1631114106.jpg 1x, /live/image/scale/2x/gid/42/width/345/height/225/crop/1/src_region/0,0,3200,2133/10240__PPA0108.rev.1631114106.jpg 2x, /live/image/scale/3x/gid/42/width/345/height/225/crop/1/src_region/0,0,3200,2133/10240__PPA0108.rev.1631114106.jpg 3x"/> <img src="/live/image/gid/42/width/345/height/225/crop/1/src_region/0,0,3200,2133/10240__PPA0108.rev.1631114106.jpg" alt="" width="345" height="225" srcset="/live/image/scale/2x/gid/42/width/345/height/225/crop/1/src_region/0,0,3200,2133/10240__PPA0108.rev.1631114106.jpg 2x, /live/image/scale/3x/gid/42/width/345/height/225/crop/1/src_region/0,0,3200,2133/10240__PPA0108.rev.1631114106.jpg 3x" data-max-w="3200" data-max-h="2133" loading="lazy"/> </picture> </a></span></div><div class="lw_widget_text"><h4 class="lw_news_headline"><a href="/live/news/2028-top-10-reasons-to-choose-emory-henry-college">Top 10 Reasons to Choose Emory & Henry College</a></h4><div class="lw_news_summary"> We know your college search can be overwhelming. That's why we've summed up what makes Emory & Henry stand out in a crowd. Below are the top 10 reasons that students choose to attend Emory & Henry College. <a href="/live/news/2028-top-10-reasons-to-choose-emory-henry-college" class="link-with-arrow gold">Keep reading</a></div></div>
<div class="lw_news_image"><span class="lw_item_thumb"><a href="/live/news/1656-emory-henry-ranks-among-top-colleges-in"><picture class="lw_image"> <source type="image/webp" srcset="/live/image/gid/83/width/345/height/225/crop/1/src_region/0,0,400,296/9450_drone.rev.1614002000.webp 1x"/> <source type="image/jpeg" srcset="/live/image/gid/83/width/345/height/225/crop/1/src_region/0,0,400,296/9450_drone.rev.1614002000.jpg 1x"/> <img src="/live/image/gid/83/width/345/height/225/crop/1/src_region/0,0,400,296/9450_drone.rev.1614002000.jpg" alt="E&H Campus" width="345" height="225" data-max-w="400" data-max-h="296" loading="lazy"/> </picture> </a></span></div><div class="lw_widget_text"><h4 class="lw_news_headline"><a href="/live/news/1656-emory-henry-ranks-among-top-colleges-in">Emory & Henry ranks among top colleges in Virginia</a></h4><div class="lw_news_summary"><span style="font-weight: 400;">Emory & Henry College has been awarded top ranking status for Best Colleges In Virginia by Intelligent.com, a higher education resource guide.</span> <a href="/live/news/1656-emory-henry-ranks-among-top-colleges-in" class="link-with-arrow gold">Keep reading</a></div></div>
<div class="lw_news_image"><span class="lw_item_thumb"><a href="/live/news/2803-department-of-education-at-emory-henry-offers"><picture class="lw_image"> <source type="image/webp" srcset="/live/image/gid/83/width/345/height/225/crop/1/src_region/0,0,721,721/13587_Becky_Haas_and_Dr._Sandy_Frederick.rev.1679509919.png 1x, /live/image/scale/2x/gid/83/width/345/height/225/crop/1/src_region/0,0,721,721/13587_Becky_Haas_and_Dr._Sandy_Frederick.rev.1679509919.png 2x"/> <source type="image/webp" srcset="/live/image/gid/83/width/345/height/225/crop/1/src_region/0,0,721,721/13587_Becky_Haas_and_Dr._Sandy_Frederick.rev.1679509919.png 1x, /live/image/scale/2x/gid/83/width/345/height/225/crop/1/src_region/0,0,721,721/13587_Becky_Haas_and_Dr._Sandy_Frederick.rev.1679509919.png 2x"/> <source type="image/png" srcset="/live/image/gid/83/width/345/height/225/crop/1/src_region/0,0,721,721/13587_Becky_Haas_and_Dr._Sandy_Frederick.rev.1679509919.png 1x, /live/image/scale/2x/gid/83/width/345/height/225/crop/1/src_region/0,0,721,721/13587_Becky_Haas_and_Dr._Sandy_Frederick.rev.1679509919.png 2x"/> <img src="/live/image/gid/83/width/345/height/225/crop/1/src_region/0,0,721,721/13587_Becky_Haas_and_Dr._Sandy_Frederick.rev.1679509919.png" alt="International advocate and trainer on using the trauma-informed approach Becky Haas and Emory & Henry College Assistant Professor of ..." width="345" height="225" srcset="/live/image/scale/2x/gid/83/width/345/height/225/crop/1/src_region/0,0,721,721/13587_Becky_Haas_and_Dr._Sandy_Frederick.rev.1679509919.png 2x" data-max-w="721" data-max-h="721" loading="lazy"/> </picture> </a></span></div><div class="lw_widget_text"><h4 class="lw_news_headline"><a href="/live/news/2803-department-of-education-at-emory-henry-offers">Department of Education at Emory & Henry Offers New Program for Trauma-Informed Care Training</a></h4><div class="lw_news_summary"><p><span style="font-weight: 400;">The Emory & Henry Department of Education is now offering a new program to develop resilient schools through trauma-informed care in the classroom for school professionals and licensure recertification, available online now.</span></p><a href="/live/news/2803-department-of-education-at-emory-henry-offers" class="link-with-arrow gold">Keep reading</a></div></div>
<div class="lw_news_image"><span class="lw_item_thumb"><a href="/live/news/2618-master-of-business-administration-program-coming"><picture class="lw_image"> <source type="image/webp" srcset="/live/image/gid/83/width/345/height/225/crop/1/src_region/0,102,2136,2240/12549_Business_Photoshoot_Carriger_-14.rev.1667231618.webp 1x, /live/image/scale/2x/gid/83/width/345/height/225/crop/1/src_region/0,102,2136,2240/12549_Business_Photoshoot_Carriger_-14.rev.1667231618.webp 2x, /live/image/scale/3x/gid/83/width/345/height/225/crop/1/src_region/0,102,2136,2240/12549_Business_Photoshoot_Carriger_-14.rev.1667231618.webp 3x"/> <source type="image/jpeg" srcset="/live/image/gid/83/width/345/height/225/crop/1/src_region/0,102,2136,2240/12549_Business_Photoshoot_Carriger_-14.rev.1667231618.jpg 1x, /live/image/scale/2x/gid/83/width/345/height/225/crop/1/src_region/0,102,2136,2240/12549_Business_Photoshoot_Carriger_-14.rev.1667231618.jpg 2x, /live/image/scale/3x/gid/83/width/345/height/225/crop/1/src_region/0,102,2136,2240/12549_Business_Photoshoot_Carriger_-14.rev.1667231618.jpg 3x"/> <img src="/live/image/gid/83/width/345/height/225/crop/1/src_region/0,102,2136,2240/12549_Business_Photoshoot_Carriger_-14.rev.1667231618.jpg" alt="Dean of the School of Business Dr. Emmett P. Tracy and the award-winning faculty at the School of Business boast years of combined experi..." width="345" height="225" srcset="/live/image/scale/2x/gid/83/width/345/height/225/crop/1/src_region/0,102,2136,2240/12549_Business_Photoshoot_Carriger_-14.rev.1667231618.jpg 2x, /live/image/scale/3x/gid/83/width/345/height/225/crop/1/src_region/0,102,2136,2240/12549_Business_Photoshoot_Carriger_-14.rev.1667231618.jpg 3x" data-max-w="2136" data-max-h="2138" loading="lazy"/> </picture> </a></span></div><div class="lw_widget_text"><h4 class="lw_news_headline"><a href="/live/news/2618-master-of-business-administration-program-coming">Master of Business Administration Program Coming to Emory & Henry</a></h4><div class="lw_news_summary"><span style="font-weight: 400;">Emory & Henry College has finalized its Master of Business Administration Program (MBA) through the School of Business in preparation for an incoming 2023-2024 cohort.</span> <a href="/live/news/2618-master-of-business-administration-program-coming" class="link-with-arrow gold">Keep reading</a></div></div>
<div class="lw_news_image"><span class="lw_item_thumb"><a href="/live/news/2027-emory-henry-college-listed-among-top-colleges"><picture class="lw_image"> <source type="image/webp" srcset="/live/image/gid/83/width/345/height/225/crop/1/src_region/0,0,3000,1686/10255_Orientation_Classof2025_GroupPhoto_8-21_10-smaller.rev.1631282235.webp 1x, /live/image/scale/2x/gid/83/width/345/height/225/crop/1/src_region/0,0,3000,1686/10255_Orientation_Classof2025_GroupPhoto_8-21_10-smaller.rev.1631282235.webp 2x, /live/image/scale/3x/gid/83/width/345/height/225/crop/1/src_region/0,0,3000,1686/10255_Orientation_Classof2025_GroupPhoto_8-21_10-smaller.rev.1631282235.webp 3x"/> <source type="image/jpeg" srcset="/live/image/gid/83/width/345/height/225/crop/1/src_region/0,0,3000,1686/10255_Orientation_Classof2025_GroupPhoto_8-21_10-smaller.rev.1631282235.jpg 1x, /live/image/scale/2x/gid/83/width/345/height/225/crop/1/src_region/0,0,3000,1686/10255_Orientation_Classof2025_GroupPhoto_8-21_10-smaller.rev.1631282235.jpg 2x, /live/image/scale/3x/gid/83/width/345/height/225/crop/1/src_region/0,0,3000,1686/10255_Orientation_Classof2025_GroupPhoto_8-21_10-smaller.rev.1631282235.jpg 3x"/> <img src="/live/image/gid/83/width/345/height/225/crop/1/src_region/0,0,3000,1686/10255_Orientation_Classof2025_GroupPhoto_8-21_10-smaller.rev.1631282235.jpg" alt="Class of 2025" width="345" height="225" srcset="/live/image/scale/2x/gid/83/width/345/height/225/crop/1/src_region/0,0,3000,1686/10255_Orientation_Classof2025_GroupPhoto_8-21_10-smaller.rev.1631282235.jpg 2x, /live/image/scale/3x/gid/83/width/345/height/225/crop/1/src_region/0,0,3000,1686/10255_Orientation_Classof2025_GroupPhoto_8-21_10-smaller.rev.1631282235.jpg 3x" data-max-w="3000" data-max-h="1686" loading="lazy"/> </picture> </a></span></div><div class="lw_widget_text"><h4 class="lw_news_headline"><a href="/live/news/2027-emory-henry-college-listed-among-top-colleges">Emory & Henry College listed among top colleges in multiple rankings including U.S. News & World Report; Washington Monthly</a></h4><div class="lw_news_summary"><span style="font-weight: 400;">Emory & Henry College continues to be listed as a top National Liberals Arts College in the United States by</span> <strong><i>U.S. News & World Report, Best Colleges</i></strong><span style="font-weight: 400;">.</span> <a href="/live/news/2027-emory-henry-college-listed-among-top-colleges" class="link-with-arrow gold">Keep reading</a></div></div>