Cuba - CORE 240: Cuban Culture and Identity Experience - NEXT OFFERING: Spring 2025
This course combines media production, culture, food and travel in Cuba. We will meet for one hour per week during the semester and spend 10 nights on the island. This course will allow students to explore the landscape, culture and people of Cuba while producing an audio program. Participants will stay with Cuban families and learn about Cuba's history, culture and traditions. We will spend time in La Habana and several other locations, where we will go on excursions such as a tour of Havana in beautifully restored American automobiles from the 1950s. In addition, we will tour Las Terrazas, an eco-community of artists, take salsa lessons and see live music, visit sites such as a coffee farm, rum factory, cigar plantation and the Che Guevara Mausoleum. Knowledge of Spanish is not necessary in order to take this class.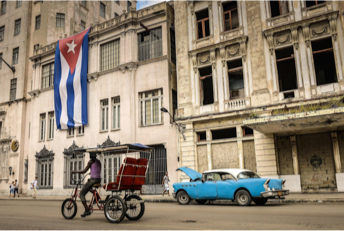 Next Offering: Spring 2023. Cost: $2900
Professors: Dr. Mark Finney mfinney@ehc.edu 
Included: Airfare, Accommodations, All but 3 meals, Entrance Fees, Excursions, Ground Transportation, Medical Insurance

Not included: Passport, Three Meals, Spending Money

Meets Core Curriculum requirements: Global Citizenship Study Abroad
Enroll in this course:
CORE 240: Cuban Culture and Identity Experience (1 credit hour)

Prerequisites:  Permission of instructor

Application Deadline: November 1, 2022
Apply here.
Open gallery