Ecuador - CORE 240: Ecotourism & Recreation - NEXT OFFERING: TBA
This course will explore the positive and negative effects of ecotourism, and roll we play as Eco tourists on local peoples and culture. The course will culminate in a 9 day whitewater and outdoor recreation trip to Ecuador. Students will be able to kayak, raft, or ducky (inflatable kayak) through beautiful rivers in Ecuador.
This trip will immerse students in some of the most fascinating culture found in the Americas. Ecuador is a Spanish-speaking country with a rich history dating back to the post-Inca nation. Often winding through miles of lush, high-elevation rainforest, you will discover a feeling of remoteness that has been lost in other countries. We will go out of our way to introduce you to the history and culture of Ecuador, as well as spending time in the communities of the areas we spend time in. Hiking into waterfalls, visiting cacao plantations, coffee farms and community events are part of our week. Spanish is spoken in Ecuador and very little English, so all trip participants will have the opportunity to practice their Spanish.
It will be a great opportunity to experience firsthand how ecotourism and outdoor recreation can come together to allow people from across the world to experience rural areas that would otherwise be inaccessible.
We will split our time between either two or three areas: the Quijos Valley, the Tena region and Baños. The scenery switches between high elevation cloud forest changes to thick, humid rain forest filled with monkeys and birds, lush tropical flowers and a slower pace of life and then back to higher elevation Baños.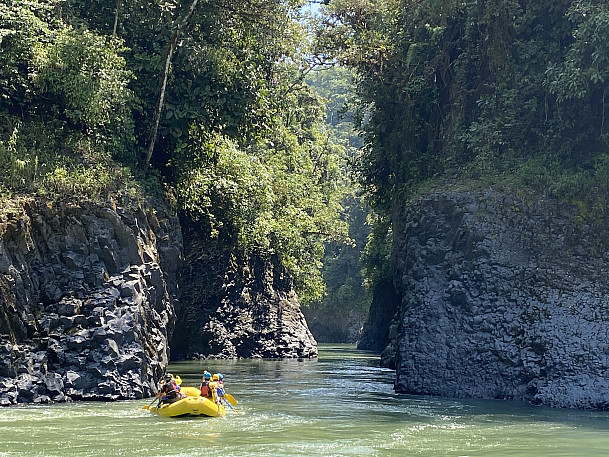 Next Offering: Spring 2022 - Travel during spring break - March 4 -12 , 2022
Estimated cost: $3000 Included: Airfare, Accommodations, Most Meals, Entrance Fees, Excursions, Ground Transportation, and all outdoor equipment Not included: Passport, Spending Money
Meets Core Curriculum requirements: Global Citizenship
Prerequisites: None Professor Alex Versen, LCSW aversen@ehc.edu
Application Deadline: October 15, 2021
Click here for application.
Open gallery