As a member of the College faculty and director of an adventure program, Harrison is in a unique position to cultivate and guide students into learning opportunities that are a synthesis of academic writing projects and adventure experiences.
Harrison thru-hiked the entire Appalachian Trail in 1997, and he is the architect of the Semester-A-Trail program, which offers students the opportunity to remain full-time students while attempting a thru-hike of the entire Appalachian Trail.
He has hiked, climbed, and paddled all over the southeast, and holds firmly that "it has been the greatest privilege to build the relationships with both people and places that have made it possible to establish and grow the Outdoor Program at Emory & Henry College."
Harrison has led several multi-day expeditions for the Outdoor Program that have ventured to remote destinations, including backpacking in Big Bend National Park, paddling the canyons of the Rio Grande in Big Bend National Park, kayaking the Everglades National Park, and paddling the black waters of the Suwannee River in Florida.  In the summer of 2013, he joined an expedition team of local boaters and E&H alum and kayaked the 280 miles of the Grand Canyon of the Colorado River, living out of his boat and engaging the fastest whitewater in the country.
He has completed AMGA courses in top rope and single pitch climbing systems, and he holds certifications as an ACA Level 4 Kayak Instructor, ACA Level 4 Swiftwater Rescuer, and as a Wilderness First Responder.
Open gallery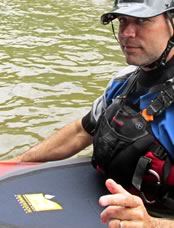 Location:
Center for Outdoor Studies