Center for Outdoor Studies
The Outdoor Program is now the Center for Outdoor Studies.
Emory & Henry is an outdoor college, and this means Emory & Henry students can go on outdoor adventures. The Center for Outdoor Studies provides extra-curricular outdoor recreation activities or students can explore the outdoors for college credit through Semester-A-Trail or the Applied Risk Management and Backcountry Leadership concentration.
---
New Academic Program for Fall 2023
The program is welcome to students who have had minimal to no experience in the outdoors as well as those who already have a relationship with outdoor adventure. All are welcome! The coursework culminates to form the Applied Risk Management and Backcountry Leadership Concentration. The concentration serves to prepare students for a career in the outdoor industry or a continued passion for their chosen adventure sport. 
Emory & Henry is the only college that offers students the opportunity to earn college credit while attempting a long section or thru-hike of the Appalachian Trail.
On campus, students enjoy climbing in the Outdoor Center's indoor bouldering crag and playing disc golf on the E&H eighteen hole course.
Whether students are looking to get away for an afternoon walk in the woods, bike ride, or try rafting for the first time, Outdoor Recreation has an outdoor experience for everyone. Trips include hiking in the Grayson Highlands State Park, biking the Virginia Creeper Trail, and whitewater rafting on the Southeast's beautiful rivers.
---
Degrees
Concentration, Applied Risk Management and Backcountry Leadership

In a synthesis of traditional classroom and experiential learning, this program provides students with the core knowledge and skills to lead backcountry trips. Students in the program will gain an understanding of risk assessment, decision making, minimizing impact, problem solving, and caring backcountry leadership.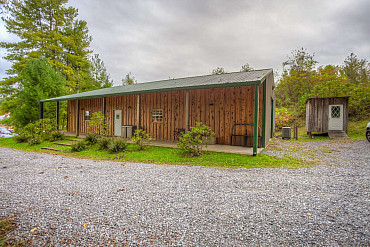 Take a virtual tour of the Center for Outdoor Studies facilities and preview our outdoor recreation activities and Semester-A-Trail program.