APPLY NOW! CORE 240: Ghana - Gateway to Africa - Deadline: November 1, 2023
Ghana is an ideal place for American students to visit if they want to experience Africa. In 1957 it became the first African country to gain its independence from English colonial rule, and in the last 65 years it has established itself as one of Africa's most stable, safest, and welcoming English-speaking countries.
This class will survey Ghana's development from the 1960s through the present, from its early association with Pan-Africanism and the last home of W.E.B. Du Bois to its central place in the 21st century as the first stop in African American heritage tourism. Over the course of the semester, this class will study Ghanaian social history and will explore the country's complex balance between Western and African traditions, social norms, and political values.
Our understanding of Ghana will be enriched by a tour of the country's outstanding sites, from the Kakum National Rain Forest with its spectacular Canopy Walk to Makola Market, one of Africa's largest open-air trading markets. The trip will include visits to the National Museum of Culture and the W.E.B.Du Bois Centre, and Cape Coast, home to one of Africa's oldest trading posts and one of its most infamous slave castles as well. A highlight of the trip will be a visit to the Ashanti Region of Central Ghana, home to the renowned Kingdom of Gold and still the epicenter of Ghanaian culture.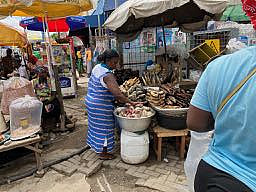 Next Offering: Spring 2024. Cost: $3500.
Professors: Dr. Scott Boltwood sboltwood@ehc.edu
Included: Airfare, Accommodations, Most Meals, Entrance Fees, Excursions, Ground Transportation, Medical Insurance
Not included: Passport, Some Meals, Spending Money
Meets Core Curriculum requirements: Global Citizenship Study Abroad
Enroll in this course:
ECORE 240 Study Abroad Ghana (1 credit hour)
Prerequisites: Permission of instructor
Application Deadline: November 1, 2023
Open gallery