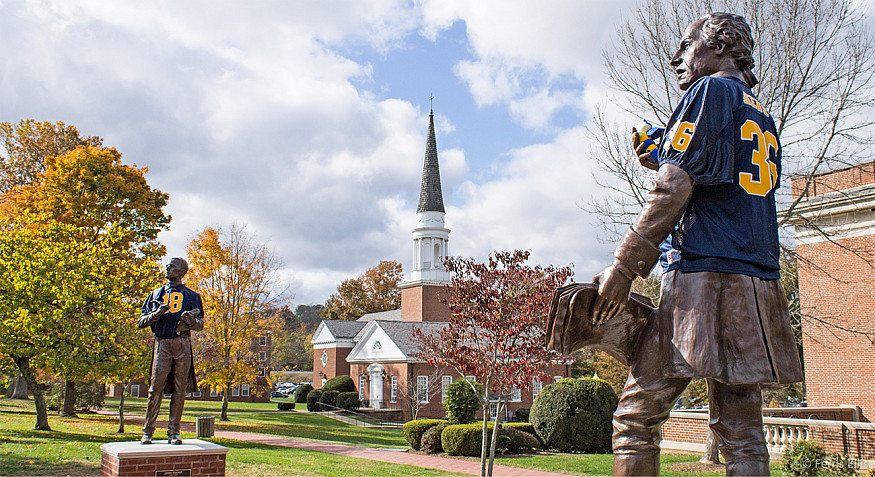 Poster page example image
Poster Page Example
We're a college founded on a simple and powerful idea: that we must educate the head and the heart.
Our founders chose Governor Patrick Henry to symbolize our commitments to intellectual freedom and civic virtue. They paired his bold integrity with Bishop John Emory and his belief in the union of faith and learning. This balance - this radical idea that we hear both sides - is even present in our campus architecture.
Mission Statement
"Increase in Excellence," the historic motto of Emory & Henry College, expresses our intention to be a learning community that moves toward fulfilling every student's potential.
We affirm the Christian faith as our spiritual and moral heritage and encourage all our members to grow in faith as they grow in knowledge. We believe in the worth of each person's religious and cultural heritage, inasmuch as that heritage leads to service to others in our region and the larger world.
We affirm the liberal arts as our intellectual foundation and believe that excellence results when everyone actively participates in the educational process. We challenge all persons to confront historical and contemporary ideas and issues and to develop the ability to think critically about all areas of human experience.
These traditions provide the context for our pursuit of excellence, as we engage a diverse group of well-qualified men and women in educational experiences that lead to lives of service, productive careers, and global citizenship.
Revised by the Emory & Henry College Community Fall 2005;
Reaffirmed by the Emory & Henry College Board of Trustees November 5, 2005